And saving the best til last, naturally:
Circus and Tim:
Circus finds a friend:
Funny story here, as some people at another table cried "Yay, a harlequin" when they saw the hooded one, and Circus cried "What about me?"
At this point, the hooded harlequin mimed laughter, it was brilliant
And because Elle forgot to get a groupie pic with Elle's lovelyness in, here is one of me in my room. You can see my Paramore/Hayley Williams wall in the background, not that I am obsessed of course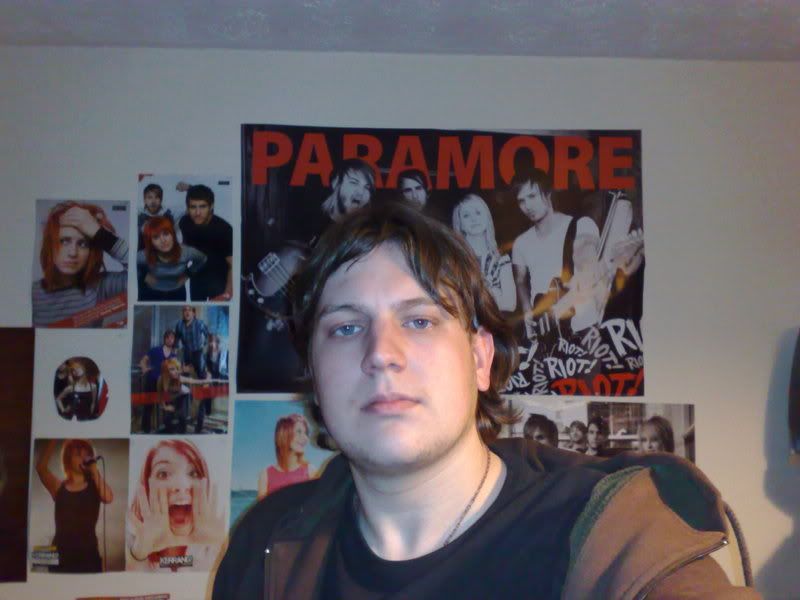 [hr]
Well, what a day. Started early, and hit the stands so Hicks could get the new Marine Codex in their hands. Elle's reaction to it is the same as last Halloween - what the hell were they thinking?
Browesed the stands, bought a book, and generally had a great time, it was loads of fun, despite now being knackered. So tired Elle could pass out :P FW stand was about 12 people deep all day, and the line for Black Library signings was insane - must have been about 100 people long.
Marine Dex's sold out in around about 40 minutes, it was a mad rush from people buying them. The GD model is quite nice, if you like Marines.
As far as fantasy goes, this year is the year of Chaos, that is one hell of a nice book.
DOW2, WAR video's look immense, so tempted by WAR, even though time and money are problems
Didn't get a chance to play them. as they were packed out as well by hundreds of people.
At one point, Circus said he thought he saw Wargamer, but as the person who looked like him was playing Apoc and not being nasty to young kids, it can't have been him
So, to another great Games Day, and more of the same next year (when we will organise a meet a bit better :P)
Any questions? Will answer as best as Elle can