Running Campaigns
- A Basic Introductory Guide
Introduction
This article is to help those who are planning to run campaigns of their own. It covers them in four sections:
Campaigns and planning
Armies and battles
Background
Epilogue
I hope you enjoy this article.
Campaigns and planning
I bet some of you have wondered "Why run a campaign"? There are several reasons. Campaigns add meaning to your everyday games. A standard 1,500 point cleanse on a Desert world is far more interesting if it's first blood upon ______ in the _______ Crusade. You don't have to go to any special length to write a campaign like that, just make it up as you go along.
Campaigns can be far more complicated however. Some people go to the extend of making huge maps and new boards just for a campaign, and there's nothing wrong with that, only it's beyond most of us.
Camapaigns don't have to be long: two or three connected battles will serve perfectly well.
Try thinking of what kind of battle would logically follow: the first blood scenario, if between Chaos and Imperial Guard, could result in one of two outcomes: if the Imperials won, they would surely force the chaos back and destroy their landing craft, but a chaos victory would encourage them to go on a rampage, spreading their taint.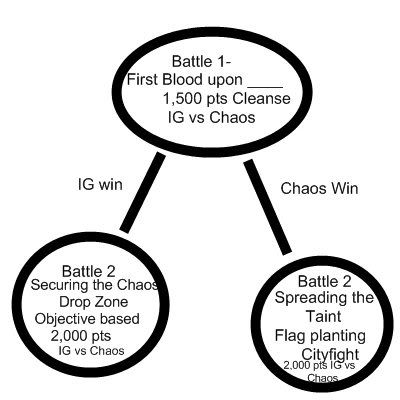 Above is an example of a very small campaign: if you enjoyed it you could takes it further.
Now, for a campaign, unless you enjoy playing against yourself, you need two people.
Consider which armies might actually fight against each other: orks and Crimson Fists is a classic axamaple, but you can look further. Consider that if your friend has Crimson Fists,
and you have orks, that you could try and re-enact the events which lead to the Crimson fists suffering huge losses, only maybe in your game they will escape to victory?
If you're having campaign, try sorting out a location where the battles will happen, and agreeing to have a battle every couple of weeks or whatever. I would recommend having a fortnight (2 weeks) between each game, so that people can expand their armies.
If you have more than 2 people, or an odd number, consider being a gamemaster- controlling the scenarios and outcomes, and deciding what happens. You can play as a neutral army: an IG PDF or as the native animals!
Armies and battles
In my opinion, the 'standard size army' is 1,500 points, as GW seems to endorse, but that doesn't mean that the game is limited to this. I would say that it's often good to get the ball rolling with a game of Cleanse, but consider that a campaign could start in many awesome ways, like a chaos kill-team sneaking into an Imperial palace and assassianting the governor, letting the fight begin.
Maybe the Chaos leaders needs to kill all of the planet's high command so he can ascend to immortality, so every dead IG leader makes it far harder. A final battle could be a massive apocalypse scenario at which the Lord-General of the IG is present, and if he is killed, a warp-rift open and chaos surely prevail...or maybe another force intervenes?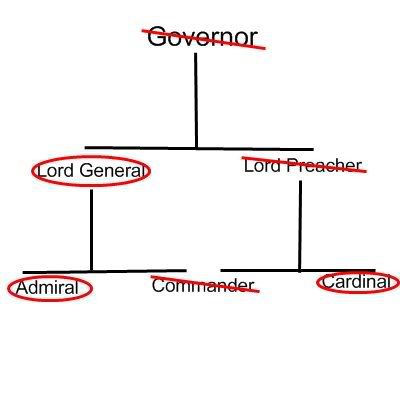 It is always fun to have a campaign end on a massive climax: heroes fighting daemons,
preferably as a world is destroyed. Apocalypse is perfect for this, but often simply a large battle will do.
Another game that is incredibly fun is to have two battles in parrallel- consider the climax of the Horus Heresy- thousands upon millions of troops fighting, whilst high in orbit, there is a real battle which will decide all the others. Maybe a Tyranid horde is fighting a Tau force on land, whilst a stealth team try to take out the lead ship. What a climax that would be!
Background
It's good to have a story surrounding the campaign: perhaps the forces of chaos haven't just come for favour: they want an artefact buried in the world, but did not count on Eldar coming to asist the Imperials. Writing a page of background and noting some characters will get the ball rolling quickly.
Consider that other planets might also be under attack: or maybe only the planet is being attacked-with unnerving precision?
Consider writing an epilogue to the story once it is finished, this will add closure to it, or possibly give the fuel for a follow-up.
Also, ask yourself why cerati nforces would be there? Are Space Marines defending a recruitment world, or Eldar defending a maiden planet? Why would Tyranids be attacking a dead planet? Remember, unless you're orks (and even they break this rules sometimes), you rarely attack for attacking's sake.
Epilogue
So, I hope some of the ideas here help you with creating a campaign.
Remember that add the end of the day, it's in the name of fun.
Thanks,
Songblade