ok... this idea came from the WE NEED SUpER HEAVIES THREAD or something :P go find it...
ok now that your back lets get started..
i'm thinking lets do some TO top trumps!
if you don't know the basics of top trumps here they are
- each player gets an equal amount of cards from the shuffled deck, you place these face down in front of you
-decide who goes first
-each player draws his/her top card, and who evers turn it is picks one of the stats on there card, and compares this to the opponents card, if there's a tie (i can't remember i'll come back to tie..)
-whichever opponent wins gets both cards and places them at bottom of his/her pile
-the winning player then takes a turn, repeating the above steps
-the winner is whoever gets all of cards
naturally the first race done will be tau.. so we need to come up with..
-units
-the stat names, speed, armour, whatever
-the stats themselves
-the artwork, i'm hoping that we can produce that ourselves,
-the back of the card, will be TO themed,
-and whatever else you can think of..
i've got some top trumps we can use as a guide to how they are designed etc
so get to work chaps!
-------------------------------------------
update -27th dec
ok i've been working on some designs
front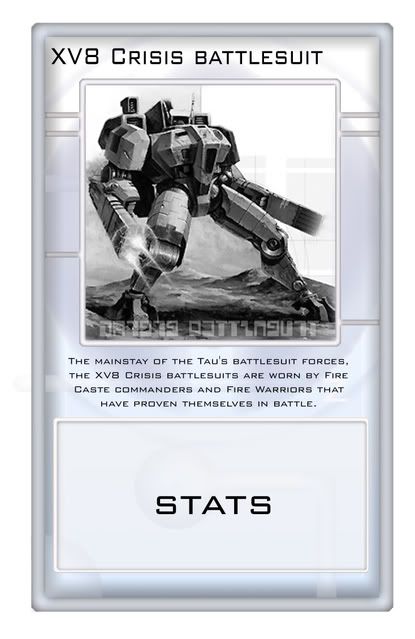 and back
if anyone wants to join the team just say!