I know Vash has already covered him slightly, but I wanted to go more in depth with him, so here is so info on Mortarion. Enjoy! There are bound to be some mistakes, please inform me of them!
Mortarion
Barbarus
The Death Guard were one of the twenty Space Marine Legions. Serving under their Primarch Mortarion, they were a force to be reckoned with.
The Stygian Scrolls tell of how Mortarion came to rest in a "bleak moor, strewn with dead and scattered with the carnage of battle for leagues in every direction". This place was upon a planet called Barbarus. Barbarus was always surrounded by poisonous fog, and was ruled over by mighty champions who had grown resistant to the noxious gases and horrific diseases that spread across the mountains, who lived on mountains, preying upon the human settlers who remained in the valleys. These settlers had once been under their command, but now they hunted them like animals whilst the pitiful humans tried to make a living in the shadow of the mountains, constantly fearing assault from above.
These warlords battled between each over- damming rivers with mounds of corpses. They killed mercilessly, like it was a sport. There was constant rivalry between these lords, and they would send the humans to do their bidding: fighting battles they could never win, or killing them when they returned. One Warlord, whilst walking upon a 'sea of corpses' heard a child's wailing. He found Mortarion lying upon a mound of dead humans, and sensing him to be more than a sick baby, took him as an heir. Mortarion, the child of death. The Warlord testing the young boy: putting him in places where a thimbleful of air could choke a man to death, and peel his skin away. The boy survived all of these challenges, seemingly resistant the plagues and poxes.
In adolescence, Mortarion was amazing. He learnt countless battlefield strategies, arcane secrets, and how to read people's words and movements. He excelled in everything he tried, in the way that only a son of the Emperor could. But he grew more interested in the feeble creatures that lived in the valleys. Who were they, and why were they preyed upon? The overlord tried to shield him, but Mortarion became intrigued to the point of obsession. He escaped from the overlord, leaving the warrior's castle, and entering the dark fog of the valleys below. As he disappeared, he heard his "father", the overlord shouting of how if Mortarion ever did return, he would be killed. Mortarion ignored this, and continued.He found civilisation. He smelt clean air, and heard laughter for the first time, and he was among his own people. He yearned to be accepted, but it would not be easy, and he appeared to simply be one of the Overlords that the humans feared. He wanted to become one of them, so that he could get vengeance upon the dark overlords.
He tried to impress them, working in the fields and helping around. His opportunity came when a lesser overlord launched a midnight attack upon the settlement. The peasants desperately tried to fight back, but had little help. Mortarion attack, butchering the enemies, and leaving only the lesser overlord. The overlord smiled as he escaped into the fog, where Mortarion should not have been able to follow. But he did, and that night the mountain was slick with the lesser overlord's blood.
Mortarion taught the humans about warfare, drilling them into a well-oiled war machine. When another overlord attacked, the humans prepared an astounding defence, and drove the creatures away. He masked them with gas masks, so they could enter the poisonous air, and strike against their enemies. They crushed warlord after warlord, growing stronger and stronger and the poisonous air gave them new abilities. He called them his Death Guard. As he tried to attack his father's peak, the power of death overpowered the Death guard, and they had to withdraw.
When he returned, there was a newcomer in the hall. He flattened the door, marching in to find a strange man. The man had darker skin, where they were pale, and he wore pure armour of gold and ebony. He challenged Mortarion, condemning him for being unable to reach the highest peak. He said that if Mortarion could defeat the Overlord alone, he would leave. Otherwise, Mortarion would have to join the Imperium of man. Mortarion accepted the Emperor's challenge, and prepared to assault the peak.
He went alone, climbing so high that his breathing equipment rotted away. He knelt in front of the citadel, calling out his challenge, slowly dying. The Overlord came out, preparing the kill Mortarion. As he swung, the Emperor stood in his way, and killed the Overlord with a single stroke. Mortarion swore fealty to the Emperor, who revealed himself as Mortarion's true father.
He was given command of the fourteenth legion: and gave them his resilience and fortitude. He was very silent as a Primarch, trusting only Night Haunter and Horus.
He respected Horus hugely, talking to the man all the time. The Emperor assumed that loyalty to Horus meant loyalty to him, which probably couldn't have been more wrong.
Appearance, Guards and Wargear (Pre-heresy)
In his time at the Emperor's side, Mortarion is known to have been very tall, thin and pale, with a dark face. His armour was made simply of brass and steel, unlike the ceramite of his brothers. Over this hung a simple grey cloak. He wore a large collar, which gave out puffs of poisonous air. He also carried six chalices of plagues.
His favoured weapon was a manreaper, a massive two handed scythe. This is accompanied by the Lantern, an energy (plasma?) pistol of enormous size and power, of unique design.
He was always followed by his Deathshroud, two marines listed as killed, who could never remove their ornate helmets, and whose true identities were known only to Mortarion. They always followed close to him.
Mortarion pre-heresy:
Horus Heresy
Mortarion joined the Heresy without being coaxed: he was loyal to Horus. Mortarion took his entire legion, and they headed towards Terra. The fleet was caught in a warp storm, and could not escape. Typhon, captain of the First Comapany, killed the Astropaths and tried to navigate himself, but could not. The fleet was left floating in warp space, and was soon hit by the greatest plague, the Destroyer. The Death Guard could not become immune to this plague, but it could not kill them, so they were left horrible bloated and covered in sores.
It was hardest for Mortarion, as for the first time since he had assaulted the Overlord's citadel, he had encountered a pesitilence that his body could not overcome. This time, no one could save him. Except Chaos. He surrendered himself, and his legion was taken by Nurgle.
The legion, their once fine armour now twisted and bloated, headed for the Eye of Terror.
Mortarion was granted his own Daemon world, and became a Daemon prince. The world is wrapped in a thousand million plagues, which sate his every lust and whim.
Appearance, Guards and Wargear (Post-Heresy)
Mortarion wears a giant suit of twisted power armour, green, with horrible arcane runes, and symbols of Nurgle. His face is constantly masked by shreds of stained cloth and bloated armour. From his armour hang vials and orbs filled with thousands of plagues.
He still uses a Manreaper, instilling further that he is one with death. In battle he is surrounded by swarms of pus-laden flies, which swarm upon the corpses he leaves in his wake.
Mortarion, post-Heresy: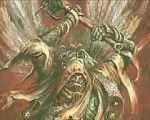 Songblade