Ok, Ive allways said ill make a battle report but never got to it so I thought I should make one today, If you find this any good ill make some more =].
My friends and I got back into the game after we just had our exams and stuff so their where some new codexs and one of my friends got over 100 pound of free SM's -.- he decided to go for Dark Angels (Which are very sexy models)
This battle was done in my house in very cramped conditions on the floor :P
Lists -
Lord
Bolt Pistol
Dark Blade
Resilience
Aura
Speed
Armour
Mutation
Infiltrate 166
Chaos Space Marines X 8
Lascannon
Plasma gun
Frag Grenades
Infiltrate
Champion
Power Fist
Mutation
Infiltrate 191
Chaos Space Marines X 8
Lascannon
Plasma gun
Frag Grenades
Infiltrate
Champion
Power Fist
Mutation
Infiltrate 191
Traitors X 8
Lascannon 84
Mutants X 15
Leaping 180
Mutants X 15
Leaping 180
Total 992
HQ
Company Master
Power Weapon
Jump Pack
135pts
Troops
Tactical squad-165pts
Tactical squad-165pts
X2-missle launcher-20pts
350pts
Fast attack
Ravenwing squad-120ps
Power fist-25pts
Melta-10pts
155pts
Elites
Deathwing Terminator squad-215pts
Assault cannon-30pts
245pts
Heavy Support
Predator tank-70pts
Twin linked lascannon-35pts
105pts
995pts
Here it goes.
The mission was take and hold with Omega level
My entire force started on the bored while his bikes and tank were in reserves.
Deployment
He won first turn
Dark Angles 1
Moving-
Tactical squad 1 (The ones on the right) moved west towards the building and the termies moved with them but keeping LOS
Shooting-
Tactical squad 1 shoots and chaos squad 1 (In the building on the left) and kill 1 and a frag missile kills 1 chaos marine and 1 mutant
Chaos 1
Moving-
Mutant squad 1 (Right) move 4 inches from cover towards the main middle building, Mutant squad 2 (Left) move 2 inches forward and Lord (Hes in the building to the right of the termies)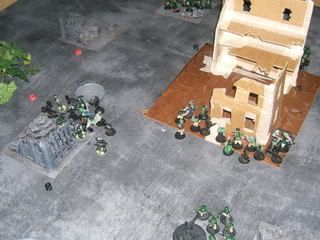 Shooting-
Lord moves 1 inch, Mutant squad 1 move 5 inches into the main building and chaos squad 1 (Left) shoot at tactical squad 2 and kills 1 with Plasma
Assult-
Lord charges tactical squad 1 and kills 2 and they hold
Dark Angles 2
Tank and bikes come in -.-
Moving-
Bikes turbo boost 24 inches east, termies move west behind main building
Shooting-
Squad 2 shoots back at chaos squad 1 and do nothing =] pred shoots at mutants and kill 3 =[ termies shoot at chaos squad 2 in the trees and miss all.
Assult-
Company master charges in with Lord and does 1 wound on him while the Lord swings at the marines and turns them into tommorows dessert (Mmmm marine Merang)
Chaos 2
Moving-
Mutant squads move forward
Shooting-
Mutants move even further, traitors shoot at bikes with Las Cannon and burn one, Chaos squad 1 shoot at pred and stun it
Assult-
Mutant squad 1 charge in and help Lord, Company master wounds Lord and Lord does 2 wounds back, Marines do nothing and mutants kill all marines and some mutants decide to go for the master and mush him with their many tenticals =]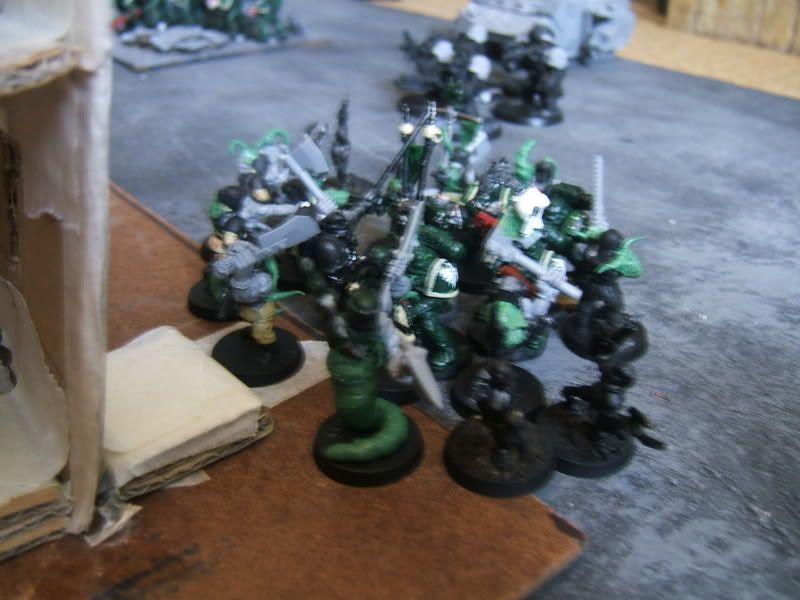 and they consolidate into the cover of the main building
Dark Angles 3
Movement-
Bikes move towards chaos marine squad 2, termies move at the mutants that consolidated
Shooting-
Termies shoot and kill 1 mutant (Ha ha), and bikes shoot at chaos marine squad 2 and do nothing, tactical squad shoot at mutant squad 2 and kill 3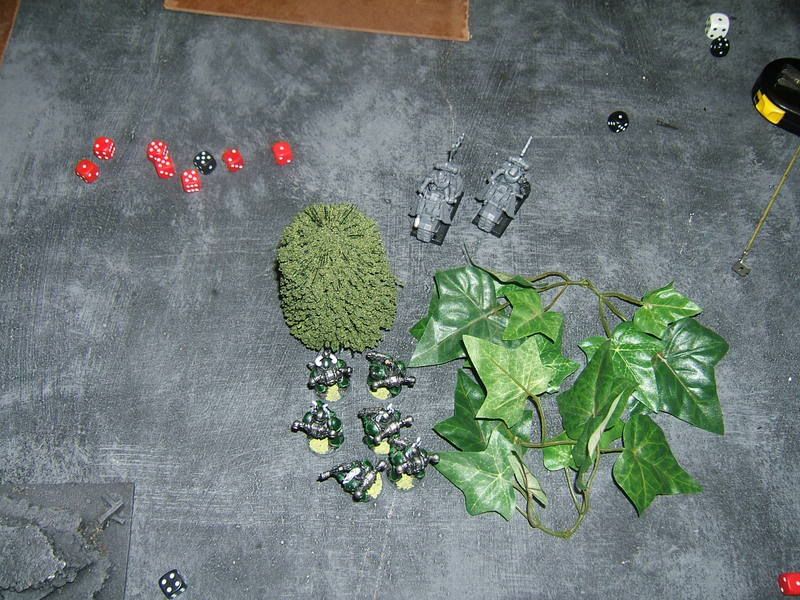 Assult-
Bikes charge and do nothing... Load of good they are =P and the marines kill 1 back, stupid fearless. Termies charge mutants and kill 2 while mutants get alot of 6's and kill 2 back
Chaos 3
Moving-
Mutant squad 2 move towards tactical squad 2 and traitors move west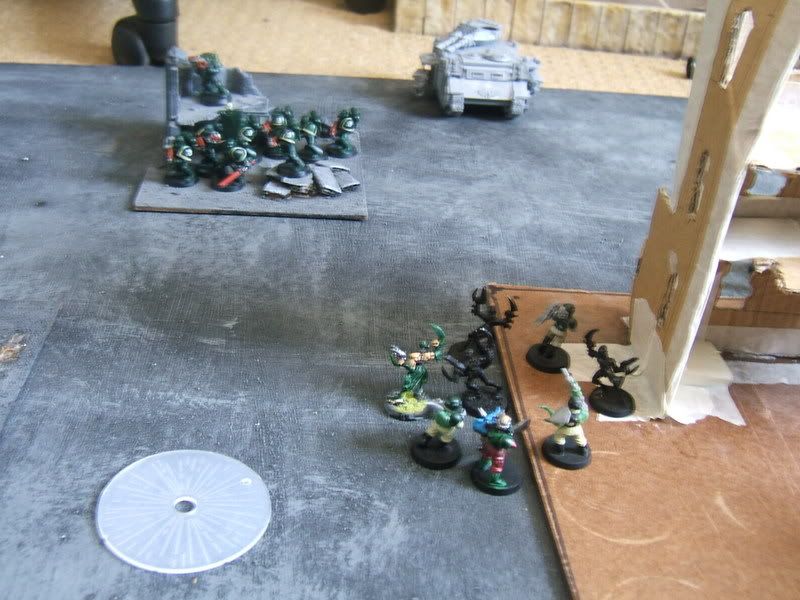 Shooting-
Mutant squad 2 move closer to tactial squad and chaos marines squad shoot at shake pred
Assult-
The bike power fist roles all 1's and the marines finish him off, Lord charges in with the mutants against the termies and kill 2 and the mutants kill the last one =D, Mutant squad charge tactical squad 2 and kill 4 and lose 1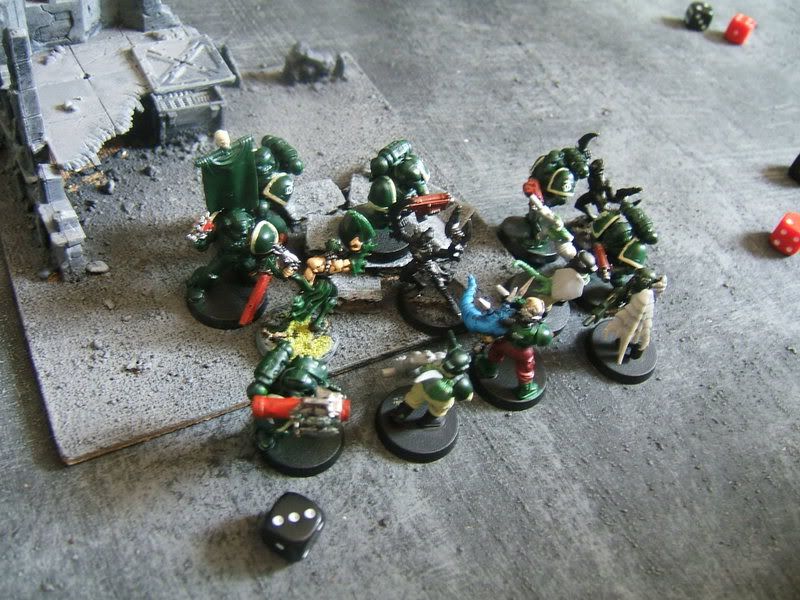 Dark Angels
Moving-
Tank moves west out of LOS
Shooting-
None
Assult-
Tactical squad 2 kills 2 mutants and they return with killing 2
My opponent caught on that he was diying a bit and thought hed go agaisnt my Eldar friend (Which is currently going on as I write this)
I beat him by quite a bit but had no units in the building but my traitors were on their way.
=] ReApEr
[hr]
Nice report, +1!
--Mal