Two days solid spent playing this, and I've only just got above 100 turns (the year is 2162 from 2050)
1st thing, is I liked the demo, which was the above 'blog' so I decided to get the full version and restart the game in the same manner, but on my own settings (you were limited in the demo) and with the intension of finishing it completely.
I have over 10 double A4 pages of notes for the game so far, so I'll be more a full story and history of mankind, than any brief overview.
I've also 'imagined' that everything starts in the year 2050, and that a turn is a year, that makes ships roughtly travel at the 'correct' speeds through space, but of course they are nearly always breaking the speed of light. Hence I purposefully slowed down some of the early ships by not moving them to represent that fact. I also fudged it by presuming that all the hyperdrive technology (I removed it from my beginning tech list) was yet to be researched. As it happens humanity develops it in the year 2053, well hyperfusion technology and somehow we have got the 1st probes out to where they are in the game so far.
The settings for this expanded game were as 'realistic' as I could guess after a few attempts at populating a map as I could get; Huge (not imenses, because otherwise it looked like it would be several centuries before any form of contact might occur), stars are uncommon, planets too, habitable rare. I set the major races to two others, the map to 'blind' and the number of minor races to random (hell you never know where life will spring up.
Suffice to say, the map is big enough, and so spread out that even 100 years into the game, I only have really explored most of the stars on one half of the map, and I've not encounted any of my major rivals planets, only a starbase, which I have no idea whatsoever as to how it got there...
So to restart the blog with the 1st few years;
[hr]
2050|Humans Colonise Mars
After the first few trips to the Red Planet in 2067 a colony ship of some 100M souls embarked on humanities first coloniseation project to the Red Planet. To facilitate this great task the factories of China had to be bought to create the required number of rockets for the journey.
The trip and landing occured smoothy with no major problems and work was set about building farms on Mars, however the colonists primarally being of western origin prefered the local name of the Red Planet as it has become to be known.
Earth meanwhile has spent vast sums of money on a special space research center and set up the organisation known as ESEE (Earth-Space Exploration Executive) as one of the side projects to Mars work begins on a fleet of Scout probes to explore the nearest stars. These probes will use recent advances in ion propulsion methods to speed them up to relativistic velocities to get them close enough to other stars to scout them for small astronomical bodies.
Meanwhile Kabibo-Superkamiokandai begins using robotic drones on Earths asteriod belts to search for precious metals.
2053|Hyperfusion
The TEK reactor in france opens a new form of nuclear power generation, TEK reactors work on the CNO nuclear fusion model rather than PP chains. These leads to 10s of TeV being avalible for scientific and public use.
The media labels this a 'new age' of well being as 'free' very very cheap energy hits the European energy markets overnight, this ends the age of Oil and gas most abruptly with the next few reactors built over the next few years, whole continants are supplied with 'free' energy.
Some comontators say Humanity is a class 1 civilisation, many disagree with this notion.
Much of this throws a shadow over mankinds futherest probe to date, reaching the nearby star now called Kwilas in our local cluster.
2054|A House in the Stars
As part of the survey by this probe* it is discovered that Kwilas has a habitable planet of a class 6 catagory, its pressure is low, its gravity weak, but it is warm and has much liquid water, good enough that humans can walk around freely so long as they bring a respirator and goggles. It is decided that more viewing will need to be done of this planet.
Closer to home the manned surveyship Endevor finds a 'spaceship graveyard' in the rings of Saturn. The vessels appear to be of human origin and from the year 2227** many of them appear to have been pulverised by the dust of the rings leading the crew to deduce that the craft have been their almost as long as the solar system itself.
However the alloys themselves in the craft give human engineers valuble ideas on new construction techniques.
The Endevor also raises erius questions on Earth, many scientists believe that this 'Endevor Hoax' is a publicity stunt played by the ESEE, while it takes another 3 years to complete the 1st 'Stargazer' probe ships.
Meanwhile the Martian population publishs figures showing a rise in the number of 'Martians' so humanity stands at 8.3bn souls.
*Not the survey flagship you start with
**Making this up to explain a lot of the 'anomallies' in this game, it makes it flow as a story better.
2055|Exploration
Endevor follows a simmilar route to the leading probe and passes near the Kwilas system, or Kwi as the abreviation and on towards the star Thindor in sector 07-10 (Earth being 06-11).
2056|Futher Exploration and Development
Info that Earth wouldn't have at this time...
<<Thalan Empire builds the 'Hyperion Matrix' and 'Economic Direction Unit'>>
The Astrodrone[sup]TM[/sup] fleet reachs the Sol asteriod belt and and begins asteroid catagorisation, collection and processing.
The ESEE demards grater funding from Earth authorities to help run various projects as they are in deficit of -9kbc* Earth governments pander to the cause incresing the 'Space Tax' as it is called on national GDP from 33% to 41%, while the production capacity is dropped to 56% by dropping meteorite defense plans from the ESEE budget.
By the end of the year ESEE is back in the black with a 2kbc 'profit'. This leads futher investment into other scietific projects like the Gluon Collider at CERN using the power output of 7 hyperfusion reactors they can probe the universe at the 100 TeV level. Work for this project is expected to be completed in the next 3 years.
Endevor passes the Kwi system.
*Upscaled unit for yearly turns
2057|Science Fiction, Science Fact
Theoretical Physics and Sci-fi merge as a test project for artifical gravity using leptonic spin prove to be successful. Theoretical 'Accelaration Gates' are proposed as a use for this technology.
The 1st 'Stargazer' fleet is finished. The Stargazer, classified the ESN-SC is a light unmanned (but can be manned) probe ship with a sensory array and technology to utlise Accelaration Gates in the near future to aid in Space exploration.
Late in the year a test gate is built and the 11 probes are sent to sector (05-10).
Labs on Mars start to explore the possiblities of 'planatary improvements' as the population starts to get to grips with its new planet.
Thinder System is found to have 4 asteroid belts, but no stars.
2059|Science! (and Kazak-wood)
<<Thalans build 'Temporal Entertainment'>>
The Gluon colider is finished without incident and research begins into the wonders of the universe.
As this occurs, the Endevor comes across another space anomally that appears to be of human origin that contains infomation on interstellar trade insurance from the 23rd century.
Physicists really start to debate time travel as possible as 'Endevor Hoax' is less widely believed. The Japanise Robotics company Kabibo-Superkamiokandai sets up its second processing facility in Sols belts.
Finally just to Make benifit the cultural learnings of mankind, Kazakstan becomes set to become the new hollywood with many new films and digital media comeing from their digital revolution by siding with Chinese industry.
2060|Space is Big
Endevor leaves the Thindor heliosheath to pass the Star 'Gladstone' which is another red giant.
2061|What is with this shtlk?
Endevor discovers another human wreak of a ship from the future, programs nad IP stripped down from the accessable databanks worth 250kbc are found. There are major questions asked about the bootstrap paradox.
It moves on futher to descover 3 asteriod fields around Gladstone while Earths population reachs 8.8bn (Mars 0.14bn)
Stargazer one, or SG1 reaches the halfway point of its journey.
2062|Hatch
SG1 spots Star 'Hatch' named after Sir William Hatch as founder of the Stargazer Project.
2063|Nothing of Use Here
Hatch is discovered no to harbour any planets or asteroid fields.
The second Astro mining unit is finished in Earths belts.
2064|Space is Empty too...
Endevor plots course to another anomally, and the Second Stargazer SG2 is put into construction.
2065|Really Empty...
Second probe SG2 is launched, it is estimated it will take 14 yrs to reach its target. Endevor finds and abandoned trade ship and over 1 million bc of IP is looted from its data banks.
2066|Like so Empty its well boring...
Endevor passes Betelgeuse, while SG1 passes star Weber with 4 asteroid belts. Meanwhile the human population in the Milkyway reaches 9.3bn in total.
2070|Gravity Waves!
A breakthrough in gravitational wave detection leads to improved models of GR, thus helping early spacewarfare theory on relativistic effects of moving ships.
[hr]
Those are the 1st 20 years. That was 4 pages of notes, as you will see this rescaling of time, actually doesn't model early endevours too badly. All the early probes I just sent out in a straight line and when they get to their maximun range I've just left them there (for the most part). The scout you start with is in orbit about Kwi-I for all this time and hasn't moved from there in over 100 years in this game.
I also have been playing the game without any idea of how starbases and freigters work, so you'll see some 'fluffy' explantions for when things don't work out for a bit.
I'll include some pictures of the 1st spacecraft designs in a few mins after I've screenshot 'em and uploaded 'em.
Gen
EDIT: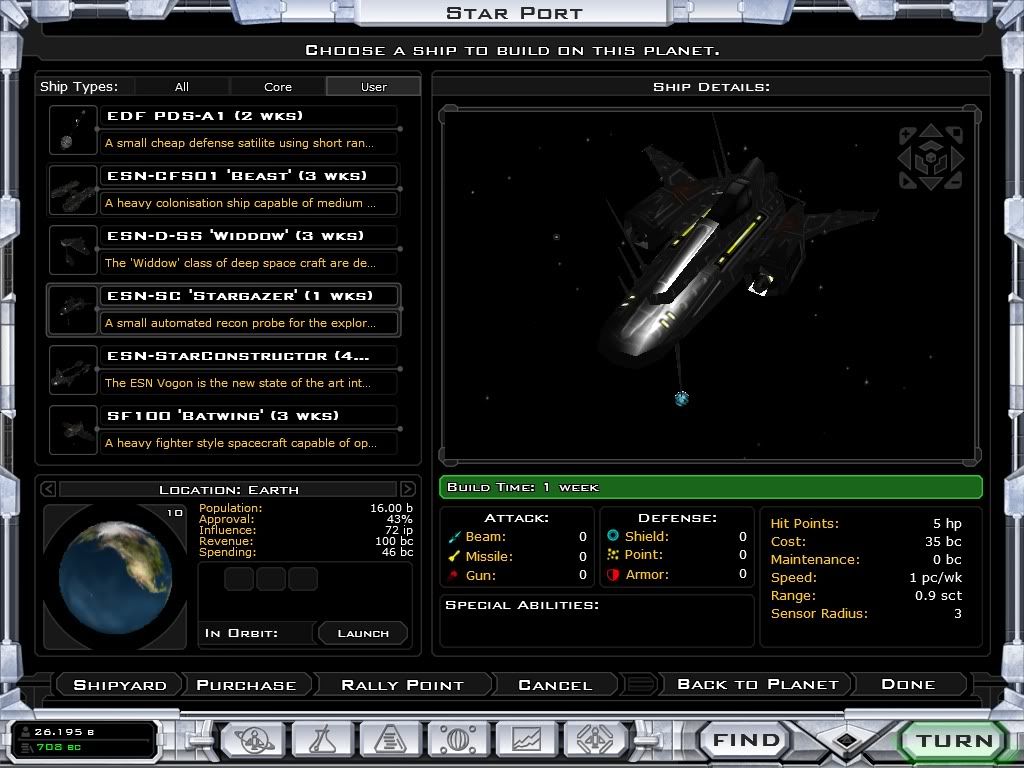 ESN-SC 'Stargazer'