This may take a while...
I now wait while I upload eleven images to photobucket. Consider this your "pic heavy" warning. Meh, I'll spoiler box it.
Gah, this is taking forever. Time for a stream of consciousness.
I have just seen this image:
And it made me laugh. I have somewhat of a headache which at this hour is rather unexplained. My worries about not having a job and having a negative bank balance are ebbing with me doing other things, as sadly there is no way for me to obtain a job at quarter past ten at night. My girlfriend is coming over at some point probably about an hour from now and she too serves as a great distraction from my woes, especially if takeway and a movie is involved.
I am listening to Alestorm, but it's kinda grating my headache. I am considering going to the shop - which shuts at eleven - and procuring some pills of some kind, but I can't be bothered getting up until this is done and I start to actually tidy my flat - I have a large pile of washing up that needs to get done.
The uploads are 40% finished, by the way. I wholeheartedly blame Minako for this, and if I see her she shall know what for, let me tell you that.
I am now going to roll a cigarette.
...
I have no rolled a cigarette and am about to light it with one of my many shiny zippos.
Cigarette lit. 48% uploaded. I hope you're grateful.
This pack of Drum (that's tobacco, for the uninitiated) is really annoying me. Drum always has a bit of bark in but that's the price you pay for the best rolling tobacco around (Golden Virginia blows Wargamer), but this pack is so barky it's taking the cake. Seriously, it took my cake. What a bastard.
53%. Getting pissed off, but we're over halfway there.
Alestorm has been substituted for Seether.
I recently played through Fallout 3 again, with no DLC, and the ending frustrated me just as much this time as the first. I've got two mates who are immune to radiation, and neither of them can be arsed to go into the chamber and put in the code with no ill-effects, OH NO, I have to die or sacrifice a silly woman. What utter bullshit. And frustratingly now I want to play it through again with a different leaning in my skills, except I start from scratch so no matter how good my actual practical skills are I can't shoot for shit and get mobbed by ****ing mole rats, because the game says so. Again, utter bullshit.
Why do I even like this game?
66%.
Korn now. By the powers, this song has an obnoxiously long intro. Skipped it to the actual song, which isn't bad.
You guys BETTER be grateful for this.
71%. GRAAAAAAAAAAAAAAAAAAAAAAH.
Cigarette half done. This is outrageous, I have ****ing washing and tidying to do before my girlfriend gets here. I'mma hit "Preview" and see if anyone's ninja'd me, then respond.
Nobody's ninja'd me yet. Huzzah. So I'll address Minako.
I'd place the heart around £15, Minako. It's not a BAD job, I guess. The kanji is well done, but it can't read "Yuki" because that would be two characters as it's two syllables. Sorry. Where on you is it?
83%. Getting there.
Just got a text, checking it.
It is my girlfriend, who is saved in my phone as "Chaos Black." She used to be Kate Green, on account of her name being Kate and her hair being green, as I already had a "Kate." She saw my spray can and decided to be Chaos Black instead.
Oh, she's texted back. She asked if I had seen Donnie Darko and I said no, I've not seen many movies. She knows this.
She says only "Oh my God." I said "Sorry." I may not be getting any tonight.
91%! Get in. Nearly there now folks, so I guess I'll sign off here. It's been interesting.
Oh, one of my own songs has come on. This is rather soft and sweet and it may make me cry. Oh dear.
96%.
Getting ready to post the actual relevant stuff now.
Here we go:
I just realised I missed my right elbow whilst taking pictures. **** it. I have a nonagram on my right elbow (that's like a pentagram but with nine points, it's Slipknot's symbol).
[spoiler=Tattoos]
Chest
This hurt like a mother****er.
Upper Right Arm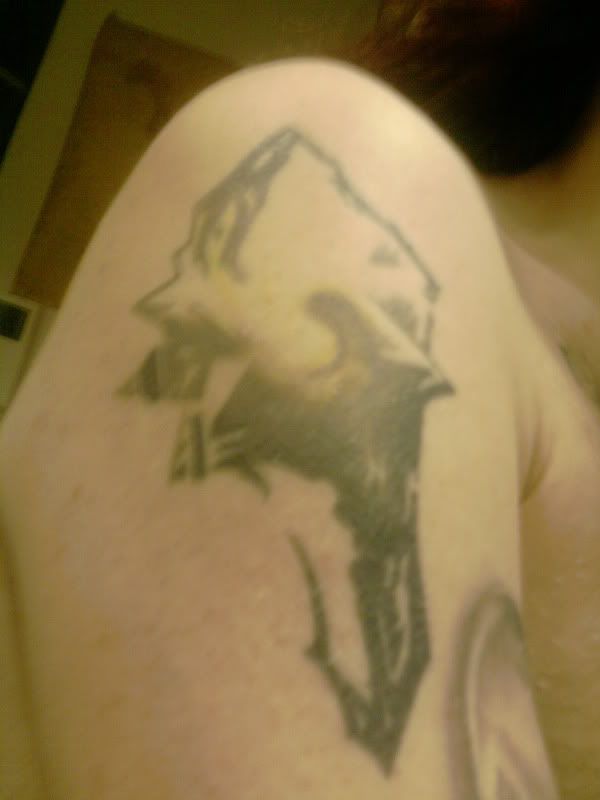 Between my right elbow and upper right arm
Inside Right Forearm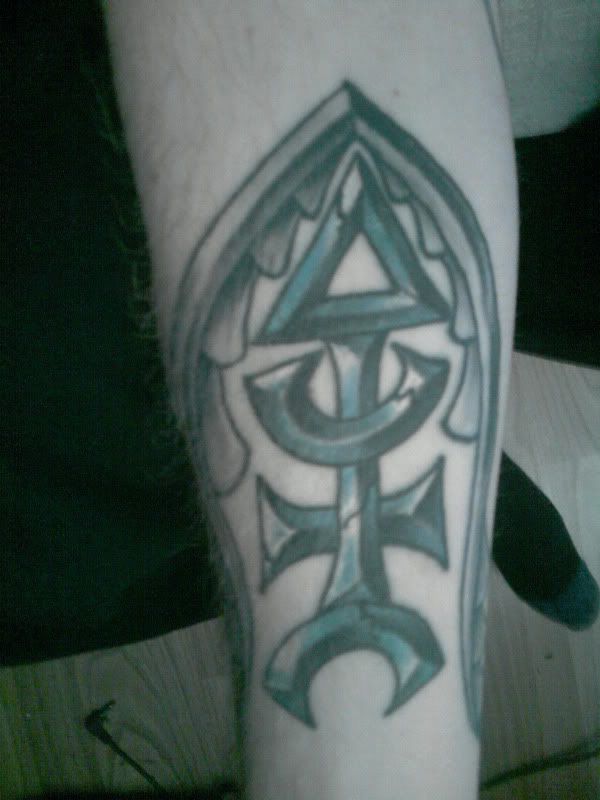 Inside Right Wrist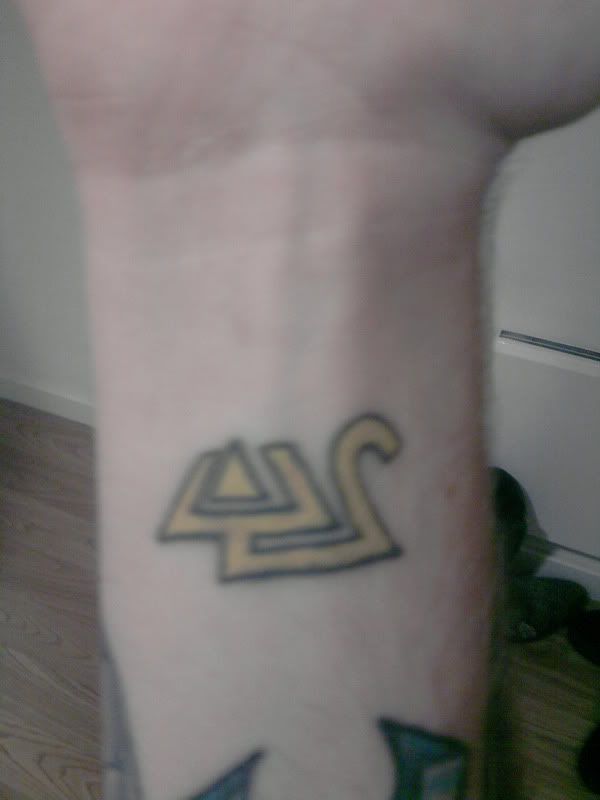 Outside Right Forearm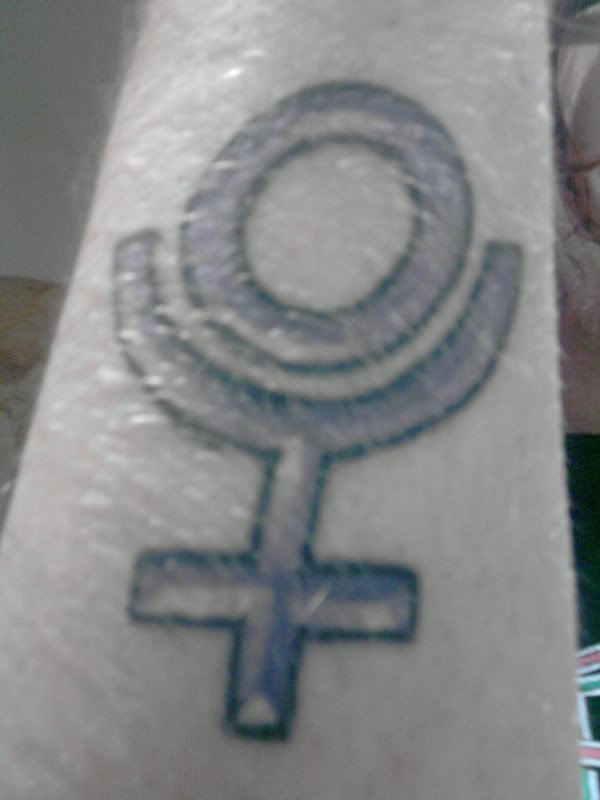 Outer Left Forearm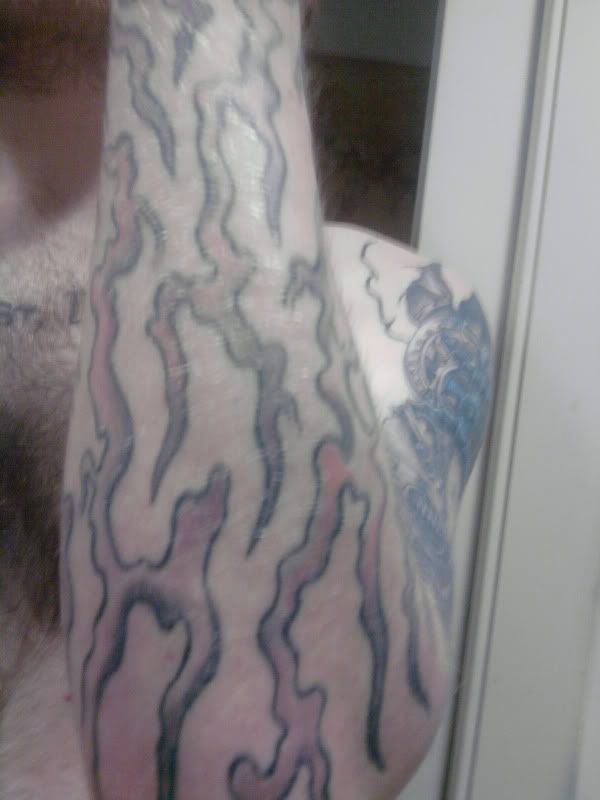 Inner Left Forearm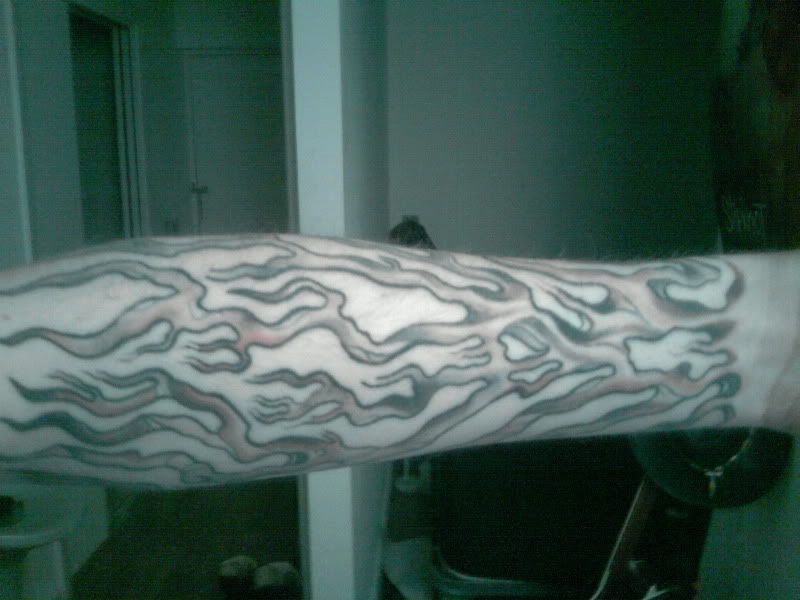 Upper Left Arm
This one was a bitch to take photos of, so there's a few. Hopefully you can piece together what it looks like.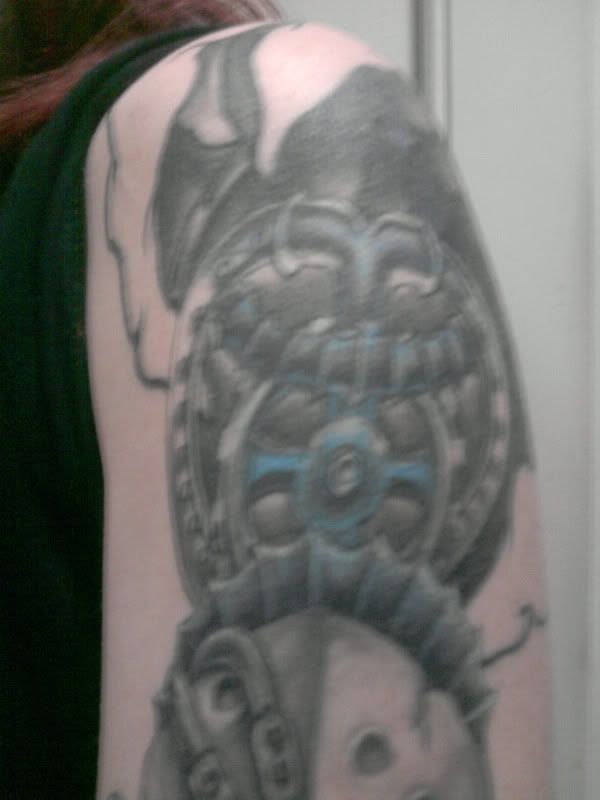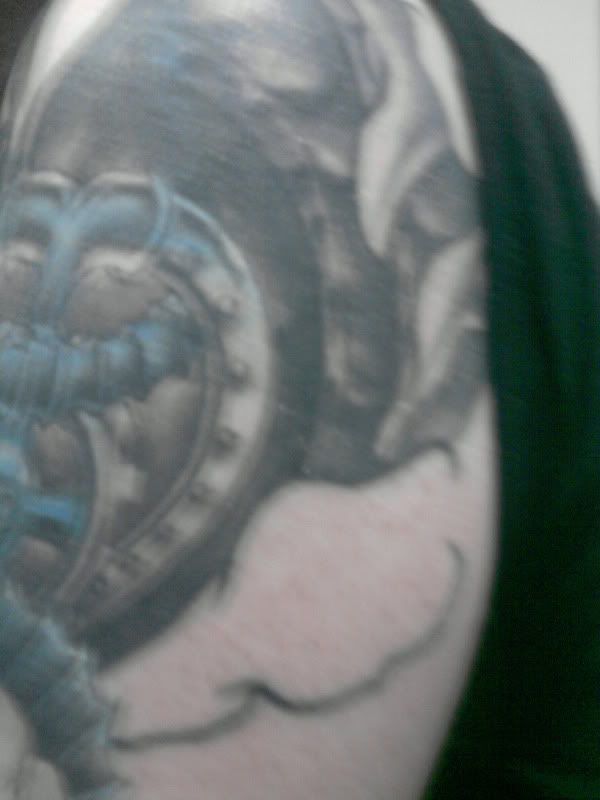 [/spoiler]
And that's that. They ALL have meanings, but I need to get stuff done and I've spent too long on this already, so if you're curious, ask and I shall tell.