Alrighty then. Got home this morning and finally had a wee bit of sleep.
I have now spent 10 days in Palestine. I have visited many holy sites of the three great Abrahamic religions and met with many interesting and important people.
The trip down went almost all gravy. Travelled with my Social work class. 17 people total. 4 of us guys. :3
Two planes with together over 6 hours in the air. And being a tall and wide guy, there isn't really much room for my legs and shoulders :P
Still, arrived in Tel Aviv early in the morning and wow...the "security" is insane.
And the more annoying thing was that they stamped my passport even if I requested them to stamp on a separate paper. So now I have to get a new passport to get to Jordan, Syria, Iran etc >
...no rubber glove though...
The hotel was quite nice and in the Arab part of Jerusalem. Very friendly staff and great food. Spent the morning regaining some sleep and later, we just travelled the Old-City.
We actually met a close friend of this guy (before the demonstration):
http://jta.org/news/article/2009/03/...arrier-protest
A very sketchy coverage of the case though. The protesters numbered barely 200, and the demonstration was peaceful, and the group was dissipating when the IDF started firing tear gas. He took a can to the head. His skull was cracked...part of his brain poured out and suffered heavy bleeding from nose and ears. He will most probably die...
In the evening, we had a meeting with Jan from the UNRWA. He had some very interesting stories about his work. And about how the Israeli government stops aid from entering Gaza. There are so very, very much more than the
Klkn
we are fed from the TV.
Next day, we had a visit to the Holocaust-museum. I was a bit late as I was stuck at the barber. A very nice experience, the barber. Spent 1,5 hours in the chair. Very nice and clean shave with a knife rather than razor...I gave him free hands, so he really cut my big beard and huge hair short. Very nice Arab-style
He even made me a cup of Turkish coffee during the "break". He was even surprised that I wanted to pay him. "It's just a service, my friend" he said. I could make a tip if I wished. (still left him 60 shekles, he did a great job
) See my avatar for reference.
The museum was as expected. The horrors that happened in Europe, by the Wehrmacht. Been to several other museums, in Terezin, Sobibor etc. and there wasn't much new. Only lots of armed, obnoxius settlers and American tourists with very interesting versions of World History. Apparently the "Muslim World" invaded Israel in the early thirties and massacred lots of Jews and forced them to flee to Germany...
In the evening, we met with a very interesting person.
Mordechai Vanunu
(
http://en.wikipedia.org/wiki/Vanunu
)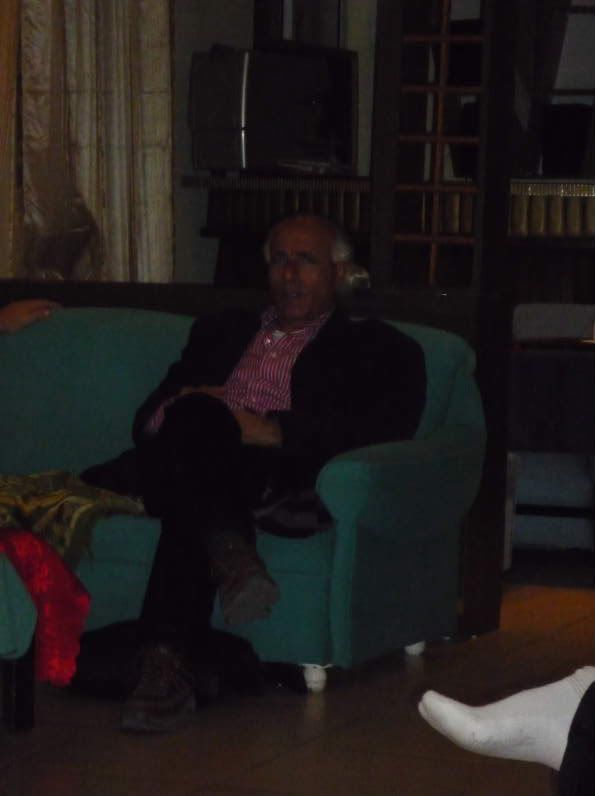 He spent 2 hours telling us his story and about politics and policies of the Israeli Government. I welcome him to political asylum in Norway, if he ever gets released.
Next morning we travelled to Ramallah. Our guide gave us a great trip, and shoved us several sites of atrocities against the Palestinian people. So very much land stolen by the Jewish settlers...is so very much worse than even I could ever imagine...
The wall is so very wrong...designed just to
Y'xauk
up the lives of the Palestinians. That the wall is built for "security reasons" is so much
Klkn
it's incredible. Splitting villages and families in half. Keeping farmers from their livestock and workers from their jobs. Making sure that wells and fertile land ends up on the Israeli side.
It looks so much like the Berlin Wall...and will be torn down in the same way, when the time comes.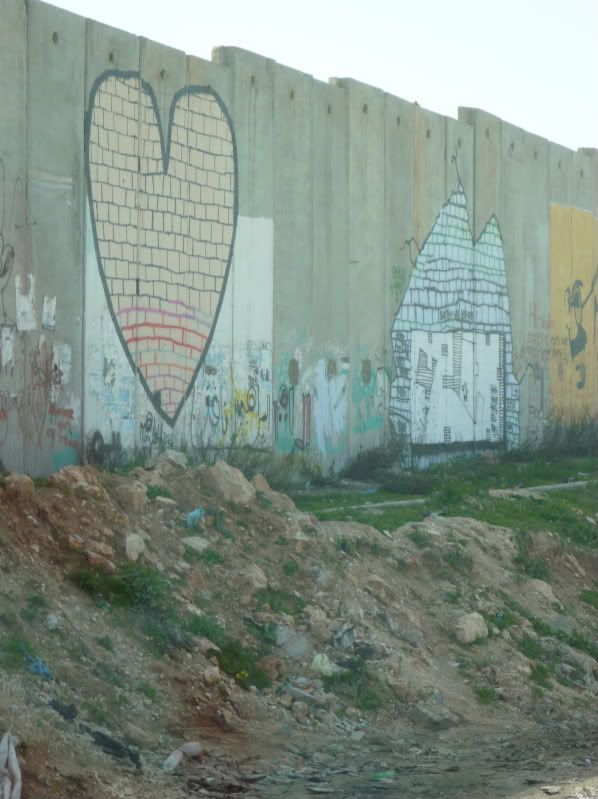 Palestinian side.
On the same trip we visited the Refugee Camp of Kalendia. And we spoke with a representative of the Womens Organisation Group there. About the life in a camp and how they survive there...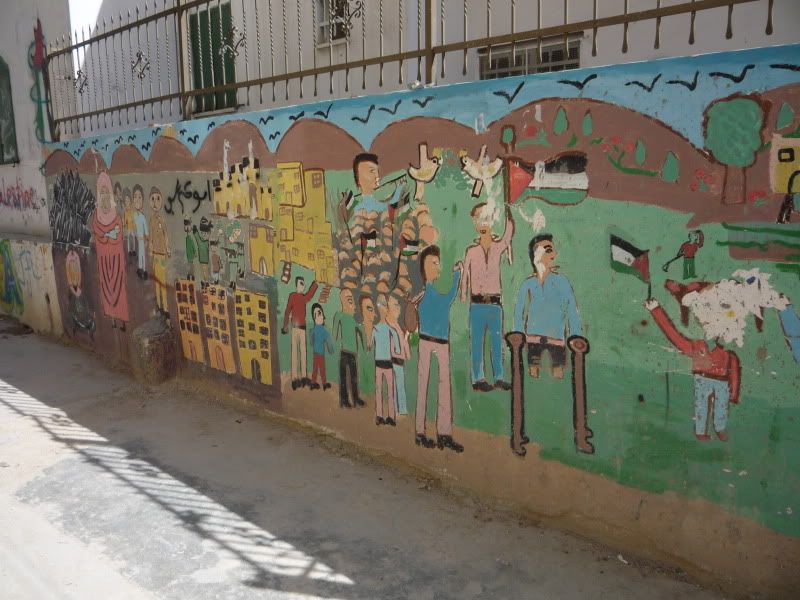 (Pictures like these all over the place
)
From there we visited a volienteer aid worker for the Red Crescent Society. And how their everyday work is. The constant harassment of the IDF and settlers. The sign of the Red Cresent on the ambulances seem to be nice target-practice for them...and their Arab drivers, even more...
We also visited the city. A factory of self-tought glass-workers were making souveneir articles for stores all over Palestine.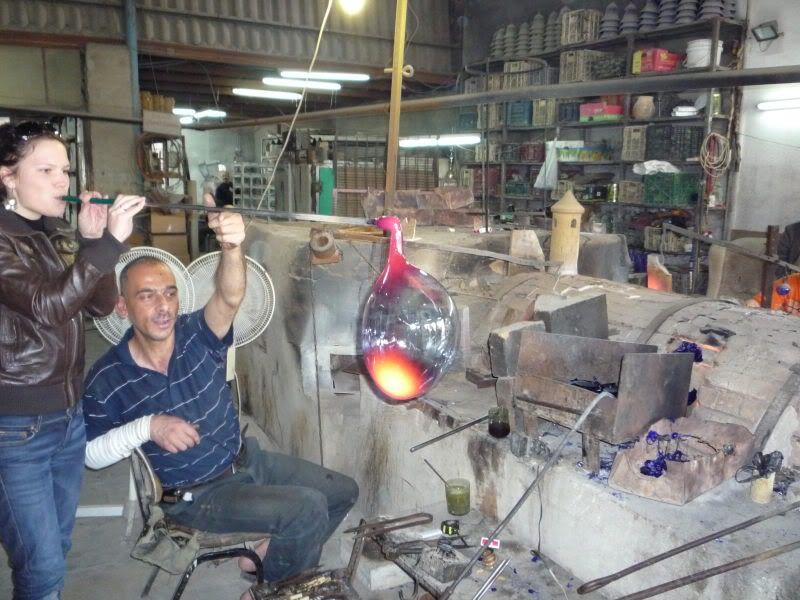 We got to try making our own glass
(o, the failure...)
In the evening, we met with two of the heroes from Gaza. Two Norwegian doctors who worked there during the massacre of "Operation Cast Lead".
Mads Gilbert and Erik Fosse
(
http://en.wikipedia.org/wiki/Mads_Gilbert
)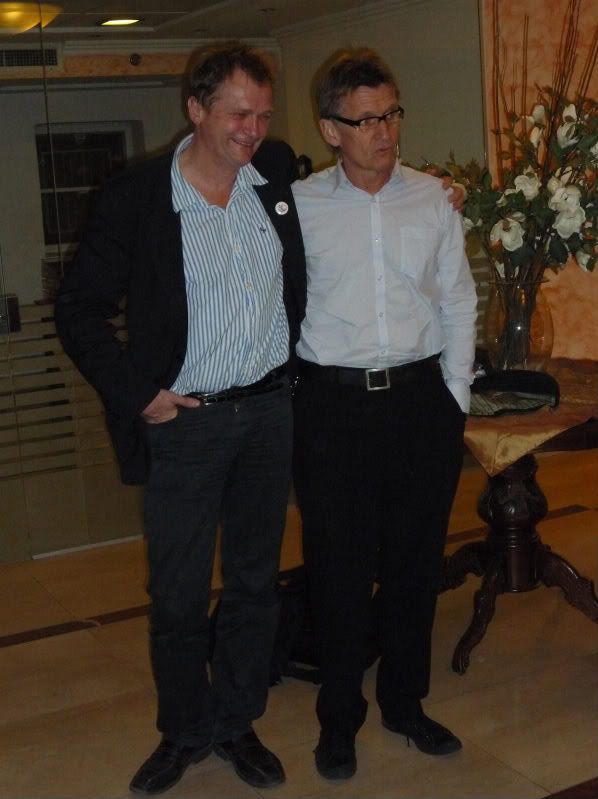 They told their stories of their work there. And spoke of the use of White Phosphorus and DIME munitions used on the civilian population there.
("Dense Inert Metal Explosives". Tungsten alloy that disrupts body biochemistry, damages the immune system, rapidly causes cancer, and attacks DNA (genotoxic).
The next day was the worst of the entire trip. It's hard to even imagine it...
Hebron.
A Palestinian city of over 170.000 citizens, with 400 settlers, and 450 IDF soldiers to "protect them". The everyday harassment, the racism, the rapes, murders and senseless violence... Strong stories from those who lived there...the Shin-Bet were on our
D'yi
at our entire stay there. Trying to restrict or movement there. (Had to delete my picture of them under threat of arrest and deportation
)
At several occasions, there were settler children throwing stones at us, with the IDF cheering them on...
There is so much wrong going on there...far more than anyone could even imagine. I spoke with a young boy, who told me a story of what had happened to him. Settlers had caught him, and beaten him to an inch of his life. Then a settler-woman had taken a stone and rubbed it against his teeth, ruining them...
We visited the Mosque of Abraham. Seeing how it has been "stolen" from the Muslims. It is now shared in half by a wall, and the Muslims are harassed when they keep their prayers there. We also saw the results of the Goldstein Massacre...
http://en.wikipedia.org/wiki/Baruch_Goldstein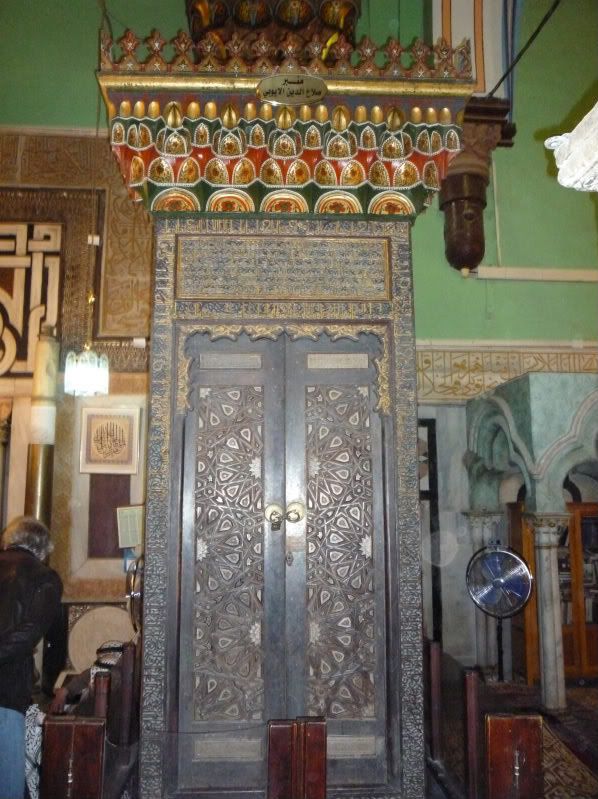 The next day. Wednesday the 11th, we had a day off. And traveled to Jericho and the Dead Sea.
On the 12th, we went to Nablus. "The City of Terrorists" (lol) We got through the checkpoint by pretending to be Jewish students from Germany, visiting the settlement. :3
We met with the Mayor of the city. A leader of Fatah and representative of the PLO. I can say that there will be some interesting happenings in the coming months. BIG NEWS! The PLO will have a election and they will open for Hamas to join them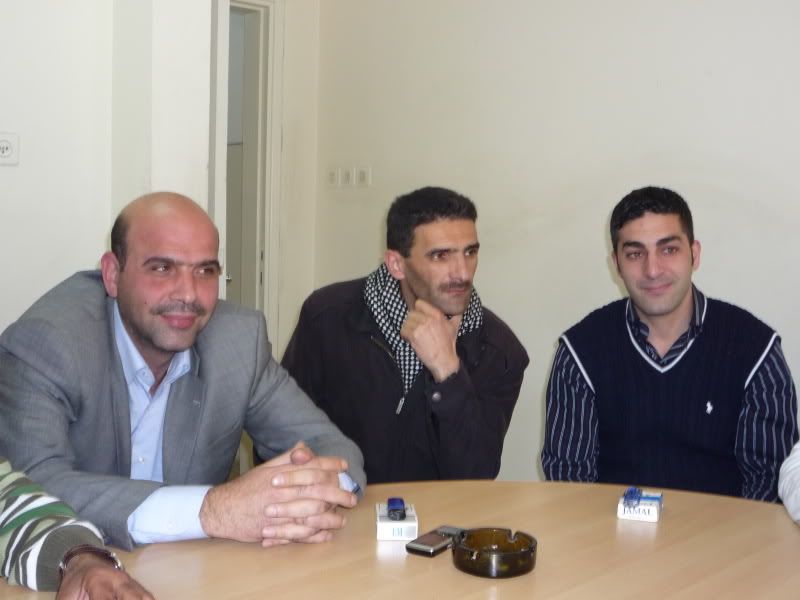 We were also supposed to meet with a representative of Hamas this day. But it was impossible, as he had gone "underground". Apparently the IDF and Shin-Bet was on one of their hunts again.
The man in the scarf later joined our group and showed us the city. A large amount of monuments to honor their fallen Martyrs.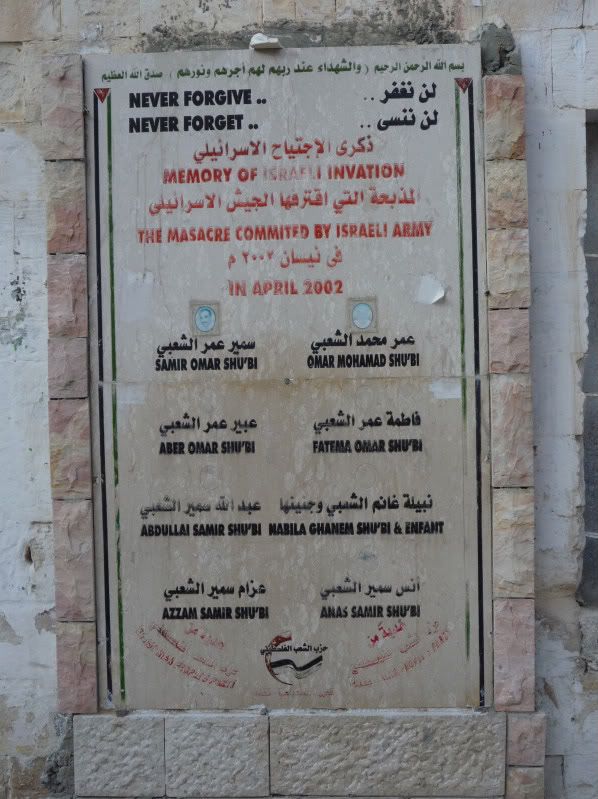 This one is in honor of a family murdered in their sleep by the IDF. Two parents and six children. All under the age of 16.
I also spoke with a boy there. 17 years old. His home had been hit by white phosphorus when he was 14. His two sisters aged 1 and 3 years burned to death along with his parents. He survived, but lost his eyes and had the top half of his face burned off...
We later had a meeting with the NGO, the Israeli Committee Against House Demolitions. (Jeff Halper:
http://en.wikipedia.org/wiki/Jeff_Halper
)
Got some general information about the group, and the opinions of the Jewish population in general...
Got a great book from them too:
http://www.amazon.com/Israeli-Palest...7209658&sr=1-1
I have never learned as much as I have done on this trip...and I hope to return one time, to a Free Palestine.
We have visited many mosques and churches. But were not allowed close to ant synagogues...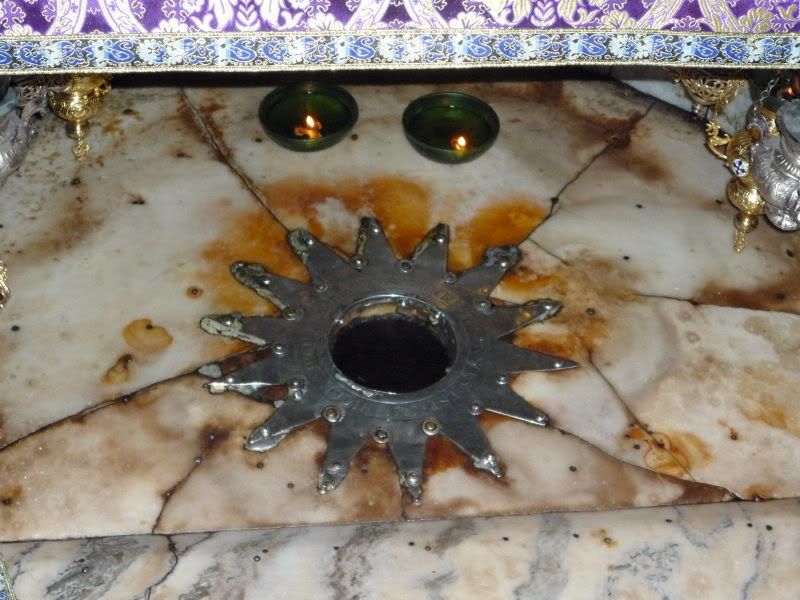 The birthplace of Christ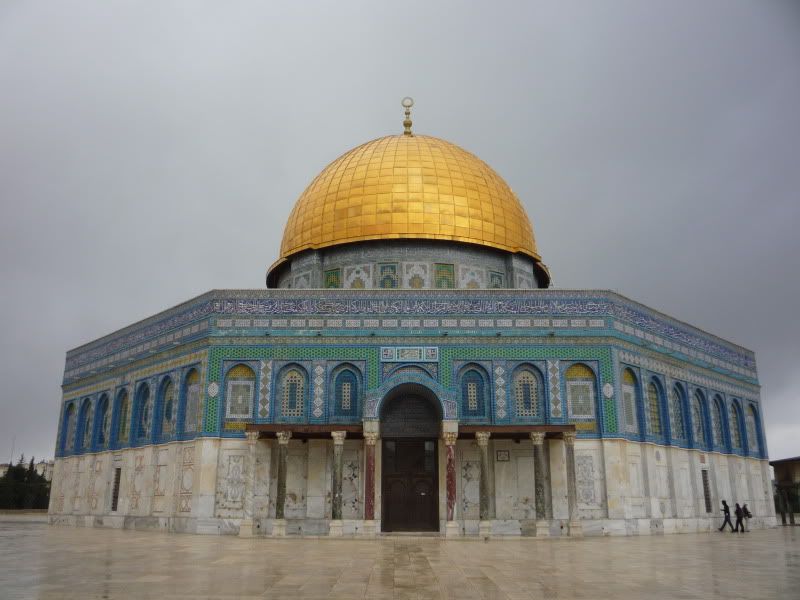 The Golden Dome at the Temple Mount. We did not get to enter it, as we were denied by the IDF.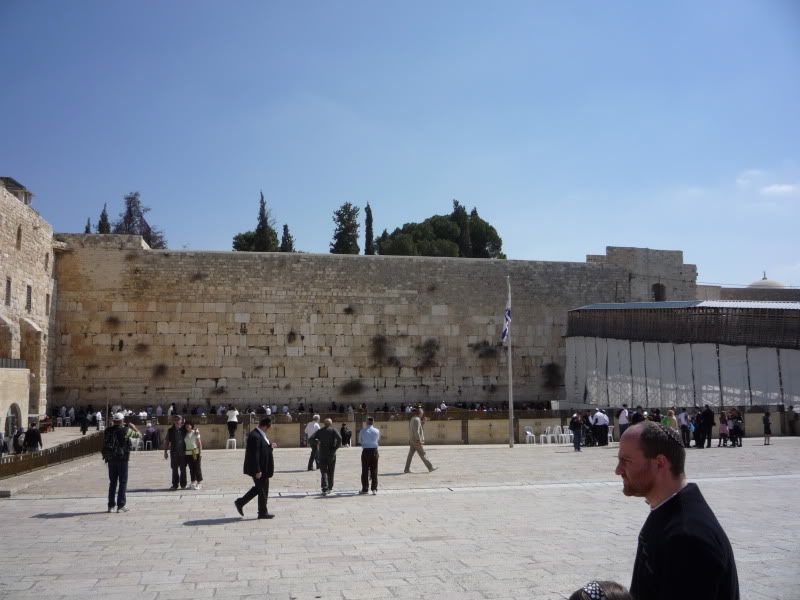 The Wailing Wall. The site around it was home to over 5000 Palestinians who were chased off into refugee camps and their homes demolished.
Some remains of the Palestinian homes, right next to the Wall.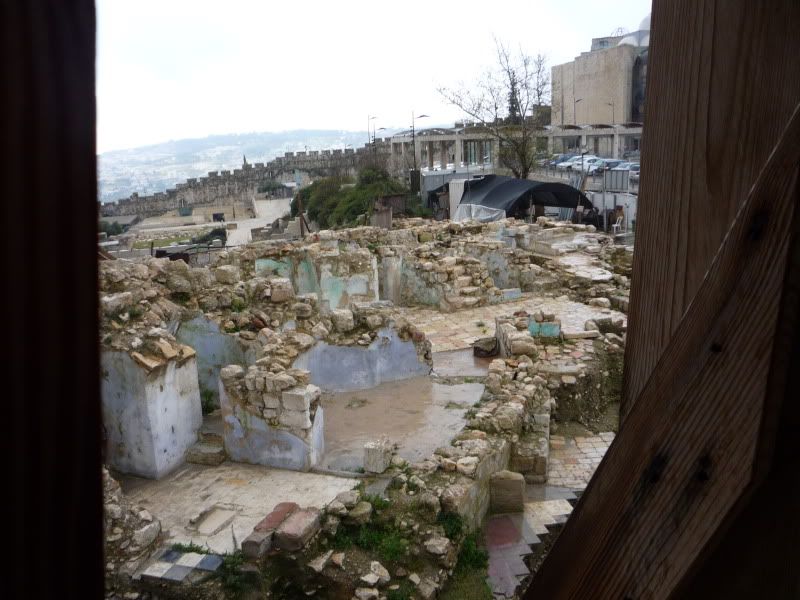 At the end of our trip, when we arrive Ben-Gurion airport, we met a lot of trouble from the airport authorities. But luckily we came in good time, and reached the flight with 2 minutes to spare.
They forced us all to open our luggage, and went through all our stuff. The most annoying part has to be the questions...
"Are you Jewish?"
"Any Jewish family?"
"Your religion?"
"Why did you buy this item?" (band to hold a shemagh on my head)
"Where did you buy it?"
"Who did you buy it from?" "Name?"
"What was your purpose with this trip?"
"Met with any suspected terrorists?"
etc. etc. etc. It was ridiculous...
My general impression of this trip is that is has been a fantastic experience. Too see far more about what is happening down there. And how there is so very much more to the things that happens there than what we are being fed from the media.
What impressed me is the hospitality, tolerance and patience of the Palestinian people. In the refugee camps, they insisted that we would share their meal with us. As little as they had...
One can say that I have met the most tolerant and also the most intolerant people in my life. I have never felt so harassed and insulted in my life, as in my encounters with settlers...
To be plain, this trip has marked me for life. In a good way