No worries, if you have any further questions on the subject feel free to shoot me a PM.
The same applies for Images as well FYI, just put the Image code into where the text goes, then you get a clicky-banner.
Like, I will make a link with my Avatar image to my profile.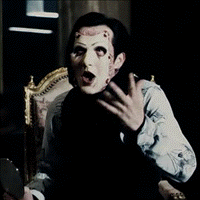 So the code for that is the same as with doing a text-link. Just instead of text showing up as a link, it's the image. So I am sure you know the IMG codes (just put the link to image and then put that URL into the codes that pop-out with the
button, above.
so, the code for the above image-link would be;
This is helpful, when you want a banner with a link. Good if you want to link to a movie or video you like, or to advertise another forum or something. Not as common with general posting.