* That morning I got up really early...
* Less than an hour after I had gotten up my Dad and I were at the Marina, putting our boat in the water.
* Past that, something amazingly awesome happened.
* We had been on board for an hour now, and only had a single encounter with a bat-ray so far.* We decided to put on some music.* Slowly, I skipped through my C.D. collection until I had found what I was looking for- "Breakfast in America" by Supertramp.* In what seemed like was only 1 minute, and as soon as "The Logical Song" had started, Dad noticed a little twitch on my pole.
* He jumped forward and set it, noticing the sudden burst of action on my pole I jumped forward and grabbed it.* Instantly I had started to reel in as quickly as possible, but then I had to give the
T'auk'cka
some line because otherwise my pole would have snapped.* After approximately 5 minutes of battling something really large, Dad and I got our first glimpse of our opponent.*
* Out of the water and in front of the sunlight jumped this giant Sturgeon, at least 5 feet long and as thick as a small tree's trunk.* In unison, Dad and I looked over to each other and yelled "HOLY
Shtlk
" with surprise and excitement.*
* After 10 more minutes of a gruesome, tiring and fatigued battle we managed to get the
T'auk'cka
into our boat.*
* I have told numerous people about this adventure, yet haven't been able to show a picture as of yet.* Well, this one is going to be amazing for you all.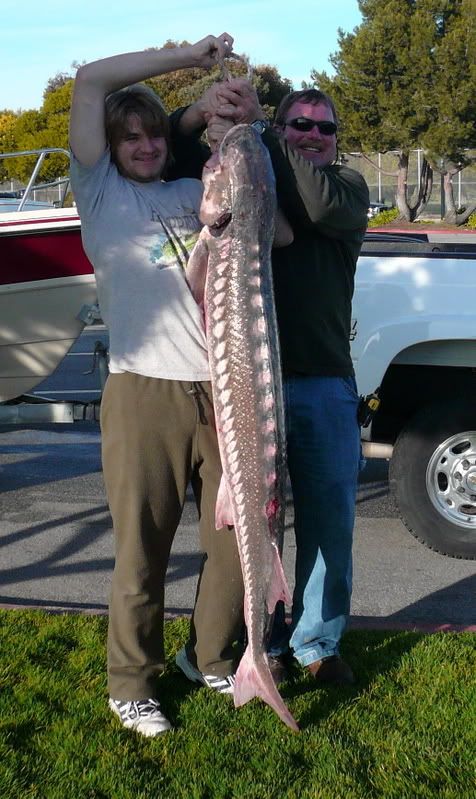 Please, ignore the hillbilly look I have to me (on the left, is me).* I hadn't shaved or taken a shower for two days (that was for later in the day!)
Anyways, this beauty landed me and my dad wuth the 2nd biggest fish, and won me third place in the raffle.* We made $756 off of my first sturgeon, in my first hour of fishing for them!