Quote:
Originally Posted by Sau1us
Technically, the height should be similar, and overall size should be comparable. If I saw some 'Hellion" warlocks I would be enthralled, but some may not think similarly. Alternatively, if you make the model LARGER overall, its harder to get cover, easier to see,and generally bad for you good for your opponent, and therefore easier to.
This.
Except larger bases and models can give you advantages, too. So I would try to use the same base size.
@ OP: My personal feeling was that warlocks on fast moving jetbikes probably would not wear robes that flapped around. they would have an alternate uniform. I have used shining spears. For weapons I have used the DA sword and spears. The DA sprue has some other cool items, too. To make them look more like warlocks I have taken heads and other bits from warlocks and farseers and attached them.
Here is my first attempt at a farseer.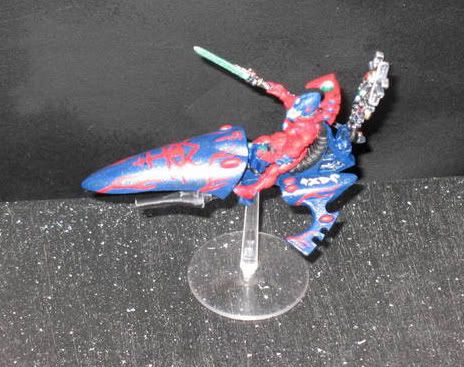 I have teh DA spear for a sining spear and have used bits from the eldrad model. The spine from Elrdads helm is attached to the back of the head and the banner pole is the top of Eldrads staff.
I also tried to "farseer up" the jetbike wings. This was one of my earlier attempts at freehand so the runes are not great but they may give you some ideas.
Hope these ideas help!