Quote:
Handy tip 1
Never ever pass up the opportunity to raid a bitz box or trade off your unwanted bitz for more bitz!
Restoring Tanks - Chaos
My apologies for the picture quality.
Vindicator and Pred
Do you have a broken up, old busted and maybe even half complete tank laying around? Come to JD's chop shop and i'll see what I can show you to fix it up! Helpful Hints and Friendly advice on fixing your broken models, bitz restoring old tanks and converting. BUT, before you read on make sure your bitz box is plentiful! Or at least your mates bitz box! haha.
Okay, Recently I was fortunate enough to sell my eldar for $100 and pick up a possible 2 preds with the deal. So far i have only the bits for one pred and a rhino chassis. When the bitz for the next pred come to me i'll use the turret as a spare with a different weapon to swap out as needed.
Note that these tanks are the old style rhino chasis.
What you will need
-Knife
-Glue
-Bitz!!!
-Tank chassis
-Work space
and
-Coffee!
Here are two preds i have already completed, and a dread. I've also fixed up 9 bikes that were in horrid condition when i came upon them for $2 and some dark eldar warriors (5 of them!). Stripped the down, pulled them apart and built them back up from the bitz box! I'll get pics of these later.
This article will look at restoring the old Rhino chassis with some help from a bitz box into a Vindicator. And the second part (soon to come) will look at fixing an old pred.
Rhino Chasis
The bitz I have chosen to do both articles with.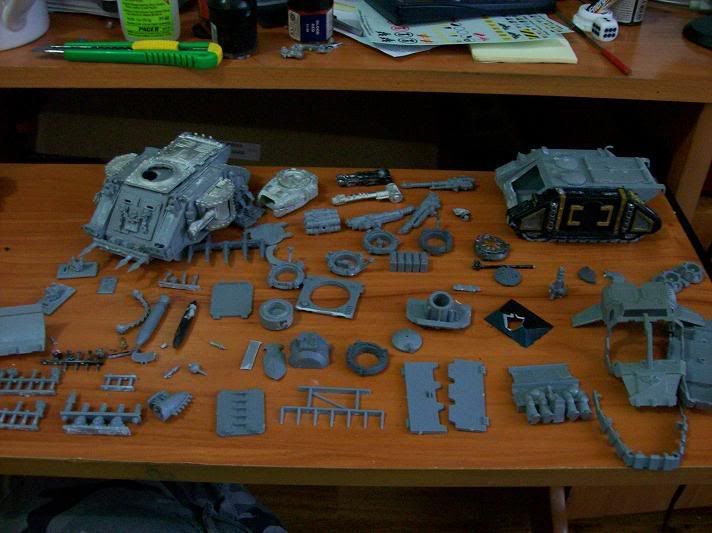 I have had to desecrate a land speeder for this project. However i was fortunate enough to have mates who dont want there older stuff and sell it to me for cheap! As they know i'll work wonders with it. Also, a number of random other tank accessories and bitz is always helpful. And i'll be referring back to my own bitz box for this project so watch for more bitz i use not in the picture above.
First up, make sure the chassis of the old rhino is stable and solid (ish). Then allow it to dry.
Once dry double check that the model wont fall apart on you! Do this by pressing on areas of the model softly, this will allow you to determine where any loose components are. Then fix them with some glue and let it dry and repeat untill you are satisfied the base model is stable.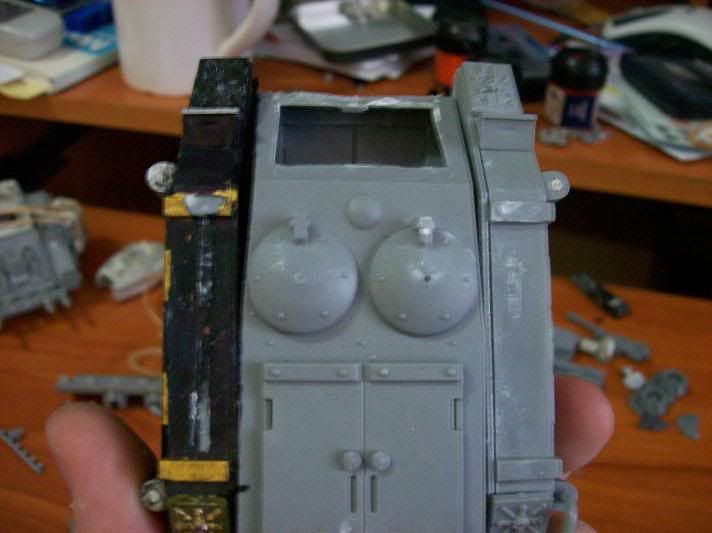 Now i'm going to use the section of the land speeder that separates the pilots from the engine.
I have already cut out the peice that sperates the front plates on the rhino and trimmed up the back of the speeder part to fit. This part will be the basis of our demolisher cannon. Glue into place.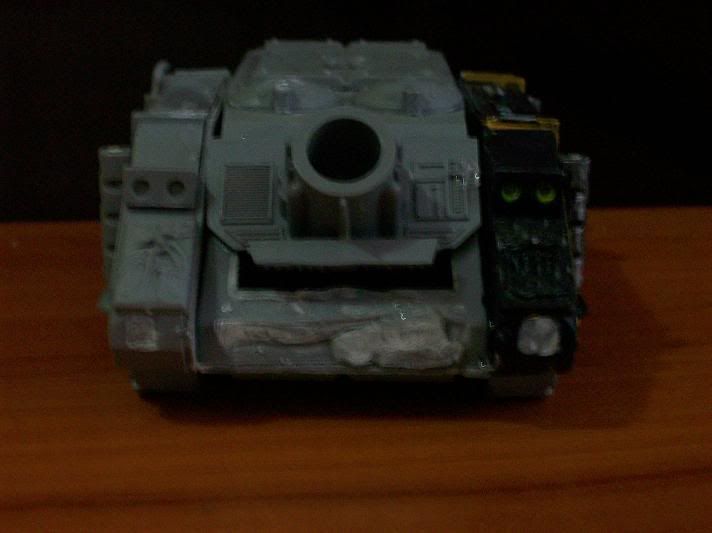 Now i'm going to take two devil fish landing gear struts and put them on the back as a stabiliser for the tank. I'm going to trim the top so that the struts sit at a slight angel.
Glue these onto the rear section of the tank.
And as always make sure you don't cut yourself.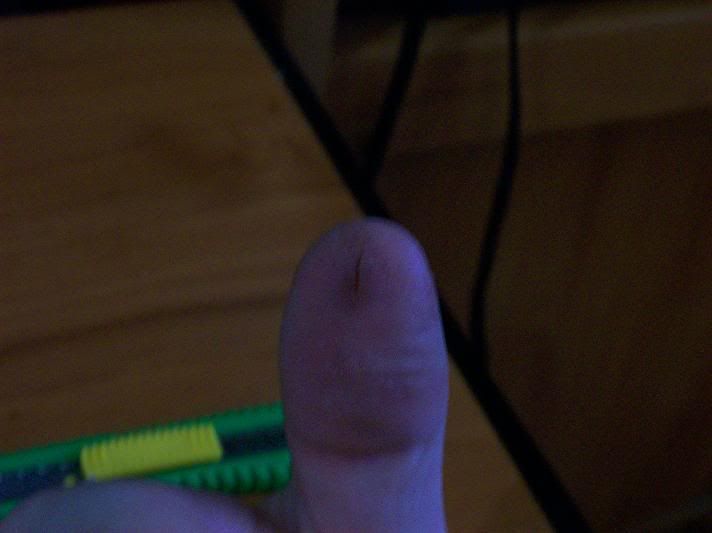 Okay, now im going to cut off the doors on the bottom (why GW modeled doors on the BOTTOM i have no idea.) Try not to damage these as they may came in handy later. I'll also remove the top hatches.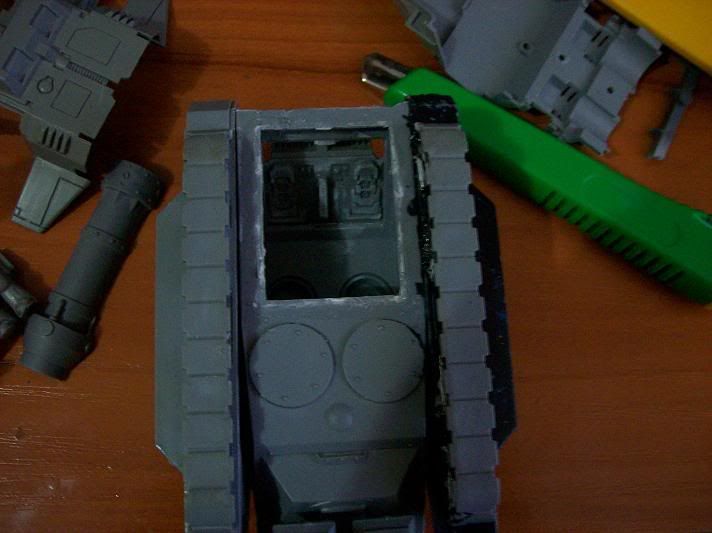 I also want you to prey to your god that the guy you got the model off has used a brittle glue!
Quote:
Handy tip 2.
-If your like me and will probably pull the model apart again don't use plastic glue. As this glue melts the 2 section together you will have a REALLY hard time getting them apart in a salvageable condition. Use a super glue that dries brittle so to can literally snap it apart with enough pressure next time you want to pull the model apart.
Now i'm going to fill in the door section i removed earlier with some thin cardboard. You can also use plasticard (i would normally but don't have any on hand). Now this only needs to be rough as it will be on the underside of the model.
I have cut down the support for a Russ rough terrain mod. This makes the surfaces flat to join onto the bottom of our vindicator.
The two panels below will be stuck on under the corners of the 'cannon' section to provide another support for the terrain mod. These can be found on the new land speeder sprues
I'm going to put two new hatches on top, and i just found an old marine to go in there. So i'll stick one up and have him out of the top hatch. I've stuck on a spike rack at the back, and i've done up the cannon a little more with 8 spikes going around it.
A couple of accessories and you have a Chaos vindicator!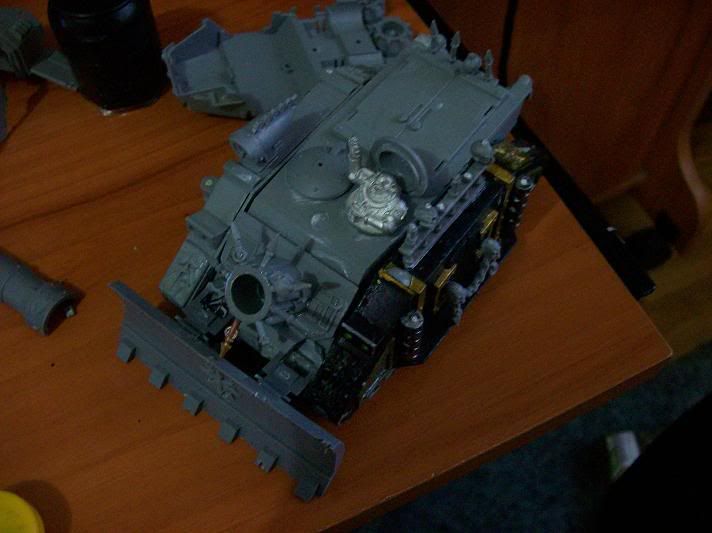 And by now you should have finished off that coffee!
If you want me to have a go at fixing up a model of your own, contact me and i'll see if i can help you. I'll even take the opportunity, if your willing to part with the model for a small time and a little money, to do the restoration myself. I've done friends metal models (old nid models in particular) orks are another common and easy one as is chaos. And i'll try my hand at smoother, cleaner imperial gear.
However eldar, dark eldar and tau i have very little experience with and can only offer advice.