Please note this tutorial is not complete, as I still have to buy the actual model Iím going to be working on.
[hr]
For this project, Iíll be making a Land Raider kit (eventually), complete with internal lighting, external lighting and various other bits and bobs which will make it my own and unique.
Planning
Like anything, planning can be crucial as to whether or not your project will fail. So with that in mind, we need to come up with some plans.
This project makes use of electronic components, and below Iíll discuss the basic elements youíll find useful in your own projects.
But before we can get into the details, we need some theory. If youíre an electrical engineer, please skip this bit if you donít want to read the basics again.
Motors
These are what will give you movement in your project, allow you to make spinning turrets etc.
LEDís
These small light emitting devices are useful for lighting up your tank kits. These come in a variety of sizes and colours, ranging from 3mm wide up to 10 and 12mm wide, as well as coming in a variety of colours, from greens to reds. For most purposes, a 3mm LED will suffice and these will be easier to hide.
In addition, they will only work one way round, so be sure to check youíve connected them the right way around before finally committing to a circuit.
Resisters
These are tiny devices which reduce the current flowing down a wire, which will help protect your LEDís from blowing. Due to this only be a guide, I wonít go into specifics about choosing the right resistor here.
Battery Pack
Your circuits will need power, so this is what youíll want to look into. Deciding how many batteries or what voltage your be working will determine which components can be installed. For example, high voltages can blow LEDís if you donít take precautions.
Potentiometer/Rheostat
These are your friend if your going to be using motors in your circuits as they enable you to control the speed of motors, and can be used to control the brightness of LEDís and bulbs.
Bulbs
Like LEDís, these come in a variety of sizes, and paying attention to their dimensions will pay later. These donít need any special concerns about voltage or current.
Wires
These are essential to any circuit, and for our purposes, the thinnest of wires will be a bonus.
Switches
These come in two main types. Toggle switches and push switches. Toggles are useful for circuits which you will want to ďstay on,Ē for example motors, LEDís etc. Push switches are like those found on your keyboard and come in a large number of sizes, colours and styles. Iíd recommend getting the smallest switches for ease of concealment.
Also note you can get locking push switches, which will ďstay onĒ after pushing them, and there are also ďpush to breakĒ switches which function like a normal switch, but in reserve. The circuit will be on all the time, until you push the switch.
Speakers
You can find speakers small enough to insert into your tank kit, but for practical reasons, youíd need an external sound source for it to be of any use.
Now your armed with that rather basic knowledge about what you may find useful, we have to take into account the kit your going to be working on. Different vehicle kits have different space allowances. Generally Imperial/Chaos kits have the most room to hide the electronics. For example, you can hide motors etc in the front compartment in the front crew compartment inside a Space Marine Rhino/Predator, and hiding stuff in the tracks units is another way to hide stuff.
Of course there you could always glue the rear/front ramps up and get additional space to install your components, but it all depends upon what your trying to do. For example, if your trying to get a Predatorís turret to spin, then sealing the internal compartment wonít be such a bad thing. If your wanting internal lighting, then sealing it isnít such a good idea.
Planning The Circuits
Moving onto the circuits themselves. Planning them out on paper is important (unless your doing very simple and basic circuits). This will help you no end when it comes to connecting it all up.
Now then, here is what I have planned for my land raider kit:
Internal lighting (so that the internal transport compartment is lit up)
External lighting (the forward looking lamps will light up, as well as several other spaces on the Land Raider)
Engine Vibration (this will simulate the engine's vibration by using a motor)
Rotating radar dish (the small radar dish on the top will rotate)
Firing lascannons (using two small LED's in each set of twin-linked lascannons)
Danger lighting (this will simulate the signal transported units get when they have to bail, or even a "red alert" type of thing :P)
To achieve this, I'll be needing the following components:
LED's, 3mm, red X12
LED's, 3mm, yellow X12
LED's, 10mm, red, flashing X1
AA battery compartment X2
Push Switch X2
Toggle Switch X3
Motor X2
Potentimeter X1
They'll be wired up as such:

A key to the above symbols have been provided below:
Sourcing Parts
Now then, now we have our list of parts, we need to go shopping. I donít have the time or inclination to source the parts for everyone out there, but if your living in the United Kingdom, I recommend Maplins.
With this step, itís worth shopping around, comparing prices etc. If youíve got a good electronics dealer, use them. If not, then you can always order form the net.
Alternatively, you could always cannibalise older electronic equipment. Old PCs are great for this, and old, broken game controllers can be taken apart and any salvable parts be used.
Putting it into Action - Building the Circuits
Lets talk about getting your components ready to be installed. To do this, we need to make the connections to each component. To attach wires, you need to solder them to the contacts provided.
For this, you'll be needing one of a soldering iron:
And now for some safety advice. Soldering irons get
hot
, so have somewhere safe to put it when your not using it and don't have pets wandering about, as they might pull on the iron's lead.
You'll also be needing somewhere to solder, preferrably a heat resistant surface, but at a pinch, you can use a spare piece of wood (not plastic or fabric as it'll catch fire easier).
To solder a component, you need to prepare the wire. Cut a length of wire to the desired length, and then trim back the sheath of the wires carefully. You can get tools to do this, or you can just use a craft knife and carefully cut around the outside of the wire. Cut all the way around and then remove the outer plastic.
Once you've done that, loosely attach the wire to the provided lugs, and then apply the heat from your soldering iron, like this: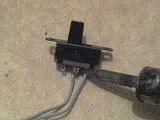 After a few seconds, with your second hand, apply the solder to the joint like this: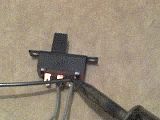 It'll take some practice, but if you keep trying, you'll eventually get to a stage where your pretty confident with the soldering iron and you'll eventually have something similar to this: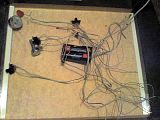 Note these are just some of the components I'll be using, and they aren't "hooked up" yet.
Putting it into Action - Building the Kit
This section will be discussed next time, as currently I have no Land Raider to start construction on. So until next Saturday (Iíll be buying the LR this Friday, hopefully)Ö