Quote:
Originally Posted by Keith
very cool!

so you fully assemble THEN paint I take it? Just curious..when I tried that on a single FW it was easier to do them un-assembeled.
For squads and most individual figs yeah fully assembled. Becuase my Sept colour scheme uses a 3 shade blue and a 2 shade grey I find it easier to get a natural blend. For vehicles and larger peices I'll built parts and then paint.
My custom Kais from Fire warrior is a good example of the finished scheme,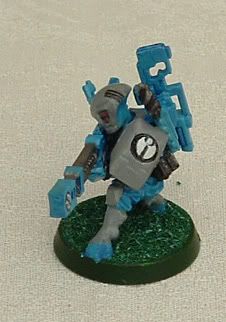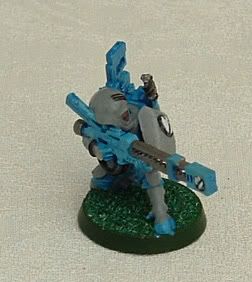 As for how the Saum'Ol Launcher is made it's simply a butchered Plasma Rifle from a Crisis, A upright Pulse Rifle arm and binocular arm set from the DF/HH.
It's really simple.
1: Take the plasma Rifle and cut the end off the barrel and the pins for attaching to the Crisis but keep 1 handy, put these to 1 side.
2: Remove the power cells and pipe.
3: Stick the end of the barrel where the pipe was and add the saved pin flush against it on the left hand side
4: Remove the Pulse rifle just below triggerguard and cut a section from the shoulder so the arm fits flush against the body of the Fire Warrior.
5: Glue the Plasma Rilfe to the Pulse Rifle
6: Remove the right arm form the binoculars and the small dome in the middle by the hands.
7: look closely at the binocular top* at the rear most part there are two domes. cut between them to enable the FireWarrior to look through the scope with his helmet on.
8: Attach the front part of the Binocular right side to the pin you added on the left side of the Plasma Rifle
9: Attach the Saum'Ol to your Fire warrior and add a shoulder pad as normal to the left arm.
Real easy like I said eh* ;D
If you want to make them feel free. but keep the pic hand so you can check everythings right.
Most of the rules for the squad are listed above but I'll post full rules if interest in the rules forum.