And here's the rest of the rep!
Thanks for your patience!
--------------------------------------------------------
Warboss Skabgutz of WAARGH! Grumgutz was pretty new. Being a Nob for a while, he had the good fortune of being around when a huge Daemon fell on his Boss. Now, he was Boss, and was ready for a big job.
But, Grumgutz (who Skabgutz was sure was only a little bit bigger than him) gave him the job of watching a bunch of bitz piles. His Big Mek Nonutz was happy about having more junk to play with, but Skabgutz needed a fight. Needed it bad.
He turned as he heard what sounded like music? Glancing over, the Orks looked over and saw a lot of runty hummies moving over the horizon. Good, he thought, just the thing to show his stuff.
-------------------------------------------------------------------------------------------
Setup: Well, there's a decent sized building in one quarter and one in the center. One quarter has obviously more terrain than the others. I place one objective there, the other goes in the opposite quarter, and one near the center, closer to the more terrain-filled quarter.
Thankfully, the Guard win the roll to setup first, and wisely take the more terrain filled quarter.
I put Katya with Vasily and put the CC squad in the far back. I put one big squad of 30 with Autocannons and grenade launchers to either side.
I put the PCS squads in front of them, and then make two twenty man squads with meltas strung out in front of everyone. It takes a while, and in the end there's a lot of guys. A lot.
The Warboss goes down to the right, with the Trukk in the center-ish hiding behind a building with the Big Mek and Nobz inside. A big Slugga mob goes down to the left and right, everyone as far forward as possible, but trying to stay spread out.
The Orks fail to steal the initiative and the game is on!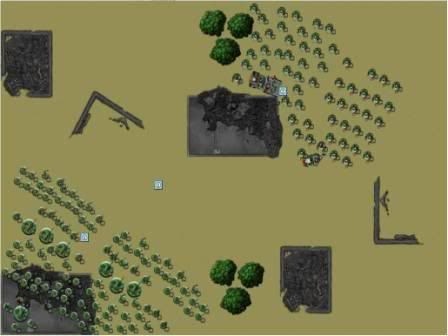 Picture Caption: Ha ha! I have more models than you!
Turn 1: IG
-----------------------------------------------------------------------------------------
Vasily frowned as he saw the mammoth horde of Orks. There was even a huge Ork on a gigantic bike.
Marching all the way from the base was nerve wracking enough, but the Orks were luckily a little slow on the uptake. The Guard were able to setup in a defensive position, and it wasn't until Temperance and Duncan had started up a jaunty Praetorian pre-fight song that the Orks had finally turned around and started heading on over.
They were actually in a fairly good position.
Picking up his vox, Vasily was about to give his first order.
His hands sweating again. He told himself, Come on Vasily, don't mess this one up now, everything will be fine, everything will be fine, just forget what happened the last... half dozen or so times against Orks... These are different, everything will be fine, just...
"Are you waiting for enemy to invite you over with flowers and the kisses?!"
He twisted around to see the frowning face of Lord Commissar Katya Vaskov, the most bowel-drenchingly terrifying human being he had ever met. The petite looking woman and her pistol were getting a generous bearth from his men.
Oh God Emperor, Vasily thought. She knows. She knows what happened to the other Commissar. She's going to kill me, she's going to...
The sweat from Vasily's hand went into overdrive, and he swore as he felt the comm slip from his hand and fall into the muck at his feet.
This was not a good way to start, he thought as he and his men started scrambling in the dirt and sand, not a good way at all.
--------------------------------------------------------------------------------------------
Alright, so here's the plan. Two big units of Autocannons and GL's behind a generous screen.
Normally, this would give a generous cover save to the Orks, but with the "On My Target" command, the Orks will have to re-roll their successful saves, giving us a much better chance to cut them down.
The Master and Lascannon are on the second story, and have a generous view of the Trukk, so hopefully that'll work as well. Everyone else will sit tight.
And that's when Vasily flubs his orders with a 6,6. Wow, I just... wow. Face. Palm. Yee-ha.
Well, my first use of the Master of Ordinance turns out to be golden, as it lands on the Nobz' Trukk with a deviation of only a few inches (Yay!). The Trukk is immobilized, and that's a big relief that the Nobz will have to walk, unless the Mek can fix the Trukk, but that'll buy us a turn in any case.
Most of the rest of the army downs some more Boyz, but it's just gravy after the Trukk.
Turn 1: Orks
Warboss Skabgutz detaches and boosts ahead.
Everyone else runs forwards, including the Nobz and Mek, who get out of their immobilized Trukk.
Huh, that Trukk is sitting on one of the objectives. That's going to be bothersome.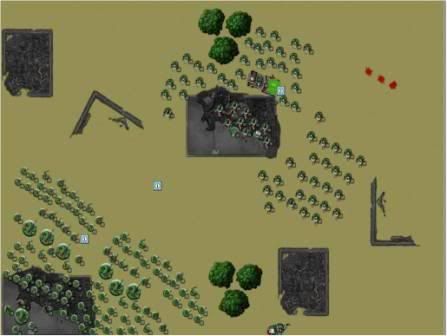 Picture Caption: Ok, they don't have the Trukk, but they're still coming up. Why's that Warboss just hanging out there?
Turn 2: IG
----------------------------------------------------------------------------
Vasily finally found his vox and checked in with his men.
The news wasn't good. The huge Warboss had moved out, threatening the lines, and the rest of the monsters were incoming fast.
His mind fluttered back to stories of a Warboss on a Bike that was carnage itself, downing even Terminators.
Vasily's stomach turned again. Could this be the same Ork? Could this be the Warlord Grumgutz?
Before common sense could intervene itself, Vasily was barking on his comm. The big Ork had to go down. The rest of the army could wait.
-----------------------------------------------------------------------------------
For some reason, I get far too worried about the Boss, and end up spending almost the entire army's firepower in taking him down. Still, Warboss down = good. 50+ cheesed-off Orks coming up? Bad.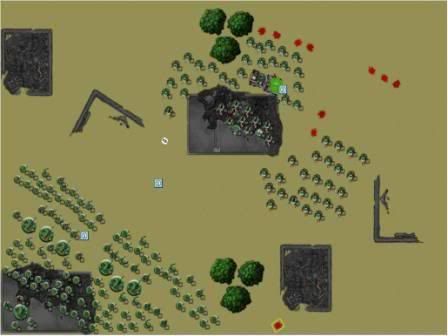 Picture Caption: Yay! The Warboss went down... and... I... uh... that's all?
Turn 2: Orks
The Ork player is all smiles and his army is getting closer. I just realized that I took the bait and wasted a turn. Oh that's not good.
The Orks still run forward. Thankfully, the Guard are still a bit too far away for a charge.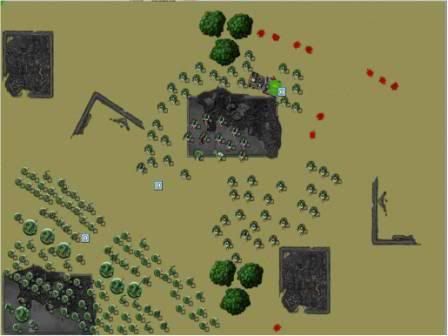 Picture Caption: Stay away bad green men!
Turn 3: IG
-------------------------------------------------------------------------------
Vasily nodded to himself. That big Ork went down in a heap of Autocannon fire.
He smiled. Good. Now all he would have to do is... take care of the rest of the Orks...
Bringing up his vox, he ordered, "Alpha Company, listen carefully, aim for the left..."
Vasily winced as something in his stomach turned and a fierce growling filled the air.
There was a shocked silence.
Then laughter. Peals of laughter. Vasily reddened as he heard a familiar "Mawahaha" intermixed with the guffaws.
He was about to try to regain order, when a fierce bark came in over the comms, silencing everyone.
"You stupid children! Ork is in our face! They are not going to give you the thing to laugh about! Shoot them NOW!"
Vasily felt something pick him up and slam him against the ruin's wall.
He turned and saw the icy face of Commissar Vaskov.
"What you think you are doing, being Mr. Funnybone? These men need you to be LEADER. I need you to be GOOD. If you are not GOOD LEADER, then you are BAD CORPSE. Understand?"
Vasily nodded woodenly. How could things get worse?
-------------------------------------------------------------------------------------
Hmm, the Orks are definitely in the wire, so to speak. It's now or nothing.
Ok, let's see what we can do.
Vasily rolls a 6,6 AGAIN. I... yeah, ok. The Orks get their cover again. That's really irksome.
The Guard fire, and we down a lot of Sluggas, but not as many as we should have.
The Master of Ordinance fires wide of the Nobz again, so no luck there.
We've downed about 1/3 or so of the sluggas on either side. Still, umm... there's a lot of Orks left still.
Picture Caption: Yeah, those Guardsmen in the front have all the chances of surviving as a group of newborn kittens covered in roast beef sitting in front of a bunch of rottweilers on PCP.
Turn 3: Orks
The Orks all hit the 40 melta guardsmen and the Nobz and Sluggas utterly destroy one group of them. The Orks multi-charge, so although one large group does not take too many causalities it does have to fall back, luckily safely, but unfortunately not very far...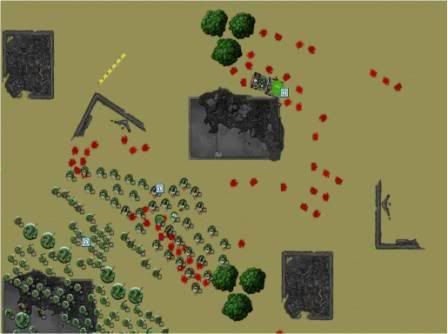 Picture Caption: Run, little Guardsmen, RUN!
Turn 4: IG
------------------------------------------------------------------------------------
The skirmishers on the front line fell back as best they could to the Ork onslaught.
Temperance whistled a merry tune as she stepped up with her men toting flame throwers.
She glanced over to make sure her brother was doing the same.
The tall, muscular form of Duncan Windsor-Smith was visible through the plumes of sand being kicked up.
He took a moment to curl his mustache into proper close-combat form before moving forward.
"Rather impolite of the Orks to run in so ungainly," yelled Temperance to her brother.
"Harrumph. Well, all the better to give them a warm welcome then, Tems."
--------------------------------------------------------------------------------------
More Orks fall as IG continues to blast them.
Thankfully the Orders go out smoothly this time.
Vasily fires on the Nobz... and the Ordinance hits two Boyz... and two of Duncan's flamer guardsmen. Oops. At least they're not pinned.
More fire rages into the Boyz as well, and the greenskins are running low.
Temperance flames down the last of her mob, but we're unable to pare down the other entirely (perhaps due to err... a slight lack of flamers), leaving 5 Sluggas... who hold. The Nobz are mostly untouched thanks to their Dok who works overtime with his FNP rolls.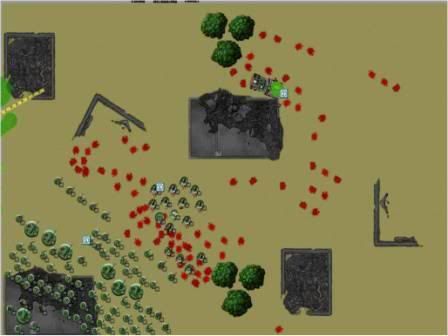 Picture Caption: Uh, sorry Duncan! A... uh... A wizard did it!
Turn 4: Orks
Hmm, well, the fleeing group of guardsmen are actually sort of in the way of the Orks! That's good... right?
The Orks run smack dab into both PCS squads and the fleeing group of 20 guardsmen, who decide to stay and fight.
Duncan's group is thrashed to pieces, since it's umm... smaller for some reason <innocent whistle> Temperance's group rolls very well for their saves, and manage to stay intact for the most part. The twenty guardsmen though, take a horrible beating and are dispersed to the winds.
The younger Windsor-Smith decides it's probably good to pull back and jogs backwards a nice 3"... Thanks, Temperance, thanks.
The Orks follow up right on her.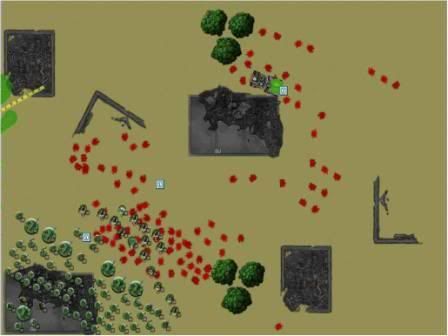 Picture caption: Well, at least those 20 guys don't have to worry about being executed for cowardice...
Turn 5: IG
------------------------------------------------------------------------------------
Vasily frowned as the Guardsmen continued to shoot at the big Orks. They just weren't falling no matter how many holes they had in them. This wasn't good.
He heard a rusting from behind him, and was about to blurt out an excuse to avoid being summarily executed, but was then surprised to see Commissar Vaskov moving away towards another squad.
"Uhh... Katya... Er, Commissar? Where..."
"Sons of the bastards are getting too close. We stay here. We fight here."
She threw a steely glance at Vasily that made him glad there wasn't enough drinkable water for afternoon tea.
"You learn from our deaths. Get something out of it. Vostroyans go to pay our debt the only way we know how. With blood."
---------------------------------------------------------------------------------------
Temperance still doesn't understand that retreat means moving away FAST, and again pulls back a mere 3".
IG unloads everything but the kitchen sink at the Orks, and Katya separates to join up with one of the big 30 man squads.
Not too worried about 5 Sluggas, the entire IG unloads on the Nobz, but with utter CWA cheez and some amazing FNP rolls... the Nobz still stay strong.
I shot the entire army at them. Wounded quite a few. But NONE fell.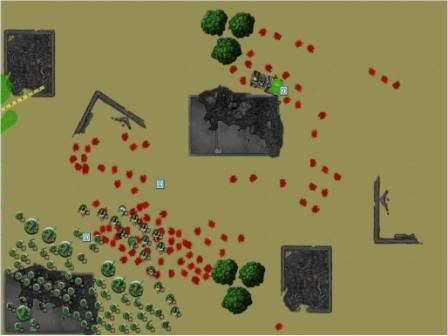 Picture Caption: That's so not good. Nobz are just broken.
Turn 5: Orks
The Nobz and Sluggas assault both big blocks and Temperance.
The big squad without Katya manage to at least down all of the Sluggas except the Nob. Some of the Nobz from the Nob mob fall, but they're still at more than half strength.
Guardsmen fall by the dozen, and the block to the right falls and runs off the board!
Temperance runs, but again not too far. (I mean, she's Praetorian, right? It wouldn't be proper to run around screaming and whatnot.)
Katya thankfully keeps the left block together and the Nobz are tied up. For now.
The lone Slugga Nob is now way out in no-man's land and consolidates closer to Temperance and the rest of the fight.
The Nobz are actually right on top of the objective, and it's sort of questionable as to how close IG is at this point. If the came ends, then it could go as an Ork victory or as a tie...
But the dice comes up a 5!
The game continues!
Turn 6: IG
-------------------------------------------------------------------------------------
Vasily swore as he watched the last lines of defense fall.
Guardsmen were running, screaming for salvation off the field.
He looked around and saw one group that was not running.
A slim figure in black was keeping them steady against the massive Orks, but their numbers were wearing thin.
Vasily looked around desperately. If he could somehow get someone to one of the Ork supply deposits, he could turn things around.
Someone. Anyone. Just...
He looked around and saw two people slowly away. Actually, they were marching. Both were wearing red outfits, and one was bobbing along with a ponytail.
Pausing to choke down the last vestiges of his pride, Vasily opened up his comm.
"Lieutenant Windsor-Sm... Lieu... Tems!"
Temperance Windsor-Smith stopped her slow march off the field and glanced at Vasily. A familiar twinkling smile crossed her face.
"You called, sir?"
"Yes. You. I need you."
The younger Windsor-Smith blushed from tip to toe.
Vasily, just realizing what he said and ignoring the glances and snarky comments of his men, continued, "I need you to take that point there and... Oh God Emperor, one of them is still loose! He's a big one, just try to get..."
"I'll take care of him, Sir! You can count on me!"
Before Vasily could interject, Temperance was on her toes, leaping towards the huge Nob, who was wandering the field looking for something to kill.
He needs me! thought Temperance, as her heart went a flutter. I guess all of the hard work with the shoes really did pay off! Mother was right, the way to a man's heart is through his stomach.
She blinked. That was a big Ork alright, but the way she was feeling, it could have been that cheeky fellow Abbadon and she wouldn't have cared.
"Excuse me? Yes, you with the big claw. I'm afraid I'm going to have to ask you to get out of my..."
The huge Nob screamed, and bits of food and phlegm flew through the air.
"Right. That's a no. Mr. Barkley? A bit of flame if you please. We like a job well done. Mahaw mahaha."
-------------------------------------------------------------------------------------------
Temperance pulls back more and is getting CLOSE to falling off the table.
However, Vasily uses his special order to let her re-roll her Morale... And she passes!
She and her lone flamer Guardsmen get ready to assault the Nob!
Vasily's Lascannon still fails to hit anything.
Temperance flames one wound off the Nob and then... I figure why not, as she assaults in.
Somehow, the plucky little Guardsman takes off the last wound off the Nob and consolidates towards the center objective!
More Guardsmen die, but Katya keeps them resilient.
Picture Caption: Oh... Do I have a chance?
Turn 6: Orks
The Nobz continue to chop away at the stubborn block, and Katya is finally forced to get into base with the Mek.
The game is basically a tie at this point, but if it continues...
And the dice gods give their nod of approval, as the game goes ANOTHER round!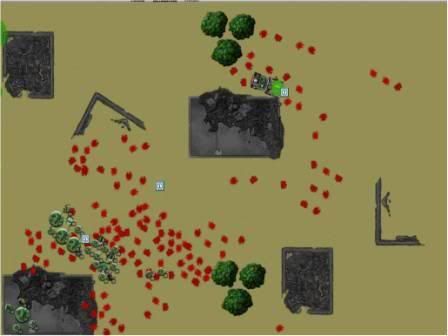 Picture Caption: Stay strong little guardsmen, stay strong!
Turn 7: IG
Run, Temperance Run!
Temperance uses RUN, RUN, RUN and manages a 6 on her run roll, putting her SOLIDLY on top of the central objective.
Vasily gets off his duff and runs over near the objective that the Nobz are near, so it'll be at least a go for them to take that one.
Katya gets wounded by the Mek, but the guardsmen still stay!
Picture Caption: RUN, TEMPERANCE, RUN!!!
Turn 7: Orks
It's Katya's turn to wound the Mek, more Guardsmen die, but the block stays firm.
Wow.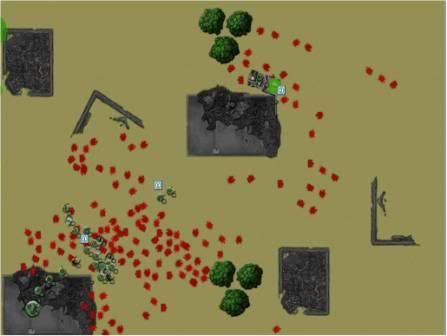 Picture Caption: Holy cow! Tems, Daddy gonna buy you a pony!
Result: Victory to the Imperial Guard!
Post-Game thoughts: Holy. Hannah. Wow. I can't believe we did that. That was the craziest game I've had in a long time. My usual bad luck with the proxies mixed with bad setups (I'm sure about that, please anyone, give me a clue
), and just nasty, nasty Orks. Those Nobz were brutal.
My plans just up and died, but I was lucky that the Guard are as good as they are, otherwise I couldn't have pulled this one out over SEVEN turns. Just... wow.
Clearly, the list (and the general need work). Still, I'm going to make a model for Temperance after this one. She needs something special after that run.
I have 17 out of 117 models left... Pyrrhic victory anyone?
Ho Great Praetoria! To Glory!