Hi All!
I realized that I have a heck of a weekend coming up, so I just decided to power down and finish this... sigh... interesting game. I promised it would go up, and was well, hoping maybe it might not draw too much interest, oh well...
Please enjoy!
-BT
-------------------------------------------------------------------------------------------------
Wolf Lord Rolf Blacktooth peered across the dusty horizon. The Battle Barge had somehow managed to skip through the Orks' defenses and the Space Wolves had managed a quick and efficient planetfall. Still, it seemed almost too easy. He glanced through his auspex, peering out at the assembled Orks.
Gads, there were a lot of them, he thought. But his men were used to being outnumbered.
He glanced back at the slender, silent form of Agatha Brimstone. She was still business-like given all of the madness, and hadn't missed a step beside the enormous Space Marines.
Rolf shook his head. If only he could guarantee her safety in the carnage to come...
-------------------------------------------------------------------------------------------------
Big Mek Wingnut nodded to himself.
The hummies were there alright.
Wingnut scratched his head. The Boss had given orders that the Big Beakie ship wasn't to be shot down, and that the Beakies were to be let land right here.
Arching his head over the side of the Battlewagon, the Big Mek was able to see the smirking hulk of Warlord Grumgutz Bitzgrabber. The Boss clearly had something planned, and even Wingnut had no clue as to what was going to be coming up. Whatever it was, Wingnut nodded to himself, it had better be somethin' big, otherwise those beakies would be all over them...
--------------------------------------------------------------------------------------------------------------
Pre-Game Thoughts: Well, I have a couple of advantages going into this game. First, I know my Orks backwards and forwards, while he does have Marine experience, it's not with the Wolves. Second, new Codex vs old Codex. Hate to say it, but it's true. Long Fangs can take down the Kans both big and small, Meltas for the Wagons and the Wolves and Blood Claws (ooh, nasty) for the cleanup. Just have to counter-attack well and break them down piecemeal after that. Slow them down with some decent/lucky shots and then work my way forwards.
Setup: Well, the scatter fairy certainly was working overtime, as the most of the terrain was pushed out towards the edges. One quarter was notably less filled, and there was large, looming ruin in the center. Well... I'll just have to work around it. The objectives were spread pretty evenly, with one in each quadrant and one in the center. I think we both didn't want to have to go too far for the objectives, so they were more centralized.
The Wolves win the roll to go first, and already I'm feeling pretty good about this match. First turn means first volley of missles off before the Orks can get going, hopefully paring down some of the Bikers and maybe even a Wagon...
Setting up for the Wolves is actually pretty fast, as I put the Long Fangs to either flank with Agatha to the right flank. In the center between the two patches of cover, I put the Redeemer with it's Blood Claw filled goodness and the Razorback to the left. I'm running a bit out of room so I stick Harry's Rhino to the right with it's end sticking out a bit, and put Rolf and his big dogs behind the Redeemer. Well, all set!
The Orks take a while, and I excuse myself to the facilities. When I come back... the opposite side of the board is pretty filled up. Wow, that's kind of... jarring. Never noticed that psychological effect before. The Wagons are to the left, with the Kans in the center and the Bikers to the right... Hmm... Well, at least they're out in the open. The Lootas are in the back. No real point to shoot at them yet. Oh, and the rest of the board is covered in Shootaz.
Well, we're ready to start, and my opponent says he's going to try and steal the initiative.
I smile, as in my now-nearing-100 games with my Boyz they have never, EVER stolen the initiative.
The dice rolls and comes up a 6!!
I'm literally stunned for a moment, and my opponent starts to move his figures before looking oddly at me.
I shake it off, but this is not a good way for the game to start...
Picture Caption: Are there usually that many Orks in my list?
Turn 1: Orks
--------------------------------------------------------------------------------------------------
The Space Wolves were about to burst forwards when a sudden earthquake shook the area. Marines and wolves alike held on, unsure of the mighty tremors.
Warlord Grumgutz Bitzgrabber just laughed. "Dem Beakies can't seem to get their act done straight! C'mon Ladz, let's show em how a real WAARGH! acts!"
------------------------------------------------------------------------------------------------------
All of the Orks come streaming right at me.
The Nob Bikers boost out to the left, the Wagons to the right and the Kans rush straight forwards.
The Shootas spread out and start to head to the objectives.
Shooting is quick and done with, as the Lootas target Harry's Rhino and immobilize it despite my decent cover save rolls (ack!).
Turn 1: Space Wolves
Oh, sonova... They're out and the Nob Bikers have boosted. That's just bad.
Well, have to trust in the plan to carry us through.
The Redeemer rolls forward a bit into MM range of the Wagons and the Razorback rolls up to help out.
Rolf and the Thunderwolves move forward a bit, getting ready to counter the Nob Bikers if they dare attack.
I pause as I look at Harry's Rhino, but don't take them out despite something in the back of my mind screaming at me.
Shooting is... frankly more pathetic than I've ever had.
The Multi-Melta and Lascannon fail to penetrate the armor of the Wagons.
The Missiles can't seem to hit any of the Nob Bikers, and likewise can't seem to get through the armor of the Kans (yes, armor penetration roll of 2, I'm looking at you!)
Harry also flubs his psychic roll on an 11, so nothing happens there.
At this point I'm wondering if Big Louie stole all of my good rolls or something...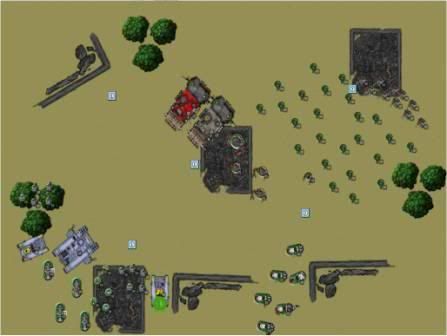 Picture Caption: Why? What did I do wrong?
Turn 2: Orks
My Orks... I mean, the Orks of WAARGH! Grumgutz sit for a moment as my opponent thinks about movement.
It's about this time when one of the observers asks if the WAARGH! has been sounded yet.
A big lightbulb goes off in my oponent's head and suddenly all of the Orks have moved forwards.
(Friendly sidebar comments, your bane and mine)
The Nob Bikers get really close to Harry's Rhino and I realize I've made a major mistake by not getting him out.
The Shootas and Nobz dismount out of their Wagons and I also realize that the Long Fangs are really too close and are probably in a lot of trouble.
The Kans continue to run up. Good. At least something isn't going to hit me this turn.
The Lootas try to light up Harry's Rhino again, but thankfully I make the cover saves, and he remains unmolested.
The Kans fire their Grotzookas and get a flurry of hits, downing three Long Fangs with Mek floor scrap. Alright. Now I know why people don't like that.
Assault is awful though, as the Orks have great fleet rolls, and there's green all over everything, namely both packs of Long Fangs, Agatha and Harry's Rhino!
Thankfully, both packs of Long Fangs make their counter-attack rolls and are getting some help there.
The Long Fangs facing the Nobz are just torn to shreds, and Agatha is knocked for a loop as well.
The Sluggas thankfully break the Long Fangs (so y'know I can shoot at them next turn), but the Long Fangs fall back a mere 2"...
And what I was really afraid of happens, as the Nob Bikers wreck Harry's Rhino.
I'm about to put the entire squad back into their box when my opponent points out that there's actually enough space for a single model. Wow, he's right! That's right kind of him. I put Harry in the spot, figuring he had better get something done this battle.
The Nobz consoliate closer and now Harry is surrounded by big Orks. Huh. That's not so good.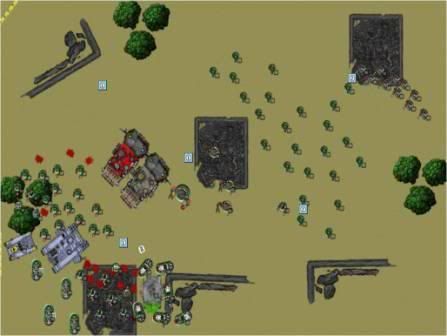 Picture Caption: Palm. Forehead. Apply vigorously.
Turn 2: Space Wolves
Counter Attack. Counter Attack. Counter Attack.
Right. The Redeemer tank shocks through the Nobz, who sadly enough do not break. Knut smashes open the doors and orders out all of the Blood Claws, eyeing the Nob Bikerz. Well... we're kitted to re-roll against infantry this game, but here's hoping!
Rolf and the Wolves move up to the Nobz.
The other pack of Grey Hunters (my last one... wow, I need more guys), gets out of their Razorback to size up the Sluggas.
Shooting continues to be pretty abysmal as the multi-melta misses the Wagon (gah!), and the Razorback's Lascannon just can't seem to get a 5!
However, (!) Harry summons up the last bit of his might and throws the Jaws of the World Wolf at Grumgutz and the Nob Biker's Painboy! They both roll 6's! The Warlord and the MOST important part of the Bikers fall into a big hole!
Whew! Now we have a game!
Assault is decent, as the Blood Claws evaporate the remains of the Nob Bikers with their two power fists, dispite losing a few of their own.
The Grey Hunters cut down a good number of Sluggas, but the Orks stay fearless and stay stuck in!
The Nob vs TWC fight wasn't as nearly one-sided as I hoped it would be, as ALL of the TWC fall, and most of the Nobz do as well, but the Nobz stay stuck in vs. Rolf!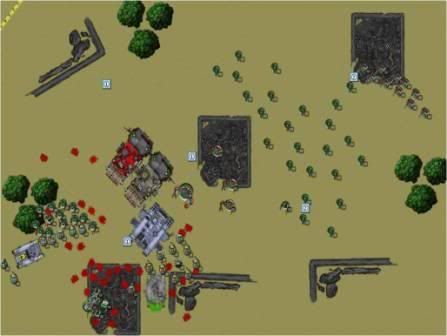 Picture Caption: Woot! Warlord go down da hole!
Turn 3: Orks
The Orks pull back the KFF Wagon, and then I realize what's going to happen... Oh no.
The other Deffrolla Wagon plows into the Land Raider and blows it sky-high! (At least now, I truly beleive that those rollas do far more damage than statistically probable)
The shrapnel flies all over the Blood Claws and FOUR fall to the most deadly shrapnel in all Imperium history (sob).
The Wagon then pushes the rest of the Blood Claws together... Oh no, that's not good.
My suspicions are confirmed as I see the cheery form of BigToof walk on over. Oh no. No. No.
Meanwhile, the Kans are lining up for shots at the Shootas are spreading all over the objectives like a bad stain.
Shooting is horrendous, just simply horrendous as BigToof drenches the clumped up squad with his two Skorchas doing... 11 wounds?? Where did that come from? The Blood Claws all fall down, leaving just the Wolf Priest. Sorry Knut. I tried.
Assault is thus pretty straightforward, as BigToof smashes into Knut, and the Wolf Priest falls.
The Sluggas somehow manage to break the Grey Hunters, who fall back periously close to the edge of the board.
Thankfully, there's a bright spot as Rolf manages to clean up the Nobz.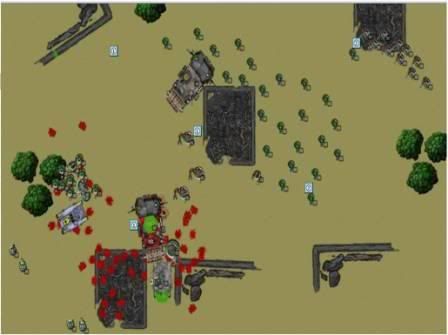 Picture Caption: C'mon guys, we can pull this out... right?
Turn 3: SW
Please Wolves, we need a comeback.
Rolf zips forwards to try and stem the advance of the Sluggas (I mean, there's only a dozen or so of them left...).
The Razorback lines up shots on the Battlewagon that's in our midst.
Harry, in a complete balls-out attempt to get evreyone's attention moves on TOP of the BURNING RHINO (giving himself a dangerous terrain wound).
Shooting is, par for the course, pretty lackluster.
The Razorback only shakes the Battlewagon (sigh), Harry fails to hurt the KFF'd up Kans, and the Long Fangs also have no luck.
Rolf though, charges in, gets wounded for his trouble (sigh), but downs three Sluggas. They. Hold. What?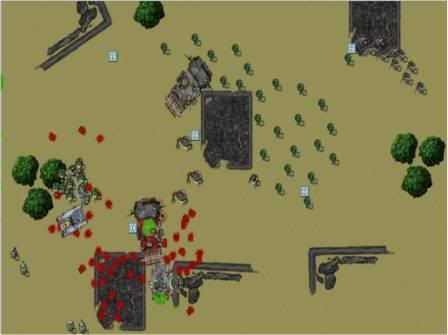 Picture Caption: Sluggas... holding out... wha?
Turn 4: Orks
This is officially getting ugly, but the Wolves aren't throwing in the towel yet.
The Battlewagon moves over and Deff-rolls the Razorback...
Who also explodes! Killing a few Orks who were too close! (Yay!)
BigToof waddles up the burning wreckage to Harry singing "King of the Mountain."
Oh, and the Ork blob moves over four objectives now.
Still, there's a glimmer of hope. That's one big unit covering all of the objectives, and not much else. If Rolf can lock them up, we can go for a tie...
Assault though, smashes any hope the Wolves have for victory, as Rolf downs two more sluggas, but they just don't break!!
BigToof waddles up and wiffs his attacks on Harry, so at least the Rune Priest can have another go at it.
Picture Caption: Orks break and run away, I'm sure of this. This has happened before.
Turn 4: SW
Ok, things need to happen NOW.
The last of the Grey Hunters move forwards and melta the heck out of the Battlewagon, exploding it and... killing the melta-gunner (sigh).
The explosion at least takes down some of the Shootas as well.
Now that the way is clear, the Long Fangs take down a Kan.
Assault is extraordinarily disappointing, as the Sluggas... they... The Sluggas down Rolf in a flurry of choppa with some ridiculous rolling. Wow.
And Harry just can't keep up his lucky streak as 'Toof smashes him good.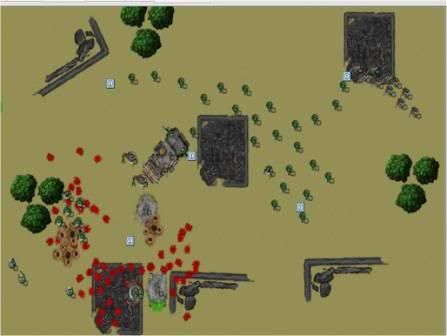 Picture Caption: Telegram for BigToof: You are owned. Yes, sir. Entirely so.
Well... as I have three marines left with no way to contest the massive Ork blob, the Wolves are forced to concede...
Result: Ork Victory
Post-Game Thoughts: Alright, I think it's verified now that Big Louie stole all of my luck from this game. The Wolves couldn't hit anything and the Orks were just... I can see how and why people freeze up. They're downright terrifying, and with a few good rolls, you just can't shake them. Laws of probability be damned and all...
Well, the good thing to come out of this game is my renewed respect for Nob Bikers (as if I had ever lost any), and the reminder to deploy better and STAY BACK more... Gah, still kicking myself for the Harry/Rhino mess-up.
Still, on the bright side, I think I have an Ork convert, as my opponent was running around hooting it up
Oh, and yes, because I have to, "Orks are teh borken!!"
----------------------------------------------------------------------------------------------------------
Rolf's head swam as he fought to regain consciousness. Swirls of light and colour filled his vision, and he shook his head trying to clear it.
"Oh, goody good! Missus Thistlebottom's woke up!"
Rolf blinked a bit and looked around. He snorted a bit as he looked to his left and saw the grumbling form of Rune Priest "Mad Harry" Runesmith bound to a crude looking chair with the most horrible looking straw hat perched on his head.
Harry snorted and replied, "Don't laugh Lad, you should see what you look like."
Rolf paused, then looked down at his hands, which were covered with some kind of crude red paint. Set in front of him was a massive, wide mouthed bowl with a handle on it. Some kind of bubbling, brackish material filled the container, and unidentifiable bits squirmed underneath the surface. Rolf turned his head, and felt something large and ungainy move about on top of his head. Blinking a bit more, he looked over and saw a sight that he wouldn't forget sometime soon.
A massive Ork Dreadnaught was seated at the head of a massive, crude table, carrying some sort of enormous cauldron while sporting a huge, oblong hat. At least, Rolf thought it was a hat.
DeffDread BigToof waddled over to his guests. They seemed to be having a good time. Yes, much better than the Steelgrots, he thought. And the hats defintely fit better. It would be some time before anyone looked for him, as they were still trying to find a rope long enough to drag Grumgutz and his bike out of that big hole. In the meantime, he could have plenty of fun!
The DeffDread turned the page in his book, while Rolf whispered to Harry, "Harry, what in the world is going on here?"
Harry frowned, "Lad, either we're extremely high on some kind of narcotics, or we're in the tea party of the damned and it's the host."
Rolf paled and looked at the strange brew in front of him. "Uh, is it going to make us drink this?"
The Rune Priest frowned, "Probably Lad. Well... there's worse ways to go... None that I can think of at the moment, but I'm sure there are."
Rolf peered around. "Where's Agatha? Did she make it out alright? Did that thing hurt her, because if it did, I'll..."
That was when a feminine humming brought the two's attention to the slender form of Lady Agatha Brimstone. The Inquisitor was sporting a much smaller hat, and had a bright smile on her face. She was carrying a tray of what seemed to be some kind of treats.
The Deffdread clapped his hands with glee.
"Ooh! Ooh! What'z dis?"
Agatha bowed, "Why this, oh great Mistress BigToof is the finest example of crumpets this side of the Ghost Stars. You can't expect to have a tea party without crumpets, now can you?"
The Dread nodded. Hummies was so smart. The huge Dread bent down, picked up a massive handful of the breads and proceeded to wolf them down.
Rolf tried to get Agatha's attention, but she ignored him.
Smacking his lips, BigToof turned to his guests.
"Dis is da best party I ever... ever..."
The Dread's voice seemed to trail off and the creature rolled in it's seat and then flopped, with a snore, to the floor.
Agatha ran over and proceeded to untie her companions.
Rolf started, "What... Did you just knock that thing out?"
Agatha nodded, "I hope so, Mr. Rolf it took all of my tranquilizers and pain suppressors in one gulp. I hope it should keep it down for a time. But Orks are hard to judge. It's best we're off."
Harry stood up, rubbing his arms. "Seems it wouldn't take but a bit to take care o' this mess though..."
Agatha frowned, "Yes, and just a moment to draw the rest of the Ork encampment to us. They ARE looking for us you know. Now let's be off. The Emperor's light is shining on us for the moment, let's not waste it."