As we were friends, we decided that the normal requirements needed wouldn't apply.
Tau army list:
Hq:
Shas'o - TL Plasma rifles, shield gen.
Elites:
3 Crisis suits - Flamers
3 Stealth suits - 1 fusion blaster.
Troops:
12 Fire Warrior - pulse rifles.
12 Fire Warrior - pulse rifles, inside Devilfish.
9 kroot + shaper.
Fast Attack:
Piranha - fusion blaster.
Heavy Support:
HammerHead - rail gun, disruption pod.
HammrHead - Ion cannon, disruption pod.
2 x Broadside, smart missile system.
SpaceMarine army list - from notes/ memory/pictures
HQ:
Space Marine Captain
Elites:
5 Terminators
5 Terminators
5 Terminators
1 Dreadnought
Troops:
1 x 5 man Tactical squad - various guns.
1 x 5 man Tactical squad - various guns.
Other? - not sure where these go.
Guy on bike, can't remember what he was called.
Land Speed
Whirl wind
[hr]
Objective:
Get atleast one troop on the opponents objective at the end of turn 5. There must be no enemy troops on the objective.
The Board + setup - ignore river.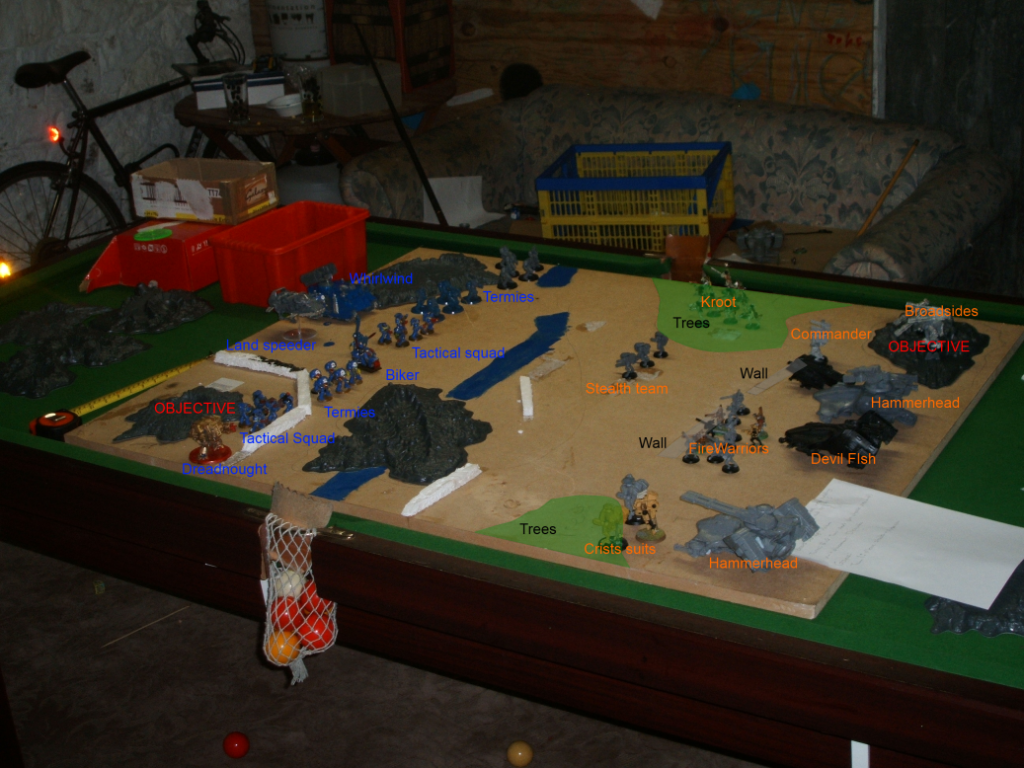 We both set up in similar ways, spreading our forces along the width of the board.
I decided to centre my firewarriors so they could attack and defend without having to move - and also got a cover save.
My tanks behind them, hoping they can use their disruption pods to keep them alive.
Kroot in the trees hoping to take out any units advancing towards my objective.
I then positioned my broadsides on the objective itself (they do not count towards stopping the enemy holding it) so they would get cover and LoS. I did not intend to move them.
My Crisis suits were on the close side of the table, hoping to make use of the cover and flame any units guarding the opponents objective. I then planned to zoom up my devilfish and unload my firewarriors for a late win.
My opponent appeared to have split his force into two main "teams", one for attack and one for defence.
He then stated that he would have an easy win due to my lack defence. I then of course placed my kroot and stealth team. That shut him up for a while.
Cover Rules
3+ behind walls
3+ in trees
4+ in crater
5+ in objective
[hr]
Tau - Turn 1:
Moving:
For movement I decided to go all out attack on his Terminator and advance towards the objective.
I moved my stealth team forwards, ready to pounce.
I then zoomed my piranha up and inched my kroot forwards.
My battlesuits advanced forwards.
I then moved my commander-suit, hoping to get him in range.
Shooting:
I was very proud of my stealth team and piranha, doing exactly what I had hoped for a taking out 3 of the terminator unit closest to them.
My broadsides wrecked the whirlwind, which I was very pleased about. I then managed to wreck the Land speeder too, using my hammerhead, I was very pleased.
I then decided to fire everything left, my ion cannon taking out just one tactical troop.
My firewarriors failed to kill any terminators and my Shas'o out of range, I decided it was a very good round of shooting and moved on.
Assault:
I moved Shas'o, and stealth teams away from the enemy. My crisis battlesuits flew further up the board, hopign to kill as much as possible very quickly.
[hr]
Space Marines - turn 1:
With his vehicles down, he knew any chance of getting decent damage on my devilfish was down to his dreadnought.
Moving:
He moved pretty much all of his units forwards, probably trying to scare me into moving my army backwards.
The tactical squads and commander didn't move.
Shooting:
The terminators manage to shoot down just 3 kroot (yippee for cover save) which really annoyed him.
His dreadnought then manages to kill just one Firewarrior (again cover saves).
His tactical squad managed to take down one of my beloved battlesuits - atleast he knew a threat when he saw one.
[hr]
Tau - turn 2:
I realised I wouldn't be as lucky with dice roles again, so I decided to go for an early advance with my devilfish.
Moving:
Devil fish moves forawards, closer to objective.
Kroot shuffle around to get better firing positions.
Shooting:
Broadsides take shoots. Disappointed when one missed (how do you miss a twinlinked weapon??) but then celebrating again when the dreadnought explodes.
My hammerhead then takes out a whole tactical squad in one shot (maybe I have got the dice rolling luck), and even though everything else failed to wound, I still saw this as good shooting, especially as their objective was now wide open.
Assault:
Flamers carry onwards, towards the remaining tactical squad, if I could just take those out, I could focus my whole army on offensive.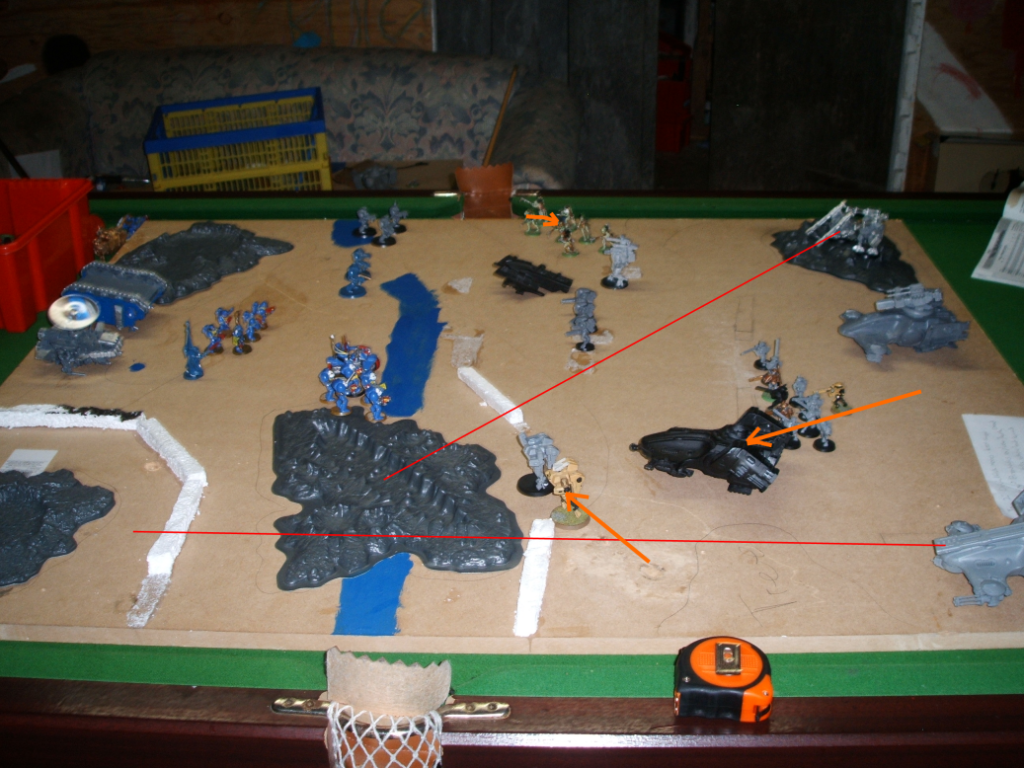 [hr]
Space Marines - turn 2:
After realising an early lose of an objective, he decides to attack.
Moving:
All troops move forwards, with the exception of the remaining tactical squad, who move towards their own objective. Defensive moves really come this poor.
Shooting:
Those evil terminators wreck my piranha. The other squad then manage to kill plenty of kroot, with the rest of them fleeing.
Assault:
The biker guy assaults my stealth suits, killing one and taking no wounds -
"luck," I say. "Nah, just typical tau close combat," he adds with a smile.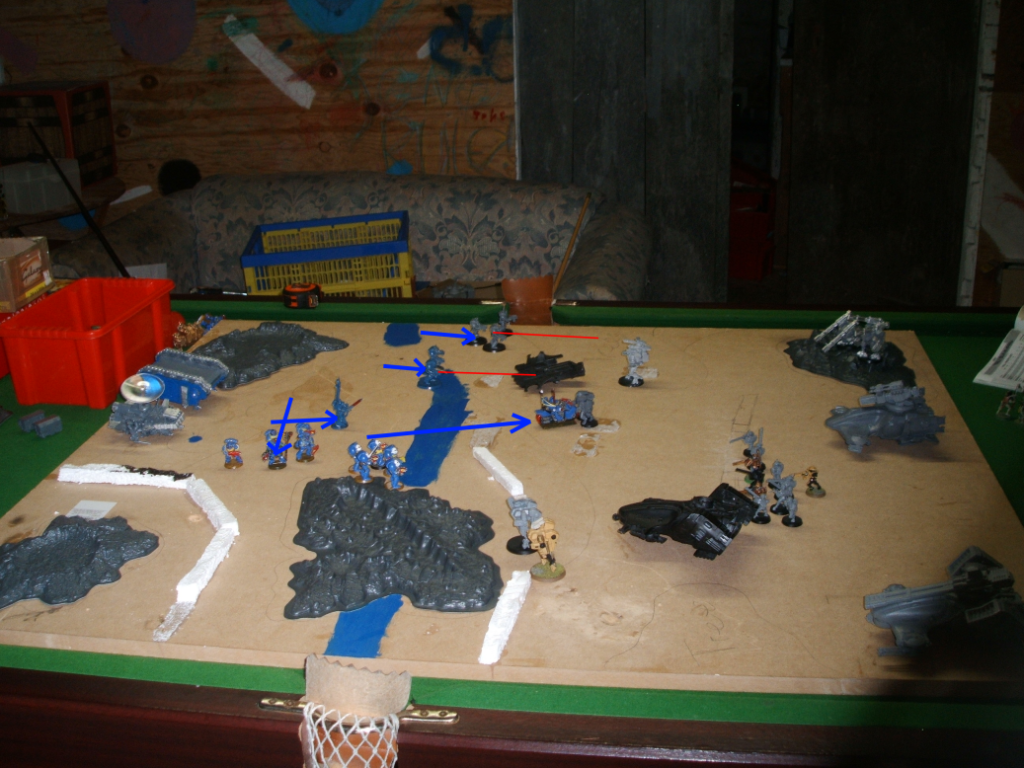 [hr]
As we both feel I am winning, we decide to allow Terminators to hold/capture/whatever objectives, just to make the game a bit closer.
Tau - turn 3:
Midway through the game, time for a tea break.
Moving:
Crisis Suits jump forwards into flamer range with the termies.
Shas'o moves out of the trees and fails at getting cover behind the wrecked piranha - "good thing he has shield gen," I thought.
My DevilFish once again flies up towards the objective.
Shooting:
I start of by flaming a load of termies. Probably the best bit of luck in the game, all of them die!!!!
I then shot my Fire Warriors at his tactical squad, only killing one, but it's better than none.
RailHead fails, but I didn't mind. My Ion cannon managed to kill a terminator, as did my broadsides.
Assualt:
Stealth suit dies.
Sorry I forgot the picture for this one.
[hr]
Space Marines - turn 3:
Feeling the stress through lack of remaining troops.
Moving:
He see's my devil fish and battlesuits making a dash for the objective, so he chooses to move his tactical squad there - atleast they can stop me claiming it simply by standing on it.
His Terminators move into the trees - I'm not sure why he didn't go around.
Shooting:
His tactical squad take a shots at my devil fish. It lives, luckily - and is absolutely fine.
He then decided to shoot his commander/captain at my crisis, a wise move, wounding the unpainted one.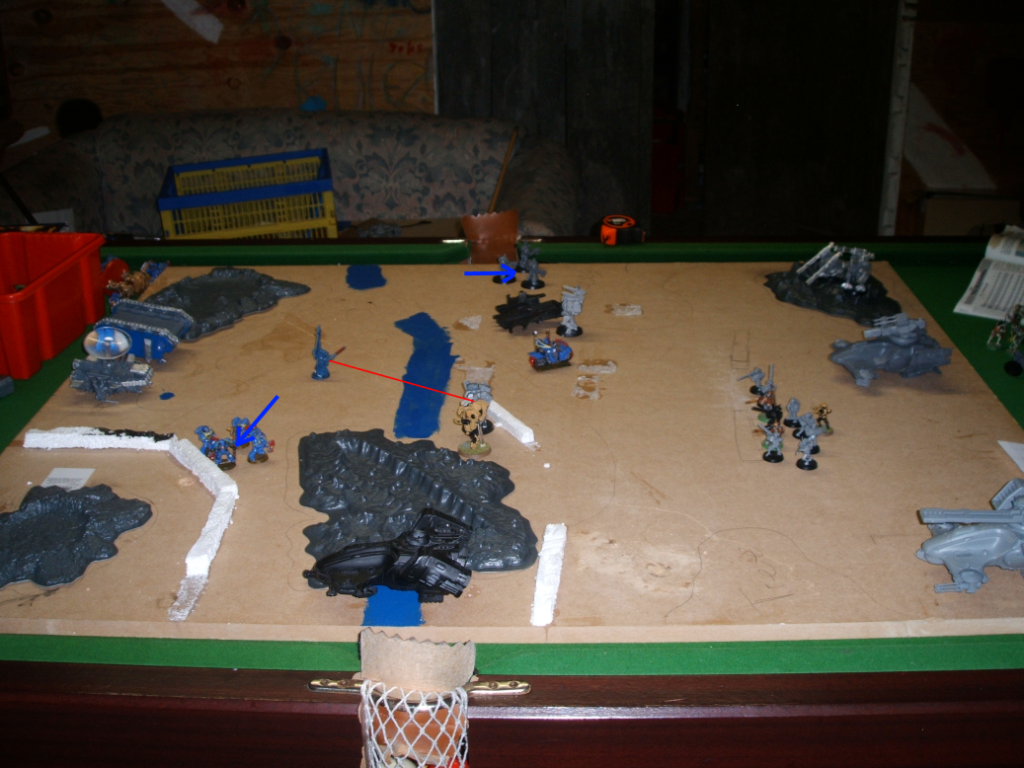 [hr]
Tau - turn 3:
Seeing an enemies mistake.
Moving:
I Decided to continue my work on his objective, moving my devilfish next to the objective.
I then advance my suits forwards for a little revenge.
Shooting:
Flame!!!! (I love flamers) Captain dies, nice work suits.
My Firewarriors then take open fire on the biker dude, slicing him and then some - massive overkill.
Assault:
My suits chase after the tactical squad, I was determined to kill them before they caused any real damage.
[hr]
Space Marines - turn 4:
The game comes near an end.
Moving:
The tacticals make a nice clean jump over the wall, clearing it nicely and making good ground towards the objective they were defending.
Termies treck on deeper into the woods.
Shooting:
Out of mass of fire, and some unlucky dice rolls, the tactical squad take out the wounded crisis suit.
[hr]
Tau - turn 5:
My final turn, lets cause some damage.
Moving:
I move Shas'o into the trees' closer to the terminators, hoping to kill them off, even though they wouldn't do much damage.
My flamer suit jumped forwards into range.
FireWarriors storm out the Devilfish they had been crammed into the whole game and make a dash for the objective. They make it on - great success.
Shooting:
I flame the shaddizle out of his remaining tactical squad. Victory was now mine for good.
I rubbed his face in it a little more when I took out his Terminators with the rest of my firepower.
[hr]
Summary:
An amazing victory for my tau. Wiping out every single enemy troop on the board, and holding both objectives in just five turns.
With few casualties, I decided we would have to fight again some day.
I hope you enjoyed reading, and I encourage criticism of both the report and how both armies played, thanks
you.
[hr]
If someone wouldn't mind, could they please add up the points, I would quite like to see how fair it was.