Space Wolves vs. Tyranids (1850, 4/23) in "The Incredible Rolf!"
Hi All,
Yes, I'm resurfaced again, if only that I had a great, great, great (yes, that's three greats) game that won't leave me alone until it gets written up. It's my Proxy (but quickly becoming less so) Space Wolves vs Tyranids. Now this is my experimental fluffy list vs a Vet with a hardcore Tournament list!
Who will prevail? Will it be one-sided? Will there be lots of chitin and power armor left scattered on the field?
Read on!
Best,
-BT
P.S. As usual, C&C is greatly appreciated.
SW List 1850pts "Initiation Run!": 46 Infantry, 3 Vehicles, 14 KPs
Rolf "Dogboy" Blacktooth: Wolf Lord w/ TW mount, PF, SS, Runic Armor, Wolf Talisman
Harald "Mad Harry" Runesmith: Rune Priest w/ "Peckers" Chooser of the Slain, Living Lightning, JotWW
Wolf Priest Knut Greybeard, Wolf Talisman, Melta Bombs
Lady Agatha Brimstone: Inquisitor w/ Targeter, Psycannon, Hood, Heirophantx2, Mysticsx2
Grey Huntersx5 w/ Melta, PF/CM WGuard in Rhino
Grey Huntersx5 w/ Melta, PF/CM WGuard in Razorback w/ Las/Plas
Blood Clawsx12 w/ Melta, PF, PF/CM Wolf Guard
TWCx3 w/ TH, SS
Long Fangsx5 w/MLx4
Long Fangsx5 w/MLx4
Land Raider Crusader, Multi-Melta
Tyranid 1850pt List: 61 Infantry, 12KPs
Tyranid Prime w/Twin Boneswords
Tyranid Prime w/Twin Boneswords
Hive Guardx3
Hive Guardx3
Zoanthropesx3
Tervigon w/Catalyst
Termaguantsx10
Genestealersx5
Genestealersx5
Hormagauntsx27, Adrenal Glands, Poison
Trygon Prime w/Regeneration
Tyrannofex w/ Rupture Cannon
--------------------------------------------------------------------------
Rolf Blacktooth glanced up at the massive carved out skull of the Tyranid Swarmlord. He couldn't help but smile. It had been an incredible couple of months since the Space Wolves had fought the Tyranids and driven them off of Auric IV. The Imperium had been grateful, but rather surprised when the entire planet suddenly vanished in a crackle of Warp energy.
Still, the Space Wolves had made sure that all of the population and equipment that could be removed from the planet, was removed and within days, the thankful citizens had found a new home. Rolf smiled. He had Agatha to thank for that one. She had pulled strings with the Imperium in a way that Rolf thought was impossible, somehow making the plodding bureaucracy fly through red tape and actually help people.
Rolf nodded as he glanced at the plaque underneath the skull.
"In Memorium for the Battles of Auric IV. Presented to Wolf Lord Rolf Blacktooth."
Rolf still couldn't believe it. Wolf. Lord. Him. Even though he tried to explain things to the other Space Wolves, there was no way around it. Even Logan Grimnar, the Old Wolf himself, had sent Rolf an accommodation, and had declared Rolf a force for the alliance between the Inquisition and the Space Wolves. It always seemed to Rolf that the statement had more than a bit of sarcasm to it, but no matter what, he was in charge. And what a difference it was...
Months of training had gone by as Wolf Priest Knut Greybeard and his horde of Blood Claws had arrived. The energetic, uncontrollable youngsters had run rampant throughout the ship, and Rolf had to admit that it was, in some way, nostalgic to watch their games, tricks, and stunts. Then again, he had to admit, it was a long time ago, and it was Knut Greybeard that had instructed Rolf in tactics and training that pushed him to the limit. But he had survived it, and was stronger. Much stronger indeed.
Still, he nodded, all of that paled in comparison to what Agatha had done. In a rare moment of emotion, the Inquisitor had kissed his cheek during the coronation process. Rolf had almost lost his balance at that point and earned chuckles from the crowd. Rolf nodded to himself again. It was a good sign of things to come... he hoped. Now just what to do with the new kids before they wrecked his Battle Barge...
---------------------------------------------------------------------------
Tabitha Hargrove whimpered a bit, sipping her tea. As a Heirophant and member of the Ecclesiarchy, she had been brought up in a rather stringent environment. She had to admit that probably half of her job promotion was due to her father, the famed Inquisitor Nathanial Hargrove. Tabitha had always wanted to see what was out beyond the cushy and regimented society, but this was not what she was expecting. Assigned to the legendary Lady Agatha Brimstone was an amazing achievement, and Tabitha had done a little dance when she had found out her good fortune. However, the ride to meet her new superior was less than ideal.
A group of Space Marines were passing by and had picked her up. Tabitha shuddered at the memory. They were Space Marines! Supposed to be stoic, white (or blue rather) knights that fought for justice, peace and the Emperor! Instead, she had been stuffed into a cargo hold full of juvenile delinquents who took delight at scaring her and stealing her undergarments.
When she arrived on the ship, she was hoping that things would be better, but the young Marines were practically bouncing off the walls. Worse yet, the older Marines just didn't seem to care when she reported the mass mooning that occurred on her bedroom window at breakfast time, and refused to investigate the lewd drawings left on her door.
She didn't want to bother Lady Brimstone about it, but surely something had to be done! Yes, she nodded... As long as she wasn't the one who had to do anything...
-------------------------------------------------------------------------------------
Agatha Brimstone frowned, looking down at her datascroll. The Tyranids had all but fallen back out of the sector after her... "adjustment" to the Swarmlord, but now the Hivefleets had stopped and were encircling nearby planets, ripping the life out of them. They had to be stopped, and the Inquisition had requested her aid. Agatha nodded. It had to be done, although it was more luck than anything last time. She only hoped that they would be so lucky again...
-------------------------------------------------------------------------------------
Pre-Game Thoughts: Man, oh, man was this the wrong list to try out today. My usual sparring partner was already taken for a game, but I really wanted to try out my "fun list." One of the vets in our league challenged me to try out his tournament list and well, it was going to be a doozy. We had joked that his list was a "Comp 3" and mine was probably at worst "Comp 9." I was sure I was going to get rocked...
Mission: Annihilation (I... I don't know what to say to this one)
Setup: Pitched Battle (Oh boy)
Terrain: Ruins
Setup: Terrain is fairly well clustered in the center on one side, but a but more spread out on the other.
The Wolves win the roll to go first and castle up in the center on the more heavy terrain side. Agatha and the Long Fangs take to the parapets, while the Land Raider with its deadly cargo of Wolf Priest and Blood Claws stayed in the center. Rolf and his Thunderwolves went to the right. Harry and his Rhino stayed behind the Land Raider. The Razorback goes behind some cover to the left.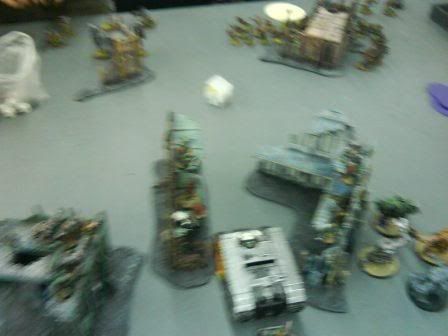 Picture Caption: Look, a Land Raider! (Yes, it's actually mine!) Apologies for the blurrys, that's what happens when you let a Blood Claw take the picture...
The Nids deploy in a rather interesting fashion, mostly in the center. To the right patch of cover, the horde of Hormagaunts decide to populate the area with a Tyranid Prime. The Tervigon went behind it, and the Termagaunts went behind the Tervigon. The Tyrannofex stood around next to the Tervigon, daring me to shoot at it. The Zoanthropes and Hive Guard all went to the left with the other Tyranid Prime joined up to the Zoanthropes. The Genestealers went into reserve to outflank and the Trygon went into reserves to deep strike.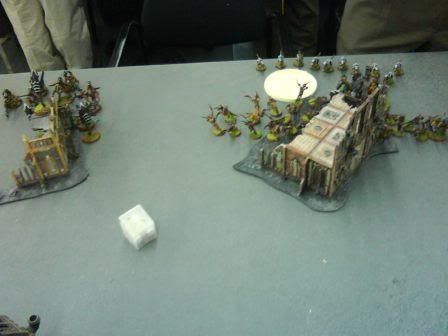 Picture Caption: This beautifully painted army is going to kick my nuts in!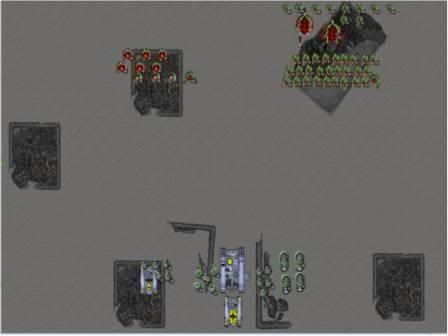 Picture Caption: Man that is a LOT of guants. Wow. If that gets FNP I'm in trouble!
The Nids fail to steal the initiative and the game is on.
-------------------------------------------------------------------------------------------
"Sure gets to ya, doesn't it lad?"
Rolf glanced over at "Mad Harry" Runesmith, the hirsuite and rather odiferous Rune Priest of the Company, and his good friend. They were walking through strange, alien vegetation that had pierced through buildings, and the burned out rubble that was once a thriving city. The Tyrnids had come, and they had left nothing in their path.
Still, Agatha had said that something was still here, something significant.
Rolf looked around. It was hard to imagine that anything was left here.
He then paused as he heard screeching sounds and saw his new, enormous and now not-so pristine Land Raider careening through the streets. He sighed. The Blood Claws were getting driving lessons. At least something was getting done. Now all he would have to do is...
A cold trickle ran down his spine and he looked over at Harry who nodded. The Space Wolves scanned the ruins and their enhanced senses could make out a rustling of chitin and inhuman clicking sounds.
"Sounds like we woke 'em up Lad," Harry muttered.
Rolf nodded, "Then it's up to us put them back to sleep."
-------------------------------------------------------------------------------------------
Turn 1: SW
Calamity hits and it hits fast and hard to the face!
The Land Raider tries to roll a bit forward and... breaks an axle, immobilizing itself in the patch of cover in front of it...
And then, to make matters worse, the Razorback tried to shift backwards and... yes, immobilized itself too! :initiate double facepalm:
Rolf runs back to in front of the Land Raider.
Well, that's not a good way to start.
Agatha, Harry and the Long Fangs did a good job making up for it, as the shot they heck out of the Hormagaunts, knocking them down below twenty to a much more manageable level. The Razorback tried to harm the Zoantropes, but to no avail...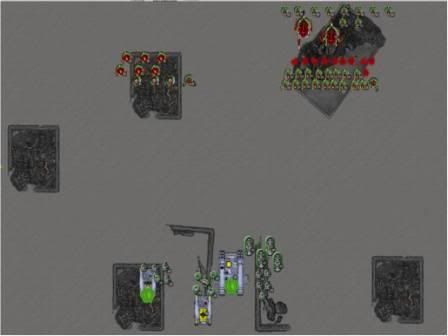 Picture Caption: Sonova... what are the chances? A: 1 in 36...
Turn 1: Nids
Well, the Nids push forward with the Hormagaunt horde. The Tervigon manages to outfox Agatha and pops Feel No Pain on the horde. Everyone pushes forwards as well.
Shooting is very lukewarm, mostly thanks to Agatha, who shuts down two of the Zoanthropes. The Hive Guard fire into the left patch of Long Fangs, downing the Squad Leader. And the Tyrannofex fires at the Thunderwolves! But misses completely... (whew).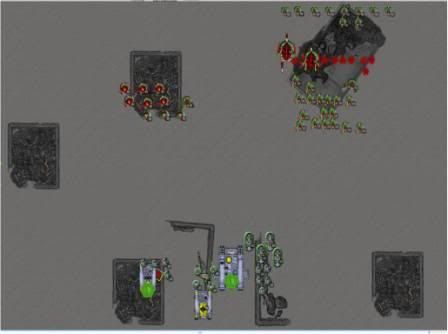 Picture Caption: Hey... that wasn't... so bad...
Turn 2: SW
Well, Harry tries to move forward to push up the left flank and tries to go over a patch of cover and... immobilized! Yes, immobilized! (At this point, I think the Blood Claws had stolen all of the good axle parts for bongs or something. Either that or someone let them drive and attempt popping wheelies. Yes, with a Tank.)
Rolf moves up, struggling through cover, getting ready to try and setup a charge on the Hormagaunts...
Well, at least we can shoot.
Shooting is pretty decent as Agatha downs a few more Guants, the Long Fangs take three wounds off the Tervigon, and wound a Zoanthrope and the attached Tyranid Prime (ah, so THAT'S what he's for!)
The Land Raider tries to harm the Hormaguants as well, but only takes down a few...
And Rolf runs forward... ONE inch (sob). His resulting charge fails... by ONE inch.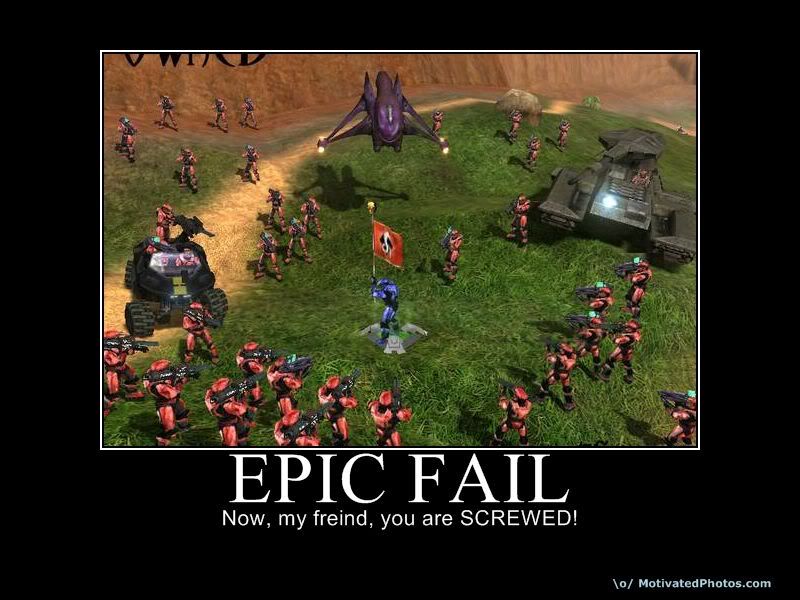 Picture Caption: A self-immobilization (odds now 1:216) and a failed charge... Yeah, that says it all.
Turn 2: Nids
The Nids seem to enjoy this good fortune, and one genestealer unit pops up to the right, moving and running through cover.
Everyone moves forward, the Tyranid Prime edging away from the Hormagaunts and attach to the smaller Termagaunts.
The Tervigon tries to give FNP again, but this time Agatha shuts him down!
Two of the Zoanthropes manage to get through Agatha's defenses, and fire onto the Long Fangs doing a bevy of wounds, but the hardy Wolves dive for cover and none are harmed!
The Hive Guard try to take down Agatha, but between mediocre rolling and awesome cover saves, they only manage to take down one of the Heirophants.
The other Hive Guard Squad fires into the Long Fangs again, but fail to do anything.
The Tyrannofex fires at the Wolves, but it glances off one of the Storm Shields.
The Hormagaunts then assault in, taking down one Thunderwolf and wounding both of the others. The Thunderwolves and Rolf give back a really sad four wounds (yes, this is AFTER counter-charge), and everyone stays locked in...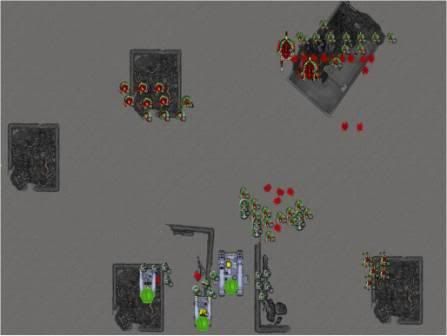 Picture Caption: Yeah, we're getting pwned right now...
KPs:
SW: 0
Nids: 0