Hi All,
I'm back... sort of. Things are still pretty hectic, but I managed to surface for a moment, like the great White Whale before going back under. Missed you guys too much I guess (yes, I know, cue the D'awws....).
Please enjoy another Grumgutz Report, with some pics that I hope you will all enjoy.
Best,
-BT
P.S. As always, C&C is greatly appreciated!
WAARGH Grumgutz Alterate 77 "Hot N' Krumpy!" (1850pts) 81 Infantry, 4 Walkers, 3 Vehicles; 12KPs
Big Mek Wingnut w/KFF
Warboss Grimskull Gobsmasha (Warboss w/HA, PK, Cybork Body)
Da Sinista Six: Nobzx6 w/Dokta Chop, PKsx2, BCsx3, Kombi-Skorcha, WAARGH Banner, BP (BW Transport, Counts as Troop)
TinEar and Da Deffboyz (Lootasx12)
Brewburna and Da Burnaboyz (Burnasx12)
Irongob and Da'Ard Boyz ('Ard Boyzx19 w/PK Nob, BP)
Shootazx30 w/PK Nob
Da Beast (BW w/Deffrolla, RPJ, Armor Plates, Big Shoota; Dedicated Transport)
Da Big Red Cheez (BW w/Deffrolla, RPJ, Armor Plates, Big Shoota)
Da Skullkrusha (BW w/ Deffrolla, RPJ, Armor Plates, Big Shoota)
BigToof (DeffDread with Skorchasx2; Counts as Troop)
BigToof's Steelgrots (Killa Kansx3 w/Grotzookas)
Tzeench Death Star (1850pts): 41 Infantry: 9KPs
Kairos
Tzeench Herald on Chariot, Mastery, Soul Steal, Breath of Chaos
Horrorsx9 w/Bolt
Horrorsx9 w/Bolt
Horrorsx9 w/Bolt
Horrorsx9 w/Bolt
Daemon Prince w/Iron Skin, Breath of Chaos, Unholy Might, Wings
Daemon Prince w/Iron Skin, Breath of Chaos, Unholy Might, Wings
Daemon Prince w/Iron Skin, Breath of Chaos, Unholy Might, Wings
------------------------------------------------------------------------------
Big Mek Wingnut of WAARGH! Grumgutz was asleep and dreaming. Or at least, he was pretty sure he was. It had all the feelings of a dream: the floaty bitz, the strange grumbly woozy sensations...
But something seemed off... There was a coughing sound (or rather two coughing sounds?), and the Mek turned around to see an enormous creature.
It had a large cloak on that covered it completely, but whatever it was, it was big.
Before Wingnut could consider doing anything, the thing spoke:
"Welcome follower! I am... Mork, God of Orks!"
Something then stirred under the cloak and sqwacked out, "Awwk! I thought I was going to be Mork! You can be Gork! Awwk!"
The large figure hushed the second voice, giving Wingnut a chance to speak.
"Mork? Uh... youz is big... But... you don't look like an Ork, uh, pardon ta say and all..."
The self-proclaimed deity seemed a bit flustered, and a few multi-colored feathers molted
off as it shook.
"Uh, why, yes! But we're... a... little under the weather right now. It's cold in the Warp."
Wingnut scratched his head. He had never considered it, but it was possible that the Warp could be pretty chilly and all, given the lack of suns and all...
"But, that's not the point, uh... uh..."
"Wingnut."
"Yes... Wingbutt. I am giving you a great task, something that I would only entrench upon you, a matter of utter and significant import, that..."
The figure paused as it was obvious that Wingnut's eyes were screwed up in thought, trying to figure out silly things like syntax and vocabulary.
"... I want you to make something."
Wingnut sighed in relief, "Oh, dat's it? Ok."
The large figure turned it's head in confusion. "Umm... don't you want to know what it is? What it does? What sort of..."
"It blows stuff up?"
Again the figure turned it's head back and forth in thought, and the second voice spoke up.
"Awwk! Lots are gonna die! Awwk!"
Wingnut nodded, "Alright then, dat's sorted. So, what's it you want?"
The figure sighed, "Very well. Now, we start with your Shokk Attack Gun..."
------------------------------------------------------------------------------
Deffdread BigToof yawned a bit, rubbing some sleep out of his eyes. Wingnut had been all a fluster this morning, waking up and barking at all the Meks.
He had even gotten BigToof up to hold this big shiny bit here.
BigToof looked up at the enormous glowing crystal that housed untold and incomprehensibly dangerous energy.
Yep, he thought, Shiny.
Wingnut was zipping around all over the crystal, attaching it to a number of devices via sparking wires and checking his somewhat scrawled down plans.
Mork was pretty wordy about what he wanted, but as far as gods went, at least he was pretty straightforward.
The Big Mek nodded at the contraption. He had no idea what it was, what it was for, but one thing was clear, it was going to blow something up...
----------------------------------------------------------------------------
Kairos, the feathered two-headed Oracle of Tzeench, watched the Orks from his home in the Warp. The massive creature preened it's feathers, looking in wonder at the Greenskins.
They were simple, easy to trick, but still they were an amazing source of potential chaos and destruction. The Mek had somehow cobbled together a device of enormous magnitude, far bigger than what Kairos had suggested in his Dream Telepathy (Apparently scale was not something the Orks took as a matter of import).
The device was supposed to tear open a hole in the Materium, and allow his forces to come in, causing havok and establishing the power of Tzeench. Also, it would help his wounded ego, which had gotten quite a bruising the last time he met the Orks of WAARGH! Grumgutz.
As much as his other, more annoying head (the one that was in charge of HINDsight) liked to remind him, the Princes of Tzeench (a name the Oracle thought of himself) had managed to destroy armies of Imperial Guard, Khorne berzerkers, and curious/unfortunate Tau squadrons, but somehow the Orks had stymied him in a way that seemed almost inconcievable.
But this time, Kairos admitted, he had a plan, a careful thought out plan that would absolutely, positively...
Kairos paused. He had a flash of something... unfortunate. It wasn't certain, but for some reason, he felt that pain and suffering might be involved. (His own, that is)
Perhaps this wasn't such a good idea after all...
------------------------------------------------------------------------------
Pre-Game Thoughts: Oh, Tzeenchzilla is back! I haven't faced this list in a LONG time. Last time I got lucky, but this time... who knows? There's a herald this time, so it should be interesting. Never faced one before, so it'll be interesting to see what the flying Chariot does. At least there's no Flamers, but the triple Daemon Prince + Kairos combo is going to be painful. Still, I now have three wagons in my Krumpy list with a hefty set of Burnas. Hmm... I hope this isn't for KPs...
Mission: Annihilation (Oh sonova...)
Setup: Dawn of War (Hmmm...)
Terrain: Ruins (back to basics!)
Setup: Once again it is ruins, and for some reason, a good chunk of cover likes one corner.
The Orks win the roll to go second (as we say vs Daemons
).
Deciding to give the Orks the more relatively barren half, the Daemons begin to marshall their forces.
Picture Caption: Yeah, the terrain clearly does not like me... again.
The Daemons separate their halves as: All Monsterous Creatures vs Everyone else.
The Orks wisely decide to not put anyone down (no need to get shot up so early...)
BTW, slightly different Wagon loadup: Buras and Wingnut in Da Big Red Cheez, Nobz and Grimskull in Da Beast, and the 'Ard Boyz in da Skullkrusha.
However, Tzeench is clearly a worker of many strange ways, as the WRONG half comes in (i.e. everyone else)...
---------------------------------------------------------------------------------
It was the middle of the night when Wingnut was done, but it was a sight that made some of the Meks weep with joy. It was a gun. A HUGE gun. Wingnut nodded as he looked at the Kannon the size of a Battlewagon. The crackling, glowing weapon housed some sort of baleful energy that seemed to scream to be fired.
Wingnut nodded. Mork was right. Lots were gonna die.
All he had to do now was load it up right and get it to a good place for...
"Hey! A button!"
Wingnut whirled around and looked in shock and horror at BigToof, who was standing forgotten next to the gun. The Dread leaned forward towards the firing button.
Time seemed to slow down as Wingnut saw himself running, screams slowing in his throat as he tried to cross the workshop floor in time.
However, as always, Wingnut was a moment too late.
BigToof pushed the button, and the gun started to glow brightly... and then it fired!
A huge lance of energy tore off the roof of the workshop, up out over the heads of the Orks and landed with an ear-numbing explosion near the far end of the Ork camp, shredding the surrounding buildings and throwing Greenskins every which way. As the smoke cleared, a massive rift-like tear in what seemed to be the very fabric of the universe was left pulsating just off the ground.
Wingnut and his Meks all looked at the big Dread who sheepishly said, "Oops. Uh, My bad."
--------------------------------------------------------------------------------
Turn 1: Tzeench
---------------------------------------------------------------------------------
Kairos paused as the visions became clearer. The Orks were going to shoot him. It was going to hurt.
The Oracle paced a bit, under the watchful eyes of the Daemon Princes, who were getting ready to head through the rift.
No, no, thought Kairos, perhaps it would be too rash for them to come in so quickly. Perhaps a little reconnaissance would be better first...
With a quick gesture, the Oracle manipulated the Warp, changing it's flowing energy into a flying Chariot with a Herald.
"Go Herald," Kairos hissed, "Take the Horrors with you. Make sure that it's safe... SAFER before we arrive."
The Herald nodded, it's features changing like melting wax as it flew up and through the portal.
Kairos heard a chuckling as he looked at his second head.
"Awwk! Chicken."
---------------------------------------------------------------------------------
Well, the Herald, full of uh... stuff and vinegar comes in out the immaterium near the center of the board. All four horrors come in also scattered near the center and mid-rear of the table. They didn't actually want to be there, but scatter pushed them towards the Orks a bit. They desperately run back.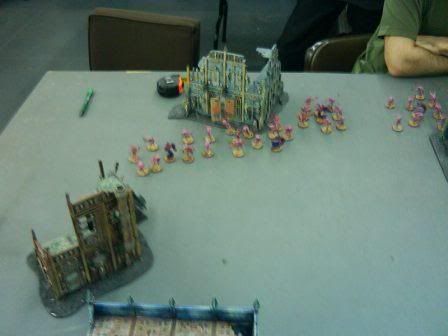 Picture Caption: Pink rain! Pink rain!
Turn 1: Orks
--------------------------------------------------------------------------------
Wingnut howled as he saw a bunch of strange looking creatures come flying out of the Warp. More strange looking Gitz, he thought. Buncha little guys should't be a problem, as long as...
"Oi! Wingnut! Grimskull and Kaptin Lucky woke up by BOOM. What is..."
Wingnut's eyes opened wide as he saw Warboss Grimskull Gobsmasha carrying his pet (and life-impaired) squig. The Warboss was wiping sleep out of his eyes, his squig still sporting pajamas and a puffy-balled hat.
"Haha! Guys to smash! Grimskull go smash now!"
Wingnut was about to try and restrain the huge Boss, but it was too late.
The hole and the gun would have to wait. At least, until after the fightin'...
-----------------------------------------------------------------------------
The Orks all roll in, the three Wagons moving straight out aiming at the left-center of the big blocks of Horrors.
The Kans and Lootas fall in behind the Wagons, and the big mob of Shootas is strung out to the right.
Picture Caption: The Green Machine has arrived!
KPs:
Tzeench: 0
Orks: 0
Turn 2: Tzeench
And Kairos and one Daemon Prince come in.
Kairos DS's in and... deviates towards the Orks, far too close for comfort. The Daemon Prince lands solidly a bit further away. Both of the big Daemons run towards each other.
The Herald decides he wants no part of the incoming Wagons, and boosts down the left half of the field.
The Horrors move back a bit and then fire...
All of the shots either miss the Wagons, but one lucky, lucky shot hits the 'Ard Boyz Wagon... and glances it! It goes through the KFF (??) and then wrecks it (darn AP1!!) The 'Ard Boyz get out as far forwards as possible... Hmmm...
Turn 2: Orks
Well, Kairos is pretty close.. .and actually the Horrors aren't that far away either.
Everyone except the Lootas advance forwards.
The Lootas open up on Kairos and gets a bevy of wounds...
The Oracle must not have seen all of THAT coming, as he takes 3 wounds despite re-rollable 3+'s!
Enthused by this, Wingnut calls the WAARGH!
The 'Ard Boyz get an amazing fleet roll and rolls right into two squads of the Horrors.
The Shootas do the same and get into combat with Kairos.
Assault is pretty short.
Kairos wiffs both of his attacks, but the Orks just can't seem to get that last wound off...
The 'Ard Boyz though obliterate a total of 12 Horrors for just a few lost Boyz.
The Horrors, being fearless, go poof in a haze of pink smoke...
Picture Caption: This is post-consolidation. Wow, that's a lotta shootas.
KPs:
Tzeench: 1
Orks: 2
Turn 3: Tzeench
NONE of the Daemon Princes come in.
Oh, that's bad. For the Daemons that is.
The Horrors both move forwards on the 'Ard Boyz.
The Herald boosts forwards again a bit, angling up to charge the Lootas while remaining out of LOS.
And the Daemon Prince moves in to help out Kairos.
In the shooting phase, both remaining groups of Horrors fire at the 'Ard Boyz, who lose about a half dozen to some pretty shaky rolls on the Orks part
The closest unit of Horrors assaults in on the 'Ard Boyz (?)
Assault is pretty one-sided as the Horrors down a single boy and are torn apart for their trouble.
Again, Kairos fails to do any wounds, and the Daemon Prince downs a few. Again, the Orks can't seem to take out Kairos... More Orks fall to fearless, but there's still a lot left.
Picture Caption: The Horrors prepare their fruitless assault. Puffs of shooty Warp are no match for propa Ork krumpiness!
Turn 3: Orks
Well, the victorious 'Ard Boyz move forwards towards the last group of Horrors.
But, Wingnut and the Burna Boyz have a different opinion as they move in.
And not being much else, the Nobz and Grimskull move in through cover towards Kairos.
The Lootas fire out and take a few wounds on the Chariot (it has a total of FIVE wounds! Sick? Yes, yes indeed).
The Burnas, elated to finally be able to burn something, hit 6 of the Horrors under a template.
Hmm, 6... times... 12... 72 hits... (gah!)
40-odd wounds later, the Horrors puffed into nothingness leaving only a smell of burnt cotton-candy.
Assault is again, starting to grind down, as Kairos and the Daemon Prince manage to keep grinding down the Shootaz, who still can't take down Kairos...
As an aside, BigToof and the Kans are waiting in the middle of the board. BigToof is slowly making his way towards Kairos, and the Kans are getting ready to counter assault the Herald... whenever he decides to show up...
Picture Caption: This one needs no caption.
KPs:
Tzeench: 1
Orks: 4
Turn 4: Tzeench
And only ONE Daemon Prince comes in.
Tzeench must be having some sort of transit issues...
The Daemon Prince lands next to the 'Ard Boyz. It burns 3, but the Boyz don't run
The Herald moves forwads, getting into prime Wind range, hitting four and...
3 1's pop up. Yes, a single Ork falls.
The Herald then charges in with his 5 mighty attacks and... downs an Ork. One Ork.
The Lootas put a wound back on the Herald and stay stuck in.
Oh, and Kairos doesn't fall. More shootas die. Carry on.
Turn 4: Orks
The Nobz reverse course and drive up to the newly arrived Daemon Prince.
They get out, looking eagerly at the Prince, some of the Nobz arguing about which drumstick they're going to get.
Wingnut and the Burnas move forward, looking ready for more burny!
Oh, and the hurt 'Ard Boyz climb back into the Nobs' Wagon, waving to the Warboss who is staying on board (I think he lost his Squig through the grates in the back of the Wagon).
In shooting, the Burnas knock off 2 wounds off the Daemon Prince.
Assault is quick and to the point.
The Nobz down the Daemon Prince, who manages to give back a few wounds before he falls, the Shootas FINALLY take down Kairos before getting torn to shreds by the Daemon Prince, who goes on a kill frenzy and finally knocks them down below fearless.
The victorious Daemon Prince looks around, realizes that he's pretty much BY HIMSELF, and runs for his life, consolidating in the opposite direction of the Orks, trying to get away from the Wagons.
And in another example of epic fail, the Lootas and Herald wiff horribly at each other...
Oh, and FYI, BigToof chases after the Daemon Prince, while the Kans find a shady spot to wait out the pillow-fight that the Lootas and Herald are having...
Picture Caption: This is Daemon Prince Whisky Tango Foxtrot, I need immediate evac now, now, now!
KPs:
Tzeench: 2
Orks: 6
Turn 5: Tzeench
The last Daemon Prince comes in, scatters onto some Orks and gets put back into reserve...
And with that, the Daemon player calls it.
Result: Ork Victory!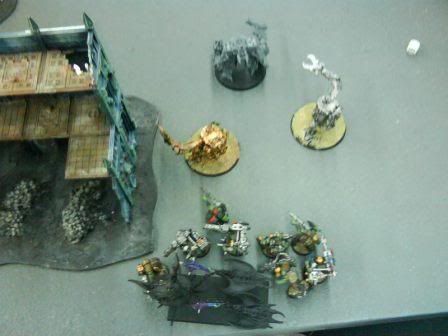 Picture Caption: Note to herald, please use pointy end of weapon next time. Thanks.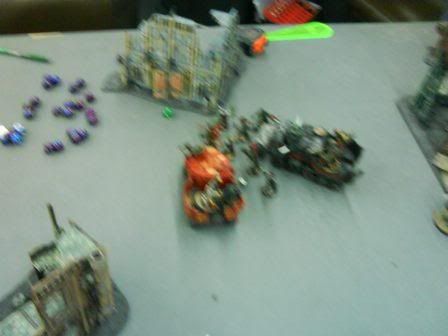 Picture Caption: Somethin' strange... floatin' in your fort? Who ya gonna call? Daemon Busters!
Post-Game Thoughts:
The Daemon player told me that the list was very much "win big or lose big." I guess getting the wrong half really hampered him. That and the slow creep in of Daemon Princes didn't help him one bit. I wish I could say that the Orks didn't just give out a mugging on their own, but bad luck, what with scatter gremlins giving the Tzeench player the once-over and usual decent-hot rolls by the Orks, there wasn't much resistance to the Green Machine...
-----------------------------------------------------------------------------------------
Wingnut sighed. The last few big gitz had just vanished into puffs of smoke. They seemed familiar... whatever they were.
Wingnut just shrugged. It didn't matter. What did matter was this big hole. What was it?
How did it pop up? And could he do it again... and again... and again?
------------------------------------------------------------------------------
Kairos, Oracle of Tzeench, sat in on his enormous throne nursing a double headache. Frozen Horrors were applied to each massive skull, but it didn't entirely stop the massive throbbing pain that came with being trounced and forcibly returned to the Warp.
Although the other head (the one that had the easier job of maintaining HINDsight), was quiet for the moment, the FOREsight head could see the "I told you so" comments popping up soon.
Still, admitted the plumed creature, more chaos had been added to the world, and given the Orks' propensity to use weapons no matter what their safety level was, would mean that they would be meeting again... very soon...
That is unless, the entire planet fell into a Warp breach and vaporized. But what were the chances of that?