Right, so was in a 2000pt Tournament today, as the title may suggest. There was 16 players in the tourniment, with prizes and stuff. OoooO!
The army split was much different then the 1000pt tournament a few weeks ago. One Blood Angel player, Three Tyranids, Three Orks, Two Necrons (including myself), One eldar, One Ravenguard, Two Ultramarines.
My list for this, was from the Brotherhood of the Spiraling Worm.
Deceiver
Pariahs x6
Lord w/Warscythe, solar pulse, nightmare shroud, res orb
two 10 man warrior squads with D-fields
two four man destroyer squads
one unit of seven Scarabs with D-Fields
Two, two man squads of heavy destroyers
Two Tomb Spiders with Particle Cannons.
Here is a picture of my army.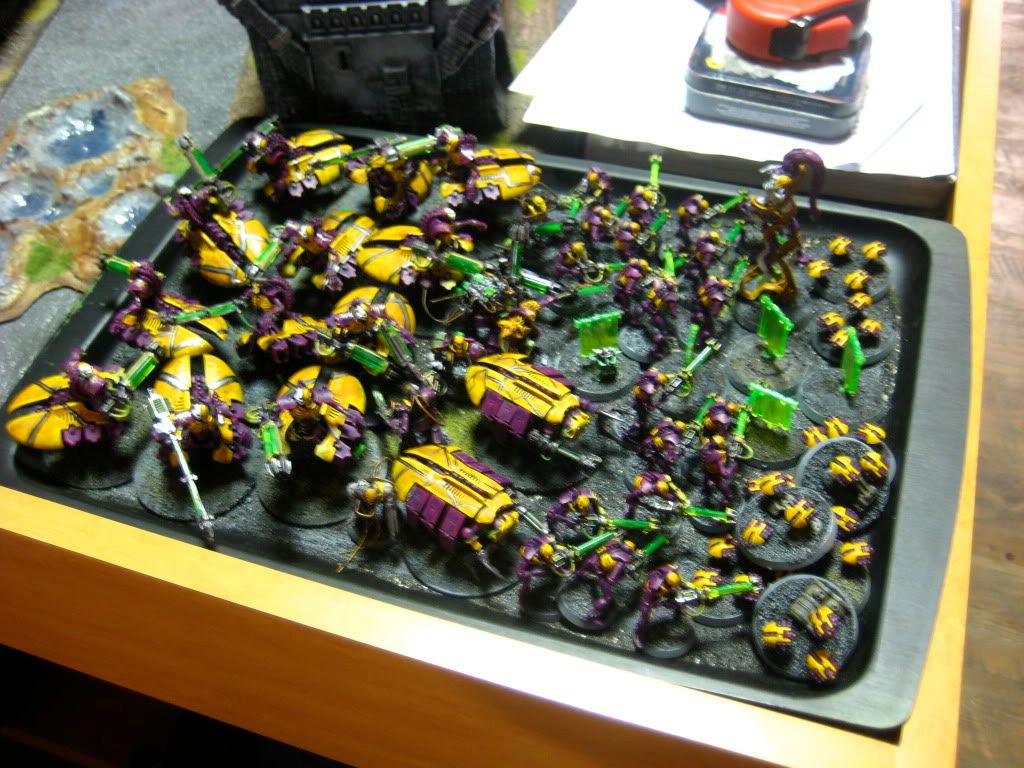 And, I thought I'd take a picture of the rather cool blood angels army my friend brought. With his converted Storm Raven-thing.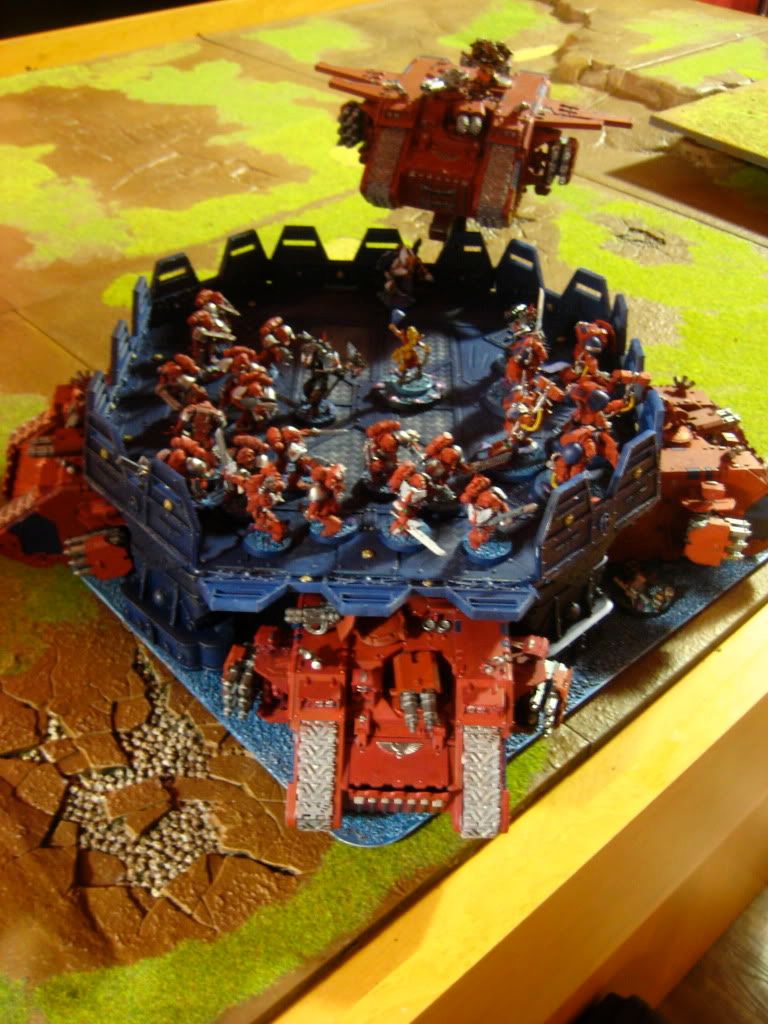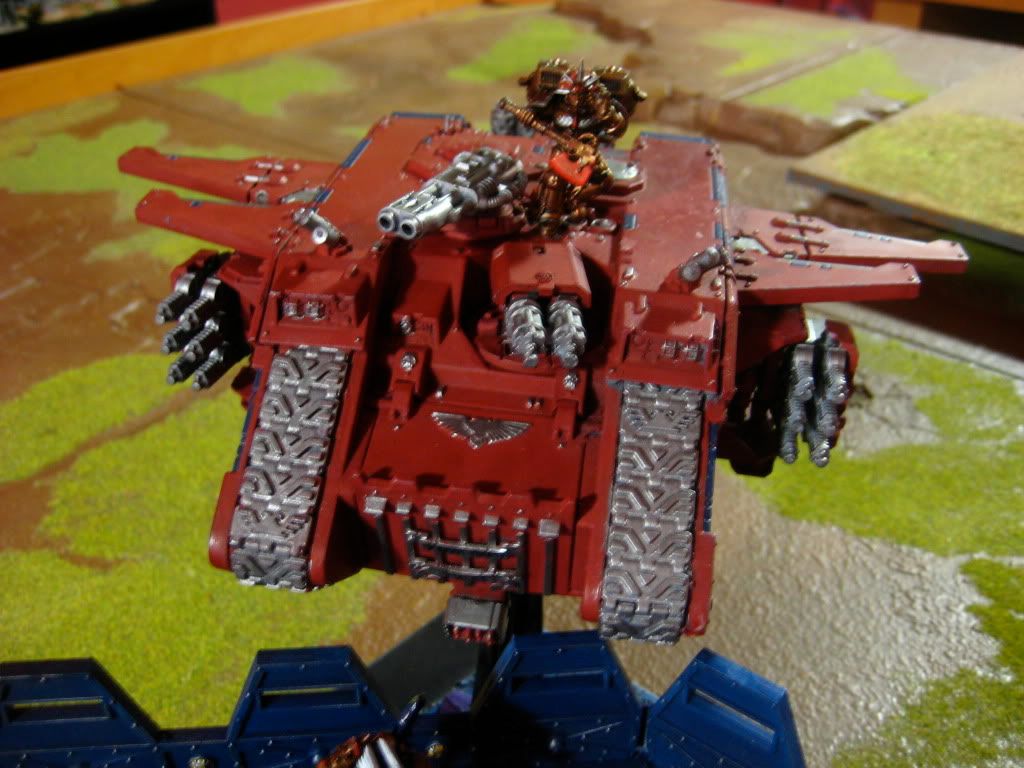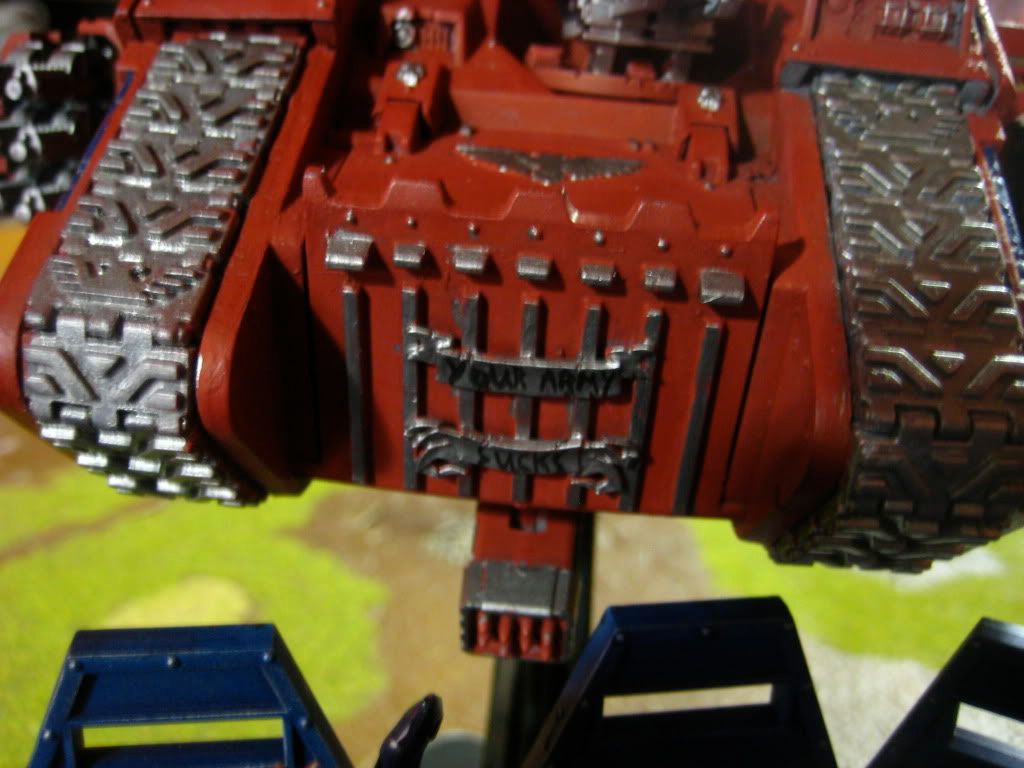 Game 1.
First game, was agaisnt a heavyily Mechanized orks.
Warboss with Megaarmour, 'Uge Choppa
Unit of Ten Nobs, one power claw, boss pole, rest with 'uge choppas, in battle Wagon.
Mek with force field and power claw.
Unit of Shoota boys
Unit of Sluggas in Battlewagon
Unit of Sluggas in Truck.
Burnaboyz in Battle Wagon.
Burna Boys in Truck
Deff Dread, with tons of melee weapons.
Mission was Dawn of war, pitched Battle. The secondary objective was that we needed to diffuse the objectes, and if you managed too and your opponent did not, you won the secondary mission. In order to do this, a unit within 3" of an objective, instead of moving, rolls a dice. 1, each model takes a wound (saves allow), 2-3 difused, 6 the objective and the unit are teleported to a far away beach resort.
The table was pretty full of terrain, and I won the roll for first turn.
I deployed my two warrior squads in the bottom left of the table (two of the objectives were near the middle/left, while one was in the top left corner). Deceiver deployed 24" in, for pushback.
He deployed his deff dread near the objective near his side, while the Warboss his Nobs and their battle wagon deployed on the right side of the table. I redeployed my deceiver back to my warriors.
Turn 1.
Knowing that the Nobs would be trouble, I brought on one spider, both heavy destroyer units, and one destroyer unit on the right flank. Everything else came on around the warriors. I activated the solar pulse for this turn, to remove night fight. Heavies fired at his battlewagon, and wrecked it, while my destroyers on the left immobilized the Deff Dread. Other destroyers failed to do much harm to his Nobs unit.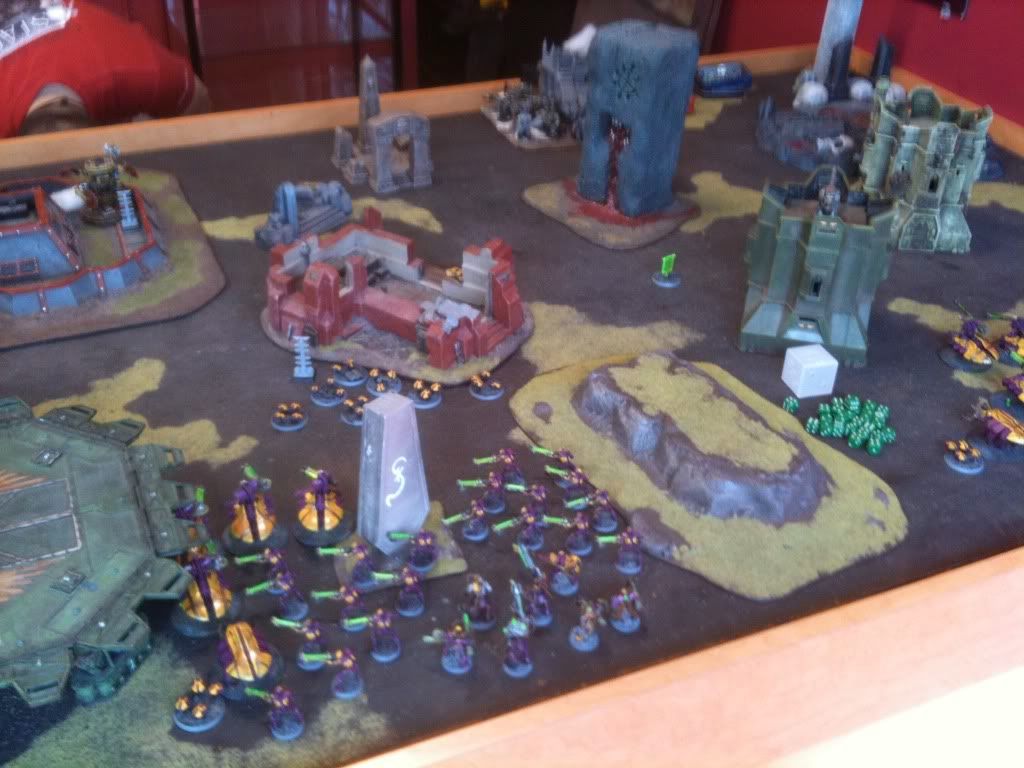 He reacted by bringing on a huge wall of tanks across the table from my force, while his Shootas walked on near the objective in the top left corner. His shooting was non-existent, but his grot Riggers fixed his dread.
Turn 2.
Scarabs jumped forward to the Mechs battlewagon (with burna boyz), in the middle of his tank wall. (Truck, Wagon (KFF), Wagon, Truck). My infantry keeps advancing a bit. Destroyers wreck both the trucks (well, explode the sluggas), bailing a unit of burna boys on my left flank, and sluggas on the right. In the assault phase, the scarabs wreck the Meks battlewagon. Pariahs began shuffling to the middle of the table, tomb spiders slowly start splitting to the two nearest objective with warriors in tow.
The remaining Battle Wagon, Drives down to the objective on my right, while the burna boys all try to avoid taking dangerous terrain tests for walking around their rides. Deff Dread is mucking slowly through the terrain he is in, sluggas sitting pretty on the objective. He gets one burna boys unit onto the middle ruins, and they torch the poor scarabs to death.
Turn 3.
Warriors split off a but further to the two nearest objectives (either side of ruins the burnas are in). Pariahs and Deceiver head to the ruins. Destroyers Immobolize the remaining battlewagon, and try to pick off nobs, slowly. Deceiver charges the burnas, who cannot hurt him. he only ends up killing two, but with the Pariahs nearby, the orks have trouble passing a LD 5 morale test, break and are run down.
In his turn, the battle wagon orks hop out, and head towards my deceiver, along with the other sluggas (power claws?) Mega nobs and remaining burnas with Mek are loitering on my right flank, just behind the sluggas. Shooting, is minimal from my opponent (none), he attempts to charge the Deceiver with both slugga units, but I just misdirect next to the Nobs. Mek leaves the Burnas.
Turn 4.
Deceiver charges and wipes out the Nobs and Warboss unit, suffering only one wound, while they suffer eight and are under the Pariahs influence. Lord activates his Nightmare shroud, affecting the Nobs (before I charged them), Mek, Burnas and both slugga units. Unfortunately, boss poles save all his unit from running, except the Big mek, who books it. Pariahs shoot and charge into sluggas, while warriors and Destroyers attempt to nail the Sluggas in the ruins (too close for comfort). Tomb Spider on the right, charges and wrecks the Battlewagon. My spider on the left, successfully disarms an objective (yay!).
My opponents Mek regroups, and the Deff Dread finally leaves the terrain it was mucking through. Sluggas charge and kill a tomb spider on my left, while his sluggas keep getting hit hard by my Pariah unit with Lord.
Turn 5.
I focus fire on the Sluggas in the ruins (which retreated back, after they won combat against the Spider. I reduce the squad from 11, to a wounded nob, which breaks and runs (hurrah focused fire). Deceiver charges the remaining Burna Boys unit, and my one destroyer squad stuns the Deff Dread.
My opponent attempts to Waaagh the Mek into combat with one of my warrior squads, but rolls short. He then tries to disarm the objective his shootas were on, rolling a one. Detonating the objective killing all but four Shootas. besides that, his turn was basically done.
We rolled for another turn, and didn't. In the end, We both controlled one objective, but I pulled out a MInor win by succeeding with the Secondary Objective.
Game 2.
Against Space Marines.
Special Character, that has FNP and allows a unit to outflank
Two Terminator Squads (one normal, deepstriking. One assault squad with Chaplin).
Three squads of marines. Two with Rhinos. Two squads combat squaded.
Landraider crusader
Dread
Predator Annihilator
Predator Destructor.
Mission was Pitched Battle, With Two objectives. Secondary mission, was to get one unit (no dedicated transports) in an table quarter with no enemies in it.
My opponent won the roll for the first turn, keeping the special character in a rhino with a combat squad outflanking. Terminator squad Deepstriking, and the Annihilator Predator in reserve. Landradier, with assault terminators and Chaplin deploy on the left, full marine squad in the middile on his objetive, dread in middle and two combat squads scattered along the back as fire support, and a plasmagun combat squad and Destructor Predator on the left.
I kept my force combact in the middile. Destroyers focused on the right, heavies on the left.
I won the roll for first turn. Hurrah!
Turn 1.
Destroyers fan out on the right, Heavies on the left. Other stuff heads up, while the scarabs keep behind my phalanx to limit where deepsrikers can go. Heavy Destroyers manage to Immobilize and shake the Landraider.
In his turn, the rhino moves up the right flank, his dread takes pot shots at my spider, while the Predator takes pot shots at my Destroyers.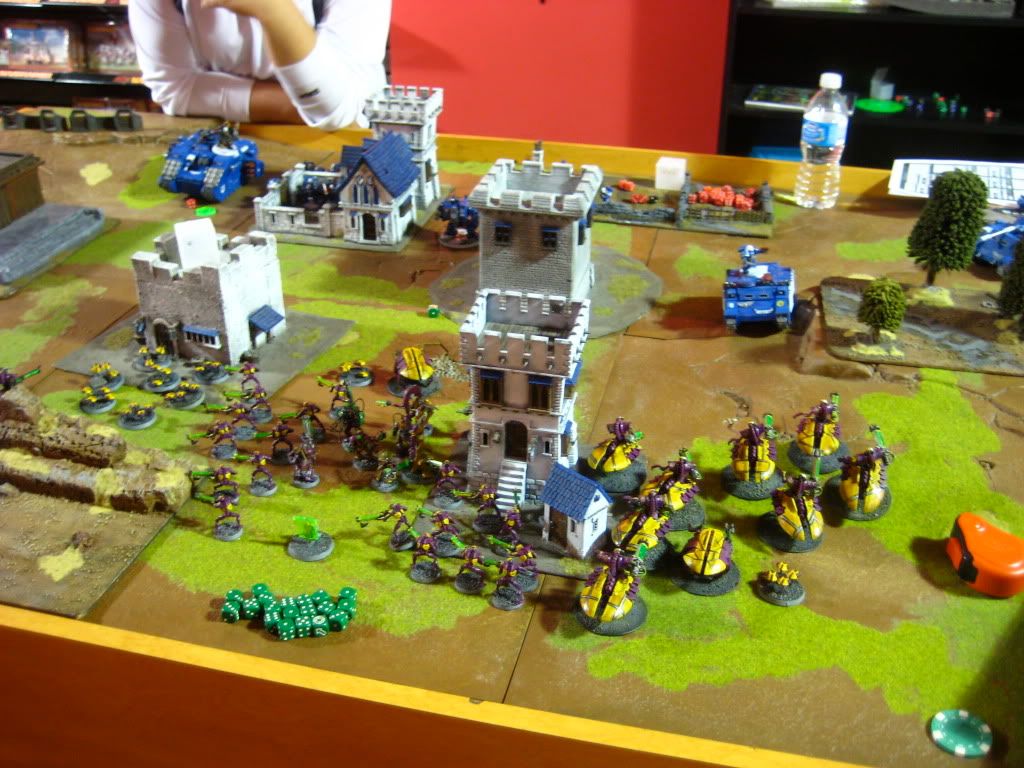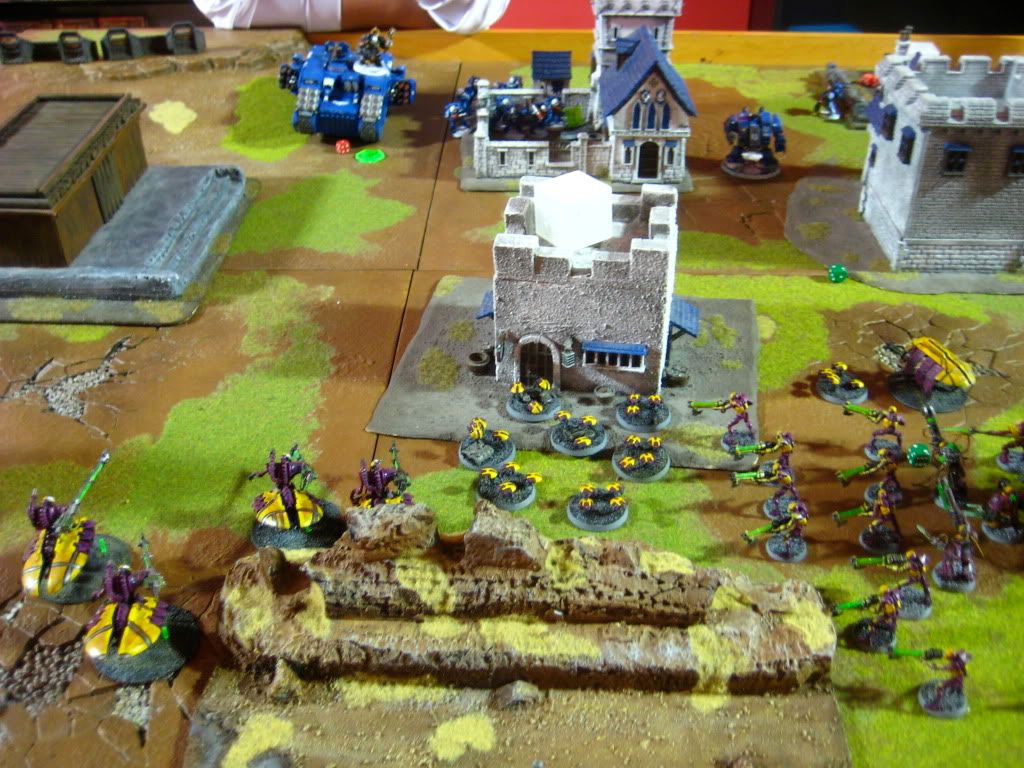 Turn 2.
My troops advanced forward, Destroyers on the right, immobilize the Rhino, while heavy destroyers fail to damage the landraider further.
In his turn, the Outflaking rhino zooms on, on the left flank and pops smoke. His dread and Landraider shoot my forward most Warrior squad, knocking down a couple. Marine squad in his Rhino pop out and kill my tomb spiders pet with a plasmagun.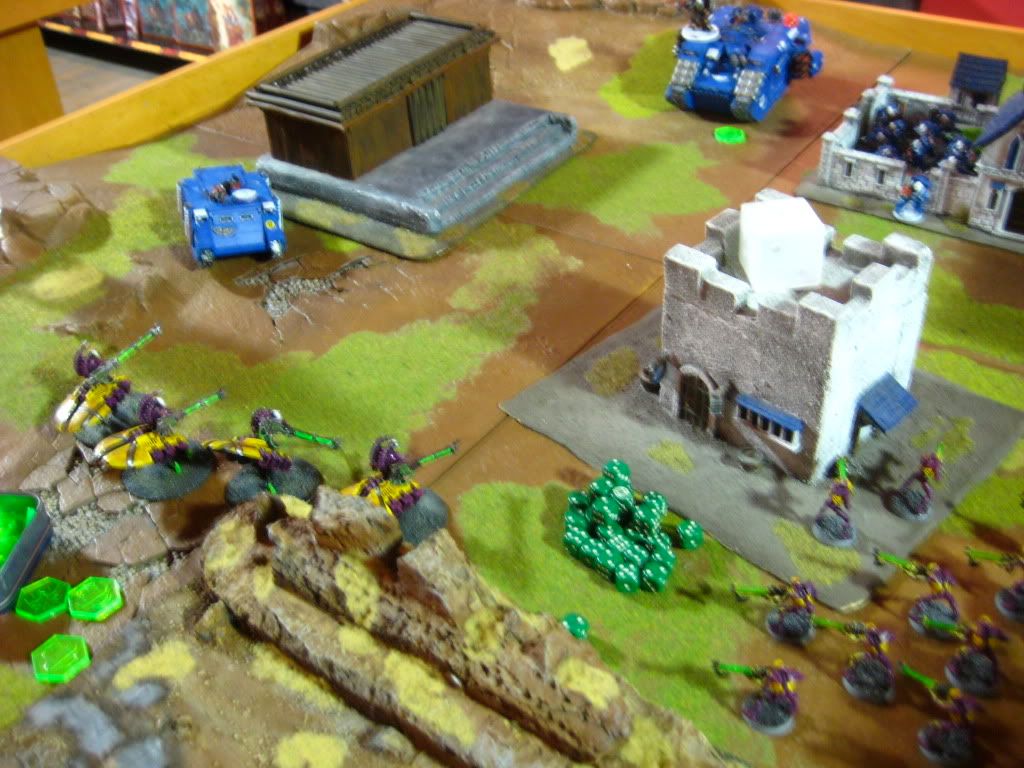 Turn 4.
Heavy destroyers fall back, and Scarabs pull up around my left to block the new rhino a bit. I fail to damage the Rhino, due to some amazing cover saves, while I kill the plasmagun combat squad with destroyer fire.
Termiantors drop in on my bottom right, while Sicarious hops out of the Rhino, which speeds down a small bit. terminators shoot at my scarabs, and kill a good amount of them. Further fire is directed at my warriors, and some more drop, most to get back up. Sicarious charges on of my heavy destroyer squads, and fails to cause a single wound, I do one to him, but his Feel no Pain ignores it. The assault Terminators Leave their Landradier, and manage to get a charge off on my Pariahs, I kill a couple, but loose all my pariahs and the Lord Falls back out of combat.
Turn 5.
My warriors squad which had been shot at, skips into the Marines objective building, with the C'tan. Scarabs go to charge the Rhino, but choke. The two Tomb spiders charge the termiantors, I loose one spider, and kill all but one terminator. The C'tan charges his tactical squad, and kills all but two.
His rhino zooms past the Scarabs, and drops off his marines near my necrons at my objective, while the Terminators charge my Necrons in the north. First of all, the tomb spiders scarab kills off the last Terminator in the south, the assault terminators actually fail to kill my squad off. Last predator arrives.
Turn 6.
My warriors and last spider on the south, charge his Tactical squad out of the Rhino, but I loose combat, and my squad runs off. The assault terminators kill the last of my warriors, while the C'tan kills his last troop.
He tries to kill some of my Destroyers off, but fails.
Game ends, with none of us controlling objectives, and the secondary objective we both accomplish, so we get a draw.
Game 3.
Last game, was against Shrike Marines.
Shrike, with large powerweapon assault squad.
Chaplain with assault squad.
Sternguard
Two Dreads.
One tactical squad.
One Scout squad
Mission was Spearhead, Anniliation. Secondary mission is gaining a points, for each unit (no dedicated transports) within 18" of the center at games end.
I cannot remember all the specifcis of this game, and it's getting late. He got the first turn, and does dick-all. In my turn, My heavy destroyers destroy both Dreadnaughts, while the destroyers kill off the scouts. He then brings on shrikes squad outflanking on the left flank, while one destroyer squad is assaulted by chaplin squad coming out of the north.
I get one destroyer WBB from the dead squad into my other, while I barracade my southern flank with scarabs. The Middle game sees his two assault squads searching for weak points in my force, the Assault squad, ends up charging a heavy desttroyer unit, before fleeing to the back of the table to retain KP (but I still kill the squad and chaplin). The Shrike unit, gets a charge off on my one Warrior squad, and forces them to flee. I counter charge shrike s squad with the Pariahs and one tomb spider. The combat ends late game with my lord, wounded Spider and only one pariah left. Once I manage to kill his assault squads, I begin pushing to attack his tactical and Sternguard. At games end, he has just one sternguard model left, while I lost my scarab unit, one warrior unit, one Destroyer unit and one heavy destroyer unit.
however, as that last model is within 18" of the middle, I fail to get a massacre win. Major win is my reward.
Some untitled picture of the last game.
[urlhttp://img.photobucket.com/albums/v472/killersquid/warhammer/April%2010th%202000pt%20Tourny/IMG_3518.jpg]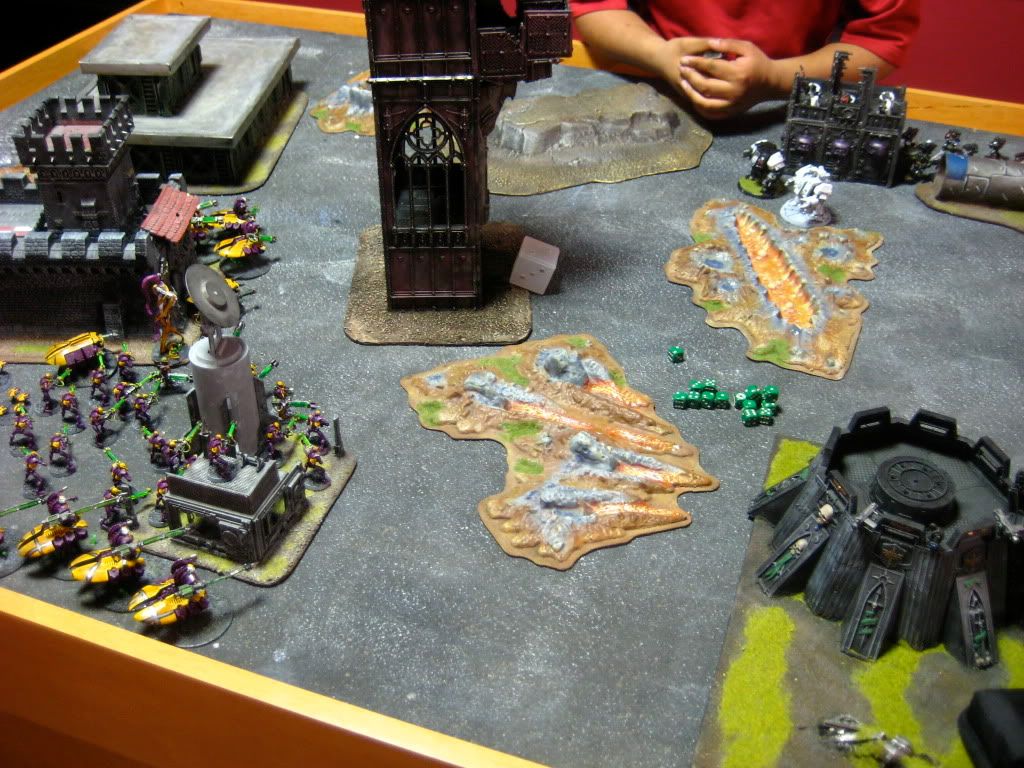 [/url]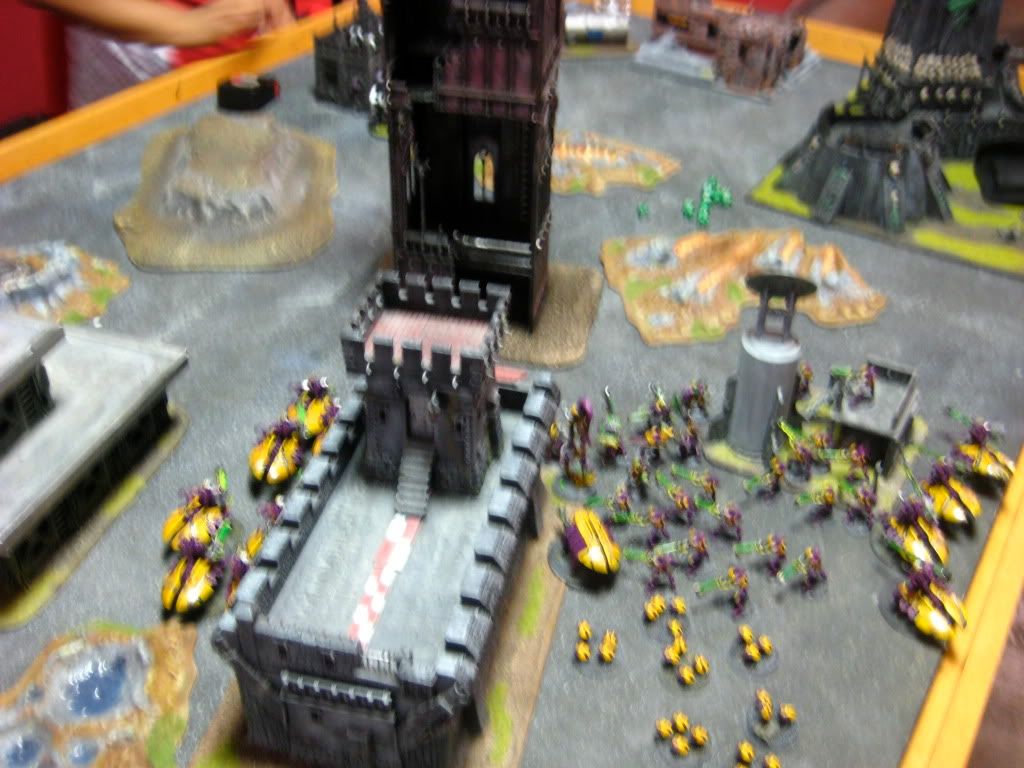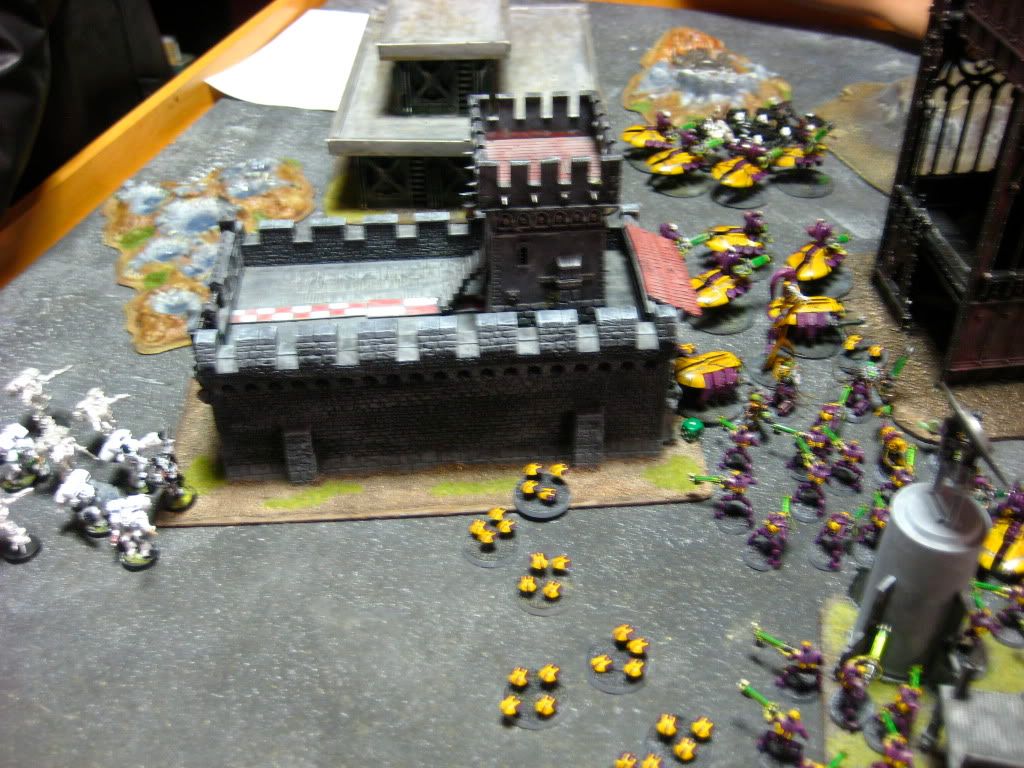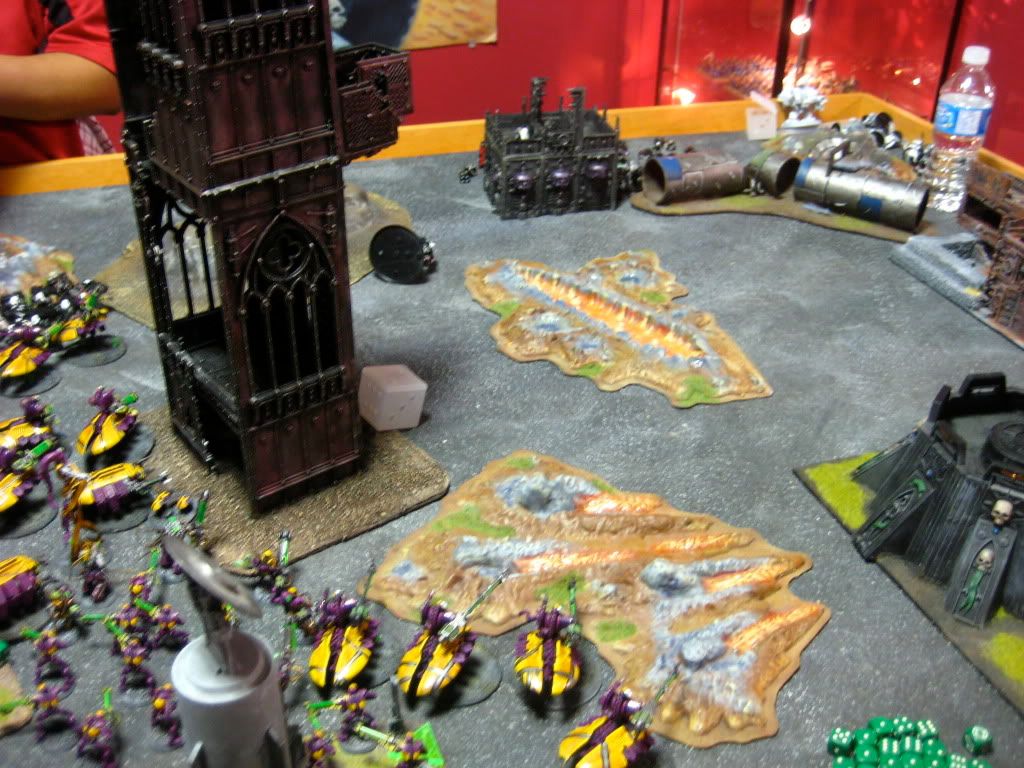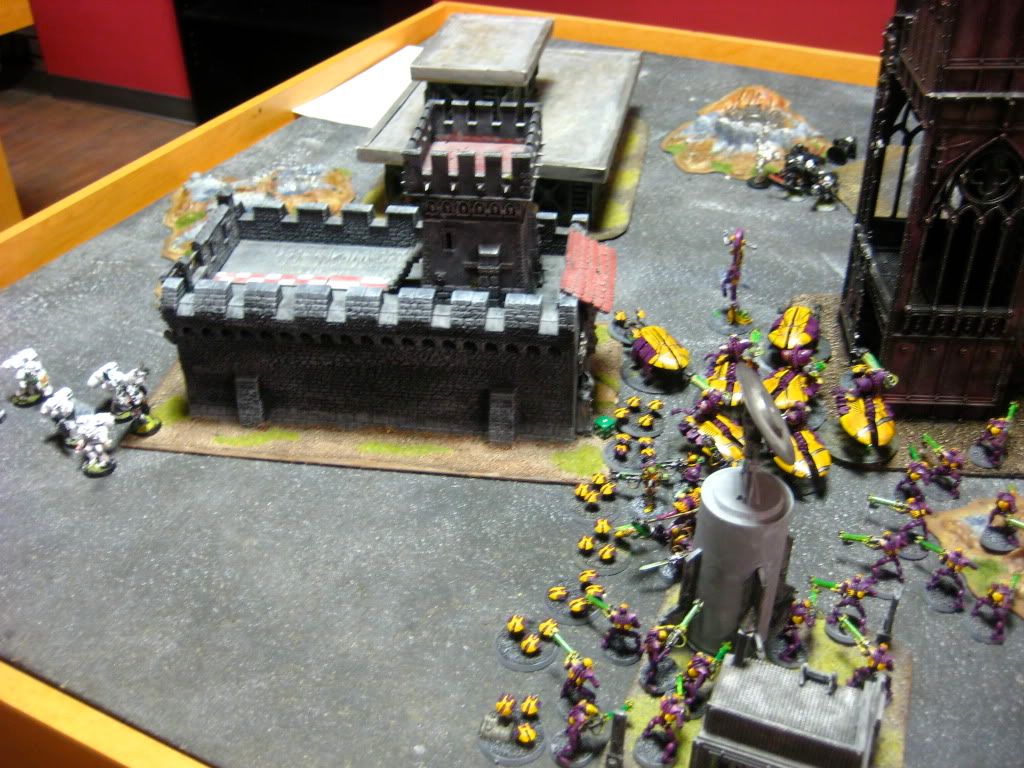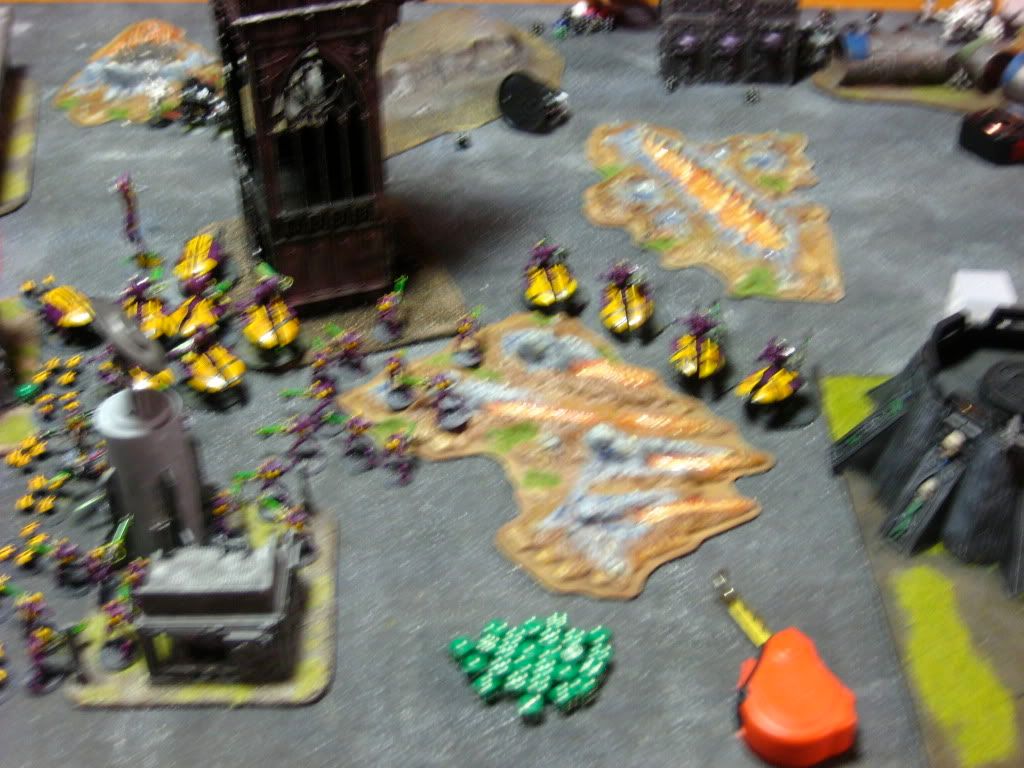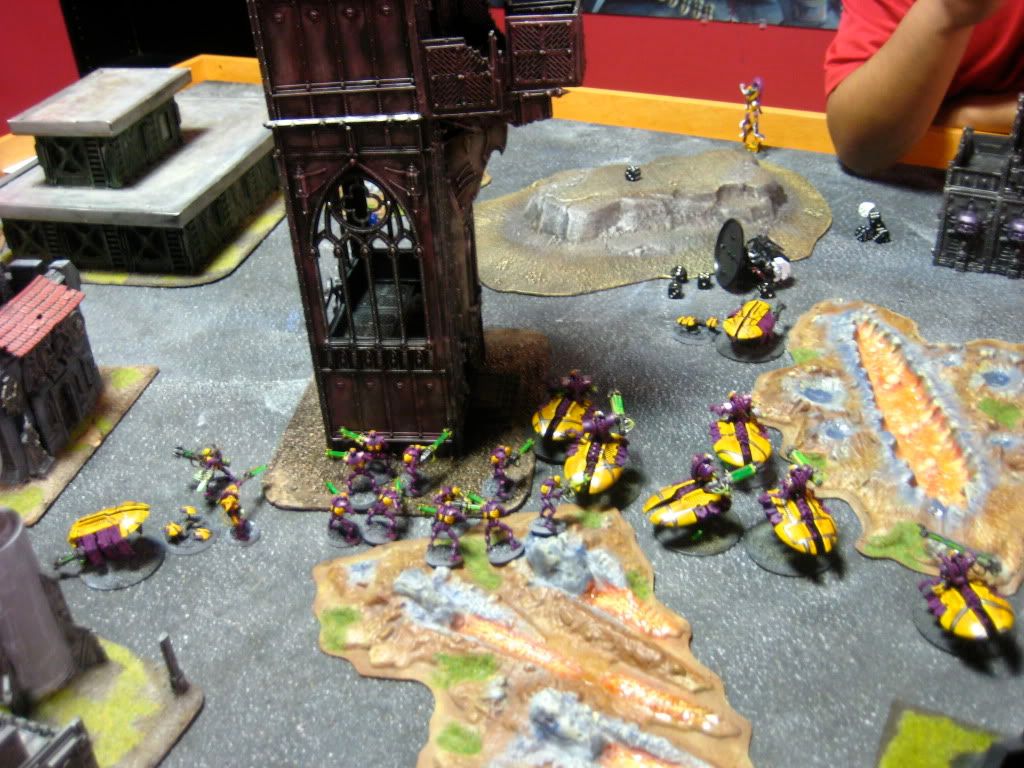 [hr]
When the scores are announced, I walk away with Best Army Presentation (due to my Background book I had printed and bound, among other things). I was also 4th place for best general, and 2nd place for best overall (by one point).
All in all, a great time had, and a rather good showing by the Brotherhood of the Spiraling Worm. My friends blood Angels took home best overall, last game he had was against the other necron player in one rather intense game. With my winnings I got a Necron Battleforce, Black Primer and a pot of paint.