Right, so brought out my Necrons for some gaming fun today.
First game I played was against Space Marines.
The game was 2000pts, so a larger game then I've played in quite some time.
My list was...
Deceiver
Lord with warscythe, nightmare shroud, res orb, solar pulse.
Pariahs x6
Warriors x10
Warriors x10
Destroyers x4
Destroyers x4
Scarabs x9 with D-fields
Heavy Destroyers x2
Heavy Destroyers x2
Tomb Spiders x2
His list was..
Liberian w/the teleport power, and a fleet of foot power?
Marinus Calgar.
Unit of 5 assault terminators with thunder hammer/storm shields.
One unit of marines in Rhino with lascannon
One unit of maiines in Razorback (lascannons)
One unit of marines with plasmacannon
landraider
Dread with Multi-melta
Vindicator
Scouts with Tellion and sniper rifles.
Mission was secure and Control. Pitch Battle Deployment. I choose to go first.
I placed my objective behind some walls in the bottom left of my quarter, while his was in behind some barracades near the middle of his deployment zone.
I place all my dudes in a block across from his objective, with my destroyers in back and heavy destroyers off to my right, hidden behind a tall building-thing.
His deployment has his army pretty well split in half. Libraian is on foot next to the landradier (packed with assault terminators and Calgar) all on the far right flank. Rhino, razorback, dread nad vindicare are all on the left flank, and the scouts deploy on the seconf floor of a ruin across from my forces. Most of the units on the left flank are out of LOS of my forces due to the building the scouts are in.
[hr]
Right, so I kept my force fairly compact. My biggest threats in this game, was the terminator squad, and the vindicator. Everything else was a moderate threat. Therefore, Before I could feel safe in the game, I needed the landraider at least immobile, and the vindicator silenced. The scouts could be annoying, and the Dread if it got close enough could be a threat too. My plan for the mission, was to keep one squad of warriors on my objective, and try to plop my Scarabs, Deceiver and/or tomb spiders on his objective to prevent him from scoring. I'd try and my my phalanx as close as I could towards him, to keep the pressure on his half the table and (hopefully) keep my scoring warriors safe.
[hr]
Turn 1, was not stolen from me. My mass of troops begins the slow march forwards. My destoyers and Pariahs kill off all the scouts in the building (only real target they had), while the heavy destroyers on my left flank blow the demolisher cannon of the Vindicator (Yesh!), while the ones on my right flank shake and Immobilize the Land Raider (Yesh!).
I pass the turn over to my opponent, who disembarks Calgar and pals. Librarian walks nearby them as well. Dread walks towards my lines, while everything else mostly stays still. Landraider, and Razor back both shoot at the Deceiver, who takes a wound. His Lascannon from inside the Rhino and the Dread both try and shoot my one heavy destroyer squad, but cover and his poor rolls saved them.
Turn 2
Scarabs make it onto his objective with a nice turbo boost, while the rest of the force continues advancing forwards. My destroyers manage to take the combat arm off the dread, and shake it. Other shooting of mine is pretty minimal. mainly due to not many 6's for shooting tanks, and good cover saves on my opponents part.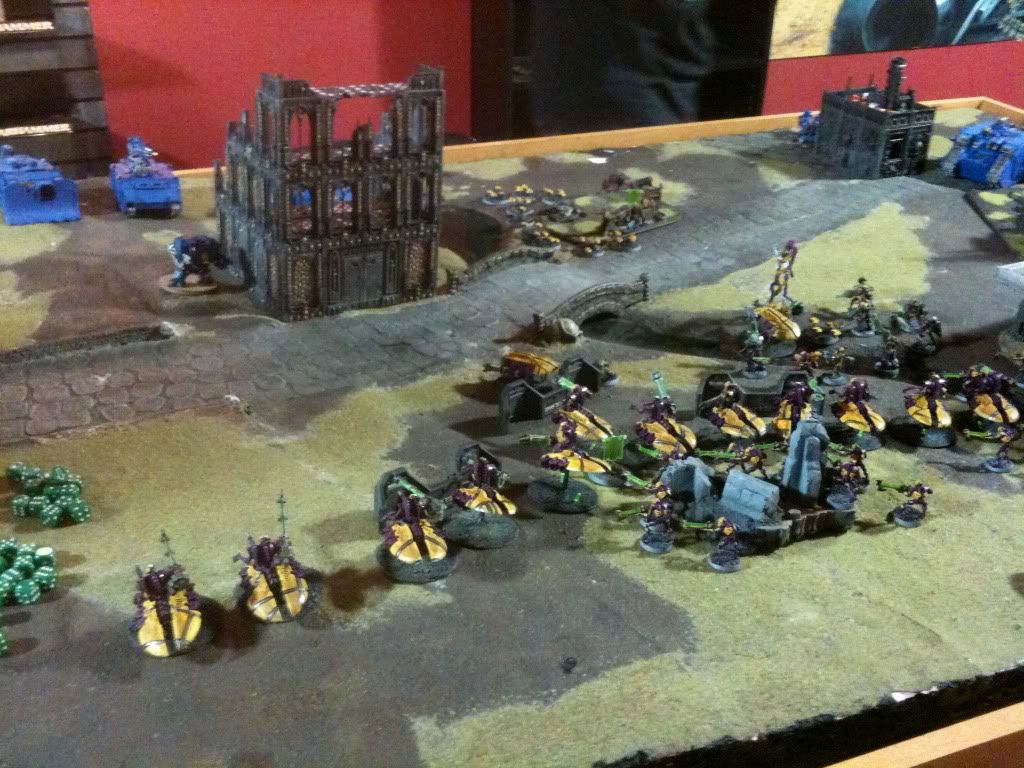 Calgar and pals lurch towards my Phalanx, Librarian teleports nearish to my pariahs. He continues shooting at the Deceiver with most of his fire (which to be honest, was not the best idea). A plasmacannon is fired into my Pariahs, but scatters into the deceiver instead (lulz).
Turn 3.
Pariahs head to the Terminators, everything else is shuffling forwards. Destroyers manage to shake the dreadnaught again...Lords Nightmare Shroud makes the Terminators fall back near to his table edge. I forget to move the scarabs
. Rhino is immobilized.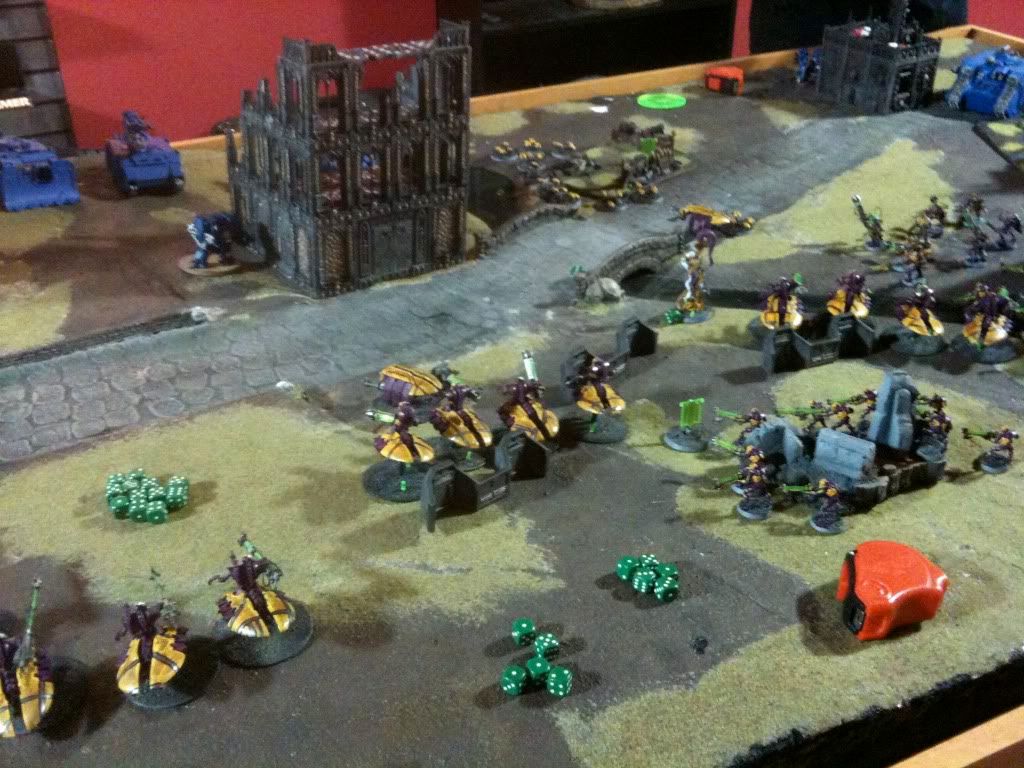 Terminators Regroup, Libraian successfully teleports right into the middle of my back lines. Could be worrying. Vindicator Drives forwards, Razorback drives right next to my scarabs. There is more shooting into my Deceiver, and I loose some Pariahs from random shooting.
Turn 4.
One spider, and Pariahs head off to 'annoy terminators' mission, while the majority of the force either then heads to his objective, or shuffles around. I find out that 40 guass flayer shots are more then enough to kill a Liberian. Destroyers focus fire on the Razorback, and destroy it. The Dread is then also Immobilized. Scarabs charge the dudes who bailed out of the Razorback, time for some epic tarpitting. I loose combat, by quite a bit, but I don't loose very many bases and I kill a couple of his guys too.
Calgar lets the terminators walk away from him, while the Vindicator comes closer to my lines. Calgar attempts to drop an orbital strike on my Pariahs, but it scatters wildly off. Plasma cannon marines begin heading to his objective, as does the marines in the rhino. In my turn, I loose another base or two, and he looses another marines.
Turn 5.
Pariahs and Deceiver encourage the Terminators and the plasmacannon squad to leave the table, While I try to surround the Vindicator with my destroyers, and their shots are not enough to stop it moving, unfortunately. Scarabs+Tactical marines = Combat that will never end.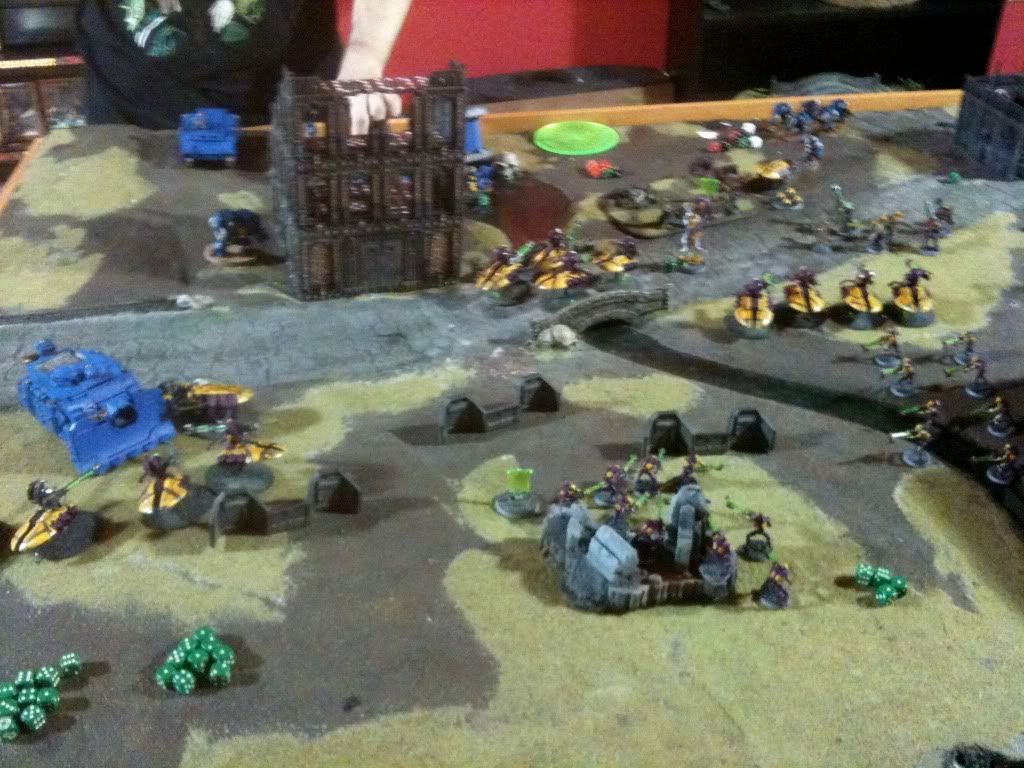 In his turn, the marines from the Rhino move and run as close as they can towards his objective, while the Vindicator is afraid of causing a Death or Glory on my heavy destroyers, so doesn't move. Calgar takes out frustration on my tomb spider and squashes it easily. His tactical marines from the Rhino fail to get in range of his objective, but he does manage to kill my Deceiver with the landraiders shots. Kills a pariah and a destroyer in it's death throws.
We roll for a Turn six, but we fail to get one.
Thus, one objective for me, none for my opponent. I feel that the game went my way right from the beginning. The Vindicator and Landaider being neutralized right off the bat is great. Getting the terminators to flee from me was also too much fun.
[hr]
As an aside, I also played a 1500pt game against the new Blood Angels. I don't have pictures or remember the specifics. However, it was the same mission as this game, but spearhead deployment.
His list was of a librarian, sangunary guard unit, death company unit (with Lemarties), two squad with Rhinos, and a tri-las predator. Game started off with me sticking in close formation, blowing apart one of the rhinos and shaking the predator turn 1, with little retaliation. Turn two, saw me get too cocky with the heavy destroyers, attempted a risky side shot on the predator, which failed and they were subsequently charged by come tactical marines and killed. The Death Company and Sangunary guard also deepstrike right behind me, while a unit of marines with librarian dropped off their cargo right in front of me.
This point, was the most stressful point. I dedicated the warriors to anti-librarian and tactical duty, while the C'tan walked over to the Death Company, and the Scarabs formed a close wall around my warriors. Destroyers fired into the Sanguinary guard, reducing the unit to three models, while one Warrior squad shot the Tactical marines, killing a couple. Lord and his warrior squad charged the tactical marines, while the deceiver charged the Death Company. The Deceiver killed four death company easy, but in the Lord combat I moved my lord in base to base with the Librian. This turned out to be a bad idea, as the Libraian could gain +d3 attacks, and become S10, needless to say, I lost my lord. I also lost combat, but held in.
In his third turn, the Sanguinary guard could either charge an angry tomb Spider, or scarabs, or the Deceiver. He choose scarabs and with his attacks and combat res I lost quite a few wounds. A wounded lemarties is all the remained in the death company squad. My necron warriors lost quite a few models, but I killed more of his as well. Loosing combat by three, but holding tight. In my following turn, the destroyers split up to bee-line to his objective. Second warrior squad counter-charged the Librarian, and killed him. I won combat, and his remaining tactical marine fled. The tomb Spider I had charged the Sanguinary guard, killing two and winning me combat. At this stage, I mopped up the last of the death company (after Lematies survived an entire round of combat against the deceiver due to my rolling of three 1's for my wounds rolls :O.). I began mopping up the rest of his force end game, while one of my destroyer squads made it into combat with his marines defending his objective (reduced to two models due to the other squads fire). This combat ended up winning me the game by contesting his objective.
This, was one of the most intense games I've played. At the beginning of my third turn, I was nearly shitting myself with three large threats looming down my back. But, careful target priority, keeping my guys together, and scarab wall saved my life. Very exciting game, and I learned a few things that I need to keep in mind for the future. Should have defiantly let my warriors get into BtB with the Librarian, and the lord should have gone after basic marines, and I cannot risk my heavy destroyers as easily. Keeping my units tight together, and easily supported worked fantastically well.
My list, was deceiver, lord (as above) the two warrior squads, unit of 6 scarabs, two spiders, two 3 man destroyer units, one 2 man heavy destroyer unit.