HQ – Prince Yriel
HQ – Eldrad
HQ – 10 Warlocks
7 w/Destructor
2 w/Enhance, Singing Spears
1 w/Embolden
Wave Serpent
Twin Shuriken Cannon, Spirit Stone, Star Engines
TROOPS – 3 Jetbikes
1 w/Shuriken Cannon
TROOPS – 3 Jetbikes
1 w/Shuriken Cannon
1 Warlock w/Destructor
ELITES – 10 Howling Banshees – 182
1 Exarch w/Executioner
Wave Serpent
Twin Shuriken Cannon, Spirit Stone, Star Engines
HEAVY SUPPORT – Fire Prism
Holo-fields, Spirit Stones
HEAVY SUPPORT – Fire Prism
Holo-fields, Spirit Stones
HEAVY SUPPORT – Fire Prism
Holo-fields, Spirit Stones
TOTAL POINTS: 1850
===============
HQ - Dante – 225
[Joins Guard]
ELITES - x3 Sanguinary Priests – 75 x 3
All w/Jump Pack
ELITES - Librarian Furioso Dreadnaught – 190
Extra Armour, Wings of Sanguineous, +D3 Attacks
ELITES - Furioso Dreadnaught – 185
Blood Talons, Heavy Flamer, Extra Armour, Drop Pod
TROOPS - 5 Sanguinary Guards – 250
1 w/Chapter Banner
2 w/Infernus Pistols
TROOPS - 8 Assault Marines – 189
1 w/Meltagun,
1 Vet w/Power Fist
TROOPS - 8 Assault Marines – 189
1 w/Meltagun,
1 Vet w/Power Fist
TROOPS - 5 Tactical Marines – 115
1 w/Meltagun
1 Vet w/Lightning Claw
HEAVY SUPPORT
Dreadnaught – 120
2 Twin-linked Autocannons
So, learned quite a bit more about the Blood Angels last night. Thought this game would be a good one to share to get some insight into their infantry and how they can work.
That Death Mask is something else. There's still a little heat from the Tyranid's Paroxysm. For awhile, I was quite convinced that the Tyranid Codex authors had gotten a typo, and that it was supposed to be -1 to WS and BS. That is, until I was reading about the Death Mask.
It targeted Yriel, much like the Deathleaper, reducing his WS, BS, W, I, A all down by 1. No biggy really, I have Enhance, but the fact it lasts, even after Dante's dead? I mean, what? Somebody needs to be Mind Warred.
TURN ONE - ELDAR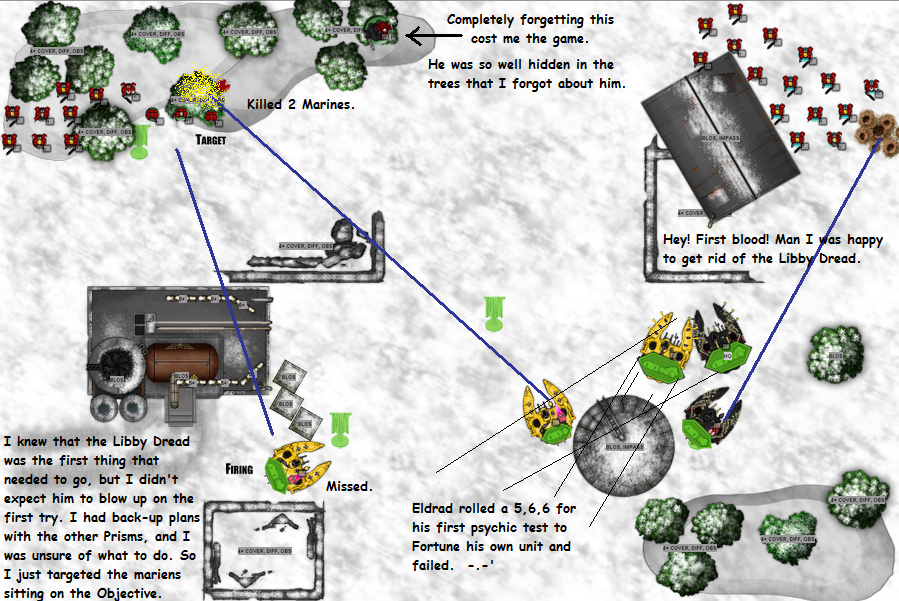 TURN ONE - BLOOD ANGELS
===============
TURN TWO - ELDAR
TURN TWO - BLOOD ANGELS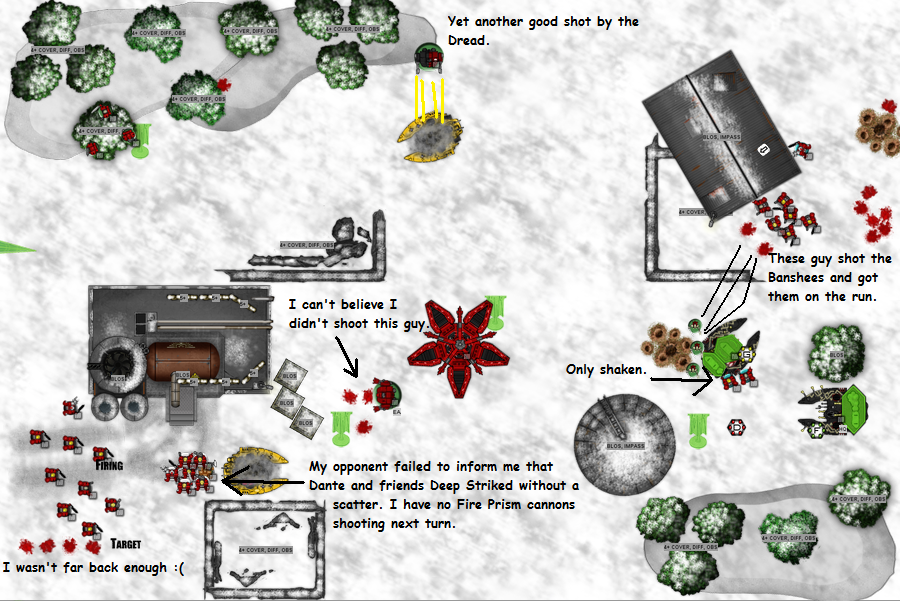 ===============
TURN THREE - ELDAR
TURN THREE - BLOOD ANGELS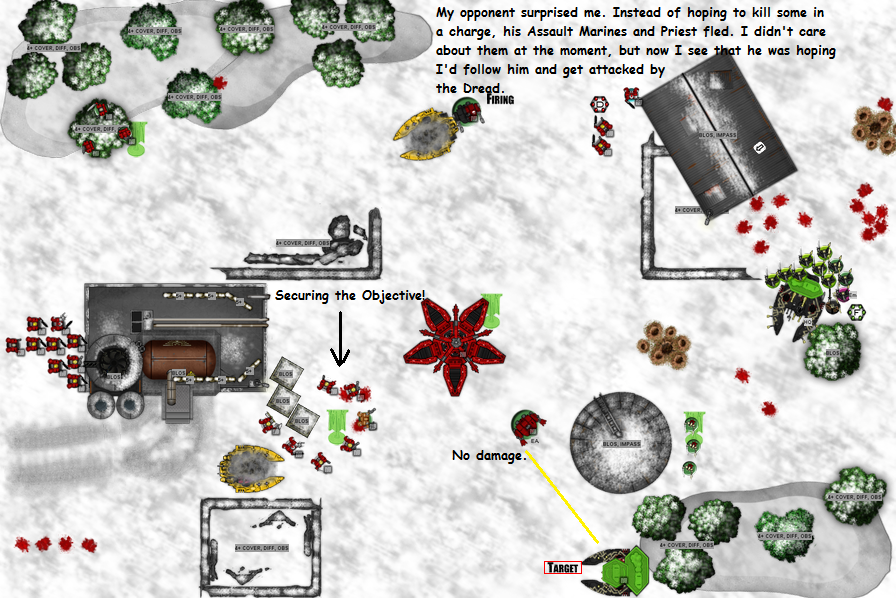 ===============
TURN FOUR - ELDAR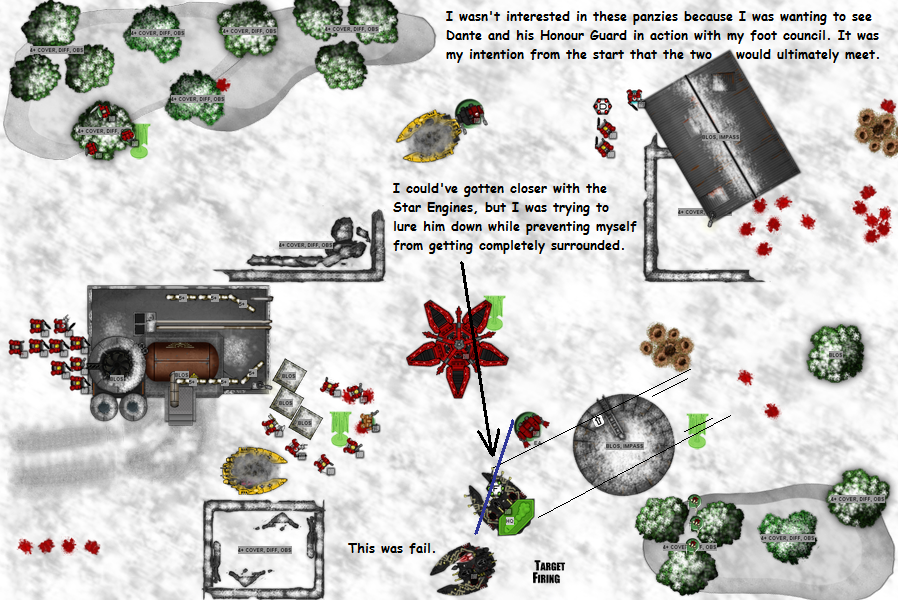 TURN FOUR - BLOOD ANGELS
===============
TURN FIVE - ELDAR
Forgot to mention the Furioso Dreadnought in the list of kills!
TURN FIVE - BLOOD ANGELS
===============
TURN SIX - COMBINED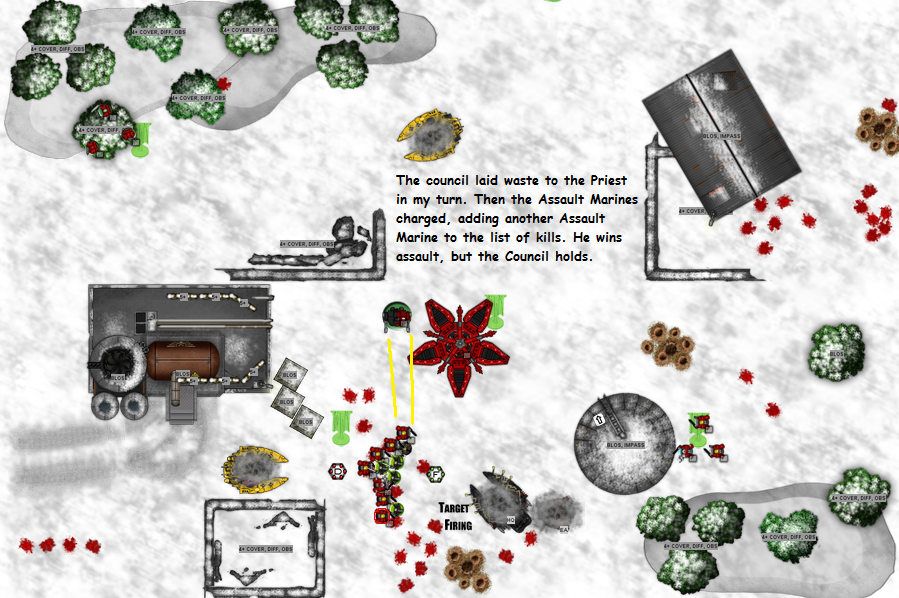 ===============
TURN SEVEN - COMBINED
===============
POST-GAME CARNAGE REPORT
(I hope I got everything above right. I'm fairly certain)
Well, the foot council upheld my expectations. The Eldar vehicle's survivability however, did not. I was rather frustrated after I went to bed knowing that the foot council pulled through... yet again, and has not found a worthy challenge as of yet.
I am utterly clueless why people belate the foot council, calling them utterly worthless and "easy to kill". Who are these people?
Let's see, they killed 16 Blood Angels Assault Marines, a Sanguinary Priest, a Furioso Dreadnought armed with Blood Talons, Dante, and 5 Honour Guard. That's over 1,000 points worth to the foot council's cost of 726 points, including Yriel. The Bike Council is great, but from turn one, they are taking casualties because everyone tends to shoot them up. The Foot council takes 0 casualties because all weapons less than Strength 6 will do absolutely no damage (Wave Serpent). Once the Wave Serpent is out of the way only then can you begin the attempted killing of the foot council. Not to mention they're cheaper.
Anyway, not surprised at the loss, 3 Objectives to nothing. If I had made better choices, this might've turned out to be a tie, and the results of the game would've been better (that's not a probably!). Simply Shaking, Stunning, or removing a weapon from that Dreadnought on the first and second turn would've turned the tide of the game (not probably, would have!). Not having those Banshees available when I needed them really, really hurt.
Though it makes me wonder. The Blood Angels now have some of the most fearsome, fastest, thus flexible troop choices in the game. This means, if you want to go toe-to-toe with them in an Objective-based game, you will have to pit your weaker/fewer in number troop choices against their far more powerful ones, and struggle with them.
Now, suppose I
did
take more Troops, that would mean removing powerful elements in my army list to go up against this list, on a weaker basis. The only exception I can think of would be if I had spammed Pathfinders instead of Fire Prisms to tailor a list to fight this one. Ok, and I Infiltrate them to hold the Objectives. Now they are having to try and hold those Objectives against those Assault Marines. What, Eldar Guardians would do a better job? Maybe in en mass and with Eldrad's support. Dire Avengers could've lasted and held in there as a counterattack force, but there's no way they could stand up to any of those units. Full group of Wraithguard, for the extreme cost in points, would've been too slow and unwieldy against these Blood Angels. Perhaps they would've done the best, but once you tie up the Wraithguard in combat, you're there forever.
That leaves Guardian Jetbikes. Sure they're faster, tougher, and can dish out a little damage with help, but the Wraithguard would've been better. Any more troops I would take would mean taking away from the Fire Prisms, which add much-needed firepower and speed. If I didn't have any Fire Prisms, killing the Libby Dread on turn one would not have been possible.
The general plan for this army list worked on a whole except for where I made poor decisions. The Fire Prisms soaked up damage, being the main distraction and luring eyes off the Council, for just long enough for them to do some serious damage.
My conclusion on the the Blood Angels:
They have some surprisingly nasty tricks up their sleeve and can pull out a wild card and there's nothing you can do about it, but at a fair cost. I'm not impressed or horrified over them anymore. Yes, their vehicles all being Fast was a bit of a shocker, and yes Assault Marines as troops are a tough lot to beat, but with careful planning, you can run rings around them.
The Blood Angels seem too straightforward to me. They don't enforce the use of a whole lot of cunning or technique, and what you do with the units always seem obvious.
I'm still having issues with the Tyranids right now. I haven't gotten over them, and being equipped with a Blood Angels Codex wouldn't make me feel any better. As far as I'm concerned, the Tyranids have evolved to have the strength and sudden death strike of the Space Marines, [potential] firepower of the Tau, ferocity of the Orks, trickery of the Eldar, and the monstrous survivability and awe-inspiring abilities of Chaos.
The Blood Angels? *shrugs* Just another fancy paint on the Space Marines.