Ran into
Satanic Joker Jester
, from 40kOnline and we had a 1000pt game. I used my Chaos Legion (of the Fleshy Curse), Why he brought his Eldar. I was getting ready for the Tournament on Saturday!
My list was.
Daemon Prince
Mark of Slaanesh
Lash
Wings
Daemon Prince
Mark of Tzeentch
Gift of Chaos
Wings
Chaos Marines
x5 w/meltagun
Rhino
Chaos Marines
x5 w/meltagun
Rhino
Chaos Spawn
x10 (2,2,3,3)
He brought (from memory)
Autarch with fusion gun.
Two five or six man dire avenger squads (one with wave serpent w/ Scatter laser).
One fire dragon squad (With serpent w/shurken Cannons).
One falcon.
Two Fire Prisms.
Imagine all sorts of Holo fields and stones and what not covering the tanks as well.
Ummmm, Mission was Secure and Control with three objectives, spear head deployment. I ended up with the second turn.
[hr]
Satanic Joker Jester, deployed in the top left quarter. Everything in transports, with the Autarch and one dire avenger squad in the falcon. I deployed cautiously (well, as far foward as I possibly could), and I kept my troops squads in reserve.
I rolled to steal the Initiative, and I did!?
Turn 1.
Essentially I ran everything forward as fast as possible.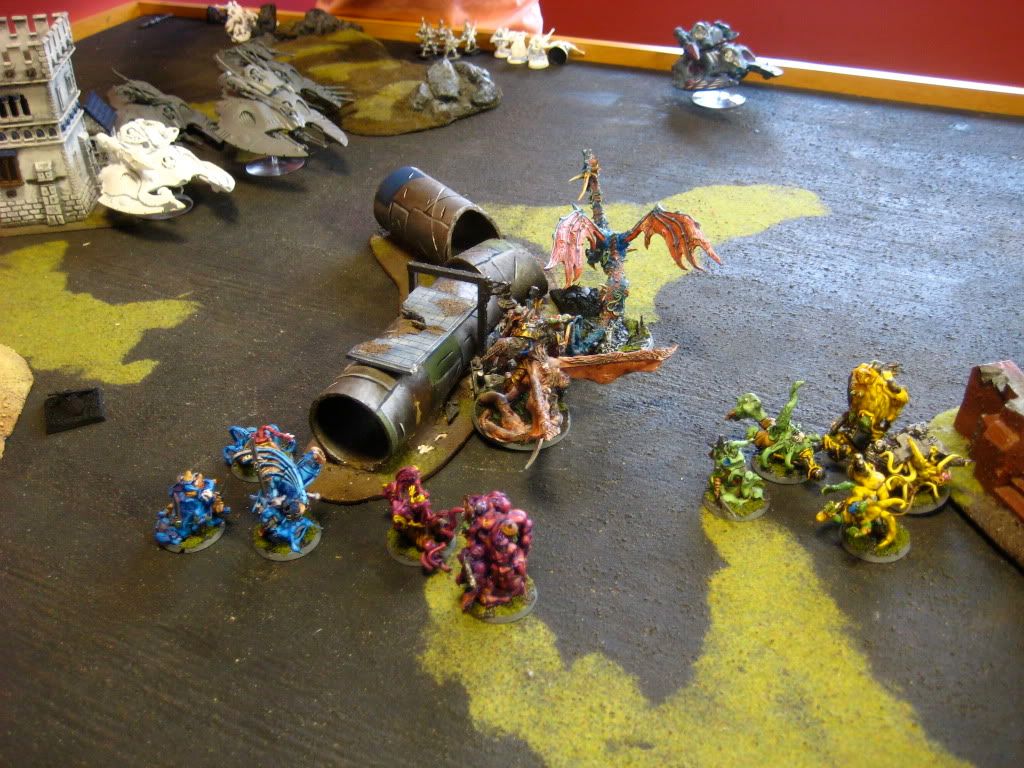 In his turn, He moved one of the Fire Prisims down to the bottom left quarter, while the rest of the tanks began to fan out along the far edge. In shooting his Scatter guns and cannons took a couple of wounds off my Tzeentch Prince, while the fire prisims fired a linked shot nuking one of my large spawn squads (oooo poor yellow spawn).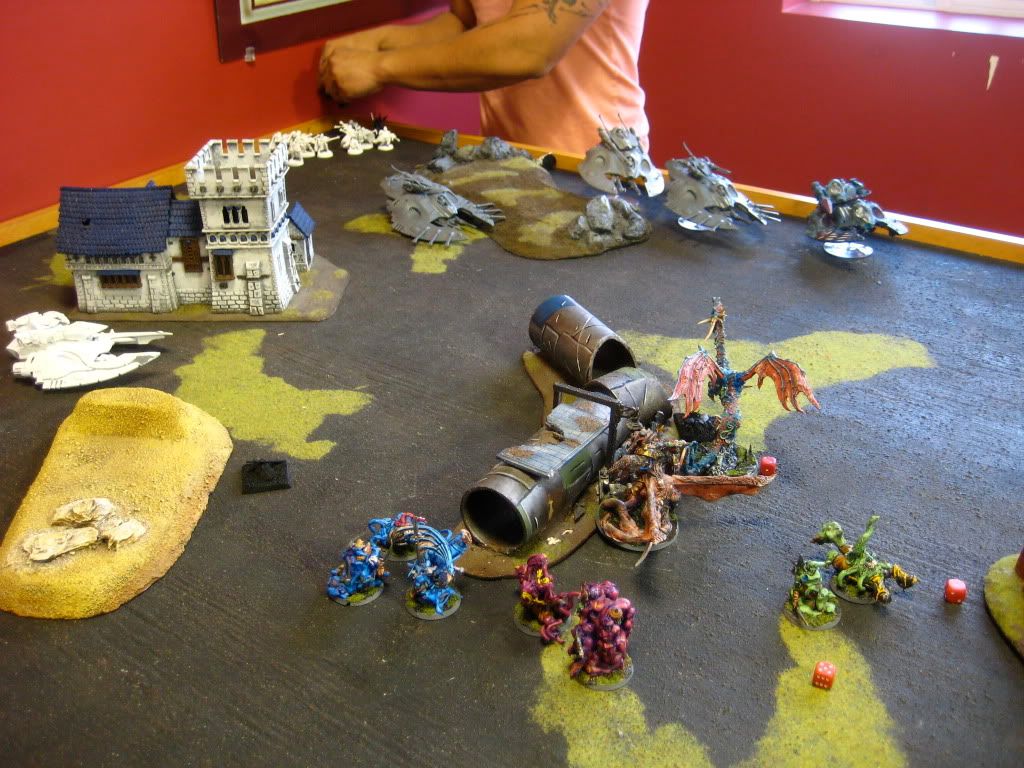 Turn 2.
Both my Rhinos come in, which I bring in right behind the fire prism. I then disembark both my squads. Spawn run off to the left side of the table, my princes both attempt a mad dash towards his tanks. My meltagunners end up tearing off the Fire Prisms guns, with their meltaguns. Blue spawn charge the Fire Prism too, but fail to do any damage.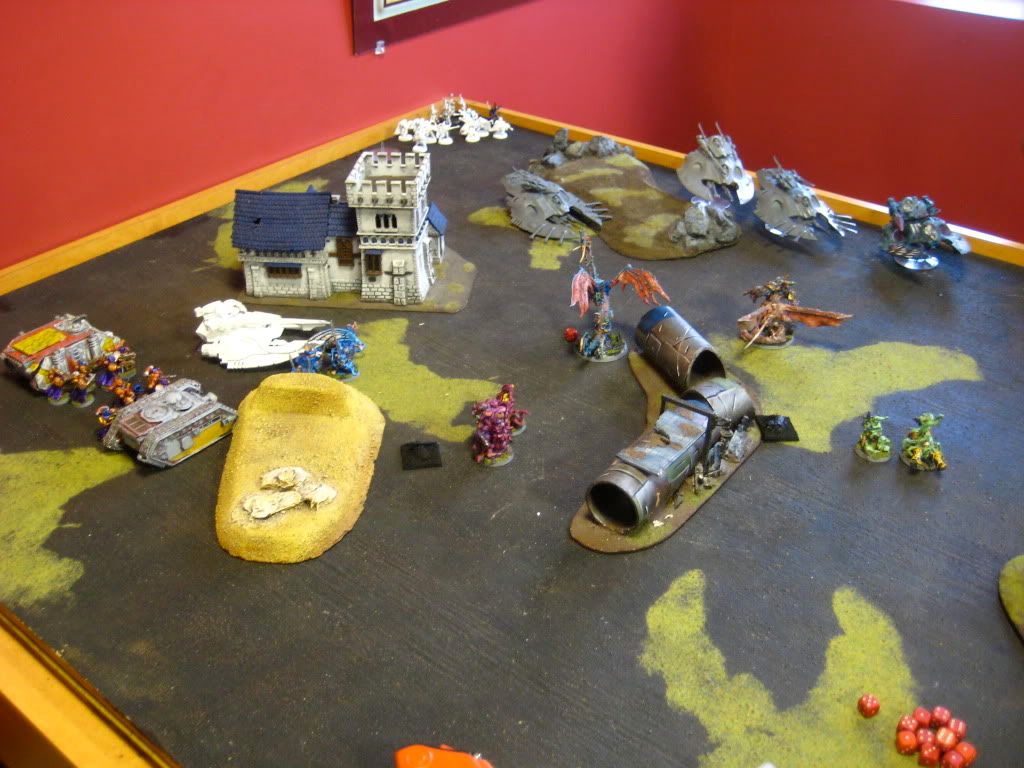 Jester, Zooms the damaged Prism away from me, while the other tanks all stubbornly refuse to get close to me. In shooting, my Tzeentch Prince falls to small arms, while the Falcon's pulse laser does a couple of wounds to the Slaanesh prince. Other shooting wounds the green spawn squad.
Turn 3
My marines hop back into their rides, and shoot to the right. Blue Spawn go after the Fire Prism still, while purple and Green spawn are heading up the table along with my Prince. The Prince and green spawn each get into combat with a falcon and wave serpent respectfully. The Prince fails to hit, and the spawn shake the serpent.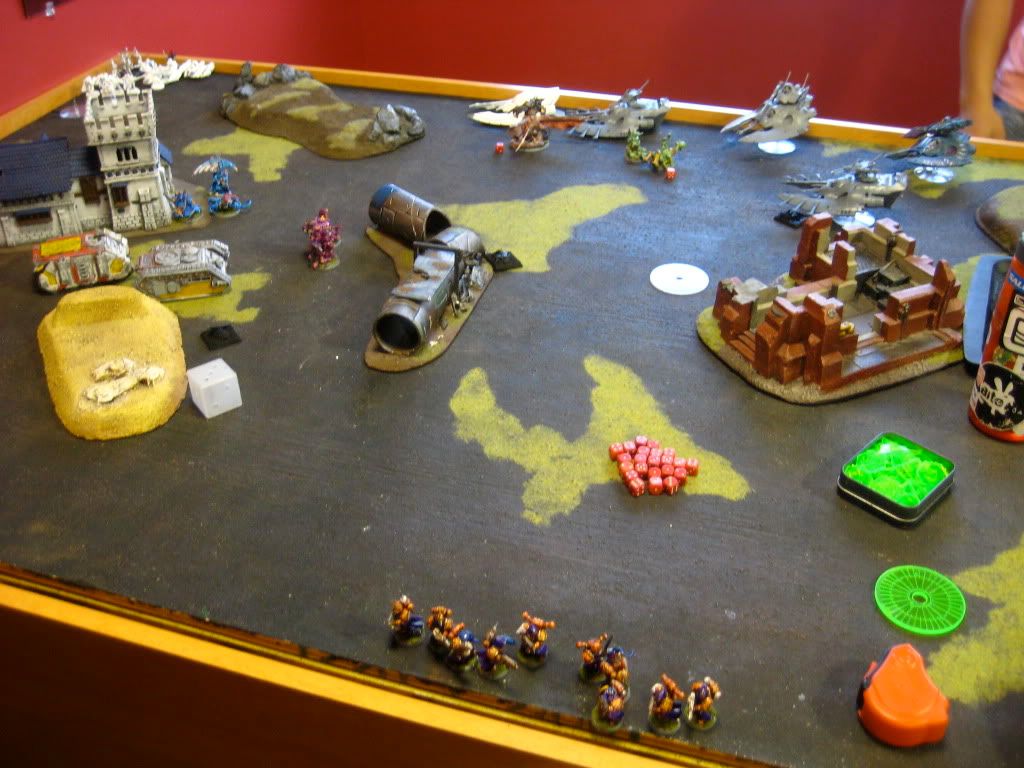 In his turn, he flies away from me. Most of the fire is directed at the Green spawn, and Prince. The prince survives, the spawn are also weakened but eager to continue.
Turn 4.
Rhinos Skoot further to the middle of the table. Prince and Green Spawn catch up to more skimmer tanks, other spanw keep heading to the other side of the table too. Combat was uneventful, or I perhaps shook one or two tanks.
In Jesters turn, the fire prisim killed one of my Rhinos, forcing my marines to bail. Other assorted shooting kills my last prince, as well as the green spawn.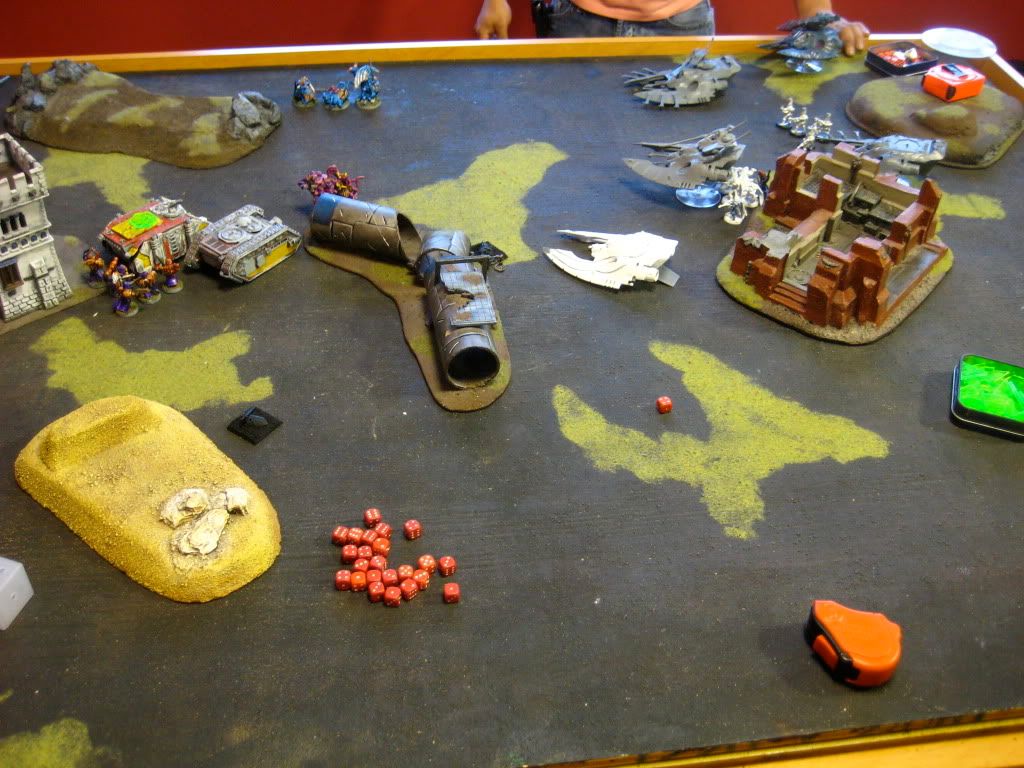 Turn 5.
Footslogging marines, footslog onto objective. Other marines squad's rhino drives them onto the middle table objective, and they disembark. Spawn keep heading to the skimmers. Middle Table marines shoot their meltagun, at the Fire Prism near them, and fail to damage it. Spawn also charge it, failing to do Damage. Blue Spawn charge another skimmer tank with similar luck.
In his (possibly last) turn, Jester moved the Fire Prism onto the far left objective to contest it, other tanks either skim near the middle, or my blue spawn. Shooting reduces my marines in the middle to one model, while the purple spawn are wounded and the blue spawn loose a spawn.
Turn 6.
Spawn Fruitlessly charge tanks, my Rhino moves to contest the far right objective and pops smoke. The Chaos Marines on the left immobilize the Fire Prism with their meltagun, then charge and annihilate it with their krak grenades. spawn shake one of the wave serpents in combat.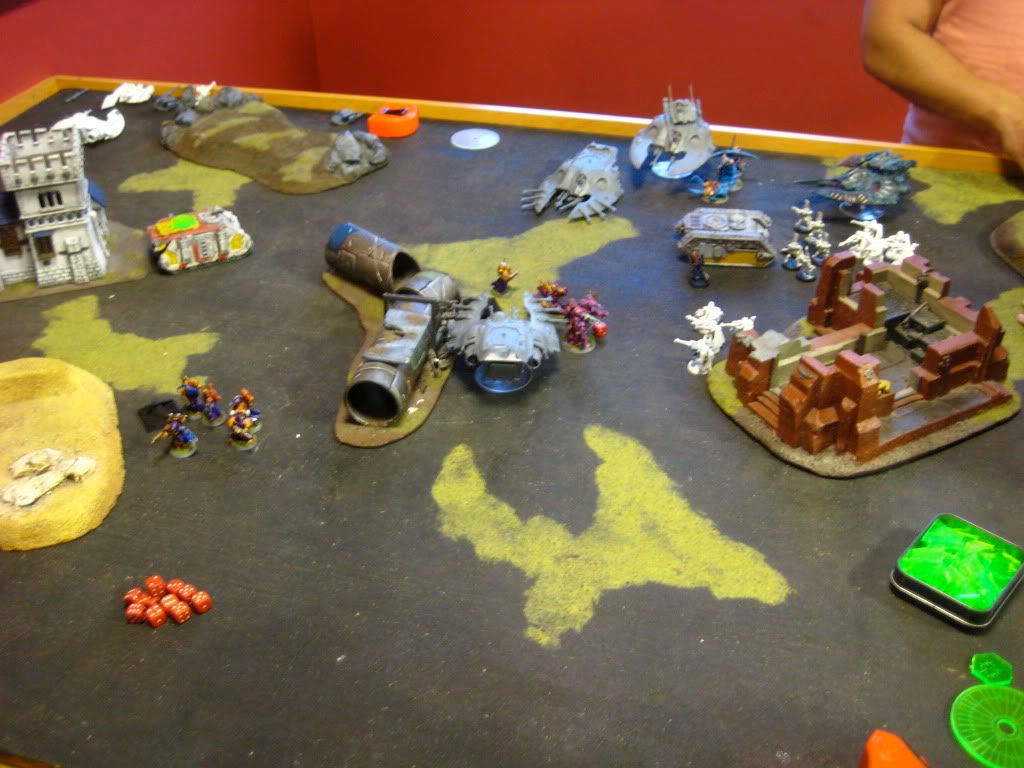 Shaken skimmer jumps onto my far left objective, while his fire dragons and other tanks fire at the Rhino and explode it. Autarch fires fusion gun at my lone marine, who successfully passes his 'gone to ground' cover save, but is unfortunately cut down by Dire Avenger Shurkiens.
Turn 7
Purple Spawn double charge the dire avengers and wave serpent, while blue spawn charge the fire prism. Chaos Marines attempt to kill this new tank the same way as list time, but fail with both shooting and melee. Purple spawn end up loosing combat, and dying from combat res.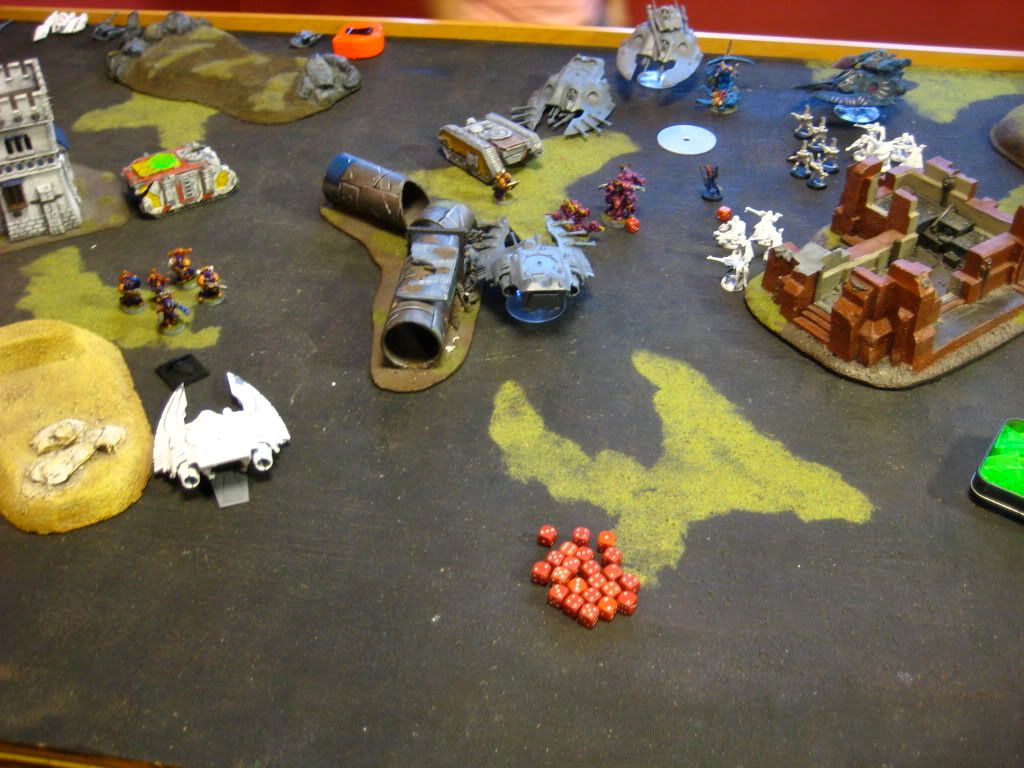 The Eldar Army eliminates the Blue spawn, but he fails to move the tank in combat with my marines, which blow it up this time around. Thus ending the game in a draw, which in all seriousness should have been a win for Jester.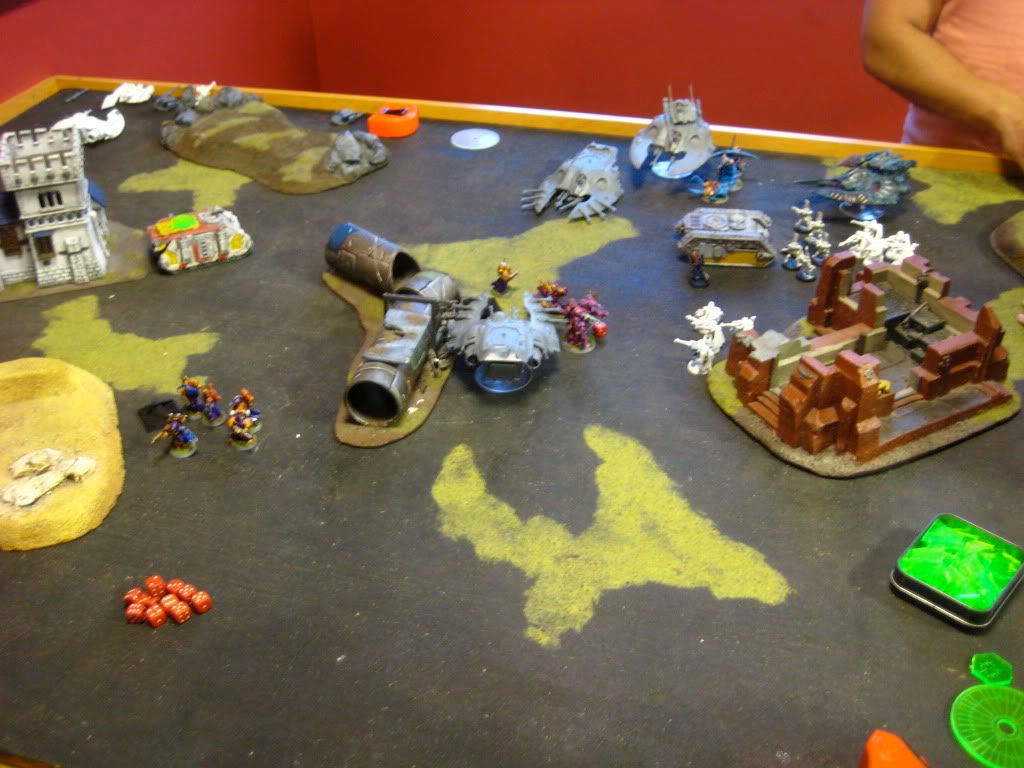 Damned tough game, but considering that all my units are able to deal with skimmer tanks, it's basically down to luck whether I can get them or not.