Round Two
Seize Ground (5 Objectives)
Pitched Battle
Enemy: Funnily enough, we were playing Jester and Shade, two players from our local store. They had brought a nasty Wyche Cult and Nob-wagon list. This was gonna be tough.
To see our lists and our first game, go
here

Orks:
Warboss Groinpuncha (klaw, cybork body, attack squig, skorcha)
10 Nobz (all equipped differently, including 3 klaws, banner and painboy, all are cyborks)
Battlewagon (red paint, armor plates, reinforce ram, grot riggers)
Warboss Otherguy (klaw, cybork body, attack squig)
10 Nobz (all equipped differently, including 3 klaws, banner and painboy, all are cyborks)
Battlewagon (red paint, armor plates, reinforce ram, grot riggers)
4 Deffkoptaz (rokkitz, buzzsaws)
(wow, that is the smallest ork army I have ever seen. Scary as hell though.)
Dark Eldar:
Lelith Hesperax
8 Wyche Retinue (sybarite with agonizer) – reroll failed to-hit rolls
Raider (dark lance, horrorfex)
8 Wyches (sybarite with agonizer) – always strike first
Raider (dark lance, horrorfex)
8 Wyches (sybarite with agonizer) – +1 Attacks
Raider (dark lance, horrorfex)
8 Wyches (sybarite with agonize, squad has two blasters) – always strike first
Raider (dark lance, horrorfex)
8 Wyches (sybarite with agonizer, squad has two blasters) – always strike first
Raider (dark lance, horrorfex)
Ravager (tri-dark lances, night shields)
Ravager (tri-dark lances, night shields)
Ravager (tri-disintegrators, night shields)
Monody's third continent was a place of beautiful vistas, renowned for its canyons and fast flowing rivers. Before the invasion it was a popular vacation spot for the planetary elite. Now, it was all but forgotten by most of predatory armies that had converged on the planet… but not by all.

Ghazgkhull growled and shifted slightly from his sedentary position atop the battlewagon. The cab of the wagon groaned under his massive weight. Around him, space marines and orks began moving up into battle positions. The space marine did anyway. The orks mainly just tried to elbow and choppa their way past the ork in front of them. The Supreme Warlord paid it no mind, instead focusing on his opposite number across the battlefield. A pair battlewagons stood there, with a warboss similarly perched atop one. Ghazgkhull addressed him.

"Groinpuncha! Yoo left me to get krumped on Armageddon! You said yoo was gonna bring yer wagons around to flank da 'umies at Tartarus. Yoo never showed!"

"I fink you've got me confused wiff someone else!" came the roared response "Da name's LOINpuncha!" At this, Ghazkghull seemed genuinely taken aback.

"Oh! Well den… You shouldn't be hangin' around wiff dark panzees. Orkz might get da wrong idea!"

"Yeah, well you shouldn't be hangin' around wiff beaky-boyz!"

"You don't talk to me like dat! I'ze da biggest and da baddest in da universe!"

"We'll see 'bout dat, you giant metal git! My allies is gunna blast ya wiff dere lances!"

As if in concert with Loinpuncha's words, a fleet of wickedly jagged black skimmers wailed over the horizon and took up positions around his wagons. Ghazghkull grimaced.

"Ya, well I gots my own allies, and dey are a lot less weedy den yer pansies-"

Yelling at one another until the waaagh energy has built up enough to have a proper fight is tradition when warbosses meet on the field of battle. So it is quite probable that the boasting and insults would have continued for another hour if left to their own devices.

However, neither the space marines nor the dark eldar were willing to let such nonsense continue, and at that moment lascannons and dark lances began arcing across the battlefield as both armies lurched into action. Not needing any more encouragement, the orks on both sides began to fire as well.

"Zogging barbarians," growled Ghazgkhull as he hefted himself down into the flatbed of the wagon, "Dey just doesn't know how to start a proppa fight!"
Beautiful table, full of canyons and little rivers (the rivers are represented here by trench networks -grimdark FTW!) marked this table as one of the best in the store. The objectives were laid out in a star pattern around the middle of the board. We won the roll to go first thanks to emperors tarot and a 6 (auto-go first, hurray!). As much as it would have been nice to go last against skimmer-spam, the opportunity to kill those battlewagons with our alpha strike was just too much to pass up.
We selected a side that seemed appropriate for us, with a nice central hill for the lootaz and thunderfire cannon and deployed. We kept both the battlewagon and the land raider over the left, anticipating that most of the action would take place in the center of the board thanks to the right hand side being a mess of rivers and canyons. Boyz were deployed in that area, their numbers and infantry status hopefully able to allow them to seize the objectives in that area.
Our opponents deployed everything save the deffkoptaz, which were outflanking. They failed to seize the initiative.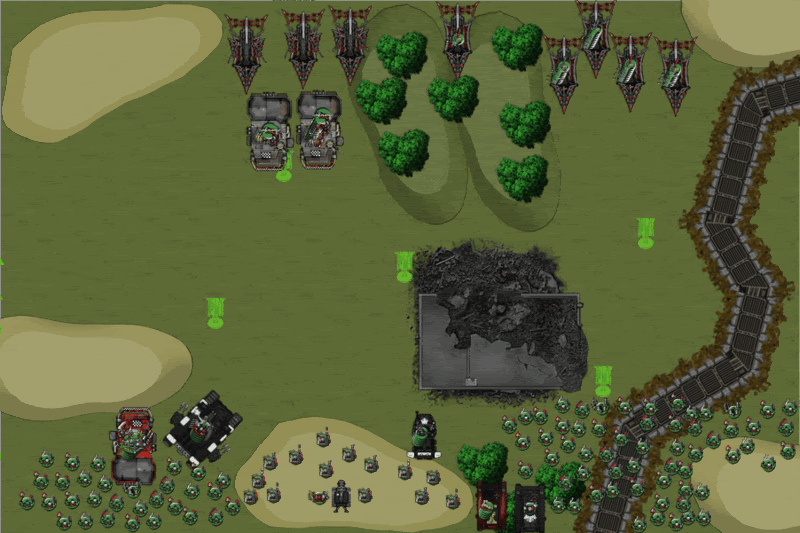 First Turn: Emerald and Ivory
We advance cautiously, bringing our forces up to meet the inevitable onslaught. Thanks to our opponent's speed, we would be receiving charges in this game.
Between the ironclad and the scouts, manage to explode one battle wagon. We also stunned a dark lance ravager. Not a good start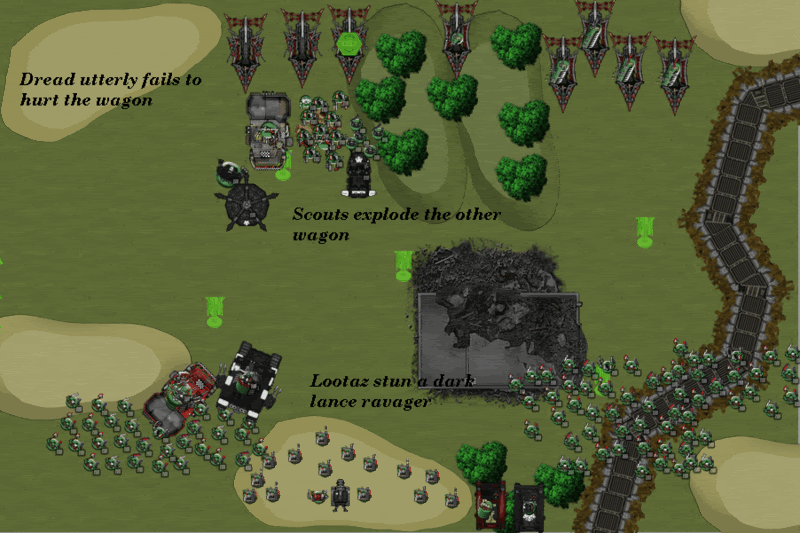 First Turn: Orks/Dark Eldar
They advance a bit faster than we had done, bringing their raider swarm 12" closer on the right and sending the battlewagon 13" to the left. Lelith's raider tries to land in the forested hill in their half of the table immobilizes itself. Combined fire from about 7 dark lances wrecks the land raider, sending vulkan and friends spilling out into the open. The landspeeder storm comes under some fire as well and loses its heavy flamer.
The nobz squad who just lost their ride split up with their warboss and goes after different targets. The warboss kills the scouts but takes a wound in the process, while the nobz charge the ironclad and wreck it for the loss of two of their number.

Second Turn: Emerald and Ivory
The landspeeder storm jets the hell away from the rampaging warboss in the center.
Seeing the damage the dark lances caused last turn, I send my wagon over the top, resolving to get as much movement out of it while I have it. Snakes mob moves up in support. Vulkan and his friends move and run towards the center of the table. I edge closer to the dark eldar raiders with my boy mobz on the right, but also increase the distance between the two mobz. The last thing I need to is to be dual-charged by all the wyches and lose both mobz to fearless wounds.
Our shooting goes a bit better. The lootaz blows up a wych raider in the middle, pinning the 4 remaining wyches in the center. The thunderfire opens up on the warboss and forces three saves on him (he only has two wounds left), but in a display of utter disregard for marine firepower, the warboss makes ALL of his 5+ saves.
Second Turn: Dark Eldar/Orks
Deffkoptaz do not come in.
Their active battlewagon moves up and dumps their guys out around 4 inches from my battlewagon. Odd, I was expecting a ram. Then they answer my question by shooting the hell out of my wagon with lances. They do 3 penetrating hits with one ravager alone. I make 2 KFF saves, but the third pen blows up the wagon. Fortunately, the enemy nobz trip through cover and can't assault ghaz and friends.
A raider zooms up to the top of the central building and immobilizes itself there.
Various horrorfexes target vulkan and company, but my stalwart teammate makes all his pinning tests.
Lillith's squad and two more race out across the canyons to charge the closest boy mob. They kill a whole bunch of them, but take some wounds in return. The mob goes down to around 10 boyz and the nob after fearless wounds are taken.

Third Turn: Emerald and Ivory
Lootaz target the raider in the tower and wreck it, forcing the wyches out.Various stormbolters target the wyches and kill four. Meanwhile the thunderfire cannon targets the nobz in the center and puts a few wounds on them.
Ghazgkhull and friends waddle out and pull a combined charge on the enemy nobz. Ghaz calls his waaagh (a fact which I inform the rest of the gaming store of in my normal WAAAAAAAAAAAAAAAAAAAAGGGGGGGGGGGHHHHHH!!) In a humongous bloodbath, half the enemy nobz and their warboss die, while all the meganobz and a couple sluggaz die. Thanks to sending my boyz who were boxed out of the assault into the wagon (which they wreck), combat is a draw.
The terminators charge the other nob squad. They manage to whittle the squad down to five members AND kill the warboss. However, in return, all the assault terminators die and vulkan takes a wound. These nobz pass their leadership test.
I send my other boy squad into the combat in the right hand canyons. Lelith's squad is butchered down to just her, while the other wyche squads take a few more. I think they were at 5 and 3 models respectively at this point. Lots of orks die too however and I lose combat. However, due to Ghaz's waagh, my original squad is fearless, leaving them in combat. Hurray!
Third Turn: Orks/ Dark Eldar
Deffkoptaz do not come in.
Dark Lances are targeted at the tac squad rhino (which has been hanging back) but they fail to do more than just blow off the weapons. The wych squad that lost their ride and four member in our last shooting phase shoot down at the landspeeder storm and blow it up.
Various firepower pegs the lootaz (disintegrators played a pivotal role) and the cowardly orks flee the table.
In combat this turn, Ghazgkhull and friends finally break and slaughter the remaining nobz, while Lelith dies and the Wyches are broken by the massed boyz on the right. Not everything goes our way however, as Vulkan finally caves to the inevitable and gets snipped apart by the nobz in the center.
Fourth Turn: Emerald and Ivory
It's down to desperation tactics for both sides, as there are still a swarm of active skimmers. Still, we'd rather have a draw than a loss, so we put all our shooting efforts into killing the remaining dark eldar troop choices. The squad that had been pinned second turn is obliterated by the thunderfire cannon, while the tactical squad kills the remaining wyches on top of the tower.
Ghazghkull tries to go after a ravager, but fails his slow and purposeful assault. I send snake's mob in against the nobz. I put 11 wounds on the nobz, but they make 9 saves. Critically, snake fails to do anything. In reply, 9 of my sluggaz are snipped apart, and I lose 7 more to fearless wounds. Suddenly, things are not looking so good.
When I am picking up the dice to make my fearless saves, the tournament organizer calls out a 2 minute warning. We must have missed the half hour warning (if there was one), so we move on to their turn.
Fourth Turn: Orks/Dark Eldar
They move to contest our one objective (held by the tactical squad) with a raider before we are ordered to put our dice down. None of the other objectives are held.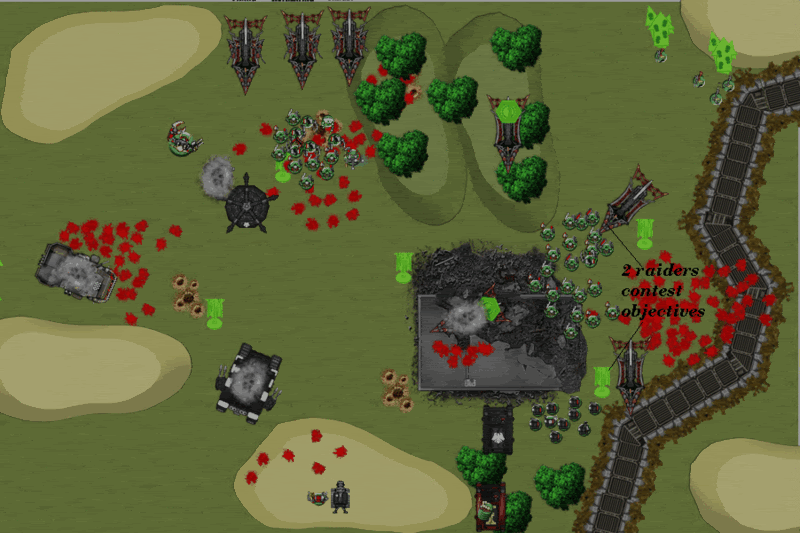 Ghazgkhull grinned at Klicky as they headed back to the campsite. The tattered remnants of the warband were trailing behind them. The fighting had been ferocious. Groinpuncha had been laid low (though Klicky suspected that he would resurface at some point). Meanwhile, all of the Ghaz's megaz had perished and Ghazkghull was covered with the blood of his enemies. Only an orbital bombardment from an unknown quarter had forced both sides to break off and fall back.

"Dat was a good fight. Maybe you wasn't lying after all. Maybe deze beakies do lead ya to da good fights."

Klickinklak only nodded. Then a thought hit him.

"Wonder where dem bomms came from, eh?"

Some distance away, Chapter Master Napthal slogged through the ankle-deep mud, his power armor groaning as he led the withdrawal from the canyon. Even as his body strained, his mind navigated through the shattered Monody Defence communications network. He fixed his attention on one satellite that had a view of the space above their current location. Inputting his vermillion level clearance, he access the vid-feed from the satellite.

A massive red and black warship with the symbols of the Ministorum was blocking nearly the entire viewscreen.

Napthal smiled. Help had finally arrived from the rest of the Imperium. The sisters must have missed the marine signatures in the midst of all the xenos filth choking their sensors. At least… he hoped so.


Postgame:

So it was a draw. We killed their highest point HQ and highest point unit, but lack a squad in their deployment zone. They killed our highest point unit (land raider). This made it a draw+12 (14 points) to draw+1 (13 points), effectively knocking each other out of the running for first.
All four of us really wanted to see what that game would have ended like if we had gone more turns (both teams felt they were in the stronger position at the end). However, it was simply not to be. It felt like our time went by WAY too quickly.
Jester and Shade brought a nasty list with a lot of synergy between the fast moving, fragile and numerous dark eldar and the few, powerful nobz. Normally people have a hard enough time getting rid of ONE maxed nob squad, let alone dealing with two! Back that up with dark lance spam and a hell of a lot of wyches and you've got a real nasty force.
Promising to play a game against each other to determine the true result of this game, we each move on to our next round's assignment.