Right, so dusted off my Chaos Legion, awoke my Daemon princes and built a whole bunch of new spawn and got ready to kill, maim and burn. My origonal plan, was to prepare for a 1000pt Turni I have in a couple weeks, but I actually made a 1500pt list too, and I ended up playing with that.
My list was.
Grindgobble Witherfume
Daemon Prince w/Mark of Tzeetch, Wings, Bolt of Change and Gift of Chaos.
Painfury Hotgristle
Daemon Prince w/Mark of Slaanesh, Wings, Lash of Submission.
Chaos Marines
x8 marines, Icon of Chaos Glory, meltagun, Champ with powerfist, Rhino.
Chaos Marines
x8 marines, Icon of Chaos Glory, meltagun, Champ with powerfist, Rhino.
Lesser Deamons
x15
Spawn
x10 (3,3,2,2) (Yellow, Blue, Green, Purple)
Oblitorator Cult
x3
[hr]
First game ever (in a long time) was against Tau.
He had a suit commander, with two body guard suits and each one had two sheild drones.
Three 12 man fire warrior units in Devilfish.
Two hammerheads with railcannon.
Two broadsides with Slow and Purposful and sheild drones.
Mission was Annihilation, Dawn of War.
The table was pretty well covered in terrain. Lots of cover abound, a building was in the middile-leftish which helped block line of sight, as well as the right side of the table was raised ground.
He won first turn, and deployed a devilfish on the right side of the board, with his Commander and suits deploying at the table edge in a ruin. to the left side of the table. I choose to deploy my entire army first turn. I kept Obilierators into Deepstrike.
Turn 1.
He brings on his whole force. Broadsides on the right flank, hammerheads in the back with devilfish. His suit commnader and retinue cross the midway point further into my lines. I guess he wanted to use them as bait?
I send my rhinos up the middle, with the spawn to their left (some moving through woods). Princes come in about 1/3 the way across from the left side of the table. I lash his commanders unit more to the right and they proceed to get charged by the purple and yellow spawn. The suits kill one spawn, and I kill some drones. Smoke it launched on the Rhinos.
Turn 2.
The hammerheads shuffle to the left flank, there is one devilfish to my left, middle and right. Broadsides keep advancing and immobilize one of my rhinos, while the other is shaken. Close combat, sees the spawn and suits flail at eachother doing minimal damage.
In my turn, I forget to move the okay rhino, other is immobilized, so I disembark it's cargo who run forward with a unit of spawn. No reserves enter yet. Lash prince jumps into the middle of the table, sad there is nothing to lash. Other prince attempts Gift of chaos on some of the suits, but fails to roll necessary enough to turn one. Grindgobble then charges the suits as well, and him and the spawn kill everything but his commander.
Turn 3.
Devilfish on the right, disembarks it's firewarriors and then flies back to his side of the table. Other devilfishes stay floating and keeping their troops. one hammerhead is blocked by terrain, other tries to shoot Painfury and wounds him. Fire warriors shoot at my disembarked marine unit in rapid fire. 24 shots, I loose two marines. Broadsides explode the other rhino, my dudes bail out. In the combat, the last suit dies. Yellow spawn run to the left towards a devilfish, purple spawn are dead at this point. Something shoots at green spawn, and their squad becomes eliminated (they were shot at before as well).
Both my reserves come in. Obliterators come down next to a hammerhead and blow it up, lesser daemons come in next to the disembarked fire warriors. I lash the broadsides who get charged by blue spawn and run down. Lesser Daemons and my chaos marines charge the fire warriors, and wipe them out. Yellow spawn and Grindgobble charge the devilfish on the left flank, and succeed in doing jack-all.
Turn 4.
His firewarriors on the left flank devilfish disembark, as do the ones in the middle. Ones in middle shoot at Painfury, who gets reduced to one wound, after some hero rolling on my part. The firewarriors shots on Grindgobble are not so good for me, and I fail four out of eight saves (24 S5 shots are brutal!).
My obliterators kill the other hammerhead, Painfury lashes the middle firewarriors towards the lesser daemons and himself. Yellow spawn charge the firewarriors on the left flank ( and rout them). Lesser Daemons, Painfury and blue spawn charge the last fire warrior squad and rout them as well. At this point, all he has are a couple of devilfish tanks, so he calls the game.
End result.
I lost, one Rhino, two spawn units, one Daemon Prince. (4 Kill Points)
He lost one Devilfish, two hammerheads, one suit squad, three firewarrior squads, one broadside squad. (8 KP)
Thoughts. This army I through together worked out quite well. The lesser Deamons were a good turning point. 15 daemons poping in and charging can really turn the game around. Lash was wicked helpful for me, getting off more charges. Spawn worked out quite well, as well. Killing a couple of units, and holding up the suits for a long time. Pretty happy with the results.
[hr]
Second game was agaisnt Space Marines.
His list was;
Sicarious (gave his unit counter attack)
5 assault terminators (two lighting claws), in a landraider
5 bolter scouts (kept in a razorback).
One rhino full of tactical marines and powerfist champion.
two 10 man tactical marine squads.
Mission was the Space Marine Vanguard Mission from Battlemissions. There was one objective in the middle, one in the middle of my table edge and one about 18 to the top right of the middle one. Who ever controlled the most won. I deployed first, and then he came on on the first turn from his edge (like Dawn of war). Any of his units count as scoring.
Table was pretty dense in terrain on the right side, so I put my spawn in front, with princes behind and Rhinos behind those. Obliterators in deepstrike again. Figured I'd use the marines as a last resort. I was worried about the terminators, as they could deal a lot of damage to my spawn.
Turn 1.
He brings his force into battle. Rhino and landraider on the left flank. Razorback full of scouts in the middle and Sicarious joins a unit, while another unit to their left walks on as well. He runs stuff forwards, but he does't really shoot, nothing happens when he tries (cover and such).
In my turn, I run all my spawn forwards. Grindgobble and the green spawn end up around a ruined tower in the middle of the table, while the pruple, yellow and blue spawn launch themselves towards the woods which bar their way towards his tactical squads. Rhinos follow suit. I lash the non-sicauous squad, which eagerly runs towards me. They suppliantly get charged by Painfury and two units of spawn (one didn't roll high enough to make it. Painfury kills a couple of marines, and the marines kill one model from the blue squad. I proceed to roll 27 attacks with my spawn and bring the tactical squad down to three marines.
Mmmmm first turn charge.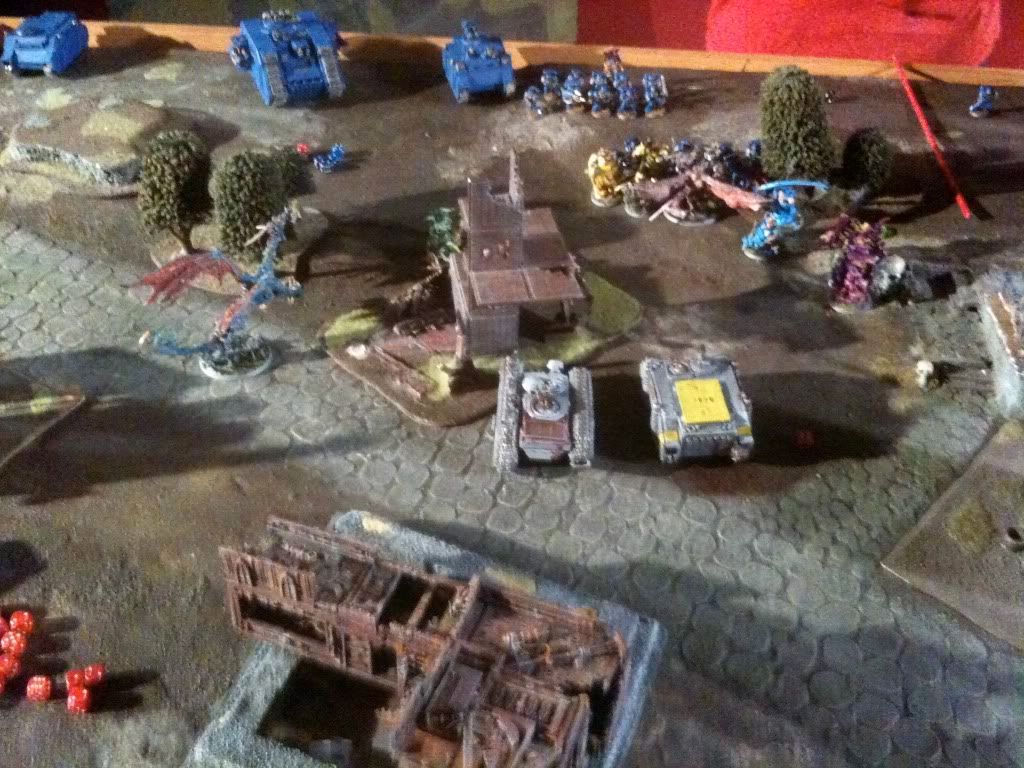 Turn 2.
The landraider rumbles to the Green Spawn (who are isolated from anything but grindgobble), and disembark their cargo of terminators. Rhino and Razorback steer clear of my horde, while Sicarious and his squad double-charge my Yellow and Blue spawn. Terminators charge the green squad. In the termiantor combat, the lighting claws terminators kill one of the greenspawn. It's buddy, enraged by the loss of his friend, drags one of the terminators down with it as it's pounded into oblivion by a series of thunderhammers. Painfury strikes first in the other combat, killing the last of the tactical squad he charged. Sicarious attempts his Coup de graw, but fails to wounds. Tactical marines are unsuccessful in hurting me. I roll 27 attacks again this round, and absolutely butcher Siacuous's unit with my wounds. They loose combat, but stay due to ATSKNF
In my turn, my obliterators show up, near his landraider. Rhinos stick back, while Grindgobble turns one of the Thunderhammer terminators into a spawn. He then leaps over some woods behind the landraider. Purple spawn make it around the woods to charge Sicaious's unit. Obliterators fire into the landraider, but fail to find a weakness in it's armour. However, Grindgobble Witherfume finds no trouble and wrecks it. Meanwhile, Painfury Hotgristle devours Sicarious, and my spawn kill the last of the tactical squad. I consolidate to the left.
Thunderhammer terminator-spawn charges his old buddies, but gets clobbered to death before he can even lay a pseudopod on them.
Turn 3.
Scouts and tactical marines who were in transports disembark. Terminators target out Painfury to enact their revenge. With the scouts and tactical marines double-tapping on Grindgobbble, they reduce him to two wounds. Terminators charge Painfury, and kill him without any worry, unfortunately.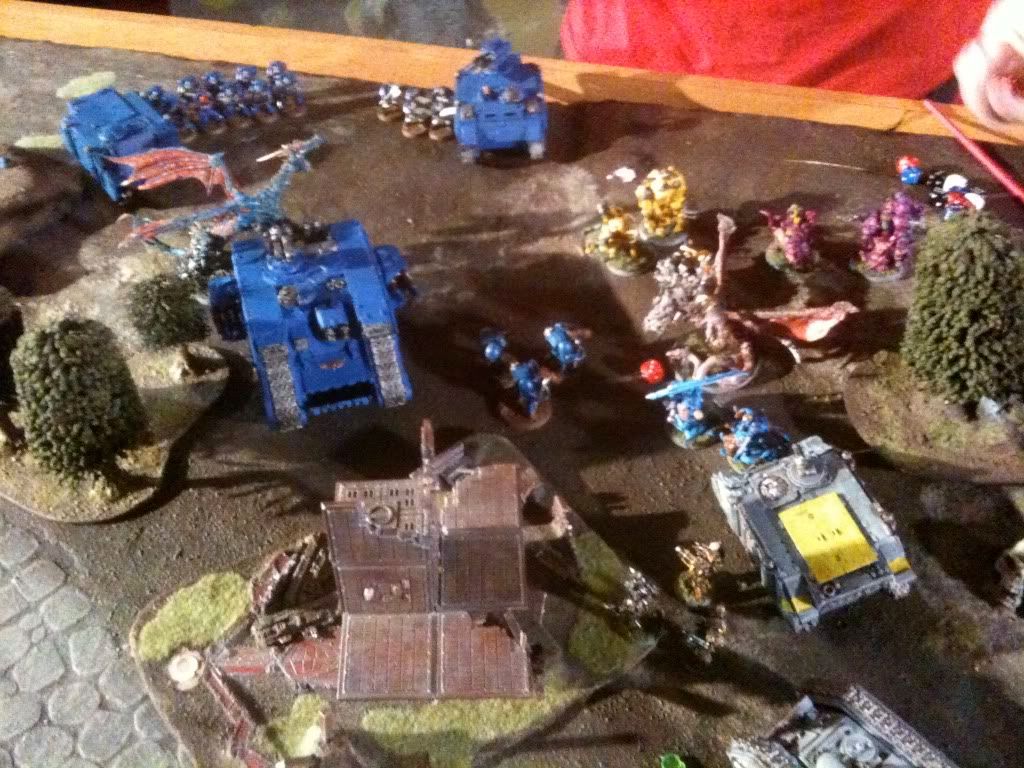 Lesser Damons come in, who I camp on an objective. Grindgobble flies behind one of the tactical squads, while all the remaining three squads of spawn descend upon the terminators, who are instead vaporized by the obliterators plasmaguns. Spawn end up charging the razorback, and destroying it, while Grindgobble devours marines from the last tactical squad. I had one one my Chaos Marine units also disembark and rapid fire at the scouts, reducing them to two models, facing down a huge mass of Spawn.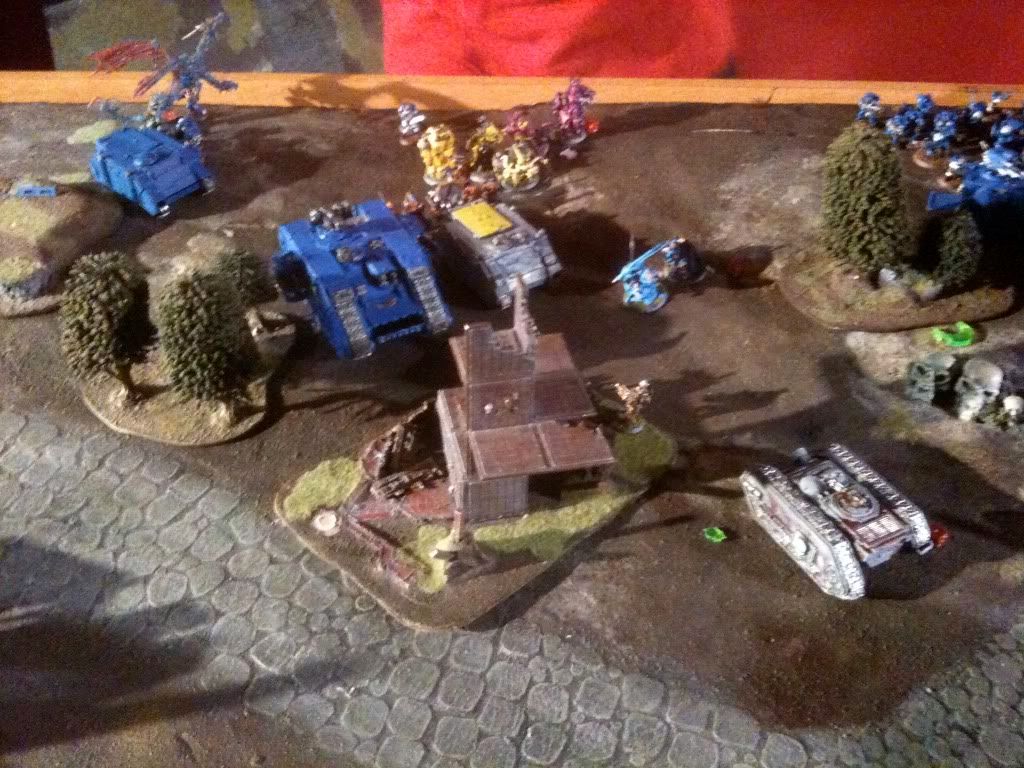 Turn 4.
My opponent has not much he can do at this point. The scouts charge a unit of spawn, and then are promptly devoured in return. Grindgobble Witherfume eats the last of the tactical marines. At this point, all my opponent has left is one very terrified Rhino, then calls it a game. I pretty much win by annihilation.
In this game, the spawn were definatly VIP's. Getting 27 S5 attacks, two rounds in a row against separate squads is absolutely devastating. The lesser Damons, obliterators and marines were compleatly not at all nessissary in that game. All I really needed were the spawn, and to a lesser extent the princes.
[hr]
Game three, against Eldar.
His list was;
(all tanks had spirt stones, Falcons had something which made me need to roll two dice and pick the highest for choosing damage).
Eldrad.
Avatar.
Guardian defenders with scatterlaser.
Dire Avengers.
One more squad of 5 dire avengers? In a wave sepent (never disembarked).
two squads of fire dragons in wave serpents (multilasers).
Falcon (scatter lasder, cannon, pulse laser).
Two fire prisms.
Looked pretty tough, I've heard horror stories about Eldrad+Avatar.
If I don't mention a model, or unit during the game, it means that it's effects were unspectacular enough to not mention. essentially what I can use to sum up the fire prisms, which honestly did not do a whole lot and I was never really worried about them.
Mission was Annihilation and spearhead. He won first turn. A large terrain peaice was in the top-middle of the table, while some woods and ruins scattered other parts. The top right was on a hill, while a long pipe-like ruin was in the bottom left corner. He choose the top left.
He deployed his fire prisms on a hill in the top left of the table. Wave serpents scattered all over and Dire avengers and eldrad in a falcon. Avatar was out in front. He kept his guardian defenders in reserve.
I deployed my entire force behind the wall-pipe thing.
Turn 1.
He fortunes the avatar and fire dragon wave serpent(1). He guides some sort of skimmer tank (honestly they all seemed to look the same to me, and my spawn didn't care what was what, I had no control over them). He turbo-boosted the fire dragon serpent right into my deployment area (I guess to try and smoke one of my princes later or something). Assorted shooting from the rest of the force puts one wound onto Grindgobble, and one wound on the purple and blue spawn.
I wish I had a picture, as my deployment was quite packed. I couldn't move one of my rhinos first turn, as there was too many spawn around them.
Princes skip to the left side of the table to avoid attention. Though, Grindgobble gets hurt trying to cast bolt due to runes of warding. I shoot the wave serpent in my lines with a meltagun from my rhino, but nothing comes of it. I then have to charge the wave serpent with two units of spawn (blue and yellow) (Such is my luck). They spawn penetrate and wreck the wave serpent, the fire dragons do not become pinned.
Turn 2.
I would like to say which skimmer tank did what, but they honestly were very hard to tell apart. Avatar kept advancing towards me, with eldrads falcon close behind. He Dooms my unit of yellow spawn, then fortunes the Avatar. Besides that, his shooting phase is pretty uneventful. Mostly due to how packed and cluttered my army is due to terrain and cover.
In my turn (with my opponents advice) I drive one of my rhino's through the pipe-ruins, more-or-less next to the avatar. I drive up the other rhino to shoot at another wave serpent with their meltagun, but fails to damage it. Blue spawn also go after the wave serpent, exploding it. Lash prince gets off lash of submission, dragging the avatar closer to my forces and inadvertly making me run three units of spawn through the wrecked wave serpent (yeah dangers terrain?) in order to charge the Avatar. Which I do, with three units of spawn. He focus's fully on the green spawn, killing one. My flailing allows me to get one wound through it's fortuned armour, but I loose a slew of wounds from no-retreat. At least I suffered none from dangerous terrain.
Turn 3.
Eldrad gets off fortune again on the avatar. He then Dooms the Yellow squad again, as he didn't do a good enough job the first time. he tired to do another power, but fails the test. He shoots a bunch of stuff at my one extreme rhino, but fails to hurt it. Fire Dragons shoot their meltaguns at my chaos marines, and kills, like two. In the avatar combat, the Avatar only causes to me one wound, thus my no-retreat wounds are a lot better then last time.
I get in the obliterators this turn, which I drop in right next to the falcon. I also disembark my squad from that Rhino to shoot at the Falcon (and maybe charge). I move their rhino to protect them from the last wave serpent and the prisms. Lash Prince decides to charge the avatar and Grindgobble kills himself with perils, essentially. Also, chaos marines and the lash spawn from Blue spawn charge the fire dragons, wiping them out. Avatar looses two wounds from painfury, and deals no wounds at all, and my shooting failed to kill the Falcon, but a Krak Gernade certainly did what four meltaguns and a powerfist couldn't. Now I was staring down eldrad and a handful of angry dire avengers.
Turn 4.
Eldrad fortunes the Avatar, dooms my marine unit in front of them. Guardians come in and far, but close enough away to shoot my other chaos unit. The chaos unit that killed the fire dragons gets chopped down to just the Icon, while eldrad and squads shooting kills one of my marines, while I actually win combat when they charge due to eldrad only killing one of my models, a dire avenger killing one and I killing three of his. Avatar and painfury slap eachother, but a wound on a spawn makes me check for No retreat again.
Not much shooting at this point. Lesser Daemons pop into existence behind eldrad and co. Blue spawn charges the avatar, banner from one chaos marine unit takes cover, obliterators shake the last wave serpent, lesser daemons charge dire avengers and Eldrad. Spawn end up killing the Avatar, lesser Daemons kill Eldrad and dire avengers quickly enough, but not before my second chaos marine unit is reduced to just the squad champion.
Turn 5.
He tries to take pot-shots at my lone marines, but is unsuccessful in wounding them.
Painfury Lashes the Guardian Defenders towards me, then they get charged by Painfury, and three spawn. I do enough damage to rout his unit. The lesser Deamons and other spawn are running after the wave serpent.
When we roll to see if the game ends, it does.
I had lost two units of spawn, one daemon prince, one rhino over the course of the game. (4 KP).
He lost, two fire dragon squads, eldrad, avatar, two wave serpents, one falcon, one guardian squad, one dire avenger squad. (9KP).
Not too shabby here either, spawn defiantly pulled their weight and showed how utterly brutal they are against vehicles with rear armour 10. I am pretty confident in their abilities at this point and I feel that my list is very successful. First three games, and I essentially swept three armies off the table.
[hr]
Also played a game of Kill Team, with me with five spawn (one with FnP, one with Preferred Enemy, and one with scout) against a Vet's squad and meltagun hellhound. Resulted in my spawn engaging his models either one on one, or two on one and pretty much killing multiple of his guard a turn, while the tank killed on of my unengaged spawn a turn. His squad sgt. killed one of my spawn in combat, and survived four rounds of combat, in combat with spawn. Pretty intense and funny. Ended with my last spawn in base contact with an immobilized and shaken tank, which would end up with his tank never shooting again, and me wearing it down. fun quick little game though. Using the spawn was a bit of a jerk move, but the tank was kinda silly as well, so justified.
[hr]
That was all awfully long winded, but hope that it's at least partially coherent.