Hi all! Monster Rain and I combined forces to try and repeat as champions of the Game Castle Tournament in Londonderry NH. The point value was now 1500 per player, so we had some list trimming to do. I decide to give mine a MAJOR makeover, taking Ghazgkhull and Meganobz instead of Grubbynutz (my normal Warboss) and regular nobz. To do so, I had to abandon my regular dreadmob, but it was a price I was willing to pay.
Grubbynutz hurried up the rickety stairway to the landing pad. The hastily welded assemblage of metal bitz groaned under the massive weight of the warboss. Grubbynutz liked to say that he didn't hurry for anyone, but the truth was he hurried FAST for one ork in particular.

Ghazgkhull Mag Uruk Thrakka stood on the landing pad, surrounded by a retinue of gleaming meganobz.

"'Ello Grubby boy! Long-time no-see!" The voice of the beast of Armageddon was of such depth that it rattled the vey landing pad itself. Grubbynutz nodded his head enthusiastically, noting that the jovial tone adopted by his master did not match the evil gleam in his eye.

"Yes, boss. Good to see ya too!"

"Mind tellin' me why you'ze workin' wit da beakies 'ere?"

Grubbynutz's mouth fell open. How had Ghaz found out? Who had ratted him out? Not that it mattered now. Ghazkghull smiled and continued.

"Dat's wot I thought. Get 'em, ladz." The meganobz lurched forward and Grubbynutz hefted his power klaw, ready to sell his life dearly.

"STOP!" came a squeaking voice from the stairway. Klickinklak, Grubbynutz's mek stood there, visibly shaking. The meganobz, stunned, pulled up and staggered to a clanking, rattling halt. For his part Grubbynutz was shocked staring at the usually cowardly mek. Ghazkghull, after a moments hesitation, lifted his power klaw and motioned the mekboy to speak. Klicky nodded.

"Boss, you know why Grubby here worked wiff da beakies? "

"Doesn't matter." Ghazgkhull snorted, "We krumped da Blood Axes for 'elping da umies. It just ain't proppa."

"Not like da blood axes did it, boss. Dey were only innerested in da loot da 'umies were offering. We did it for da fights!"

"Da fights?" queried the Supreme Warlord.

"Yes. First we fought some spikey gitz wot had sorts of tanks and big flying gitz wiff whips. We krumped 'em, but dey put up a good fight. Den we ran into Fish 'Ead and uvver beakies and krumped dem too-"

"Da beakies 'ere fought da uvver beakies?" Ghazgkhull said in wonderment.

"Yes boss, and dey krumped 'em! Den we ran into da best fight we'ze ever had. Green gitz wot appeared from nowhere, and a bunch of green spikey boyz. Dey was almost orky when dey fought. Almost. We krumped 'em too."

"You had all dem fights… cause you worked… wiv da beakies?" Ghazkghull said slowly.

"Yes boss, and dere's a new invasion of enemies onto da planet. Loads more chaosy boyz and dark panzee too. Even some uvver 'umies is comin' cause dey heard da beakies was workin wiv us. Loads more fights."

"And yooz gonna krump dese beakies afterwords?"

This time it was Grubbynutz that responded. "Yes boss. We'ze got to. Dey'ze our Grod* now."

"Maybe dey is and maybe dey isn't. " mulled Ghazgkhull, "I'ze gonna find out."

"Wot?!" shouted Grubbynutz and Klickinklak together.

"Dats right. I'ze gonna take Grubbyz place and see if deze fights are any good. Den, if dey are, I'll leave you gitz to krump da beakies. Uvverwise…" he grinned and slammed the powerklaw down into the landing pad, shaking the whole thing.

"Grubby, yooz gonna wait on my krooza until I find out if you'ze been tellin' da troof or not. Klicky, you'ze gonna show me some of da greatest fights 'ever, or you and Grubby are gonna get it!"

As Grubbynutz was led away by the Meganobz, Klickinklak gazed fearfully off to the west, where the Hands of Vengeance had told him to meet up. He only hoped that the new enemies were as good as the last ones.

*Grod is an orky word meaning "friend" or "best enemy".
Emerald and Ivory – Take 2
Orks:
Warboss Ghazgkhull Mag Uruk Thrakka:
Big Mek Klickinklak (kustom force field):
14 Lootaz:
5 Meganobz (3 kombi-skorchaz):
30 Slugga Boyz (nob with powerklaw and bosspole):
29 Slugga Boyz (nob with powerklaw and bosspole):
29 Slugga Boyz (nob with powerklaw and bosspole):
Battlewagon (red paint, ram, armor plates):
Space Marines:
Vulkan
Inquisitor Lord (psychic hood, emperor's tarot, bolt pistol cc-weapon, 3 mystics)
Rhino
5 Assault Terminators (t-hammer and shields)
Land Raider (extra armor)
Ironclad Dreadnought (melta, heavy flamer, extra armor)
Drop pod
10 Tactical Marines (power fist, missile launcher, meltagun)
Rhino
5 Scouts (sergeant with combi-melta, squad has 2 cc-weapons and pistols, 2 shotguns)
Land Speeder Storm (heavy flamer)
Thunderfire Cannon
Round 1
Annhilation
Spearhead
Enemy: A Nasty Khornate Alliance played by our third round opponents (Mike and Shannon) from the last tourney. Their lists were as follows:
Chaos Space Marines (OF KHORNE!):
Daemon Prince (mark of khorne, wings)
Chaos Lord (daemon weapon, terminator armor)
9 Terminators (2 champions, various nasty weapons)
8 Khorne Bezerkers (Skull Champion, Power fist)
Land Raider
10 lesser daemons
10 Chaos Space Marines (mark of khorne, 2 meltaguns, champion with power fist)
Rhino
Daemons (OF KHORNE!)
Skarabrand
Skulltaker on chariot
Herald of khorne on chariot (icon)
8 blood letters
16 blood letters
Daemon Prince (khorne mark, ironhide, strength, wings)
Daemon Prince (khorne mark, ironhide, strength, wings)
Soul Grinder
Ghazgkhull gazed impassively across the ruined landscape. Lava pits seethed from where orbital bombardments had pierced the planet's crust. He had seen cities destroyed and whole armies annhilated. Such sights as the aftermath of an orbital bombardment did not impress him any more.

"Dis is where da beakies say da warp-boyz and spikey-boyz is comin'." Mumbled Klickinklak from his corner of the battlewagon. Ghaz looked over and snorted.

"Dey zoggin better. Because if I 'ave to sit out 'ere much longer, I'ze gonna be eatin' my squig stew out of yer skull, Klicky. Understand?"

At this, the Mek quailed and went quiet. He began praying as hard as he ever had for Mork to 'PLEASE let da warp-boyz show up'.

So, he was probably the only one happy when it began raining blood.
We won the roll to go first and set up in a corner dominated by a large ruin. This provided a nice safe house for the lootaz and the thunderfire cannon. The bulk of our forces deployed around this building. Not wanting to deploy anyone TOO far out of the fight, I left one boy squad in reserve – always a risky proposition, but sometimes worth it.
They deployed – NOTHING. Unwilling to weather our alpha strike like he did in the last tourney, the chaos marine player opted to reserve everything. (Note that the brown sections are actually lava pits - the table was a beautiful Mustafar-looking place)
Deployment

First Turn: Emerald and Ivory
We spread out a bit. The pod came down near the corner of the building near their table edge. The storm races out to the middle of the board to mess with potential deepstrikers with its disruption thingy.
Emerald and Ivory 1

First Turn: Khornate Alliance
The daemon player gets his chosen wave – Skarabrand, the 2 herald chariots and the soul grinder. The soulgrinder comes on in the deployment zone and scatters towards the ironclad. The mystic gives us shots at it, which we take with the land raider's lascannons, which misses (would become a theme for monster rain in this tourney).
The two heralds come down around our central blob and also get spotted by the mystics. The regular herald is obliterated by loota fire, while Skulltaker takes two wounds. Now wise to our tricks, the daemon player brings his prince down farther away from our mystic-wagon . He lands safely to the left of our forces near the storm (they roll a hit for their deepstrike and aren't affected by the storm's special rule).
Khorne 1


Second Turn: Emerald and Ivory
The boy squad arrives from reserves and walks in the western half of our table edge.
We obliterate the skulltaker with loota shots. In close combat, the ironclad cleans up the soulgrinder while vulkan and the assault terminators pound the khornate daemon prince into the ground like a tent stake.
As our turn closes, we have cleaned the board of chaos once more. This is important, because as long as they don't have icons, their deepstrikes will be risky.
Emerald and Ivory 2

Second Turn: Khornate Alliance

In horrid display of dice rolling (and a good example of why I rarely reserve everything) the chaos player gets only his daemon prince, who deep strikes onto the table near where the Skulltaker just met his maker. The daemon player gets a bit luckier and brings in both his bloodletter squads far from the mystics, in the western corner of our deployment zone, threatening the assault termies and the boy squad.
Khorne 2

Third Turn: Emerald and Ivory
We set about trying to repeat our feat of the previous turn (wiping out all enemy forces on the board) and almost succeed. Our lootaz and thunderfire cannon combine to weaken the larger bloodletter squad (which has an icon) before the slugga boyz charge in, taking heavy casualties but still striking down all the daemons. They consolidate back into cover.
The chaos marine daemon prince dies to the assault terminators (though he kills one in the process).
While we didn't deprive the chaos forces of ALL their troops on the table, we did kill all the icons. So that's good.
Emerald and Ivory 3


Third Turn: Khornate Alliance

This turn a daemon prince comes in for the daemon player, though skarabrand decides to bide his sweet time. Meanwhile the chaos forces continue their utter reserves failure and only bring in the land raider with the bezerkers and chaos lord. Worse, the terminators also arrive but bereft of an icon, they scatter into a boy mob and are destroyed. 400-odd points gone in a single roll of the dice.
Anyway, the bezerkers come on in the northeast edge and zoom up to charge into the orks there, slaughtering them down to a few boyz. However, the chaos lord manages to do zilch, thanks to a malfunctioning daemon weapon. At this point the chaos marine player is really bummed.
The 8 blood letters decide to charge my orks in cover and are wiped out. I guess they figured it was over at this point. My orks consolidate towards the newly arrived prince.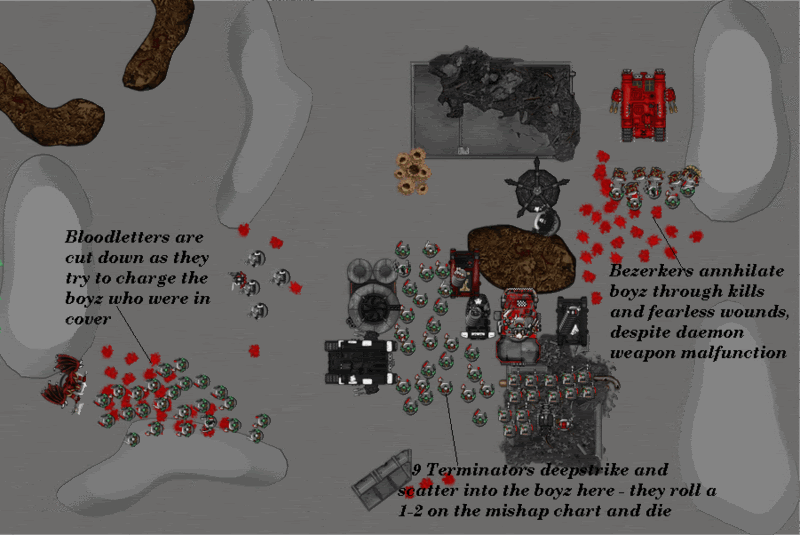 Khorne 3

Fourth Turn: Emerald and Ivory
Our scouts, who had been zipping around merrily up until now, finally spot a target in the land raider and zoom over to take care of it. Unfortunately, the combi melta bounces off the armor and the vehicle is moving too fast for melta-bombs to be affixed properly.
Far to the west, the boyz who had just eaten through two bloodletter squads in as many close combat phases plow into the daemon prince there, tearing him down as well (though they lose a few in the process).
The ironclad and the tactical squad make for the bezerker combat and charge into it. The blood feeder malfunctions again, this time causing a wound to the chaos lord. The bezerkers whittle the orks down to one boy and a wounded nob while the tactical marines and ironclad combine with the surviving orks to slay the rest of the bezerkers. The chaos lord is called upon to take 3 fearless saves and fails two, killing him. Now our opponents are REALLY bummed.
Emerald and ivory 4


Fourth Turn: Khornate Alliance
Skarabrand and the remaining chaos forces show up this turn. However, since there was not an icon on the table to begin the turn, the lesser daemons are destroyed. Skarabrand shows up in the middle left, between the assault termies and the slugga boyz, who are having quite a day (24 bloodletters and a daemon prince down, 1 skarabrand to go!).
The chaos space marines roll on in the middle of their table edge. They advance somewhat recklessly towards us and pop smoke. I really think at this point our opponents had given up.
The land raider stands still, sealing its fate, in order to get the chaos side's first kill point by gunning down the survivors of the boy mob who had been charged by the bezerkers.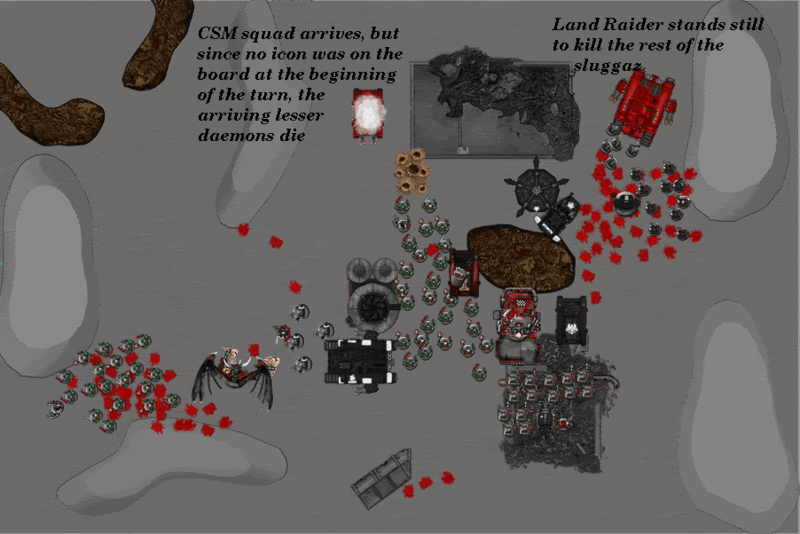 Khorne 4


Fifth Turn: Emerald and Ivory
The land raider is obliterated by the ironclad and the tactical squad's meltaguns. Lootaz blast open the rhino of the newly-arrived chaos marines and the thunderfire follows up with a volley that kills 5 of them, plus several nearby orks. Said orks then charge the khornate marines, wiping them out.
The assault terminators and the ork boyz gleefully tag-team skarabrand. Vulkan dies to the wingless blood-thirster's axe, but the big daemon is pulled down by the combined power klaws and thunder hammers soon after.
With nothing left for our opponents, the game ends with a tabling.
Final Kill Point Score:
Emerald and Ivory: 16
Khornate Alliance: 2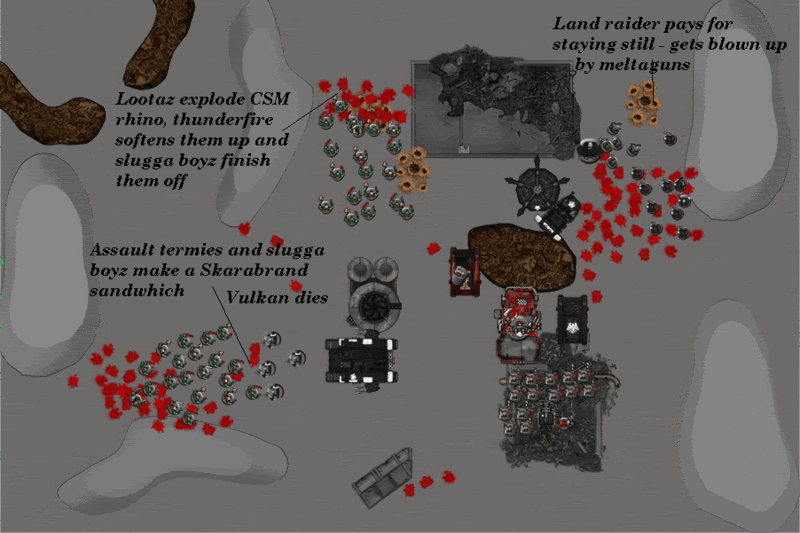 End Game
Postgame:
What a massacre. There were some atrocious die rolls on our opponent's part here. Only getting one thing from reserve out of 8 for the chaos marine player on turn 2 was just awful. Though I have said it before, when you put your entire army in reserve you automatically forfeit the right to complain when your reserve rolls screw you. There is simply too much randomness in the game to invite more by putting your army in reserve without autarch/astropath/tigurius help.
Oh, and in case you didn't notice – Ghazgkhull never even got out of his wagon.
We got full battle points on this one (19).

"Dat wasn't a good fight at ALL!" roared Ghazgkhull as he hoisted the mek in the air by his Kustom force field pack. Some distance away, bemused space marines had gathered to watch the confrontation. The klaw came up and Klicky shut his eyes. Then a desperate thought came to him.

"GROINPUNCHA!"

"What da zog?!" roared Ghazgkhull as he pulled his claw back at the last minute.

"Groinpuncha is on dis planet! He was 'elping some dark panzee on the uvver big island fing… err continent".

Ghazgkhull nodded and set the mek down.

"Dat git Groinpuncha. He left me in da lurch on Armageddon. Took 'is battlewagon boyz and split!' We'ze gonna get 'em."

Some distance away, two space marines were watching the conversation. One was Sergeant Darius of the third company. The other was a terminator-armored giant in the blue colors of the Libararium.

"Did you hear that, Brother?" ventured the sergeant, "If the beasts speak true, that would explain the raids on tertius continent."

"Yes. We will follow the beasts and help them erase this 'groinpuncha' and their dark eldar allies. Best to use these beasts while we can."

"Yes sir, I will prepare a thunderhawk".
Next up (as I alluded to) - a report where we take on a dastardly alliance of Orks and Dark Eldar from our own store!