WAARGH Grumgutz vs. Flying Mech IG (1850, 3/7/10) in "Vengence Rematch!"
Hi All,
Yes, it's another Grumgutz.
And IG is back with... a much different list. It's a doozy, and something to worry about.
I bring back the same list though, with Wingnut, Lorilune, and a lot of hope that I can pull something out before being shot off the board.
The results are umm... interesting.
As usual, usual caveats dealing with the thing that is VASSAL. Real photos will be back soon, don't worry
Enjoy!
Best,
-BT
P.S. As always, C&C is greatly appreciated.
WAARGH Grumgutz Alternate 66 "Hot Dakka!!!"(1850pts): 78 Infantry, 3 Walkers, 2 Vehicles; 11 KPs
Big Mek Wingnut (Big Mek w/KFF)
Ex-Farseer Lorilune, AKA Big Louie (Weirdboy w/Warphead upgrade)
Nobzx7 w/Dokta Chop, PKsx3, BCsx3, Kombi-Skorchasx2, WAARGH Banner, Bosspole (BW Ded. Transport)
Lootasx10
Shootazx25 w/PK Nob, Rokkitsx2
Shootazx25 w/PK Nob, Rokkitsx2
BigToof (DeffDread w/Skorchasx2, counts as Troop)
Da Beast (BW w/Deffrolla, Armor Plates, RPJ, Big Shoota; Ded Transport)
Flash Gitzx9 w/Painboy Redsaw, More Dakka, Shootier, Blastas
Killa Kansx2 w/Grotzookas
Da Big Red Cheez (BW w/Ram, RPJ, Killkannon)
Flying Mech IG List (1850pts) 54 Infantry, 9 Vehicles; 15 KPs
Command Squad w/ Medic, Plasma Gunsx3, Carapace Armor in an EA Chimera (All Chims are HF for HB)
Psyker Battle Squad (Pyskersx8, Overseer) in EA Chimera
Vetsx10 w/Meltax3 in an EA Chimera
Vetsx10 w/Meltax3 in an EA Chimera
Vetsx10 w/Meltax3
Vetsx10 w/Meltax3
Vendetta
Vendetta
LR Executioner w/EA, SS Plasma
LR Demolisher w/EA, SS HBolters, Lascannon
Manticore
--------------------------------------------------------------------------------------------
Ex-Farseer Lorilune snorted derisively, watching the Mon-Keigh base from the top of her Battlewagon. The fleeing Tank from their last battle had made a beeline straight to their camp, and Lorilune was not pleased by what she saw. The Orks needed fuel and supplies to make their trek back, which the Mon-Keigh's base had in substantial amounts, but they had something that irritated her to no end: Mon-Keigh air-transports.
Known as "Valkyries," "Vendettas" or something else that was supposed to strike fear into the hearts of their opponents, Lorilune knew them well. They had come into fashion just as she was captured by the Orks, and they didn't impress her. Being once of the Saim-Hann, she knew Skimmer technology, and the huge, noisy, burly looking things that barely kept themselves in the air weren't impressive. The fact that the Mon-Keigh were CLEARLY trying to imitate their superiors didn't help matters either. However, the Mon-Keigh couldn't help but seem to compare their primitive machines with the sleek perfection that was Eldar technology, and with jackanape arrogance, declared that their machines were superior.
She gritted her teeth. It didn't help that the Orks were apparently in full agreement.
"Oi! Louie! You see dem flying wagons?"
Big Mek Wingnut was beside himself. He'd seen a few of the Hummie planes before, but this was a whole camp of them flying in, out and around. They were looking for the Orks, who were keeping quiet (for Orks) off to one side in a secluded hill overlooking the base.
Wingnut smirked, watching the big, beautiful flying things zipping around.
"I fink, yep, dat's da ones with da Big Guns!"
The other Orks nodded in agreement. The runty hummies did one thing well, and that was make big guns for the Orks to loot!
"Yes, I can see them. Big, ponderous, inefficient. It's a wonder they don't make the craft plummet just by their weight alone."
Wingnut smirked. Yep. Big Guns. Even Louie had to admit that.
The Big Mek paused as an idea bubbled up to the surface of his thoughts.
"Uh, Louie? How's we gonna be able to get in dere if them flying Wagons is zippin' around? Da Battlewagons is hard as anyfing up front, but well, da backside's a bit more weedy if you get my drift."
Lorilune sighed. She had been pondering that as well. Clearly, the Orks would last a few microseconds if the Skimmers could get a bead on them. The Orks didn't seem to understand that maneuverability was just as (if not more) important than firepower, but the Ex-Farseer understood that well.
She thought, pacing a bit. She had dealt with rival factions who had more transports in the past, but it required a tactical advantage. Something that could somehow distract the opposition. Something that would cause them to overreach themselves and then be smited for their ineptitude. But what could that be...
"I like dem flying guys."
Lorilune turned in irritation, and saw the huge, ponderous form of DeffDread BigToof. The enormous Dread was poking it's head over the Wagons, trying to get a view of the flying vehicles.
"Dey's pretty keen. Just like dem Panzees, but bigger!"
The Orks all nodded in agreement. Lorilune's eyebrow wagged in irritation, and she was about to say something... Then inspiration hit, and an all-too-familiar Eldar smirk crossed her face...
-----------------------------------------------------------------------------------------------------------
Commander Vasily Romanov poured himself the last of the ReCaf. It wasn't a good night. Or a good day, or a good last couple of days. With the loss of the Commissar, the rest of the army was more relaxed, but discipline was at an all-time low. He tried to instill some kind of order into his troops, but the Veterans, who were all more experienced than him, rarely payed attention.
Already tales of Vasily's defeat were spreading like wildfire, and more and more troops were muttering talk of pulling back or hiding further in the valleys.
Vasily wiped some sweat from his hands. It didn't help that the nightmares weren't stopping. He still dreamed of the men's screams as they were roasted alive by that enormous Ork Dreadnaught, and the huge, unstoppable monster kept following Vasily when he closed his eyes.
Perhaps it would be good to pull back, disperse the men, somehow try and get away. But without his leadership, things would fall apart, insurrections might happen, and whatever chance they had to try and stem the Orks would fail. He didn't know what he could do against such overwhelming odds, but it was only a matter of time before reinforcements came...
He sighed. At least it made himself feel better saying that over and over...
--------------------------------------------------------------------------------------------------------------
Pre-Game Thoughts: Wow, someone really re-worked their list. Man, this one's going to be hard. I've always had a problem with Valkryies, and Vendettas are even worse! He had them both proxied, but it was clear that he was going to use them to give me Lascannon hell. Hmm, need a plan, and to stick with it, no matter what...
Mission: Command and Control
Setup: Dawn of War
Terrain: Jungle (ooh!)
Setup: Well, this was an interesting one. Two big ruins were placed, one in the back, one in the center, two on what would be Ork's side, and a lot of trees and a small ruin on what would be the IG side.
IG won the roll to go first, and took maybe two seconds to decide to give the Orks the side with little cover. (why does this always happen like this?)
Two Chimeras went down behind the big center ruin, with the Command Squad Chimera behind them. He put his objective near the far left corner of the board.
At this point, I think I had him a bit rattled as he dared me to bring out "that damned Dread." Hmmm, while I do like BigToof, it's nice to see that he's made an impression elsewhere...
And that's when a plan started to form...
Well, I put BigToof square down in the right little patch of ruins. And behind the ruins I put the Ork objective... Oh wow, target acquired!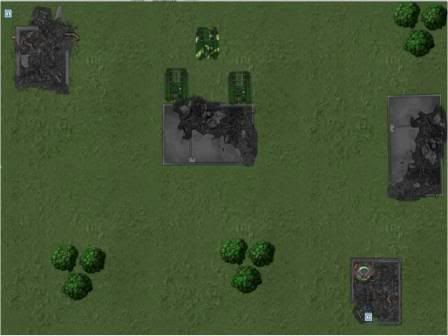 Picture Caption: Ok, you lot, come get me!
The Orks try to seize the initiative but fail (Hmm, I think that's now 0/70 odd attempts now...).
--------------------------------------------------------------------------------------------------------
Vasily hit the entrance to the base running, pushing aside some of the men. He panted, listening carefully. There it was again, some kind of strange howling sound. There was a sound of trees being crushed, as if some sort of enormous beast was prowling around.
He had all of his men on alert, and all of their vehicles were ready. Whatever it was, man or beast, it was going to be in the shock of their lives... as soon as they could see it.
Vasily paused as the howling died down a bit.
"'Ey? Do I start sayin' it... Oh, OK!"
The men looked at each other in confusion. That sounded like... an Ork?
"Uh... LISTEN UP YOU MEASLY LIL' GROTZ! Heh heh, measly grotz, dat's funny... Wha? Oh right.
I'Z DA INVIN... INVUL... WHA? Oh, right! UH... TOUGH AS TEEF DEFFDREAD BIGTOOF!
YOUZ GITZ DONE RUN, BUT YOU AIN'T RUN FAR ENOUGH!"
Vasily broke out into a cold sweat. That was it. That was that thing! It had followed him! But how?!
"YOUZ FINK YOU KAN HIDE IN DA DARK, BUT YOUZ IS GONNA GET KRUMPED! COME AN GET ME IF YA KAN!... Wha? But ain't that gonna make 'em come and... Uh, right... SO PRAY TA YER WEEDY GIT IN DAT STOOPID CHAIR, CUZ I'M COMIN' FER YA!"
That last bit made Vasily straighten up in anger. He looked at his men, who obviously felt the same way. The Ork had dared to insult the Emperor! And he was all alone in the dark! Why were they afraid? Were they children?
"Guardsmen. Mount up. We're going to find that thing and bring it down. Commendations to the squad that brings that thing down."
-------------------------------------------------------------------------------------------------------
Turn 1: IG
True to his word for vengeance, all the heavy hitters come out on the right side. Both of the Vendettas fly out, and the Lemun Russ Executioner rolls out as well to the right.
The Psyker Chimera (oh, I hate those guys!) went down the center, next to the Demolisher. And last, but not least, the Manticore tried to roll into the ruins on the left and immobilized itself...
Deciding to be gracious, I let the Manticore roll into the ruin and be immobilized rather than argue it should be removed. After all, I have plans for it!
The right-most Chimera rolls forward, lights up BigToof who then takes a horde of Plasma Cannon shots, Multi-Laser and 3 Lascannons. I think he misses once... I make all the saves but one pen, but it's enough to wreck 'Toof (sniff...)
Enthused that the "big bad" Dread is dead, he hands the turn over to me.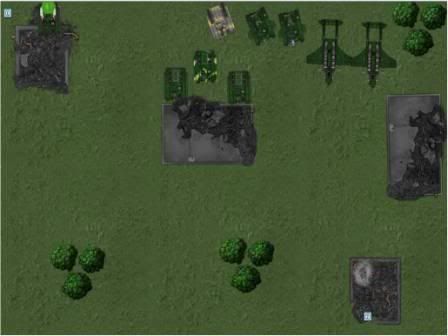 Picture Caption: The mighty have fallen...
Turn 1: Orks
Oh, look, everything I was worried about is now on the right side... Hmmm....
The Battlewagons, Kans, Lootas, and Shootas all go down on the left side, the right-most shoota mob slowing inching it's way toward the Ork objective... More importantly, the Battlewagons nicely turn to the right, presenting a much harder target to all of those Lascannons.
Lorilune fires up a Warpath. (uh, thanks?)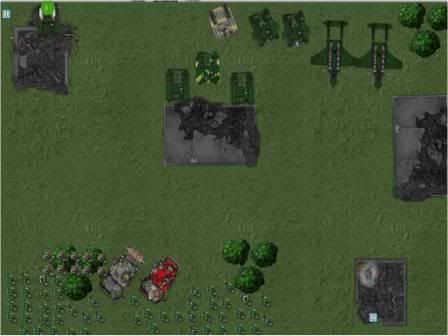 Picture Caption: And now, we'll just go on the OTHER side then...
Turn 2: IG
I think he just realized the problem with his setup, as he has both Vendettas zoom up trying for side-shots on Da Beast (good luck with that
), while also moving closer towards the Ork objective. (Hmm, it's a bit early for that, guess he wants to stop me from slowly inching in).
Everyone shuffles around a bit, the Executioner is the only one that tries to put the pedal down and move to the left, but doesn't get that far...
IG Shooting is as usual, pretty painful. Luckily, the Manticore hits completely off target, taking down a small number of Orks. Some scattered Multi-Laser fire drops a single Ork. (I love KFF).
The Vendettas try their luck, but is only able to get a glance. It goes right through the KFF, but fails to do anything other than shake the Wagon. (Hmm, going to have to get that thing adjusted...)
The Demolisher fires and misses it's Lascannon. The Psykers warm up and try to punch through the Wagon's armor, but again, fails to penetrate (wow, they really don't like Da Beast, do they?).
A bit demoralized with the shooting this turn, IG hands it over to the Orks.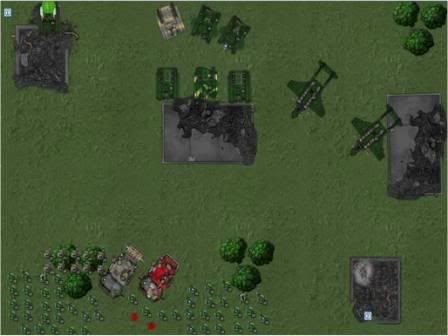 Picuture Caption: Re-Deploy! Re-Deploy now!
Turn 2: Orks
-----------------------------------------------------------------------------------------
"Louie? What do ya fink yer..."
Those were the last words Lorilune heard just before she teleported her squad. She looked around at the large Orks who were momentarily mystified that they weren't in their Battlewagon anymore. They looked around, shrugging as they saw the exposed backsides of two Vendettas!
Lorilune chuckled. Silly Mon-Keigh! Falling for the same trick twice!
"Gentlemen? ... Yes, that means you. Pick one, any one. Bring it down."
Lorilune smirked. It was all too easy...
-----------------------------------------------------------------------------------------
The Orks continue to creep forward and to the right.
Da Beast rolls into the Chimera in front of it and wrecks it.
Shooting was... interesting.
Louie... ok, this is becoming a habit or something, she rolls 'Eadbanger... and... wait for it...
The re-roll gets 'Ere We Go. Oh, no. How... It... Need to talk to that girl some more...
She DS's again OFF target and lands behind both of the Vendettas. (Good!)
Right out in the open where the Executioner has a clear bead on her. (BAD!)
The Flash Gitz figure that they won't get lucky twice, and unload into the back of the Vendetta closest to them, exploding it and taking down about half the Vets. The Vets are fine, other than that.
The Lootas look out, and wave at the Manticore that is nicely sitting in the ruin... without anything more substantial than a few pebbles in front of it.
The IG player realizes this only after the Lootas fire and explode it! (I was actually hoping he'd roll up the Psykers so I could Loota and then Kill-Kannon them to death, but oh well...)
Da Big Red Cheez fires at the right Chimera and gets a decent pen (bless Ordinance 2d6!) which skips though the cover save and immobilzes the vehicle.
The Kans, now realizing there's not much for them to do, run forwards.
And, last, but not least, the right Shootas run in, getting very close to the Ork objective.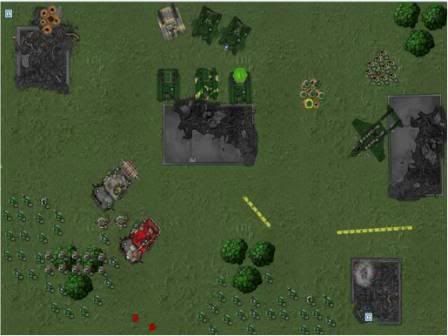 Picture Caption: LOUIE! What are you?! Gah! Bad, Eldar, bad!