WAARGH Grumgutz vs Mech IG (3/3/10, 1850pts) in "Dakka vs. Dakka!"
Hi All, I bring another Grumgutz!
This one, still using my crazy "Hot Dakka" list with Big Mek Wingnut and Ex-Farseer Lorilune.
They're going up against IG, and yes, it's Mech IG!
Granted, not the most hardcore IG, and the player wasn't the most experienced, but he knew his stuff.
Still, an interesting themed IG list with well... a LOT of plates. LOTS.
And umm... again, apologies for the lack of real pics. Did my best with VASSAL. I know it's not exact, but did my best to try and create the proper feel for it.
Hope you all enjoy the fluff as usual!
Best,
-BT
P.S. C&C, as always, is greatly appreciated!
WAARGH Grumgutz Alternate 66 "Hot Dakka!!!"(1850pts): 78 Infantry, 3 Walkers, 2 Vehicles; 11 KPs
Big Mek Wingnut (Big Mek w/KFF)
Ex-Farseer Lorilune, AKA Big Louie (Weirdboy w/Warphead upgrade)
Nobzx7 w/Dokta Chop, PKsx3, BCsx3, Kombi-Skorchasx2, WAARGH Banner, Bosspole (BW Ded. Transport)
Lootasx10
Shootazx25 w/PK Nob, Rokkitsx2
Shootazx25 w/PK Nob, Rokkitsx2
BigToof (DeffDread w/Skorchasx2, counts as Troop)
Da Beast (BW w/Deffrolla, Armor Plates, RPJ, Big Shoota; Ded Transport)
Flash Gitzx9 w/Painboy Redsaw, More Dakka, Shootier, Blastas
Killa Kansx2 w/Grotzookas
Da Big Red Cheez (BW w/Ram, RPJ, Killkannon)
Mech IG List (1850pts) 47 Infantry, 8 Vehicles; 14 KPs
Command Squad w/PP, PW, Medic, Plasma Gunsx3, Carapace Armor, MoO in an EA Chimera (All Chims are HF for HB)
Lord Commissar w/ PP, PF, Carapace Armor
Vetsx10 w/Meltax3, Demo Doctrine in an EA Chimera
Vetsx10 w/Meltax3, Demo Doctrine in an EA Chimera
Vetsx10 w/Meltax3, Demo Doctrine in an EA Chimera
Vetsx10 w/Meltax3, Demo Doctrine in an EA Chimera
LR Executioner w/EA, SS Plasma Cannons
LR Demolisher w/EA, SS HBolters, Lascannon
Manticore
---------------------------------------------------------------------------------------------------------
Vasily Romanov squirmed uncomfortably in his Carapace Armor in the underground PDF shelter. How had this all happened? Within a span of a few months, he had gone from being a lowly lieutenant to now being in Command of a whole armored company! Granted, it had been through the tried and true Imperial method of rank climbing by being the only one alive and talking after the end of a battle, but it was still surprising as to how much he was given charge of. Or rather, supposed to be in charge of it.
He glanced nervously at the Lord Commissar next to him. Lord Commissar Arnold "Iron" Grant joined the Company moments after Vassily was assigned, and ruled the company with an iron fist (rather literally as the man did carry around a sizable Power Fist). Although Vassily was in charge, the Commissar made it very clear that the commander should take his "suggestions" very seriously. And, if at all possible, he had gotten more serious since the Ork invasion. Grant paced constantly, scowling at the situation, and making everyone decidedly uncomfortable.
Vassily swallowed. He didn't mean for any of this to happen. He didn't mean to let the Commissar walk all over him, his men, and his army. He knew he should stand up for them, but the Commissar was just so... bowel-drenchingly frightening.
Grant had always carried around his well-notched Bolt Pistol and Power Fist, scanning the area as if looking for signs of treachery or cowardice. The fact that he used to gesticulate with the end of his pistol in his speeches had unnerved Vasily so much, he had ordered up Carapace Armor for his Command Squad. That had given him a full week's feeling of happiness until a Plasma Pistol arrived for the Commissar...
Once, Vasily looked up Grant's record, and found that a single mission had no noted major casualties, but the company had to be reformed. Thinking that odd, Vassily looked up the battle, and found that Grant had declared a good chunk of the Company as being cowardous traitors and executed them using a Baneblade. In the middle of a combat. Obviously the man held bravery in very high regard, although Vassily wished that "keeping alive" was higher up on the list. He sighed. It could have been worse. At least the Orks had stopped stomping around, and hopefully would soon leave.
The stomping of heavy boots made the Command Squad break out into a nervous sweat. They looked over and saw the Commissar looking at them. With a voice like gravel rolling over glass, he spoke:
"Commander. We're leaving. I'm not letting the Orks have this planet. We will find them and kill them all."
It wasn't a question, nor an order, but Vasily swallowed and nodded at his men, who looked at him with a mix of shock and disbelief. It was either die now, or die later, and Vasily believed in putting death off as long as possible.
--------------------------------------------------------------------------------------------------------
"By Khain's ruptured eye-sockets, how are we lost?!"
Big Mek Wingnut glanced over at the fuming Ex-Farseer Lorilune. Wingnut looked around.
"Well, we'z ain't lost. Really. Uh, we'z still in da trees."
Lorilune glared at him. "Yes, but WHERE in the forest? I think that's the same rocks that we passed... Oh for the love of..."
Wingnut glanced over and saw a rather familiar set of burnt out ruins. Hmm, maybe they were lost. Sort of.
"We were JUST here!" Lorilune snarled, stamping her Eldar foot against the floor of her Battlewagon.
The Big Mek screwed up an eye and thought. Hmm, they were here. They fought the Beakies. They drove around a bit. The Panzee yelled a lot. The sun went up and down a few times. And then they were back. Hmm...
"Ya don't fink it's following us, do ya?"
Lorilune hung her head. "Oh, yes, yes, that's exactly it!," she said with scalding sarcasm, "The ruins are following us... Ooh! Maybe they're haunted!"
Wingnut and the rest of the Orks looked around. Haunted? By Gork, Wingnut nodded. He knew it!
"Right ladz, get your dakka ready. We'z gotta shoot this place down. Show it to keep from bein' all sneaky like."
The rest of the Horde nodded. Shootas, skorchas and cannons were raised at the surrounding mounds of rubble.
"STOP!"
The Orks all looked at the thoroughly exasperated Lorilune. "You... complete... IDIOTS! The... the ruins are not..."
A crackling from Wingnut's talk-box interrupted the rant. Wingnut nodded. It was BigToof. He'd sent the Dread out a while ago to find out the way back. It was sort of a questionable decision, but Wingnut figured that when you had a tricky situation that you couldn't get your brain around, it was best to send someone who had very little brain to solve it. That way, they wouldn't get confused none.
"Wingnut? Youz dere?" The Deffdread's voice came out of the comm a bit excited.
"Yeah, I'z here," responded the Big Mek. "Where'z you at? You find da way back?"
There was a pause as BigToof's brain worked the fact that there were TWO questions. Both that needed SEPARATE answers. Boy, this was getting hard.
"Uh... I'z over by dat place where we'z fought Da Beakies."
Wingnut nodded, "Huh, we'z close by, you..."
"Can I have a Wagon?"
The Big Mek paused. What kind of question was that?
"'Cause dere's lots of lil' Hummies here. Dey got a lotta Wagons. Hey, I think they saw me. Huh. OI! HUMMIES! CAN I HAVE A WAGON?! YOUZ GOT..."
A sudden retort from a Demolisher Cannon cut the Deffdread off.
"Wingnut?... I fink dat means no."
--------------------------------------------------------------------------------------------------
Pre-Game thoughts: Huh, now this is an interesting list. A lot of vets, Chimeras, and a Commissar? It has the usual meltas and a LOT of Demo charges. But there's also an Executioner, Demolisher and a Master of Ordinance?
Wow, that's a lot of shooty. And a lot of potential big plates. The Manticore is always a thorn in my side, and the fact that he has plenty of boxes to castle up with does not make me feel better.
Those Lemun Russes are going to be a problem, and a full mech list is just... going to be painful. Just hope to try and survive and get down there to try and shoot him out of his position. I wish the Flash Gitz were S7... S6 is going to just trickle off of AR12...
Maybe I'll get lucky and it'll be annihilation?
Mission: Command and Control (Gah!)
Setup: Dawn of War (Ok, I feel slightly better about this)
Terrain: Ruins and Trees
Setup: Well, again, another board of Ruins and Trees with a big ruin in the center, and three more scattered near the edges of the board with a good deal of forest scattered about. (Note: To those long-time readers, this is the same board as the Calgar game. I hope it'll bring me good luck, although that big ruin in the center is going to either be a blessing or a curse, it's gone both ways with me at times...)
The Orks won the roll to go first (wahoo!). They gladly take it, fearing an Alpha Strike of epic porportions. Granted it meant that I'd be last when it came to contesting, but I was hoping I'd live that long...
After some thought, I put BigToof in the center of the big ruin, and that was it!
And in true Ork fashion, declare that everything will be coming on first turn.
IG was a bit surprised that a Dread could be a Troop, but let it go.
After carefully measuring out the 18" (and perhaps not deeming 'Toof to be worthy of destruction), the IG player decides not to deploy anything, but have everything roll on first turn (IG not pulling out reserves? That's a first...)!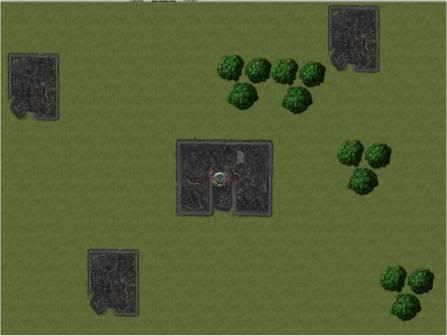 Picture Caption: Oi! Anybody herez? I fink I saw someone out dere!
IG tries to steal the initiative, but fails...
Turn 1: Orks
The Orks all come on first turn, with the Battlewagons riding right down the center into the ruins (luckily not throwing any axles), the Kans to the right, the Lootas to the left into cover, and both Shoota units down the flanks. BigToof runs up behind a wall, waiting for Ninja Dread action!
I think Louie made a Frazzle... (Down, girl, keep it for later!)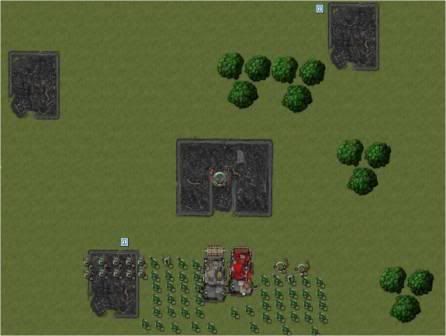 Picture Caption: When in doubt, go straight down the middle!
Turn 1: IG
IG rolls everything on, the Manticore going in the left corner (hmm, didn't see that one coming
), and everyone else castles up in the center, with the five chimeras making a good castle behind some trees.
The Lemun Russ tanks, though, bold as brass, drive straight up the left-middle of the board out in the open, daring the Orks to waste shots on their AR14! The Executioner in particular is placed directly across from the Lootas... I had a feeling I would be having a lot fewer Deffgun toting boyz pretty soon...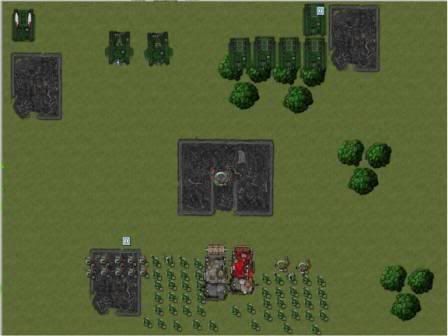 Picture Caption: I wish I could say I was surprised, but... Hmm... Lootas, I'm sorry guys... It looks so bad for you.
Turn 2: Orks
Everyone moves forward some more, except BigToof, who just waits.
Louie powers up and rolls a Headbanger (whoa!). I use the Warphead re-roll and out comes... 'Ere We Go... Oh no.
(If anyone wonders why I facepalm whenever this one comes up, you simply have to do the math of: Tightly packed group of Orks + S8 templates = Dead 400-odd points of Greenskins)
I place Lorilune out in what is hopefully safe DS area, and the IG player smirks as the dice deviates her towards the IG lines! (gah!) After measuring, we find (the IG player checks just to make sure), that she hits right behind the Executioner, dangerously close to the edge! Well... at least she didn't go off the board...
Shooting:
Figuring this might be her last chance to do anything, Louie fires (with a lot of AP1!) at the Executioner and immobilizes, takes the turrent off, and shakes it!
And with a completely randomly scattered shot, Da Big Red Cheez manages to fire and hit a Chimera on the far right (The shot bounced around a bit, I had to sit something in that parking lot) and stun it (it was actually on side armor, but out of LOS!).
Picture Caption: Louie! What does it mean, keep both arms inside the ride at all times?
Turn 2: IG
Nobody moves that much at all, except the Demolisher who rolls forward to make sure it has LOS to the Battlewagons (Hmm, I think they forgot about someone...)
One of the Chimeras moves out to zap Louie. They stay inside though, trusting to the Multi-Laser to take down the Orks.
Shooting has the Manticore opening up with three (!) shots! Two hit dead on. One scatters too far forward to do anything than kick up dirt. Two easy pens, but the KFF stops them... (I think my heart just skipped a beat)
The Master of Ordinance then opens up and fires... Unfortunately, without LOS, it travels WAY off target, hitting not very much but splattering some dirt on the Kans.
A bit irked, but not yet done with the firepower (he's STILL shooting plates at me?), the Demolisher fires, fails to do anything with its Lascannon, but hits square on with the Demolisher round. The KFF buckles at this, and the round gets through...
He rolls the pen shot and gets... a 3!
I'm about to get the guys out of the Wagon, when I realize that it's not AP1 (Thank Mork SOMETHING in the IG list isn't...), so Da Beast is just immobilized... really far away... That's not good.
The Chimera shooting at Louie is a bit suprised when all of the Multi-Lasers hit and do six (!) wounds, but the big Orks save them all! (Heck, I've done more wounds to myself with Get Hots!)
There is some scattered shooting with Multi-Lasers to the right, but they manage to only shake one Kan...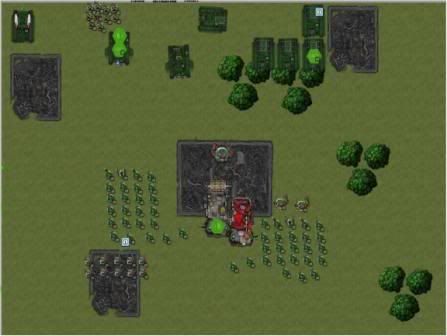 Picture Caption: Well... that's... not so good. At least Louie's ok...
Turn 3: Orks
The Flash Gitz and Louie are amazed they're not dusted (I was so worried, he might zip up and throw the Demo Charge), and then move towards the Manticore.
The Orks continue to move forward, the shootas and Kans coming down the sides, and Da Big Red Cheez shuffling forward.
And BigToof springs into action! The IG player is floored that he totally forgot about the Dread, who gets a great difficult terrain test, and scampers out towards the Demolisher.
The Lootas realize that a few of the Lootas can see the Chimera firing at Louie, and it's on side armor!
They fire, and despite getting a good number of hits, the wily Chimera makes all of it's saves, and nothing happens...
Still, Louie and the Gitz sight down at the Manticore, who, nicely enough, didn't rotate (perhaps figuring that the Orks would be dead). They fire and wreck the Manticore! (Wow, that's a BIG relief. They can run now or whatever...)
The Killkannon fires again, hitting another Chimera (wow, it's great when they're so tightly packed!) getting a shaken (shrug).
The Kans and Shootas fire and hit a Chimera, getting a lucky shaken as well...
Everyone else runs forwards...
In the assault, BigToof decides to play "Kick da Kan" with the Demolisher, wrecking it!
Oh, and Wingnut fixes Da Beast! (The IG player does a double take at this point. Target reaquired, mayhaps?)
Picture Caption: Now that's more like it! Wagons gettin' krumped everywhere!
Turn 3: IG
The IG shift around a bit, really worried that the Orks are getting so close, but there's nowhere to run!
The left-most Chimera tries to back up, but gets stuck in the trees!
The Chimera in the back sniping at Louie moves forward a bit, but is unwilling to go too far and expose itself completely to the Lootas. They stop, hoping to be within Melta range.
The Vets get out of the immobilized Chimera and look out at BigToof, readying their Meltas.
Shooting is pretty spot on, but the Flash Gitz aren't harmed by the Multi-laser and the Chimera is JUST in range of hitting the Flash Gitz with the meltas... However, mediocre melta rolls again means that only one manages to kill one of the big Orks (yay!).
The Master of Ordinance tries his luck to take out the Battlewagon, but must have stuttered a bit on the coordinates, as the shot goes completely wide.
The center Chimera snipes at the Kans a bit, but fails to do any damage this time.
The disembarked Vet Squad fires out and hits BigToof, who is fortunately partially obscured by the nearby foliage, but only shear off one of his CCW! (It's ok, still have a spare!)
Oh, and the badly hurt Executioner fires it's Plasma Cannons at the Lootas, but the Lootas manage to keep their heads down well enough...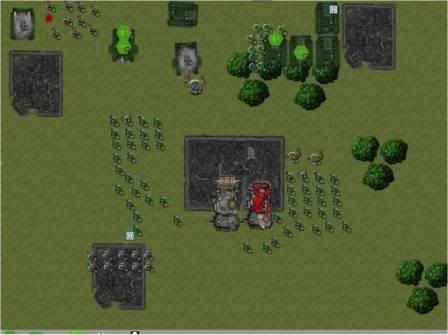 Picture Caption: I have no idea how you're still up 'Toof, but keep going!