WAARGH Grumgutz vs. Marneus Calgar(!) (1850pts, 2/24) in "Smurfpocalypse!"
Hi All,
First off, sorry for the lack of pics. Things just sort of happened and didn't have my phone handy and well.. there's a lot of excuses. But in the end... no pics. Sorry.
Please take the VASSAL pics as something resembling what happened. Again, they're not 100% of what actually happened, but my closest attempt to replay what turned out to be a really keen game.
Grumgutz isn't in this one, but instead it's Big Mek Wingnut and Ex-Farseer Lorilune/Big Louie vs the TITANIC MIGHT that is Marneus-frickin'-Calgar!
Enjoy!
Best,
-BT
P.S. As usual, C&C is greatly appreciated.
WAARGH Grumgutz Alternate 66 "Hot Dakka!!!"(1850pts): 78 Infantry, 3 Walkers, 2 Vehicles; 11 KPs
Big Mek Wingnut (Big Mek w/KFF)
Ex-Farseer Lorilune, AKA Big Louie (Weirdboy w/Warphead upgrade)
Nobzx7 w/Dokta Chop, PKsx3, BCsx3, Kombi-Skorchasx2, WAARGH Banner, Bosspole (BW Ded. Transport)
Lootasx10
Shootazx25 w/PK Nob, Rokkitsx2
Shootazx25 w/PK Nob, Rokkitsx2
BigToof (DeffDread w/Skorchasx2, counts as Troop)
Da Beast (BW w/Deffrolla, Armor Plates, RPJ, Big Shoota; Ded Transport)
Flash Gitzx9 w/Painboy Redsaw, More Dakka, Shootier, Blastas
Killa Kansx2 w/Grotzookas
Da Big Red Cheez (BW w/Ram, RPJ, Killkannon)
Ultramarines List (with Calgar!!): 38 Infantry, 3 Vehicles; 9-12KPs
Marneus Calgar
Captain w/Relic Blade, Combi-Melta, Bike
TH/SS Assault Termsx7
Bikesx9 w/PF/Combi-Melta Sarge, Meltasx2, MM Assault Bike
Tac Squadx10 w/PF/Combi-Melta Sarge, Melta, Plasma Cannon in EA Rhino
Tac Squadx10 w/PF/Combi-Melta Sarge, Melta, Plasma Cannon in EA Rhino
Land Raider Crusader w/EA, Multi-Melta
------------------------------------------------------------------------------
"Are we there yet?"
"No."
"Are we there yet?"
"NO."
"... Are we there yet?"
"NO!"
The bridge of Maximus' Glory II shook with the shout from Chapter Master Marneus Calgar of the Ultramarines. The massive man stood, scowling at the now sheepish-looking Captain Excelsior Maximus of the 5th Company.
"Umm... sorry, Master Calgar. It's just that all this Warp travel really starts to get on your nerves."
Calgar turned his attention back to the datascrolls. Auric IV had been beset by a swarm of Tyranids and an Ork invasion. Although not normally personally involving himself in a matter so far from Ultramar, the Chapter Master was alerted by his intelligence agents that the Swarmlord might be present. Calgar paused as familar scars burned for a moment.
Macragge sempt like a distant memory to most, but Calgar remembered it like it was yesterday. The Swarmlord must fall, no matter what the cost. The Chapter Master peered over at the Captain, who was whistling and bouncing from leg to leg. No matter the cost. Even if it cost him his sanity.
The Fifth company was not his first, second, third... Honestly, it was his LAST choice. But, no other division of the Ultramarines was anywhere near Auric IV, and he hated to admit it, the Captain did have a reputation for being competent. Irritating, but competent. Calgar swore under his breath. When he got back to Ultramar, he would have a personal talk with Telion and find out what exactly went wrong during someone's training...
-------------------------------------------------------------------------------
The Battle Barge exited the Warp with a flash of energy. The ship was ready for combat, but Calgar had put them on the far side of the planet. Ordering up scans and communications, the Chapter Master waited.
Captain Excelsior Maximus was enthused. Rather, completely beside himself. Marneus Calgar, THE Marneus Calgar, was sitting on HIS bridge. The Chapter Master himself had chosen him, before ANY of the other Captains (suck on that Sicarius!) to go on a mission to destroy... something.
Maximus scratched his head. He was trying to remember what the Master had said, but he was so enthralled that he had forgotten. Oh, well, it was probably involving Tyranids. The Master hated Tyranids. At least it wasn't Orks.
One of the Astropaths paused and said, "Sir, we have information from planetside."
Maximus nodded, "Oh, ah, good. So, the... Tyranids, right?"
The Astropath paused. It was so hard to tell when the Captain was joking. He was hoping the Captain was joking. "Yes... sir. The Tyranid invasion has been broken."
Maximus started, "WHAT? Those little... How? Don't tell me that Creed is down there. If he somehow got all the way from Cadia again, I swear I'll..."
The Astropath shook his head. "No sir, not the Guard. It appears that the Space Wolves were here."
Maximus swore. Stupid, stupid wolves! Those stinky, dirty savages with their belching, scratching, flea-ridden hides! They were almost as bad as Orks!
The Astropath continued, "Sir? The Orks are still there though."
The Captain paused. He slowly turned, slightly pale. "Orks? What... kind of Orks?"
Again, the Astropath paused. "The Orks are broadcasting in a number of languages sir. They say that they are part of a... WAARGH Grumgutz."
Everyone on the bridge turned when they heard the girlish scream, and looked over to see Maximus hiding behind a steering column.
The Captain looked around. "Uh, umm..."
Marneus Calgar walked over. "What is it? Where are the Tyranids?"
Maximus said, "Umm, sorry sir. They've been umm... driven off."
The Chapter Master paused, nodding to himself.
"Uh, but it's because sir, well, it's nothing really, I..."
Maximus then paused. It was a grand opportunity! Never before had Grumgutz faced the awesome and invulnerable might of THE Marneus Calgar. Surely with some convincing the Chapter Master could easily help him take apart his hated rival.
"What I mean to say is, sir, that there's a massive Ork WAARGH that took them apart."
Calgar turned with a careful eye on the Captain.
"You mean to tell me, that a group of Orks drove off a Tyranid invasion so completely?"
Maximus nodded, "Yes, oh yes, sir. You have to understand, I've... uh, engaged this creature before. This Warlord Grumgutz. He's completely insane, bloodthirsty, and will stop at nothing to destroy the universe. I, uh... believe his aspirations to destroy Ultramar sir."
Calgar's eyes widened. "Ultramar? This creature dares to threaten Ultramar?"
Not directly, admitted Maximus, but why let something like the truth stand in the way?
"Yes, sir. He's a right nasty creature. He uses even legions of... of psychic Orks. I saw them myself. Truly horrible things. They probably drove off the Tyranids."
Calgar nodded again. A new mutation. Dangerous.
"Very well Captain, alert the Astropaths and the Librarians, I want the entire planet covered with scans. If there's a pocket of psychic energy, I want it found. We will find this psychic Ork brigade and bring it down."
Maximus' eyes widened, "Uh, sir, but what about the Warlord himself, surely if we want to destroy the WAARGH we'll have to..."
Marneus Calgar straightened up and looked the Captain in the eyes.
"Are you questioning ME, Captain?"
Flop-sweat rolled down the face of Maximus.
"Uh, no sir! Scans commencing post-haste! We'll find those psychic Orks straight away!"
Maximus ran off the bridge. Oh, he hoped that psychic Orks existed. If not, he was going to be in a LOT of trouble.
-----------------------------------------------------------------------------------
Ex-Farseer Lorilune surveyed the destruction. She heard chuckling in her direction, and frowned at Big Mek Wingnut. The Orks had been having a good laugh at her expense ever since that Tyranid incident. She had zapped a few of them and scalded a bunch of Grots to the bone, but it didn't silence them entirely. And she hadn't evened things up with Wingnut. Yet. She sighed. Being saddled with the overly ostentacious Flash Gitz (Bad Moonz Clan "Friends" of the Fab Four) was also rather bothersome. The large Orks liked to show off and try and impress everyone, especially Lorilune, who wasn't impressed with all of their primitive swagger. The Eldar had practically perfected that particular aspect, and all of the gold-ridden teeth in the universe wasn't going to make her do more than raise an irritated eyebrow.
The Tyranids had all apparently fled in the last few days, disappearing like the morning dew. Lorilune shook her head. It was amazing. Whatever had happened, the aliens had compeltely evacuated the planet. The local PDF remains had all either gone underground or left the planet. Clearly, there was nothing left to fight. The Orks were getting bored, and about to leave the planet, which was fine with Lorilune. The quicker she was away from this horrid bit of rock, the better.
Suddenly, the sky darkened, and all of the Orks looked up, hoping to see another rain of Mycenic Spores (except, of course, Big Louie). But instead of organic pods, they saw Thunderhawks! Blue Thunderhawks decending from the sky. They landed and disgorged a number of vehicles and Space Marines.
Oh, joy, thought Lorilune, just perfect. Why here? Why now? And why me?
-----------------------------------------------------------------------------------
Mission: Command and Control
Setup: Pitched Battle
Terrain: Ruins and Trees
Pre-Game Thoughts: Oh, this is not the list I wanted to try out Flash Gitz with. Sorry Lorilune! A small, nasty list, Mech and Bikes with Papa Smurf himself, Marneus-freakin'-Calgar!
I've never played against Calgar, really and he's in a Mega-Death-Star with that Land Raider Crusader. Oh, and there's a LOT of melta. A LOT. Still, relatively few guys. Hmm, hope things will work out. Maybe I can shoot them up before they ride all over me...
Setup: Setup is a bit weird, with a big ruin in the center, a smaller ruin in the back and off to one side.
The Orks win the roll, and I decide to setup first. The small buildings are the only ones in the relative deployment zones, and knowing Marines, he'll want those perches. I decide to take the side with the more centralized ruin, giving me LOS down both sides, and hopefully away from that small ruin that is no doubt going to be filled with Marines post-haste.
I decide to put the Lootas in the top story of the building, and put both Battlewagons in the bottom floor. I put the Kans to the left, BigToof to the right, and spread out both units of Shootas around the flanks. I put the Ork objective in the front and center, right in front of the Lootas' building.
The Marines setup much faster, putting (as I thought) both split Tac squads with PC's in the far off right building. The bikes split and hide behind the buildings near the rear of the Marines' deployment zone. I get the feeling he's going to try and move through cover to zap me Turn 2. The LRC goes down sideways (?) next to the PC building at the front of the Marines' deployment zone with both Rhinos behind it to deny LOS.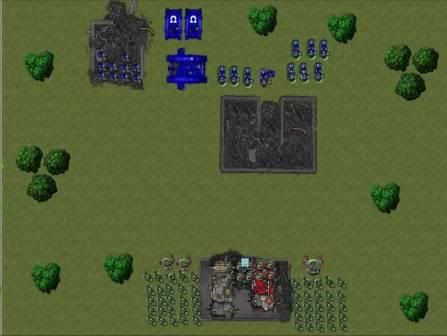 Picture Caption: Hmm, right, at least we have them outnumbered... Gads, that is a scary Death Star.
The marines fail to seize, and the game is on!
--------------------------------------------------------------------------------------
Marneus Calgar surveyed the area from within his Land Raider. The Orks had taken up positions and needed to be driven off. Strange, he thought looking around. There wasn't any signs of any unusual Ork bands. Still, the Orks were full of surprises and...
A sudden squeal from his communicator brought his attention.
"Yes?"
The frantic, excited voice of Captain Maximus yelled back, "Sir! Sir! I can't believe what I just saw! It's a female, sir! A female Ork!"
Calgar paused.
"Captain. The Orks are unisexual. They do not form..."
"Yes, sir! That's what I thought so too! But this one's definitely female! Sort of... cute too. <pause> In an entirely heretical, bad, bad Xenos sort of way, Sir!"
Calgar paused. A female looking Ork. Very strange indeed.
Maximus continued, "Don't you see, sir! It's not spores after all! The Orks have one female per WAARGH! She must be the source of all of them! If we destroy her, the Orks will have no way to reproduce and we'll have won! We'll have won!"
Calgar rubbed his temples. Maximus' reputation was not, in any way, exaggerated.
Still, no matter what that strange-looking Ork was, it was imparitive that they prevent their escape and disable the Xenos here. Calgar nodded. It could be done... as long as everyone keeps their heads on straight...
------------------------------------------------------------------------------------
Turn 1: Orks
Well, the Battlewagons shift around quite a bit, with Da Cheez with Louie and the Flash Gitz moving forward out of the building. Da Beast rolls to the left, keeping parallel with the deployment line. The Shootas move out of the way to accomadate the huge Wagon. The Kans move up to the front of Da Beast. BigToof and the Shootas move into the Lootas building.
It's like a big shift around to be short.
Now to Shooting! Lorilune passes her psychic test and makes a WAARGH... uh, thanks.
The Killkannon fires at the bikes, and it's just in range, hitting square on the Assault Bike squad and downing a few. The Flash Gitz fire up with AP3 (good enough) and down the other two normal bikers and wound the Attack Bike. Dok Redsaw works overtime and I make my Gets Hots wound rolls just barely (wow, that's dangerous).
The Lootas fire out to the right and get 30(!) shots, wounding the Captain and taking down the Sarge and another biker.
The Kans run forward a few inches.
I wait hopefully for the morale checks, but he tells me that Calgar lets him decide the results of all his morale checks. Oh. That's... so I just have to destroy them ALL then.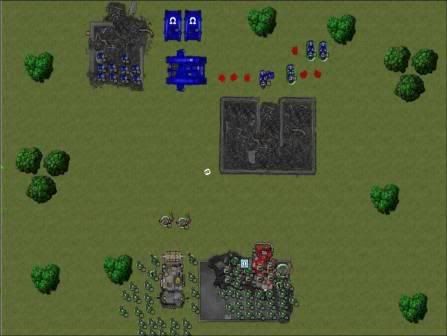 Picture Caption: Right, so this is going to be a lesson in complete annihilation.
Turn 1: Marines
--------------------------------------------------------------------------------------
Captain Maximus looked shocked at his shot-up bike squads. What were those Orks shooting at him with ? And how were they hitting?
He looked down and winced a bit, checking his wound. It wasn't anything to worry about too much, unlike poor Ganders next to him who had taken a round to the head (and chest, and arm, and leg). Still, he had to get that female Ork! It would stop the WAARGH, and he would have Grumgutz's woman!
Maximus paused for a second.
He'd never thought of the possibility of perhaps breeding Orks. If perhaps the female Ork coud be tamed (it was fairly comely after all), then perhaps they could setup Ork breeding pens throughout the Galaxy. If correctly trained, they could even be a force for the Imperium.
Yes, thought Maximus, yes! This is where his true opportunity for glory would start! This is where he would change the universe!
He gunned his engine and yelled, "To me, my Brothers! Take them apart and get me my prize! Tally Ho!"
--------------------------------------------------------------------------------------
The Space Marines can't believe that I downed so many with shooting, and decide to try and teach me a lesson. The Bikes decide to turbo boost, but then realize that they can't turbo through cover... They consider going through cover, but the dangerous terrain tests again make them reconsider (this was a really long back and forth with the movement, but I understand, I've played Beakies now
). They finally decide to turbo around the big piece of cover, the Captain and the meltas to the right and the Assault bike to the left.
And then... this is where the cheez gets pulled out. The LRC rotates and then rolls forward. The rotation is important, and it shows up a bit later. The Rhinos follow afterwards and dutifully pop smoke.
One of the Plasma Cannons tries to fire at the Lootas but is just short. (Huzzah!) The other decides to fire at the Kans, but fails to penetrate.
The LRC then fires it's multi melta... and is within 12"? It's a bit weird considering that I was running parallel to the deployment lines and he was 24" away...
I give him an odd look, and he explains to me the "rotation trick," in which the LRC (which is rectangular), rotates on it's center before moving 12", essentially gaining a few more inches. Just enough for Multi-Melting on Turn 1. Ouch.
However, the gods of Warhammer seem displeased, as he hits but fails to pen...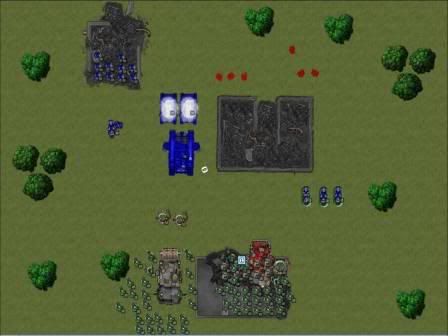 Picture Caption: That's just... dirty pool. Dirty, dirty pool... Wait, I'm playing Orks...
Turn 2: Orks
Hmm, so... Da Beast (and it's Deff-Rolla) is now <12" from the LRC? It's Deff-Rolla time! (cue pumped up 80's music)
The Kans move out of the way as Da Beast rolls forward, smashing into the vehicle and exploding it!
Marneus Calgar and his mates fall out, losing one Terminator in the debris. He decides not to be pinned (roll eyes). The Shootas on the left move forward, looping around to get LOS to the Terminators. Lorilune moves her Wagon around to get shots at the Terms as well and keep her Front Armor towards the PCs.
And the Right Shootas see the Captain out there and everyone clambors forward as much as Orkily possible. Clearly the Beakies do not respect Ork shooting... yet.
The right Shootas open up the Shooting phase in style, downing the Melta bikers and the Captain. The lone, normal biker remains.
Then, everyone, everyone fires at Calgar and the Terminators. The Kans, the Flash Gitz (with AP2!), the left Shootas and the Lootas all fire at the Terms and down... EVERYONE... except for Marneus-freakin'-Calgar. (Gah!)
Da Big Red Cheez also fires it's Killkannon at the PC building, hitting it square on and downing a few marines from each squad (shrug). Calgar still lives, so they decide to stay (that is getting frustrating).
Oh, and in case anyone was wondering, Louie makes a Warpath (shrugx2).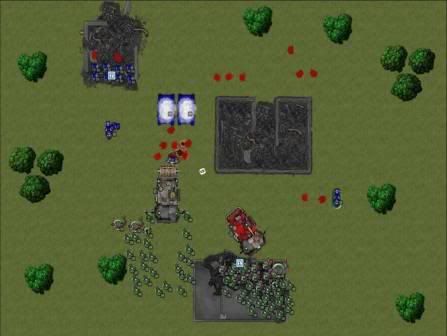 Picture Caption: CALGAR. WON'T. DIE.
Turn 2: Marines
The Marines in their Boxes realize that they must, must destroy Da Beast before it Deff-Rolls more. The Attack Bike moves to the left, the Rhinos roll forward a bit, and Calgar moves to the left, making sure to be as close as possible for the "eventual" assault.
The Attack Bike fires first, hits, pens, but the KFF saves it! (whew!)
A bit surprised, he fires one Rhino's melta and combi-melta, hitting once, penning, but the KFF saves Da Beast again! (huzzah!)
Truly irked the second Rhino fires again with melta and combi-melta getting one pen again, but AGAIN the KFF works overtime and stops the action!
One of the PC has a bead on the Wagon's side armor (it's sort of debatable, but I decide to let it go). It hits, but fails to penetrate.
The Ultramarine player throws his hands up in the air in frustration, but decides to do one last hail mary play and has Calgar assault the Battlewagon. Unfortunately, the Wagon was moving a bit too fast, and Calgar wiffs entirely.
Oh, but he does manage to blow up one Kan with the other Plasma Cannon...
And not to be forgotten, that last Biker decides to try and do some damage and fires into the Lootas, but the Lootas make their cover save without too much trouble.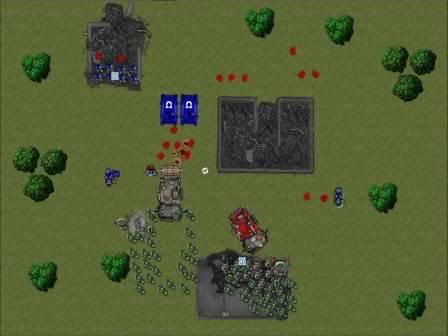 Picture Caption: KFF. Your friend. My friend. Best Friends Forever!