Space Wolves vs Tyranids (1850pts) in "Beastly Love!"
Hi All,
Yes, another Dogboy report!
This one a really good fight against, yes, Tyranids again!
But it's a big point battle that I haven't done yet with the Wolves, and it'll be interesting to see what happens.
Trying out a lot of new things against a veteran opponent, and yes, it turns into a good fight!
Best,
-BT
P.S. As always, C&C is greatly appreciated.
Edit: Darnation! Just realized that the pics are a bit too big. Apologies to all. Just got around to re-installing VASSAL.
SW List 1850pts: 50 Infantry, 4 Vehicles, 16 KPs
Rolf "Dogboy" Blacktooth: WGBL w/ TW mount, Runic Armor, Power Sword, SS
Harald "Mad Harry" Runesmith: RP w/ Term Armor, Jaws of the World Wolf, Murderous Hurricaine
Inquisitor Lord (Lady Agatha Brimstone) w/Psycannon, Hood, Sagex2, Mysticsx2, Servitor w/Plasma Cannon
Wolf Guardx2 w/Terminator Armor, Combi-Melta and Storm Shield in Drop Pod
Sigvald Ironfang (Iron Priest w/Thunderwolf Mount, Cyberwolvesx4)
Callidus Assassin
Grey Huntersx9 w/ Melta, PF/CM WGuard, in Rhino
Grey Huntersx9 w/ Melta, PF/CM WGuard in Rhino
Grey Huntersx6 w/ Melta, PF/CM WGuard in Razorback
TWCx4 w/ TH, SS, MB
Long Fangsx6 w/MLx4, TA-CM WG
Nids of Doom! (1850): 70 Infantry; 12 KPs
Swarmlord w/Tyrant Guard
Zoanthropesx3
Hive Guardx3
Hive Guardx3
Hormaguantsx24 w/Toxin Sacs
Termagauntsx16
Tervigon
Genestealersx8
Genestealersx8
Trygon
Trygon
--------------------------------------------------------------------------------------
"Harry, you're crazy."
Harald "Mad Harry" Runesmith checked his Terminator Armor and shrugged. He gave a lopsided smirk at his two compatriots, Rolf "Dogboy" Blacktoof (leader of their motley crew) and Iron Priest Sigvlad Ironfang.
"Maybe lads, maybe. But you're just patched up, and frankly, there's a lot bugs out there. More than you can handle. The bugs are smart. We need something to be in their faces, grindin' away so we can swoop em' up and take 'em apart. You need Ol' Harry to do that bit of right crazy."
Rolf shook his head, but Sigvald paced a bit and then spoke.
"Harry? How did you think of this idea? I mean, it's not like you've ever used a Drop Pod before. Let alone a SINGLE drop pod with only two other marines. It's just... not your style, should I say."
Harry smirked, "Well, I must admit the idea did come by some... different means."
Rolf and Sigvald looked at each other.
Rolf asked, "Umm... different?"
Harry laughed, "When you go and save the life of a hardcore killer, well, sometimes she gets a bit grateful if you know what I mean."
Rolf's eyes bulged a bit. "You... you... She..."
The Rune Priest laughed heartily. "You'd be amazed what kind of work you can get done if you can look like anyone. Bangin' Saint Celestine for example's always been a lonesome thought in the back of my head..."
Sigvald gagged a bit as mental images that bordered on unrecoverable heresy fled through his mind, but Rolf's more simple thought processes were set on something else...
Rolf paused. "So... it's... not Agatha then?"
Harry's laughter bubbled up again, and the Rune Priest almost fell over.
"Oh, lad (wiping away a tear), you're so funny. No, I wouldna take that prim princess away from ya. You done marked your territory already, and Ol' Harry's understandin' that much. Though you might wanta get a move on, if you know what I'm sayin'."
The Rune Priest went back to checking the Drop Pod.
"Uh, lads? The pointy end goes up, right?"
-----------------------------------------------------------------------------------
Lady Agatha Brimstone checked her sensor logs again. It was clear that the Tyranids were routed from the forest. However, they had managed to hole up again and were reinforced with additional forces from orbit. The Swarmlord (as she now called it), would be there, readying a massive push to try and free itself from the Orks engaging it's lines. Although a bit more dangerous than she had hoped for, inserting the Space Wolves and herself into a small area would give them the best chance of catching the monster and releasing the planet from one of it's invaders.
She paused and turned as she heard... music?
Glancing over her shoulder, she looked at a sight that was, she had to admit, something she thought she would never see.
The Callidus Assassin that she had brought with her, was... bobbing her head in rhythm to the dulcet tone in the air. The Assassin was playing with a small box that played music. It was clearly of Space Wolf design and she was obviously... pleased. Maybe even... happy?
Agatha paused. She didn't think that the Assassin knew how to even conceive of that idea. Glancing over, she noticed a gilt strip on the top labeled, "To Cally: Best One Ever. -Harry"
The Inquisitor smiled. Would wonders never cease?
------------------------------------------------------------------------------------
Mission: Annihilation
Setup: Dawn of War
Terrain: Wintery Forest!
Pre-Game Thoughts: Wow, I'm screwed. A different Nid player, very experienced, who wanted to take the Wolves on. This'll be an interesting fight for sure!
The only catch was that it had to be at 1850. There was a list I had been toying around with, but it wasn't tested... or you know... really thought out. Still, with the pressure on, I threw together what I could. The Pod, for example, is something I've always wanted to try. Wow, this could totally fail. Horribly. And Dawn of War... that's just not so good... Oh, and I do have 33% more KPs than the Nids... Hmm... not good.
Setup: The Nids wanted to absolutely deny LoS and put the single large piece of terrain in the center. As the majority of the Tyranid shooting didn't need LoS, I knew I was in trouble... A number of small bits of forest went here and there, nothing of importance.
Picture Caption: That big thing in the middle is really going to mess with me, I get the feeling...
The Nids win the roll to go first, and deploy the Swarmlord front and center, with the long string of Hormaguants straddling out the left side of the field, everyone up as far as possible. The Tervigon was put out to the right, hanging behind some trees.
The Trygons went to Deep Strike and the Genestealers went to outflank.
The Termaguants were put into reserve.
Trying a completely different deployment strategy, I put Rolf by himself out to the left, getting ready to charge the Hormaguants. Why? Actually, in retrospect it was because I had given Rolf Runic Armor instead of his usual Thunder Hammer, and I noticed a lot of Space Wolf players on the internet were loading their Thunderwolf IC's out and charging by themselves into combat. With 2+ saves and T5, I was hoping Rolf could at least tie up those Hormagaunts for a while, and there's plenty of them for him to be surrounded by and thus not be assaulted. I also put the Razorback hugging the back of the field in the center and a Rhino to the right, looking out at the Tervigon.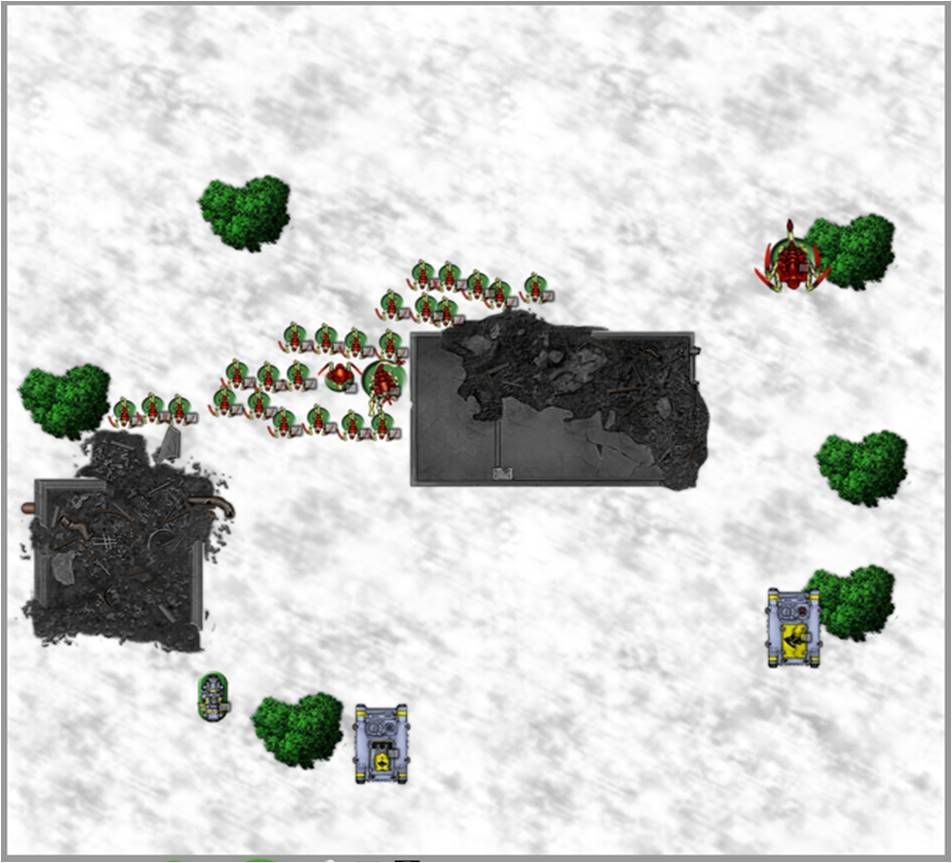 Picture caption: Now this might work... really... uh... kind of?
The SW try to seize, but fail (It's nice to know that some things are consistent, still, have never, EVER seized).
---------------------------------------------------------------------------------
Rolf Blacktooth looked out along the forest treeline. The Thunderwolf Calvary next to him seemed... concerned.
"Sir? Are you... sure? You want to go out... alone?"
Rolf nodded, "Yes, yes, I'll have to. I need to prove to her that I can do it, that I can be that special someone! Yes, yes! I..."
Rolf glanced over at his men who were looked at each other in confusion.
"Uh, well, that is, yes, I'll draw their attention and then you take the flank."
The Space Wolves all nodded. It seemed suicidal, but maybe Rolf had something special planned...
-----------------------------------------------------------------------------------
Turn 1: Nids
As usual, the Callidus is already in operation and "Cally" manages to confuse the Tervigon with a tasty hunk meat left out in the open, and gets it to shuffle forwards as far as possible towards the Rhino.
Picture Caption: Ah, Cally, you always do throw a bit of monkey wrench into the works, don't you?
The Hormagaunts back off from the left side, moving in towards the Swarmlord, who shuffles a bit, but isn't sure where to go at this point.
The Zoanthropes come in near the back center of the Tyranid area and a unit of Hive Guard pops out to either side.
The Nid Shooting is spread out fairly well right now, and the Nids run around a bit, but not much else.
The Tervigon backs away at this point and puts Catalyst on itself, but trips up a bit in cover and doesn't get too far...
Picture Caption: Run, run as fast as you can...
Turn 1: SW
Hmm, odd, nothing's dead yet.
Well, Harry's pod comes crashing down to the right, it doesn't deviate and lands smack between the fleeing Tervigon and a unit of Hive Guard.
The Thunderwolves pop out to the right, running up the field. The last Rhino zooms forward near the center. The Rhino to the right moves forward, making sure to get within Melta range of the Tervigon.
Agatha comes in hugging the back of the board near the center, and the Long Fangs move up a bit to her right. Both Agatha and the Fangs have excellent fields of shooting right now...
Rolf moves forward chasing the Hormagaunts.
Sigvald and his wolves come in on the left.
Shooting begins!
Agatha pops a few hormaguants with her Psycannon. The Rhino to the right shines it's light on the Tervigon and meltas the Tervigon, taking a wound off the big bug. The Cyclone Missles (love 'em) from the Long Fangs take another wound off the big gribbly.
The Razorback fires at the Swarmlord, and does a lucky wound to the Tyrant Guard.
Harry manages to get off Jaws and fires it right down the Hive Guard's row, killing two. I umm... forget to shoot the combi weapons on the Termies to take them down... (doh!)
Rolf gets a great roll for his fleet and I decide to chance it and fleet him into the big Hormagaunt squad.
The Hormagaunts are rather pleased with Rolf's decision, as the Tyranid Player tells me that they have Preferred Enemy and have Toxin Sacs! Which means they re-roll all failed attacks and wounds, and wound on 4+. Wow. Umm... bad decision. The swarm puts a gives him a bucketload of wounds, and Rolf does decent and saves all but one of them, and even manages to take down three. Two more perish due to fearless wounds, but at least they're tied up now. Hmm... maybe this wasn't such a good idea...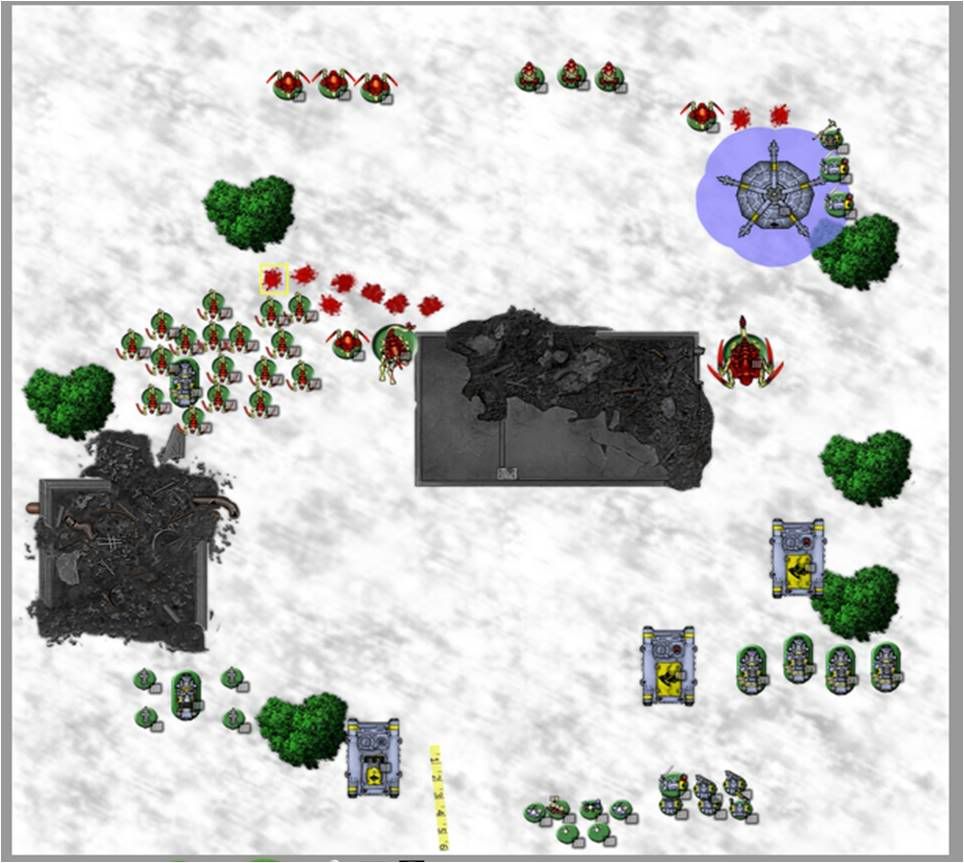 Picture Caption: Mission Control we have tactical failure, repeat, tactical failure...
Turn 2: Nids
One Trygon and both units of Genestealers come in.
The Trygon deviates a bit, but lands right in front of Sigvald!
The Stealers both pop in behind Harry. Well, let's see how that'll go...
All of the nids who can, move forward.
The full unit of Hive Guard fire and immobilize the Razorback. The single Hive Guard fires and takes a storm bolter off the right Rhino. The Zoanthropes try to fry the Termies, but Agatha shuts them down with her hood!
The Tervigon tries to cast Catalyst again, but is again shut down by Agatha. (Wow, I think she just saved us).
The Trygon fires it's umm... whatever it is onto Sigvald, but the Wolves make all their saves.
Assault is pretty well... nasty, as the Hormagaunts manage to finish off Rolf (gah!), and the Termies and Harry are assaulted. The Space Wolves counter assault. They lose one terminator, but take down 3 Genestealers (wow!). The Genestealers hold.
The Tervigon smashes into the Drop Pod and wrecks it.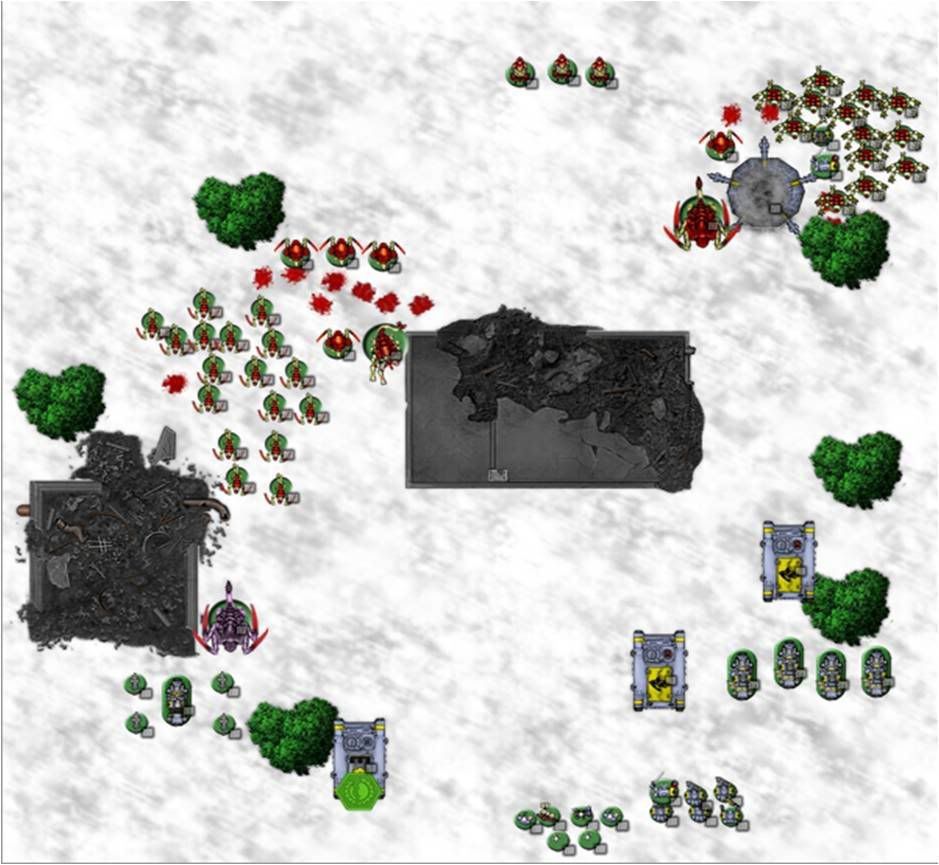 Picture Caption: And the trap is sprung! Sort of... ok, I'm really sort of screwed.
KPs:
SW: 0
Nids: 2
Turn 2: SW
Wolf Guard Ulf Greyfang swayed a bit in his Terminator Armor. The Long Fangs had managed to find a decent area to stand, right next to the pretty Lady. Yes. They were not drunk. No, no not again. That would be... be... Something bad. Probably. Ulf loved his Terminator Armor. Yes. Wow. Ok, maybe pretty drunk. Being assigned to the Long Fangs was much better than with Grey Hunters. The missile-toting wolves could hide drink anywhere. And it was pretty potent. Yes. But he'd still do... fine.
Ulf peered down at the big Tyranid standing out in the middle of everything. Yep. He could hit that, yep.
-------------------------------------------------------------------------------------------------------------
Ok, things could be worse...
And Cally comes in! The Assassin drops right in behind the Zoanthropes. The Nid player looks well... surprised!
Sigvald tries to head out to the left, but it looks bleak for the Iron Priest...
The center Rhino moves a bit around, but just tries to stay out of trouble.
The Rhino to the right continues to move forward, getting ready to cause more damage. The Thunderwolves also run in.
Shooting again!
Agatha and Elsa manage to put a wound on the Swarmlord with some fancy shooting (I've hit dead on with Elsa every time so far...)
The Long Fangs try and take out the Tervigon that is out in the open but with the worst rolling I've had in a long time... everything misses. Yes, six shots. Six Misses. Wow.
The Thunderwolves also get tripped up and get a 1 for their fleet. Oh that's not good...
The Razorback also tries to do some damage to the Swarmlord, but nothing gets through.
The Thunderwolves try to assault through a little patch of forest, but with a 1,2 for assault rolling... it just isn't happening...
Assault is again pretty hairy (ouch pun), but Harry survives a ludicrous amount of attacks. His Termie friend isn't so lucky and goes down. This seems to upset Harry as he takes down two Genestealers all by himself! One group of Stealers loses it's gumption (with a BAD morale check) and runs off the table! The other one decides to stay around.
Cally on the other hand manages to assault in, slays a Zoanthrope with three wounds (!) and another falls due to fearless rolls.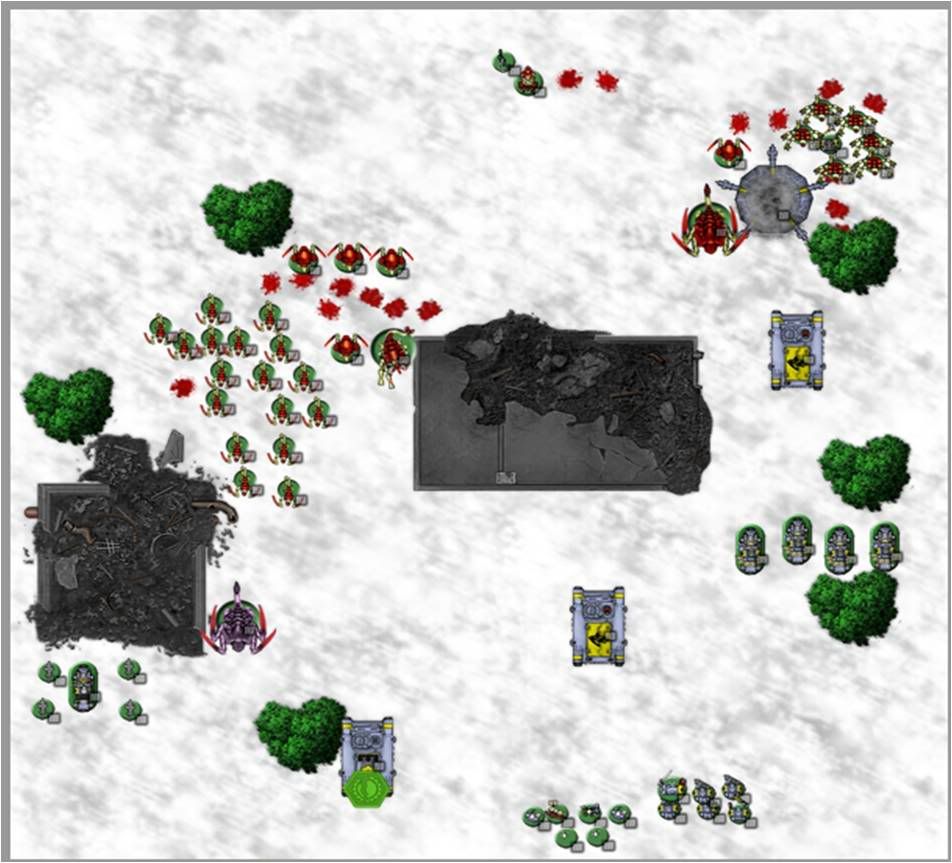 Picture Caption: Dice fail me! Cally, help!
KPs:
SW: 1
Nids: 3
Turn 3: Nids
Agatha twisted around to look at the swaying bunch of Long Fangs. They had just all missed a target the size of a house. And they were... inebriated? She sighed. Luckily she had taken into account such a possibility. Pushing a switch on her belt, she activated the toxin-clearing ampules that the Callidus had been putting in their drinks all night.
The Long Fangs winced in pain as a sudden pain wracked through them. A hangover the size of a Thunderhawk rose in all of them. Suddenly the battle was loud! Too loud! They looked at each other. Whatever was going on, they had to stop all this noise!
There was a sudden scream, as they looked over at the two strange children in Agatha's retinue, who were pointing out at the open ground and screaming about something.
Ulf was about to scream at the kids to shut it, when the ground split with a headsplitting sound and a massive
Tyranid monster appeared.
It screamed an ear-shattering shout, flailing it's limbs, but before it could finish, the Long Fangs slammed it's mouth shut with a fusillade of missile fire!
"SHUT UP!" screamed the Space Wolves. They didn't mind the fighting. Or even the dying part, as long as the damned things kept quiet for the next few hours...
---------------------------------------------------------------------------------------------------
The Trygon and Termagaunts come in.
The Termagaunts come in and decide to huddle in the far left corner for the rest of the game
The Trygon comes in, but deviates a bit far... out into the open... near the Long Fangs and Agatha!
Sam and Samantha, the Mystics, go ape, screaming about "Death from Below!"
The Long Fangs finally find their purchase and hit and wound the Trygon five (!) times!
...
Wow, I guess the lads stopped drinking after all.
The Tervigon moves out to help the Zoanthrope, but things aren't looking so good...
The Hive Guard both move over to try and get some shots out.
The Swarmlord decides that the Trygon needs some major support and starts to move out to help.
Shooting was fairly lukewarm, but did the job.
The Trygon, now badly wounded, shoots out at Agatha, but fails to wound anybody (huzzah!)
The Hive Guard go into action and fires at the Razorback, exploding it, although no marines fall or get pinned.
The other, single Hive Guard fires at the incoming Rhino, but only manages to shake it.
The not-hurt Trygon fires at the now available marines, but none fall! (wow, good saves!)
The Hormagaunts move forward to encircle Sigvald.
The Swarmlord and Tervigon try their psychic trickery, but again Agatha just keeps shutting them down! (Wow, do not mess with her!)
Assault is pretty well... surprising!
The Hormagaunts all attack Sigvald... but again the Cyberwolves hold out! They take save all the wounds (!) and then kill back six guants. Five more fall due to fearless rolls.
The Trygon assaults in and downs four marines, but the Wolf Guard manages to put a wound on the big monstrosity.
Oh, and Harry, finally gets beaten down by the Genestealers, who try to consolidate into some trees, but it's not nearly far enough...
And Cally, a bit insensed that Harry has fallen, quickly guts the last Zoanthrope and consolidates closer to the Tervigon.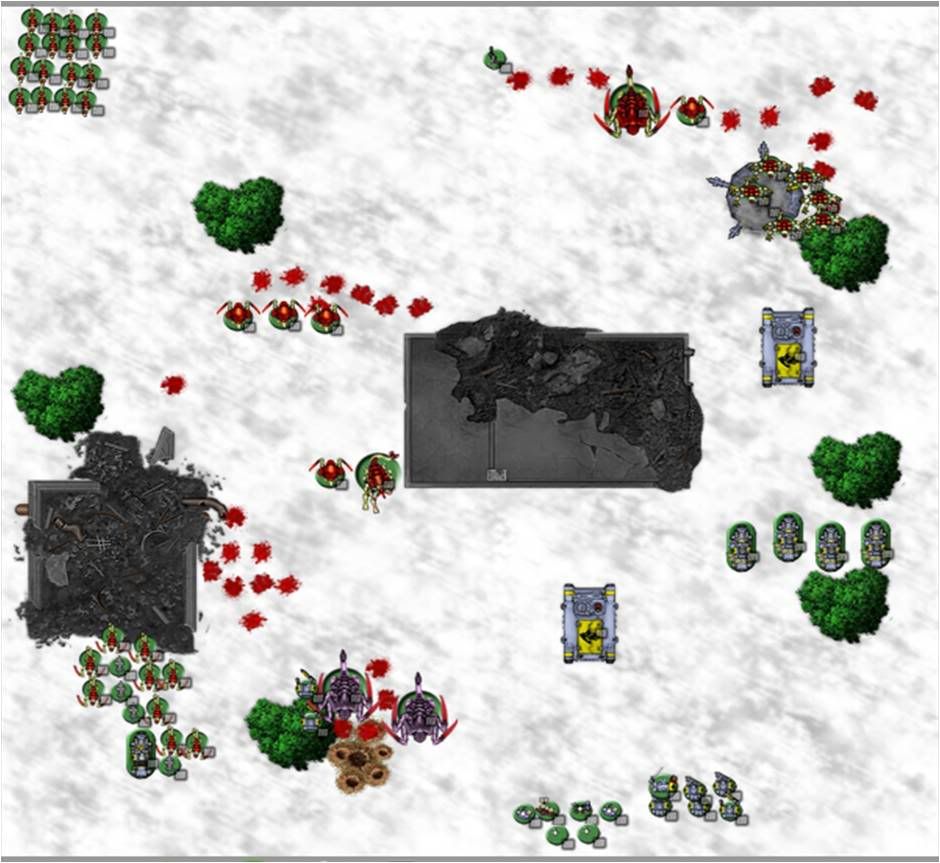 Picture Caption: Match... spiraling... out of... control...
KPs:
SW: 2
Nids: 5
Turn 3: SW
Wow, five to two? This isn't good... Have to make it up now...
The rhino on the right zooms over, the Grey Hunters disembark and get ready to fire!
Cally moves over to zap the heck out of the Tervigon and the single Hive Guard.
The Thunderwolves finally struggle through the trees and get ready to give out the hurt!
And the center Rhino moves forward and gets in the way of the Swarmlord and drops the Grey Hunters off in the face of the heavily wounded Trygon.
Shooting!
The Grey Hunters smirk at the Trygon and melta the last wound off the monster.
The Long Fangs and Agatha combine forces and really do a number on the Swarmlord, downing it's Hive Guard and takes the monster down to two wounds!
The disembarked Grey Hunters rapid fire into the Tervigon and take it down to two wounds.
Cally fires her Neural Disrupter and hits both the Tervigon and the Hive Guard. The Hive Guard takes a wound.
Assault is pretty brutal but necessary, as the Thunderwolves hit the Genestealers and easily wipe them out.
The Guants manage to take down two Cyberwolves, but Sigvald takes down two as well!
Cally assaults into the Tervigon and fails to wound it, but the Tervigon can't seem to get a bead on the Assassin...
And the Trygon finishes off the last of the Razorback Marines...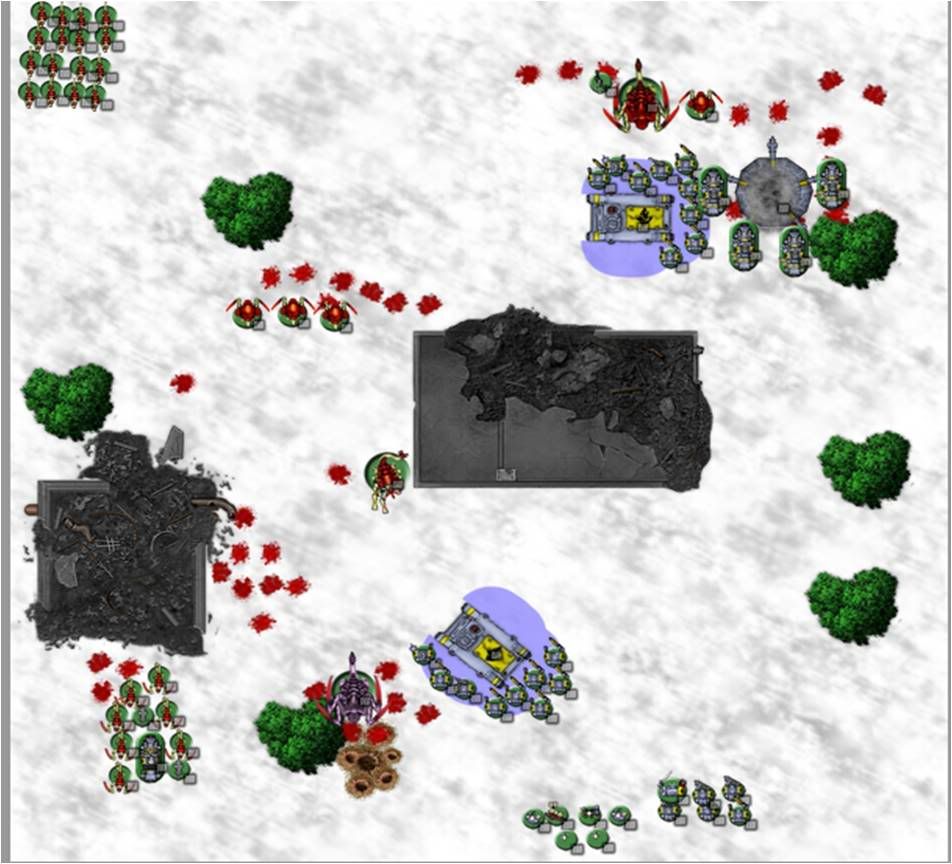 Picture Caption: Well... at least that's some... bugs gone.
KPs:
SW: 5
Nids: 6