WAARGH Grumgutz vs. The Necron Scourge (1850, 2/11) in "Dead to Rights!"
Hi All,
Welcome to another Grumgutz tale!
It's been a while I know, but I managed to get in a decent game and by all shockers it was against... Necrons?
Truly an interesting tale with a umm... maybe not so surprising ending.
In any case, please read and enjoy!
Best,
-BT
P.S. As always, C&C is greatly appreciated.
WAARGH Grumgutz Alterate 64 "Grimskull's Gobsmashas" (1850pts) 72 Infantry, 3 Walkers, 3 Vehicles, 3 Artillary; 13KPs
Warboss Grimskull Gobsmasha (Warboss w/HA, PK, Cybork Body)
Big Mek Wingnut w/KFF
Nobzx7 w/Dokta Chop, PKsx3, BCsx3, Kombi-Skorchasx2, WAARGH Banner, Bosspole (BW Ded. Transport, Counts as Troop)
Tinear and the Deffboyz (Lootasx10)
Irongob and the Tuffboyz ('Ard Boyzx19 w/PK Nob, BP)
Shootazx30 w/PK Nob, Rokkitsx3
Da Fab Four (MegaNobzx4 w/Kombi-Skorchasx2)
Wartrukk (Trukk w/Ram, RPJ, Big Shoota, Boarding Plank; Dedicated Transport)
Da Beast (BW w/Deffrolla, RPJ, Armor Plates, Big Shoota; Dedicated Transport)
Da Big Red Cheez ((BW w/Deffrolla, RPJ, Armor Plates, Big Shoota)
BigToof (DeffDread with total 3 CCW, Skorcha; Counts as Troop)
BigToof's Steelgrots (Killa Kansx2 w/Grotzookas)
Kannonsx3 w/Runtherd
Necron Scourge: 50 Infantry, 1 Vehicle; 9 KPs
Necron Lord w/Res Orb, Veil
Destroyer Lord w/Warscythe, Phylactery
Immortalsx10
Wraithsx3
Warriorsx10
Warriorsx10
Warriorsx10
Destroyersx5
Monolith
----------------------------------------------------------------------------------------------
The Black Forest of Auric IV was known for its dark and inhospitable inhabitants, but at the moment, it was beset with an entirely different sort of visitor (suffice it to say, more inhospital and questionably of an altogether different hue...).
Big Mek Wingnut ordered his driver to stop, snorting and putting down his lookin' goggles. He scratched his head, looking around. The Forest had been nearly trampled to death as every Ork had gone through, beating the bushes (as the Warlord had ordered, although perhaps maybe trampled and dismemebered would have been a better term) looking for the strange, huge Tyranid that had run away from the Orks.
Wingnut sighed. It had been a good part of the day, but not a bit of the Bugs had been found. The Boss would not be pleased.
As if on cue, a roar of engines heraled the arrival of Warlord Grumgutz Bitzgrabber and his Nob Bikers. The Warlord was clearly in a foul mood, getting a generous zone of personal space by even his bodyguards.
Wingnut tried to shimmy behind one of the armor plates on his Battlewagon, but it was no use, as the Warlord gunned his bike and zoomed over.
"Oi! Wingnut! Youz found dat Big Bug or not?!"
Wingnut paused as frantic options popped up in his mind. Feign ignorance? Nah, that's a good way to get a Klaw to the face. Act like ya really did find it? ... And then what? ... Cue Klaw to the face. Admit that ya didn't. ... Hmm... Potential-like Klaw to face, but less likely than the others.
"Uh, no."
Grumgutz snarled and pulled back his Power Klaw. The surrounding Nobz on the Battlewagon ran for cover, knowing that a Warboss induced strike often lead to exploding Wagons.
"But, but dat don't mean we done looked everywhere!" quickly interjected the frantic Big Mek.
Grumgutz paused. "Hmm, dat's true 'nuff. We ain't checked everyplace yet."
Wingnut sighed (as did the surrounding Orks).
"We ain't checked dat big cave over there."
All of the Orks peered out at a large, dank cave cut into the side of a small mountain ridge. The cave was out a bit of the way, with a sort of ominous presence that was palatable in a "don't go in here or you'll probably die horribly" sort of way. Naturally, the Orks had seen it, but noone had ventured to go inside it. Yet.
"Uh, you mean dat real uh... spooky, sorta cave over there?"
Grumgutz nodded. "Yup, dat's da one. I was gonna head down it next, but it seems you done got yourself ready for it already. Smart lad. Now go down there and get me my Bug!"
Wingnut swallowed. He half-wondered if the Klaw to the face option was still available...
--------------------------------------------------------------------------------------------
The wind whistled for what seemed like the umpteenth time and Wingnut peered around the dank, dark passageway. The other Orks, who were rightfully comforted with the knowledge that they were in huge mobz on the way to krump something, were in a better mood, looking around at the stone walls in amusement. Even Warboss Grimskull Gobsmasha was joking around with the 'Ard Boyz, playing "where's dat Squig at?" (a far easier game to play when the Squig is post-mortem).
Wingnut shook his head. He wasn't sure which was the nuttier decision, to ask Grimskull (who was as violently unstable as an open barrel of Skorcha fuel next to a Burna Boyz convention) to come along or the fact that he was going in to find a big zoggin' Nob-Mob-killin' Bug that he really didn't want to find. He considered going back, but remembered the Warlord's Klaw and it's keen almost-impact to his person, and reconsidered.
Even Big Louie hadn't been much in the way of help. Wingnut had asked the Ex-Farseer if the cave was dangerous, at which point the Panzee had broken out in a fit of hysterical laughter and had taken a few minutes to calm down. Wingnut thought that probably meant yes.
He had then tried again to pry some information out of the Panzee, but was only told that "Death and danger will be your only discoveries down there. If you had any ounce of self-preservation or survivalist intellect you would promptly find some way to reassign this foolhardy mission post-haste."
Wingput paused, screwing up an eye in thought. He'd gotten through the first half of the Panzee's words alright, but decodin' Panzee was like poundin' a nail through yer own hand. Kinda uncomfortable, mostly painful, and only reassurin' that you'll be done at some point.
The Ork armored platoon continued forward, making a sharp turn, and then into an enormous cavern. The cavern was different than the others, as it had a number of tall stone structures that could only be buildings.
Wingnut ordered his Lads to check the area out.
Hours passed, but the Orks come back empty-handed. Well, mostly so. A number of them had found symbols and bitz that Wingnut clearly recognized as being Ork!
Wingnut nodded to himself. Looked like some kinda Feral Ork clan, though it was strange that the WAARGH hadn't run into any other Orks on this world then. Usually once Orks were on a planet, they were tougher to shake off than a bunch of grots on a half-baked Squig. Still, Wingnut thought, the buildings did look old. Real old. Maybe something happened to 'em. But what?
A loud grumbling brought Wingnut's attention to Warboss Grimskull who was irked about something.
"ME GRIMSKULL FIND BITZ, BUT BITZ IS BROKEN UP."
Wingnut nodded, "Uh, what kinda bitz are ya talkin'..."
"BITZ STUPID. DIS AM ORK PLACE. WHY ORK WANT LOTS OF SHINY HUMMIE BONES?"
Wingnut blinked as suddenly a lot of things clicked into place. That, and the enormous green glow on the other side of the buildings helped too...
----------------------------------------------------------------------------------------------
The Necron Lords of Auric IV awoke after eons of sleep. Somthing was there. Something was moving. Something... was alive. The undead machines assembled themselves effortlessly, a silent green glow building as the skeleton-like humanoids formed from the scattered and strewn piles where they had lain undisturbed for so long.
Orks.
Orks had come back. No matter. They had embraced death once. They would do so again.
Silent warriors formed into ranks as the Necrons readied themselves for combat...
-----------------------------------------------------------------------------------------------
Pre-Game Thoughts:
I had gone in hoping for a Tyranid rematch but to no avail. Instead, I found a new opponent, who had brought (gasp!) Necrons!
I was a bit surprised, but he challenged the Orks straight up. I must admit I was a bit surprsied to see a lot of interesting faces:
Straight up infantry, with a Monolith, twin Lords, Destroyers and Wraiths.
Hmm, haven't seen wraiths for a while... And a destroyer Lord to boot! In any case, it's a good deal of nasty Necrons, with the Monolith there to cause trouble.
Still, at least there's no C'tans...
He also had a number of Necron upgrades that I hadn't seen in action yet, and he was pleased to go into detail about them.
I introduced my Boyz and started to go over them as well, but I was told that I didn't need to, as he reguarly played against Orks.
...
Oh. Good.
He did ask me where the rest of my Boyz were at...
I raised an eyebrow at this, but it let it go.
Hmm, hope this won't be for KPs...
Mission: Annihilation (Oh... boy...)
Setup: Pitched Battle (could be worse...)
Terrain: Ruins (back to basics!)
Setup: Terrain was once again, fairly well scattered, with two decent sized multi-stories in the back. Given my last game, and it's total lack of terrain, I was satisfied with what I could get.
The Necrons won the roll to go first and... passed it to the Orks?
...
Hmm, an interesting idea.
In any case, the Orks setup as usual, slightly to right of center:
Battlewagons in the center, with Da Beast holding Wingnut and the Nobz, and Da Big Red Cheez holding Grimskull and the 'Ard Boyz.
The Trukk with the MANZ went behind them.
BigToof went to the left of the Wagons, and the Kans to the right.
The Shootas piled in the area behind them.
Also, the Lootas went in the left rear ruin, and the Kannons went to the right rear ruins.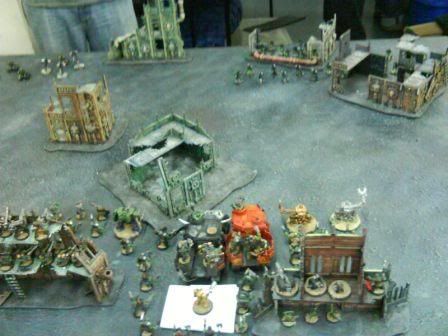 Picture Caption: Pretty much standard, ready to roll!
Now the Necrons setup:
The Necron commander was obviously wanting to see how I deployed, as he had created a dual wing seup for his army.
To the left, he put the Destroyer lord with the Wraiths and the Destroyer pack.
Two packs of Warriors went to the right rear of the board, with the Immortals and Necron Lord in front of them. All of the foot-sloggers were staring down the Battlewagons, but seemed to care little.
The Monolith was put into reserve with a unit of Warriors.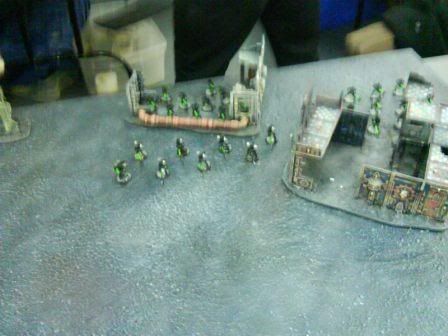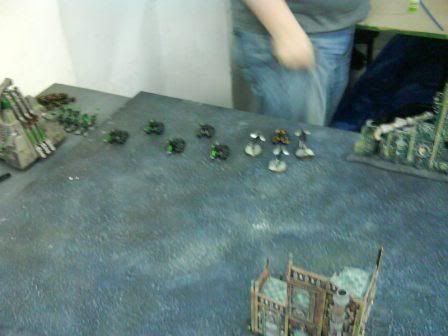 Picture Caption: Double the Pleasure! Double the Fun!
The Necrons opted to try to steal the initiative, but failed.
Turn 1, Orks:
The twin Battlewagons lead the way as the Orks trampled their way towards the green glow on the opposite side of the city. Wingnut nodded, peering out over the top of his Wagon.
"It's Tin-'Eads, Lads. Sorry, no Bitz 'ere. Hmm, dey's just hangin' out over dere. Like they ain't done seen us. Maybe if we can just..."
"Oi! Youz guyz! We'z over here!"
Wingnut looked down in shock as he saw Deffdread BigToof waving his arms around.
The rest of the Orks looked around, shrugged and began yelling and hollering as well.
The Necron force slowly turned their heads towards the noise.
"DAT's GOOD IDEA!" snorted Grimskull, "NOW DEY SEE US GOOD."
The Warboss patted the still shocked Wingnut on the shoulder.
"KRUMP DEM ALL!" the Warboss added. The rest of the Orks (save one, still shocked Big Mek) answered in a hearty roar that shook the cavern.
----------------------------------------------------------------------------------
Again, the Orks show that they've never understood this whole "bait" concept, and both of the Battlewagons rush towards the Warriors and Immortals, with the Trukk zipping out to the right, keeping up with the line.
The rest of the Orks all raced fowards. The Kannons fired at the Immortals and took down one Immortal and one Warrior.
The Lootas fired at the Destroyers, but all of the big Necrons made their armor saves. (gah!)
Turn 1, Necrons:
The Warrior gets back up, the Immortal... doesn't.
The Warriors back up a bit, trying to keep away from the Orks while maintaining their cover (uh... yeah, that might work).
The Necron Lord veils his Immortals into the Orks' backlines and rapid fires the Lootas, who take cover and take... one casualty (Yay!)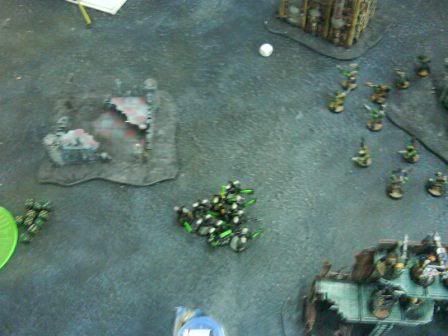 Picture Caption: Deep Strike!
In a bit of zoomy madness, the Wraiths and Destroyer Lord plow towards the center of the board, blocking for the Destroyers.
The Destroyers move forward to the center as well, and fire at Da Beast's side armor, but only manage to shake it.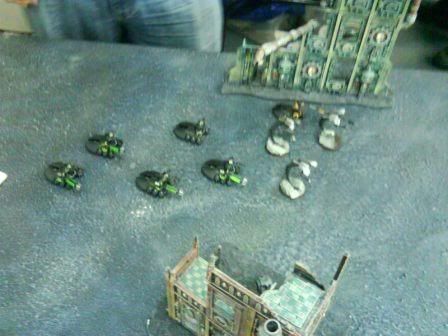 Picture Caption: Destroyer Slide!
KPs:
Orks:0
Necrons: 0
Turn 2, Orks:
Hmm, wow, everyone actually moved up.
Da Big Red Cheez rolls up and Grimskull and the 'Ard Boyz pile out in front of the center block of Warriors.
The Wartrukk rolls through cover and does the same with the Meganobz to the right Warrior block.
Da Beast also rolls forward and deploys out the Nobz in front of the Destroyer Lord, who get ready to assault.
The Shootas also move up towards the Destroyers.
Shooting is a whole lot of not much, as the Kannons fire at the freshly deep-struck immortals, but they have bad scatters and no Necrons suffer any wounds...
I looked up at the Necron commander, who seemed sort of strangely confident at this point.
Then, I declared Grimskull's WAARGH!
<initiate Necron facepalm moment>
(Sidenote: Just realized that he's never faced Mech Ork before!)
The Orks all fleet forwards and easily get into assault range.
Assault is brutal:
Grimskull and the MANZ destroy ALL of the Necrons for no losses.
The Nobz actually do pretty well, and despite horrible saves on both our parts, they take down the Destroyer Lord and the Wraiths while suffering 6 wounds (ouch, that Warscythe hurts!)
And the Shootas manage to get in and nicely tie up the Destroyers. The Destroyers roll well and take down 3 Orks, but the Orks stay stuck in... and the Nob with his PK catches up with the pile-in.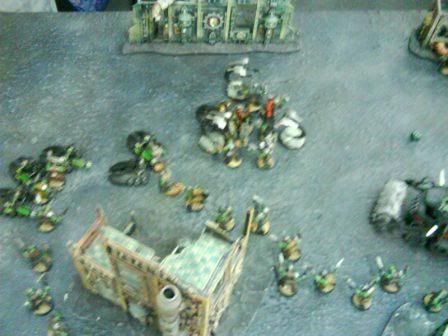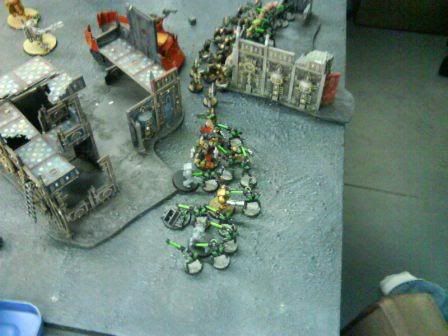 Picture Caption: And that's a nice assault!
Turn 2, Necrons:
Well, that didn't work out as planned for the Tin 'Eads obviously...
The Destroyer Lord fails his Phylactery roll (doh!).
The Monolith and Warriors become available though.
The Monolith, going completely balls out, deep strikes into the heart of the Orks, right next to both Battlewagons and a LOT of Orks.
The Necron Lord does the same and NICELY lands right between well... a LOT of Orks.
Two perfect Deep Strikes in a lot of potential mishap space. Seems the Star Gods haven't given up on this one entirely yet.
The Warriors disembark from the Monolith right next to the 'Ard Boyz...
The Necrons then try to shoot the Greenskins up:
The Monolith sprays the area with Gauss, wounding Grimskull, and taking down a Nob from Da Lucky err... Six now.
The Immortals fire into the waning Nobz mob and knocks them down to three (2 PKs and the WAARGH Banner/Big Choppa).
The Warriors fire into the Tuffboyz and only succeed in wounding Grimskull... again. (I think the Warboss is the only one who doesn't think of ducking against the really painful green Gauss-y death weapons...)
After all that shooting, the Nobz dust themselves off and hold their ground!
If the Necrons could break out in a cold sweat, they would be doing so right about now.
Oh, and the Destroyers start to get worried as three of their number fall to rather lucky Shoota bashing and PK usage. However, they easily make their Morale check and stay stuck in.
KPs
Orks: 4
Necrons: 0
Turn 3, Orks:
Well, it's just down to the last few now.
The Battlewagons zip around, mostly to deny an easy assault.
The Wartrukk moves forward to pick up the MANZ.
The Kans waddle forwards.
BigToof takes a nap as I completely forget about him (doh)!
The Lootas fire out and take down three Immortals.
The Nobz and 'Ard Boyz slam into the Warriors and wipe them out.
Oh, and the Shootas finish off the Destroyers with a few well placed Klaw hits.
After doing a quick count, the Necrons realize they can't make the Phase Out number, even if all the Immortals get up...
KPs
Orks: 6
Necrons:0
Result: Ork Victory!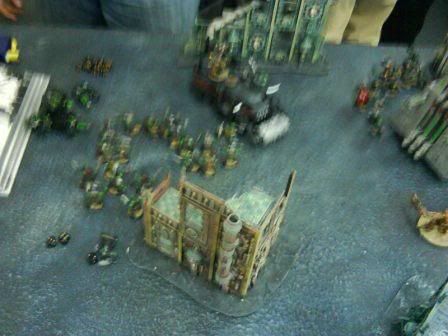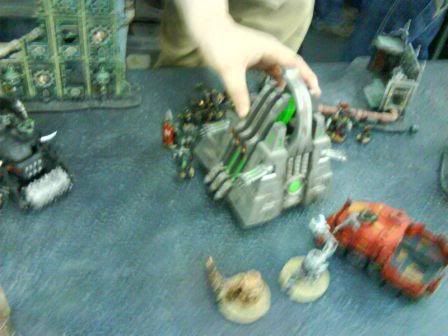 Picture Caption: Awww, takin' the Monolith away...
Post-Game Thoughts: "Knowing is half the battle!" Truer words have never been spoken, especially in this game. Clearly, the Necrons completely forgot about the WAARGH, and distanced themselves expecting to be just out of assault range. With the extra bump from the WAARGH, though, the Orks managed to get everyone into choppa range, which well, didn't go well for the Necrons. A good, if somewhat lopsided game, and hopefully the Necrons will be back (I mean, that's what they do, right?). I still want to krump that Monolith!
------------------------------------------------------------------------------------------
Warboss Grimskull snarled, running forward at the huge, strange silvery pyramid. He looked over and snorted as he saw Deffdread BigToof running at the pyramid as well. Grimskull snarled, putting his head down. He was going to krump that big thing no matter what. With a bit of luck, he'd even get there first!
BigToof also had just woken up after a quick snooze and, after making sure nobody had noticed, was going all out at the huge silver... thingy. BigToof wasn't sure what it was, but it was big, shiny, and probably not on their side, which was plenty enough reasons for krumpin'.
The two incredibly powerful, krumpy, Orky forces of nature went full-tilt, leapt into the air (more for the look of it, they didn't get much altitude) and came down... just as the Monolith shimmered and vanished.
The duo came together with a sound much like a Mega-Armored Nob taking a header off the back of a Stompa. The surrounding Orks winced, and only Wingnut was brave enough to go and check out the thoroughly concussed duo.
Grimskull snorted and looked up at the pair of swimming Wingnuts.
"DAT AM GOOD TRICK WINGNUTS. WE IZ GET IT?"
"Yeah?" added BigToof groggily, "Did we krump it good?"
Wingnut looked around. Not a trace of the Necrons were left.
"Uh, yeah. Youz is krumped it so good, dere ain't even bitz left."
The Deffdread and Warboss klinked massive Power Klaw and slightly-less massive Power Klaw together.
There was krumpin' and then there was KRUMPIN'. Clearly Gork was lookin' in on 'em.