Busted out my Daemon hunters later tonight, for one game at my local stores vet night. Ran into a Black Templar player for a game.
My list.
Strikeforce Novacat.
-Brother Captain Stern
-Grey Knights squad Maurice
x9 grey knights
Justicar w/meltabombs, targeter, frags, unguents of warding.
-Grey Knights Squad Julian
x9 grey knights
Justicar w/meltabombs, targeter, frags, unguents of warding.
-Storm trooper squad
x7 storm troopers, x2 meltaguns.
-GK Dread, with Missile, lascannon, blessed hull, extra armour.
-Melta torpedo orbital strike.
His list had.
Marshal w/command squad (whole bunch of crazy shit) in a drop pod.
Emperors champion
chaplain with jetpack
one large squad of space marines with terminator honours, pair of lighting claws, and a power sword.
Two small units of space marines (five or six models) with powerfists and power weapons (IIRC)
Dread with flamer and multi-melta.
Assault squad of five dudes, one meltagun and all have meltabombs.
His vow, was one which gave his units fleet of foot.
Mission was secure and control. He placed his objective in the back corner of his deployment zone, I put mine way out in front. Deployment was Dawn of war and I was voleentold to go first.
I deployed my stormtroopers halfway up the table in a ruined building, nearish to my objective, while he deployed one of his small squads across from my stormies, and the other at the left hand side of the table.
Turn 1.
I bring in my dread on the right flank, and the two grey knight squads and Stern on the left. In shooting, the storm troopers shoot at his squad of marines near them, and although they cause a few wounds, he doesn't fail any armour saves. My grey knights are more lucky on the left flank, and nuter his small squad on the left. The dread runs forward a bit.
In his turn, he brings on his assault marines and dread on the right flank, his massive space marine squad with chappy and Emperors champion on the left.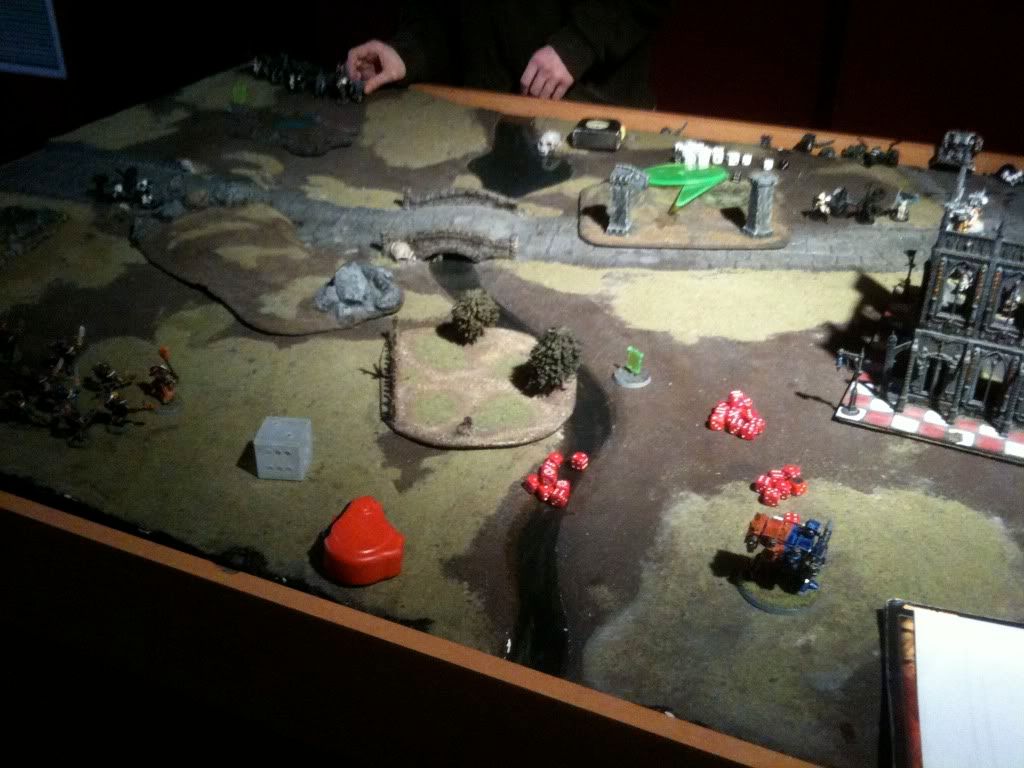 while the drop pod slams down between my Storm troopers and my objective. His moving besides that is minimal. The squad on the left falls back, while the one on the right moves more towards my stormies. The command squad shoots a meltagun at my dread, who laughs at their defiance.
Turn 2.
My orbital strike comes in this turn! yay!
Now then, the command squad could be a pain in the ass. I crept my dread up to them, while my two grey knight units kept banging north. I started shooting at the command squad with the storm troopers, who killed three with their hellguns and meltaguns. The dreads lascannon nuked the Marshell, while the missile reduced the squad down to one model (Blast weapons+people using drop pods makes me hot). I then fired Squad Julian's storm bolters at the last guy, killing him good. Squad Maurice, fired at the small squad of marines on the left flank, reducing it to tree models, then the Orbital strike landed on them melting two marines into a delicious pile of good, then also pinning the squad.
In his turn, the Chaplain split off from the larger squad of marines which kept advancing towards me. The units on the right kept heading towards me as well. Running and stuff.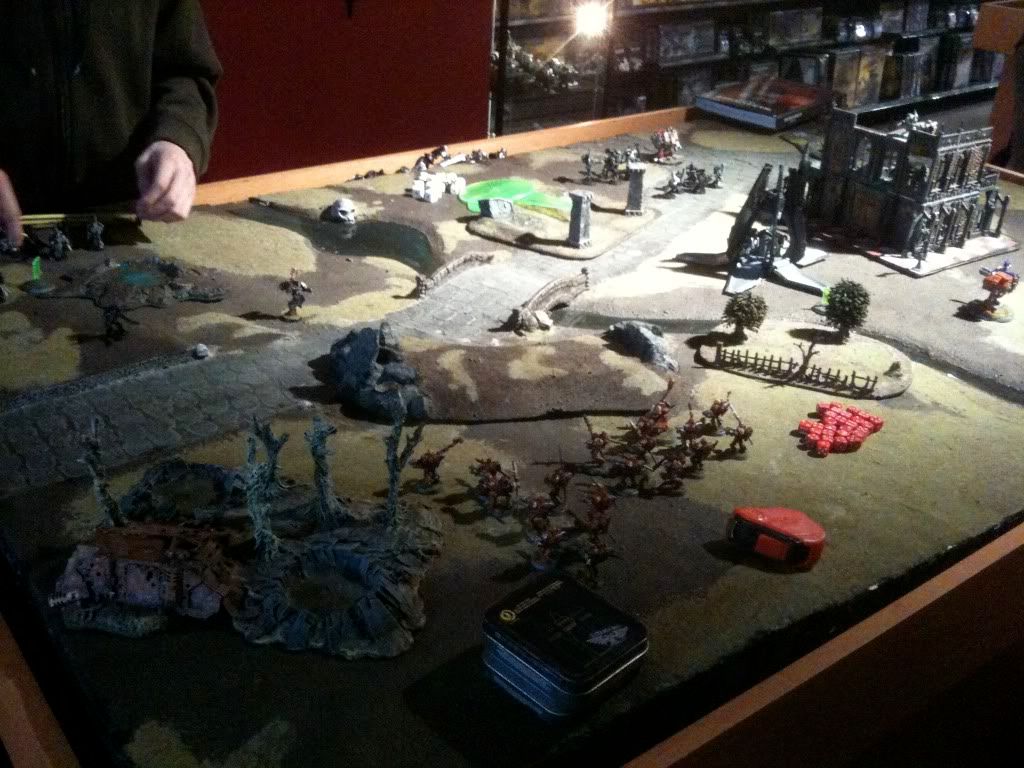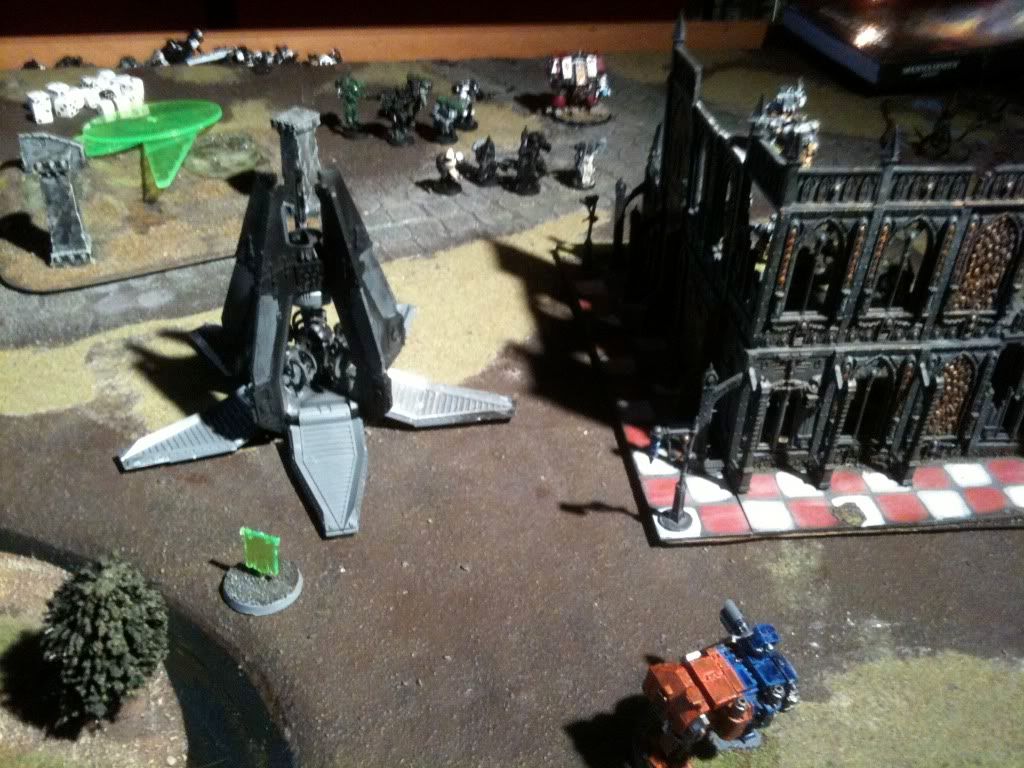 The assault marines jump next to the drop pod, and try to melta-gun my dread, but are out of range.
Turn 3
Squads on the left keep advancing forwards, shifting a bit to the right. Dread shuffles to get a bead on his. In shooting, squad Julian fires at the assault marines, with nill effect, while squad Maurice kills the chaplin with a hail of storm bolter fire. The orbital strike
just
misses hitting the last model in the small squad on the left flank (Now perched on his objective).
Right, so things get messy here. The large crusader squad advances to within charge range of squad Maurice, while his small squad on the right gets into the ruins.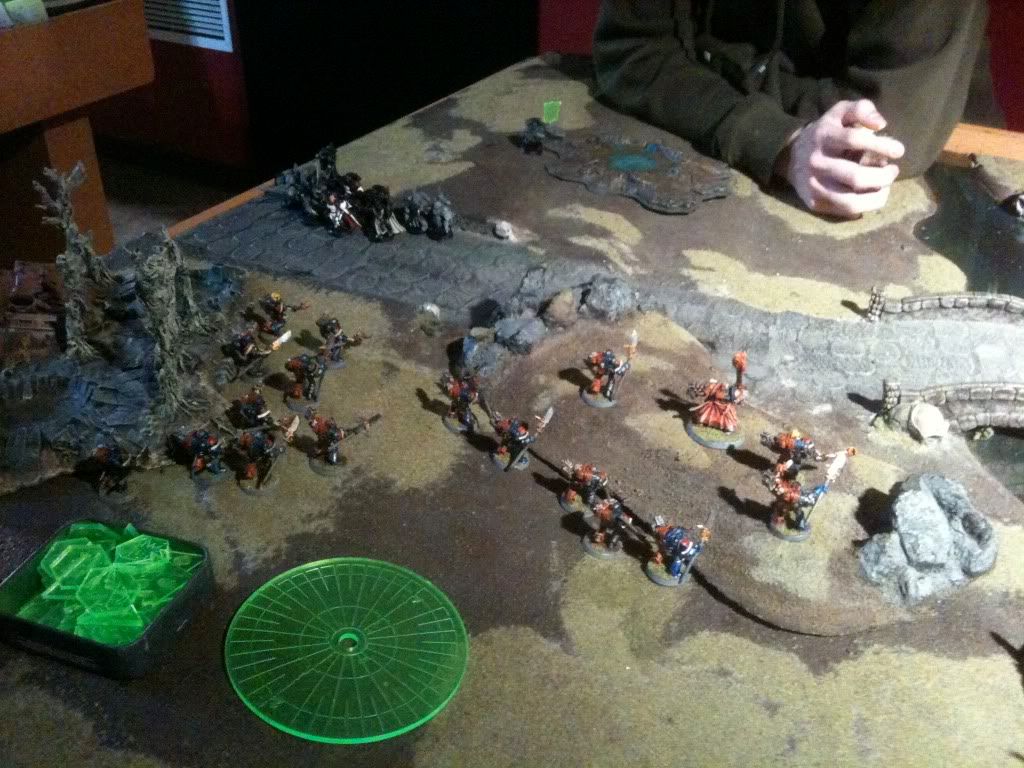 The assault marines jump near my dread. In shooting, the meltaguns are out of 6, but still shake me.
The squad on the right flank runs further into the ruins, while the larger squad with the emperors champion on the left shoots some pistols at me. He then procceeds to charge me with both units (Emperors champ, and his squad into my grey knights. Smaller squad into my Storm troopers). Both combats end with my units wiped out completely.
Turn 4.
Stern, is now pissed. Him and squad Julian prepare to counter-charge the Emperors champion and cronies, while my dread is about to kick some assault marines. So grey knights charge and kill the crusader squad and emperors champion without too much worry,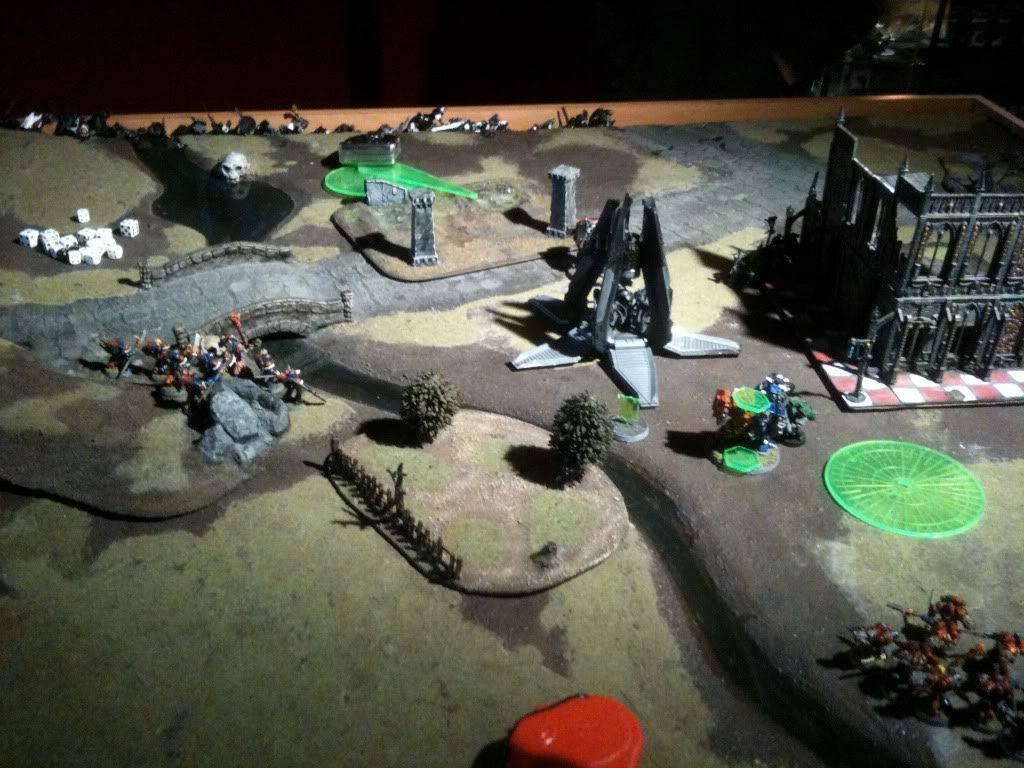 while the dread charges the assault marines and kills one. The assault marines grenades manage to immobilize my dread.
Not much he can do at this point. His lone marine on the left flank bunkers down, while the other remaining marine squad clambers through the building. His dread lumbers towards my doods, and fires a multi-melta at me. How rude. In assault, his assault marines finally kill my dreadnought, and advance past the drop-pod.
Turn 5.
I move and run my grey knights squad onto my objective (Barely...), while stern is unable to charge what I wanted him to (the dread) so settles on killing the remaining assault marines. Also, the orbital strike lands on, and kills the last of the squad on the left flank. Huzzah!
The dreads guns kills stern, and his tactical squad kills one of my guys.
At this point, the game comes to an end, with both of our forces quite bloodied, but as his drop-pod is still camped on the objective, the game is a draw. If the game went on for one more turn, his dread would have eaten through my squad without a worry.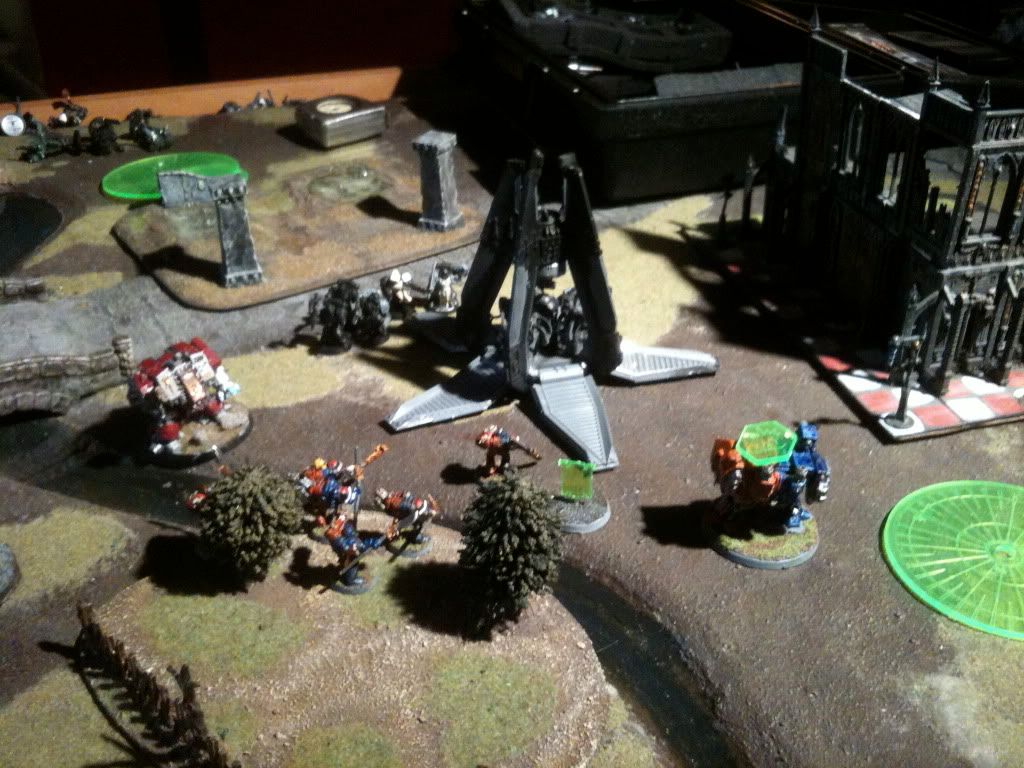 I am still not terribly good at predicating how far my opponents units could move. I don't like units that can fleet of foot, always catches me off guard. Most likely should have stuck a grey knights squad on that one ruin. They would have been far harder to move.
Anyway, thanks for reading.