First things first I played this battle against myself and am not that skilled with space wolves so the results might be a bit skewed. (I know I made quite a few mistakes with them I think)
(I'm using a different Chapter for fluff)
I took a Space Wolf list from here
http://forums.tauonline.org/index.ph...c,92741.0.html
TODEX: Tau Empire 3.30
Farsight's Outcasts
1997
HQ
Commander Farsight 185
2 Crisis Guards Both with Ion Rifle Plasma Rifle Iridium armor Multi-tracker 190
Hazard Commander "Commander Fireblaze" 2 Fusion Cascades Ablative Armour Shield Drone Tech Drone 180
Elites
Troops
3 XV-9 Hazard Suits "Blinding Spear": 1 suit with Ablative Armour and 2 shield drones 2 suits with 2 gun drones each 280
3 XV-8 Crisis Suits "Deathrain" TL Missile Pods Iridrium Armour 225
3 XV-8 Crisis Suits "Deathrain" TL Missile Pods Iridrium Armour 225
11 Kroot 77
Fast Attack
8 Pathfinders Shas'ui Battlenet 137
Devilfish Hull Markerlight 2 Burst Cannons Disruption Pod Targeting Array Target Lock 100
Heavy Support
Skyray Seeker Missile Array 2 Burst Cannons Disruption Pod Targeting Array 180
Hammerhead Solid Shot Railgun Disruption Pod Multi-Tracker Target Lock 165
Hammerhead Solid Shot Railgun Disruption Pod Multi-Tracker Target Lock 165
+++++Transmission+++++
Space Marines of the Shadow Wolves I here by humbly request assistance in the defending my research facility against Tau forces encroaching on the facility.

=I= Inquisitor Lord Zadion
+++++Transmission Ends+++++


====Battlenet Update=====
Gue'vesa outpost has detected.
Orbital scans indicate Tau Prisoners may be held at the facility.
We will free our brothers.

====Battlenet Update=====
Outpost is deploying defence forces.
Based on Headings battle will commence in grid 45-27


Mission: Capture and Control
Deployment: pitched battle

Deployment
The Tau get the first turn and the SW fail to steal the initiative.
Tau turn 1
====Battlenet Update====
Seeker Missile launch authorised, Firing.
3 Battlenet tokens are generated.
Missile and Railgun fire result in an effective first turn turn taking 3 vehicles out of action. while seeker missile fire from the skyray and pathfinders take out 8 long fangs
Space Wolf turn 1
++++Transmission++++
Return Fire! Return Fire!
The remaining Long Fangs return fire on the Tau killing one Deathrain squad and destroying a railgun while a lucky plasma shot sees the end of the devilfish and 7 of the kroot in the explosion.
The Tau ''bonus fire' sees the deathrain team and the Hammerhead with railgun firing resulting in a shaken rhino.
Tau Turn 2
====Battlenet update====
Initiate Mont'ka plan 425 Armoured Spearhead
A seeker missile barrage from the pathfinders kills 4 grey hunters, a Railgun slags a rhino while the battlesuits rain death on the wolf guard who break with the help of a bit of markerlight magic.
Space Wolf Turn 2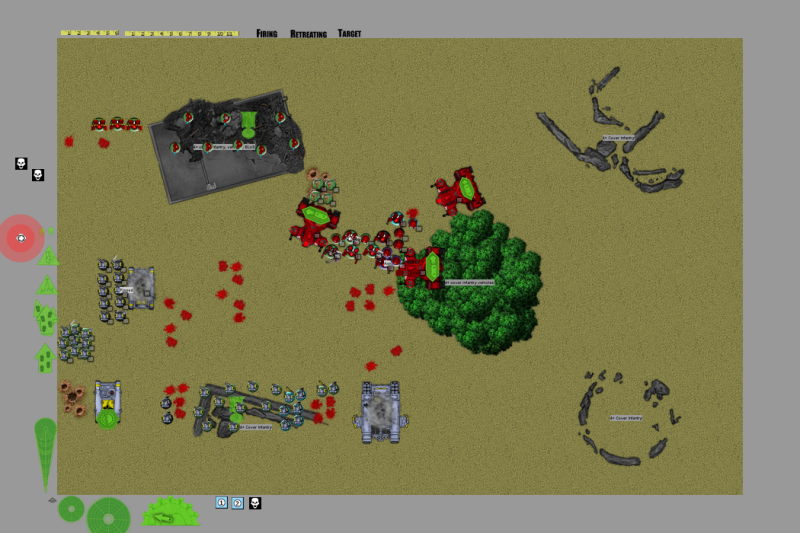 ++++Transmission++++
Commander Tau Xeno's seem to be deploying new technology.
We can't wade through their fire!
The grand total of Space Wolf shooting is a single wound on a crisis suit.
In return the 2 battlesuit squads annihilate a squad of grey hunters and Terminators.
Tau Turn 3
====Battlenet Update====
Weapons Failing estimated time till critical failure 5 minutes.
More Space Wolves fall to the Tau guns from the slowly advancing Tau Battlesuits not much else happens (or the entire game in fact)
Space Wolves Turn 3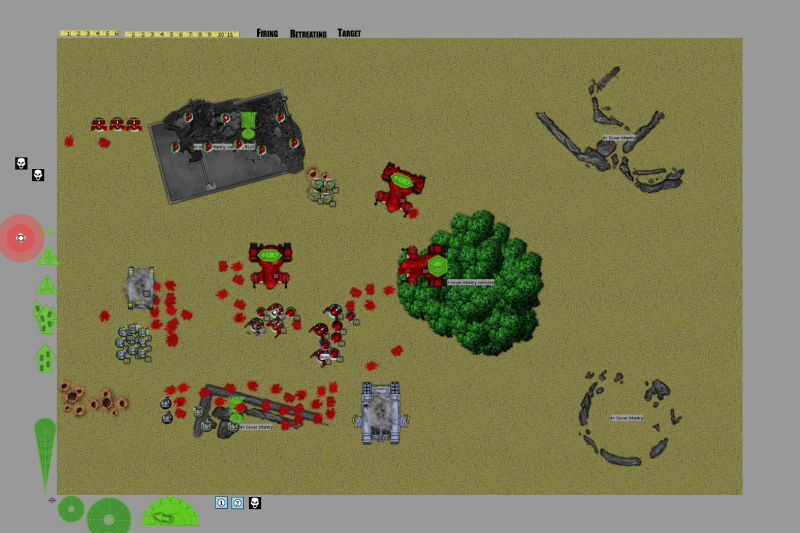 ++++Transmission++++
They keep firing! Don't they need to reload!?!
Shooting results in killing the previously wounded crisis suit and the offending grey hunter squad.
Tau Turn 4
++++Transmission++++
Brother Gartharion here initiate evactation of Post Gamma. Tau Spearhead has not been stopped, I repeat Tau Spearhead has not been stopped.
All remaining space marines are mopped up this turn with the very last marine falling to Farsight's blade.
Losses:
Tau:
3 Deathrain Crisis suits
1 Crisis Guard
7 Kroot
1 Devilfish
1 Gun Drone (to a Dangerous Terrain)
Space Wolves:
Umm... Everything
Concusions:
The "Sio't'shas – The Aggressive Warrior" Either needs to go or be modified. (only conclusion I can draw from this battle which felt like 7 turns of tau shooting with minor movement and 2 turns of space wolf fire)
Edit: Except maybe a point I made earlier about Tech drones and them making too much of an impact for their points.