So, some time ago, LGT and I were having a chat in the TO chatroom, as you do, and the subject of balancing a few rules came up. So, with nothing better to do, we had a game via VASSAL (which was split in to two halves over two days, due to time constraints).
I set up the board, in a way LGT said was fair while he wrote up his list. And speaking of those lists:
Army Lists
Tau
HQ
Shas'el Fal'shia Rey'ka
Shas'el
Saturation Bomblet Launcher
Missile Pod
Shield Generator
Multi-tracker
Total 130
Shas'el Fal'shia Li'phi
Shas'el
Ion Rifle
Plasma Rifle
Rail Rifle
Multi-tracker
Total 115
Troops
Deathrain Team
XV 8
Twin-linked Missile Pods
Targeting Array
XV 8
Twin-linked Missile Pods
Target Lock
Total 135
Sunforge Team
XV 8
Twin-linked Fusion Blasters
Targeting Array
XV 8
Twin-linked Fusion Blasters
Target Lock
Shas'vre
Total 120
Mech Squad Alpha 105
8 Fire Warriors
Shas'ui
Bonding Knife
Markerlight
Warfish 125
Devilfish APC
Smart Missile System
Vehicle Multi-tracker
Targeting Array
Disruption Pod
Sensor Spines
Flechette Discharger
Total 230
Mech Squad Bravo 105
8 Fire Warriors
Shas'ui
Bonding Knife
Markerlight
Warfish 125
Devilfish APC
Smart Missile System
Vehicle Multi-tracker
Targeting Array
Disruption Pod
Sensor Spines
Flechette Discharger
Total 230
Fast Attack
Piranha Skimmer
Piranha TX-42
Twin-linked Fusion Blasters
Targeting Array
Disruption Pod
Total 75
Tetra Jetbikes
2 Tetras 70
Total 70
Heavy Support
Sky Ray
Sky Ray Missile Gunship
Seeker Missile Rack
Smart Missile System
Vehicle Multi-tracker
Targeting Array
Disruption Pod
Sensor Spines
Flechette Discharger
Total 200
Fusionhead
Hammerhead Gunship
Fusion Cannons
Smart Missile System
Vehicle Multi-tracker
Target Lock
Disruption Pod
Sensor Spines
Flechette Discharger
Total 195
Army Total 1500
Imperial Guard
HQ
Company HQ Section
Total 50
Elites
Stormtroopers w/ meltaguns
Total 185
Stormtroopers w/ meltagun
Total 175
Stormtroopers w/ meltagun
Total 175
Troops
Rifle platoon
HQ Section
3 Infantry squads
Weapons squad (Heavy Bolter)
Total 255
Rifle platoon
HQ Section
3 Infantry squads
Weapons squad (Heavy Bolter)
Total 255
Rifle platoon
HQ Section
3 Infantry squads
Weapons squad (Heavy Bolter)
Total 255
Heavy Support
Griffon Mortar
Total 75
Griffon Mortar
Total 75
The Map
Here's a lovely picture of the aforementioned map. Some kind of forest outpost or secret base.
The Mission
Finding that the hated Gue'la are performing some kind of research on captured Tau subjects, the N'Drasian Lancers decide to do something about it. In this case, to destroy the Gue'la responsible. Garrison forces appear to consist of only light infantry and light mortar carriers. Threat negligible to armoured units. Suggest approach in armoured spearhead to ensure rapid breakthrough.

+++Incoming Transmission+++
The Xenos Tau are moving on your position at full strength, request that you deny them via any means necessary. Use extreme prejudice. Reports indicate the cadre is vehicle heavy, so watch for mechanised attacks. Ksalian Elite released to your command for this battle. Use them wisely.
+++Transmission Ends+++
Objective: Annihilation
+++Intercepted Battlenet Communique+++
Outrider 2-4 has…enemy movement…permission to engage…cadre forwards. Permission denied… recon…rear line. Locate…ible reinforcements. Disrup…
+++Intercept breaks up+++

Deployment of Valkyrie AAC's is go. Standby for HALO drops, Ksalian Elite.
Ksalian First Company, form up and move to engage
now!
Deployment: Dawn of War
Initial Deployment Map
Tau Turn One
Movement
"Sir, sir, they've seen us coming, we can't get any closer without alerting them to our full strength.
Soldier, use what we have, the rest will catch up by numbers."
Much of the Tau forces move on in this turn, only the Tetras (represented by Warbikers, later) and the Secondary commander electing to stay in reserve. All forces in the east and south move forwards at maximum speed. Western forces hold back, preparing to engage any new hostiles.
Shooting
Target the central squad. Let's show these Gue'la what happens to those who stand in the way of the greater good.
Concentrated fire sees the first Ksalian platoon (LGT combined his squads, this being a kill points mission and all) whittled down to half strength, and sent fleeing from the table. Minor casualties caused among a heavy bolter team. They held their ground.
Assault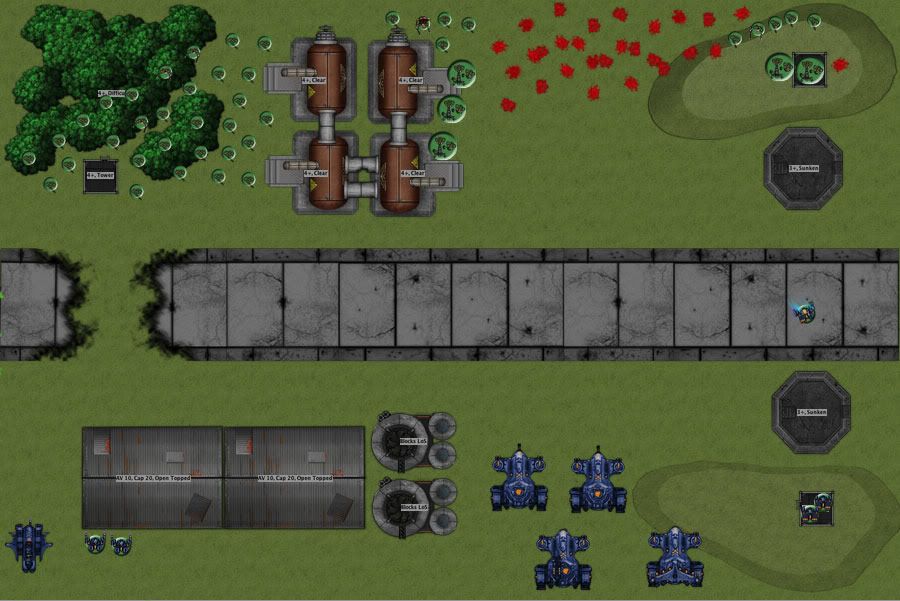 Here we see that the squad died at the board edge, obviously from a very judicious (off screen) commissar. The Tau commander jumps back slightly.
IG Turn One
Movement
"Sir, the Fifteenth, they're… gone."
"Too bad, we could have used their help. Send in the Seventeenth as replacements.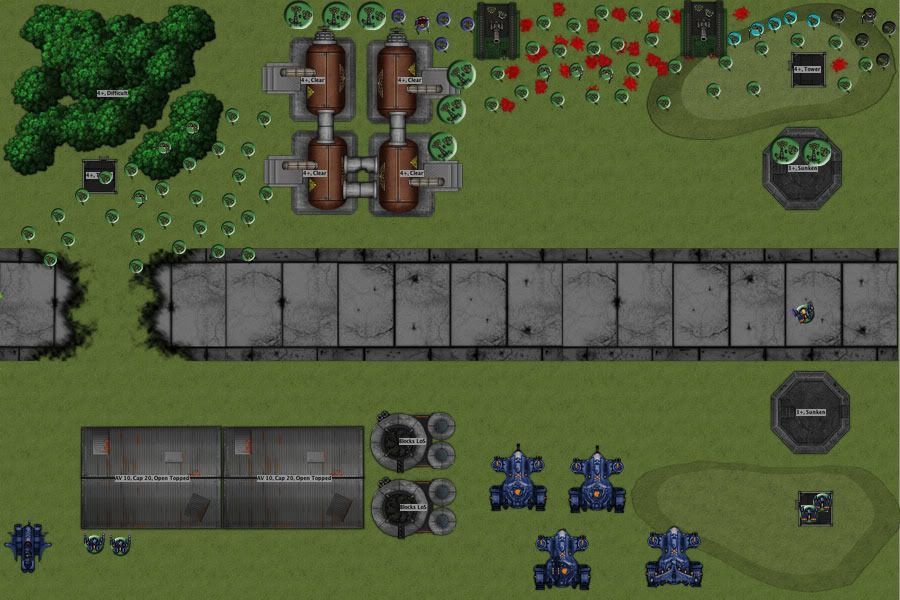 All IG forces move on to the board, barring the Stormtroopers held in reserve. It becomes difficult for LGT to fit all models in the allotted space. Somehow invoke negative space wedgie to ensure everyone is in place.
Shooting
Damage minimal. Administering stimms, local systems re-routing.
In a display of epic inaccuracy the eastern Griffon misses the deathrains entirely. The western Griffon lands on target, causing a single wound. The central heavy bolter teams fire at the commander, but his armour holds firm against the onslaught of hi-cal bolts.
Tau Turn Two
Movement
All forces, moving to engage. Optimal range is one-fifty to two hundred metres. Short teams, optimal is under fifty. Team bravo target designated at west four by south two. Terminate.
All Tau forces move forwards to engage the enemy at preferred ranges. Team Bravo disembarks to unleash pulse hell on the Ksalian soldiers now in the open. Sunforges and TX-42 move to assist.
Shooting
Alpha Strike against vehicle target designated 'Griffon'. Target priority western vehicle.
The Sky Ray starts the shooting phase with an alpha strike, doing little more than scratching the paint on the western Griffon. One missile gets through (pens) to cause damage, rolls a 1. Brilliant start. Commander hopes for fortuitous scatter when targeting the eastern Griffon. No luck there, but missiles just manage to shake the thing. Central warfish unloads SMS at central Ksalian squad. Minor casualties. Fusionhead misses horribly with Fusion cannon, re-rolls on target, but rolls 1's to wound. SMS knocks a wound off the heavy bolter teams. Deathrains fire at the eastern heavy bolter team, to no avail. Curse my idea of giving that gun pit 3+ cover. Western forces inflict an even dozen casualties on Ksalian squad. They hold.
Assault
"Look out, they're going to charge us!"
"Tau xenos charging?"
"No, sir, battlesuits."
"Prepare yourselves men, this won't be pretty, but remember, they have weak knees, ankles, and a blind spot directly underneath."
The Sunforges leap into the fray, knocking down a couple of lasgunners, forcing a morale test, and taking no wounds in return. They fail to pursue, and the Ksalian platoon breaks away cleanly.
IG Turn Two
Movement
Enemy reinforcements detected dropping from high altitude. No forces tasked to intercept. Vector plotted. Alerting friendly forces nearby.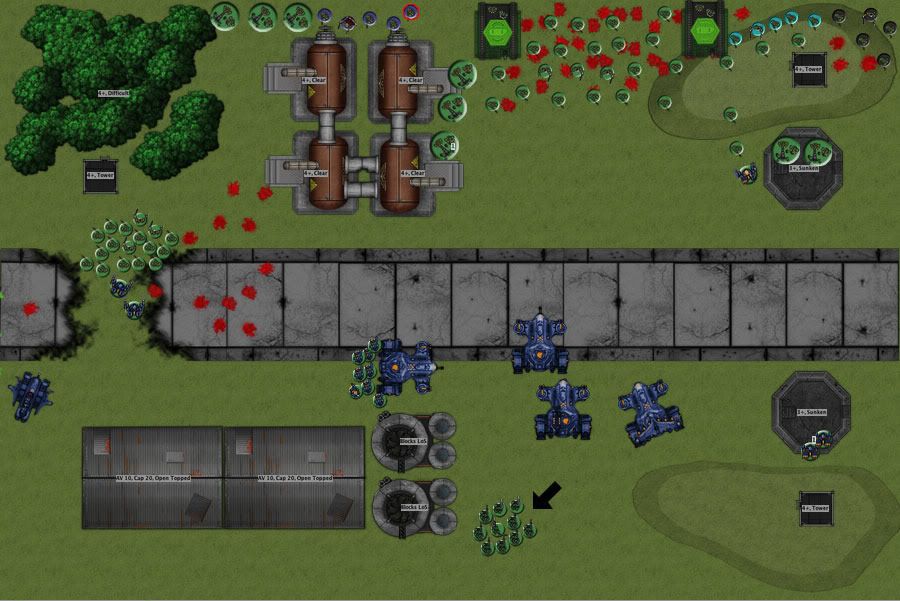 LGT manages to bring in a single stormtrooper squad, scattering from behind the Fusionhead, but still manages to remain in melta range. Not looking good. No other movement. Thankful that LGT plays mostly static IG, otherwise might die during extended movement phase. :P
Shooting
"BOOM! ha ha."
"See boys,
that's
how it's done."
Shooting starts with the freshly landed stormies detonating the fusionhead in spectacular fashion. Eastern heavy bolter team fails to damage deathrains. Something like a vendetta between the two begins to appear. LGT issues FRFSRF to the central platoon. 81 shots, sixteen wounds, and six failed saves later commander Ray'ka is erased from the planet in a blaze of flashlight fire.
Tau Turn Three
Movement
"Sir, they're still advancing."
"We're just going to have to weather this, son. Reinforcements got held up."
The Tau forces once more advanced, team Bravo chilling once again in the back of their warfish. The Tetras also arrive, outflanking from the west.
Shooting
Targets marked. Eliminate.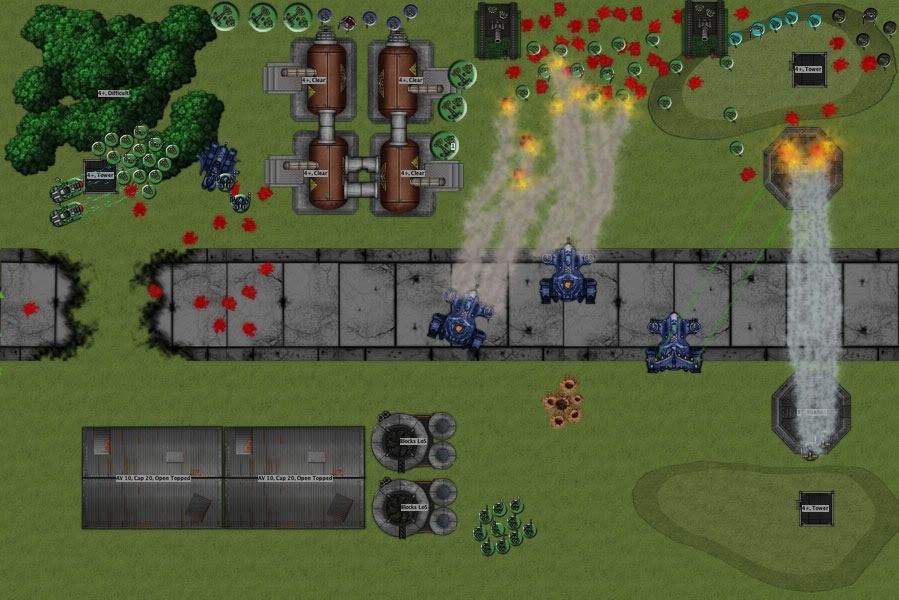 Tau shooting further mauls the central Ksalian platoon. Markerlights from the Sky Ray allow the deathrains to put paid to the heavy bolter team. Permanently. The Tetras and Sunforgers nibble away at the retreating western Ksalian platoon.
Assault
"Sir, sir, they're preparing to his us again!"
"Form up! Damn it men, I said FORM UP!"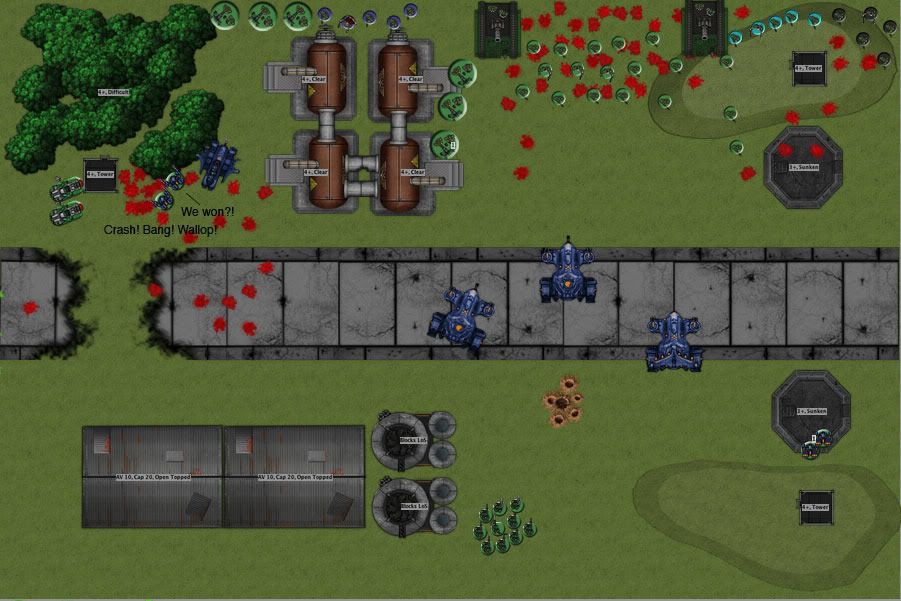 The Sunforges once more slam into the battered Ksalian platoon. This time their momentum carries through, and they massacre the remaining Ksalians mercilessly.
IG Turn Three
Movement
"The Thirteenth just crumbled sir. Xenos employing assault tactics in heavy armour."
"Nobody could have seen it son, don't blame yourself."
"We also lost support group three, something about pale green dots, then static."
"The Third Elite are dropping now. They should swing the balance back our way."
Shooting
Outrider 2-4 taking heavy fire. Outrider 2-2 taking heavy fire. Disruptive pattern compromised. Armour compromised. Engine damage. Weapon damage. Pilot incapacitated. Unit lost.
The shooting starts, once again, with fresh stormies making their presence known. This time by obliterating the Tetras. So much for that plan. Both Griffons fire, and miss horribly. Western gets a partial on the Sunforges, but fails to wound. Southern stormies fire again, managing to immobilise the Sky Ray. The central Ksalian platoon runs forward (this should have happned in the move phase, but LGT forgot, so I let him move them forwards instead, allowing them to assault later, without knowing what they actually planned to do at the time).
Assault
"What the hell was that?"
"I don't know, but just lost ten men to
something
on that damn tank."
"We're bugging out, can't do anything about that tank. Let the Elite handle it."
"All right men, fall back, but maintain discipline."
LGT uses the central Ksalian platoon to assault the nearest Warfish. Eighteen frags fail to do any damage whatsoever, and defensive flechettes cut down ten men, forcing the rest to flee (just). It is at this point LGT decides he hates me. :P
Tau Turn Four
Movement
Transportation Delayed. El'li'phi remains unavailable at this time.
Having had enough of those accursed stormies, everything moves away from them. Team alpha setting up against the central heavy bolter team, the western forces lining up the north western heavy bolter team. The deathrains also move to engage the southern stormtroopers.
Shooting
Preparing alpha strike. Anti-personnel mode engaged.
Shooting starts off with, in hindsight, a big mistake. AP seekers (not AT) are used against the southern stormtroopers, hoping that weight of fire will offset the poor AP. Said seekers then manage to not roll a single hit, and fly all over the place. Deathrains are more successful, killing three to the AP seekers' one. The northwestern forces attack the heavy bolter team there, killing all but one of them. Team alpha decimates the central heavy bolter teams. SMS fire from all vehicles further whittles down the central Ksalian platoon.
Assault
Target located. Best outcome possible if impact occurs at 35-40km/h.
Once again, the sunforges (now in serious running for men[Tau?] of the match) slam into the enemy. The last heavy bolter crew is dispatched handily after fleeing from combat.
IG Turn Four
Movement
"This is the Fifth Elite, coming in hot as hell and ready to burn some Xenos!"
Once more another group of stormies rains from the sky, this time landing exactly where LGT wanted. The western stormies moved to take on the TX-42, while the southern stormies move to attack the deathrains.
Shooting
Target lock detected. High-energy spike… +static+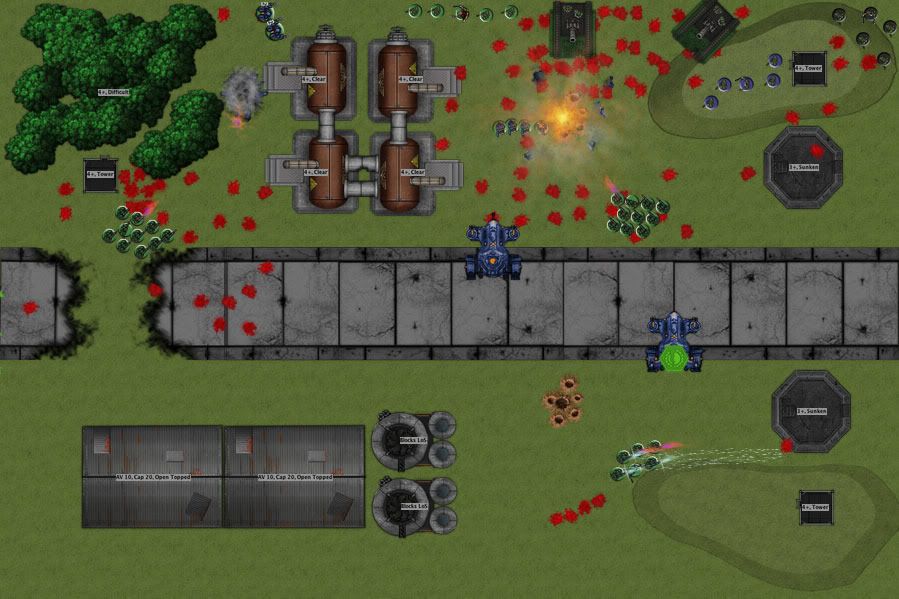 All the stormtroopers put paid to their designated targets, wrecking the TX-42, detonating a warfish in a spectacular explosion and ripping apart the deathrains. No other real damage is caused.
Tau Turn Five
Movement
El'li'phi deployed. Personal log notes: Next time, I'll
walk.
Squad bravo disembarks from their warfish, while the retreating squad alpha (may have missed that, but their ride exploding had…consequences, as did the subsequent heavy bolter fire from the Griffons) steadied themselves to shoot while still retreating. The sunforges close on their next target, the company command squad, while the second commander finally arrives.
Shooting
"Incoming. Xenos armoured suit, south."
"Hit the deck!"
Team Bravo, and the depleted team Alpha fire round after round into the central stormtrooper squad, reducing it to a mere three men. In the south the second commander rips through the southern squad with ion rifle and plasma rifle. Toasty. Up in the north the sunforges only manage to kill a single member of the company command squad. Not looking up.
Assault
Increase velocity. Modify vector to 097. Impact imminent.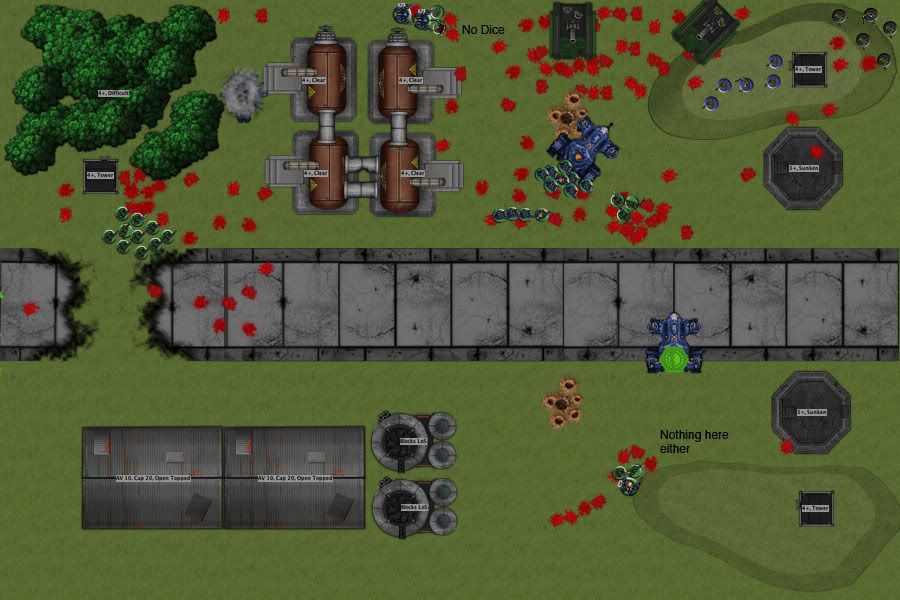 The sunforges (are we noticing a theme here? :P) slam into the company command squad, killing two. Unfortunately said squad holds their ground and remains in combat. The second commander also enters combat, but both sides fail to score wounds.
IG Turn Five
Movement
"Alright men, begin the final push. We won't let these Xenos destroy all we've worked for!"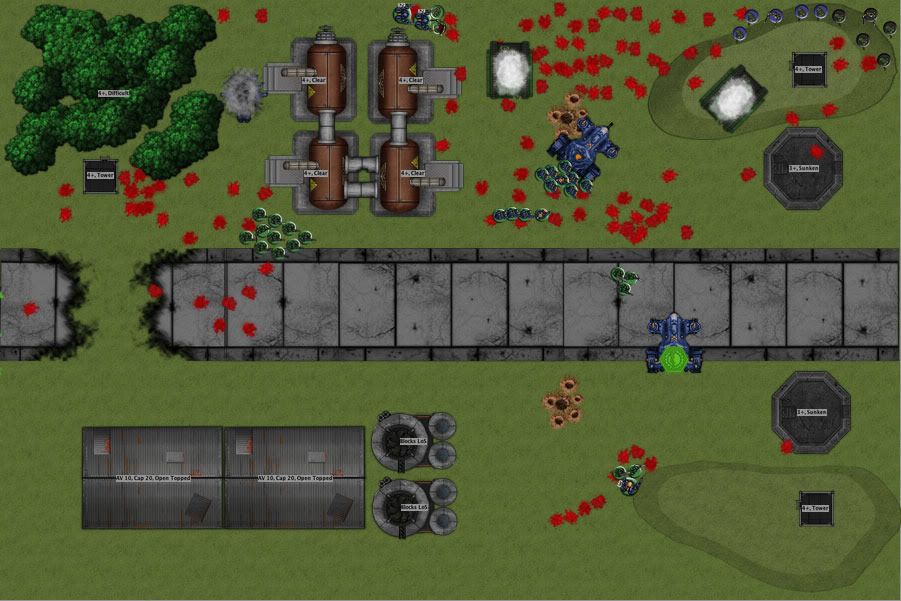 Uh, yeah, Static IG, so, not much. :P
Shooting
"BOOM! Damn boys, this never gets old."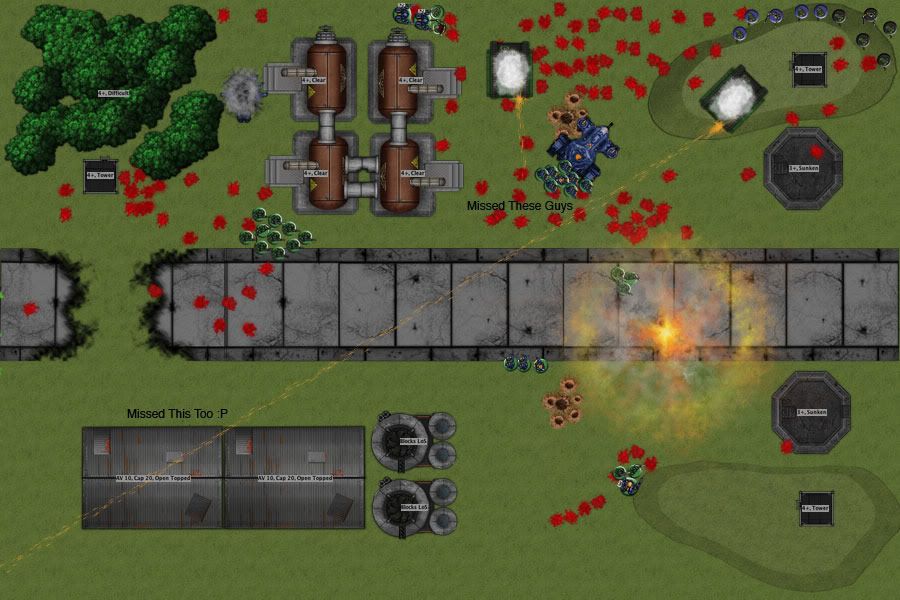 The Sky Ray goes up in an apocalyptic explosion thanks to the central stormies. Both Griffons pop smoke, and fire their heavy bolters. The eastern gunner couldn't hit the broad side of a barn. The western gunner fares little better, taking out a single shas from team Alpha.
Assault
"What the hell, how are they doing that?"
"Get down sir!"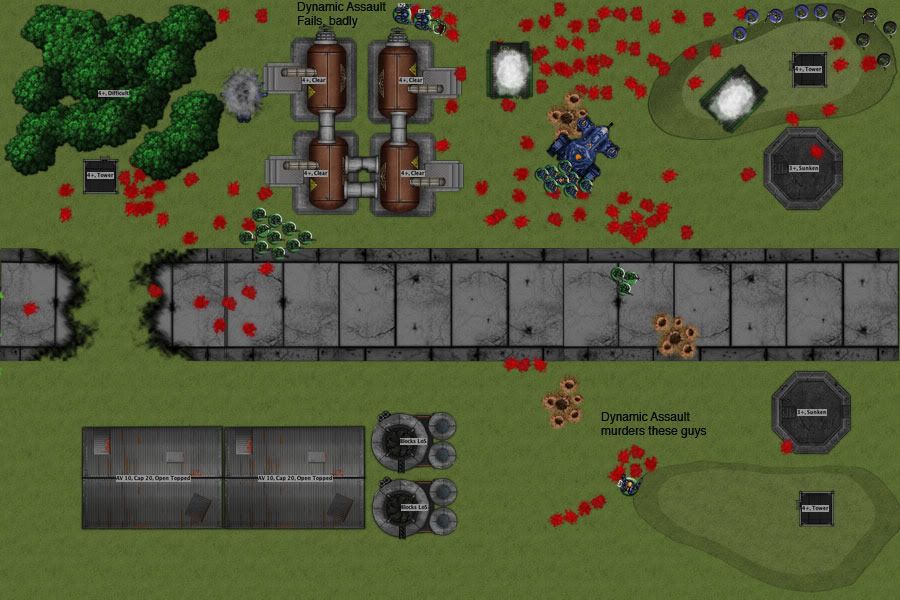 It all came down to this, in the end. Dynamic Assault was tested, and found to be both wanting, and possibly too powerful. The northern team scores only a single hit with its fusion blasters, while the commander in the south creates a bloodbath with his ion rifle and plasma rifle.
We rolled a dice for turn 6, but alas (although I should have seen this, given my penchant for rolling ones) it was a 1.
Final Tally
Ksalian Casualties
3 full platoons
3 support squads
1 Platoon command squad
1 storm trooper squad
Total: 8
Tau Casualties
Commander Rey'ka
Deathrains
Warfish Alpha
Team Alpha
Tetras
Sky Ray
Fusionhead
TX-42
Total: 8
Final Result: Draw