Here it is! The report you've all been waiting for.
DEPLOYMENT
HiveFleetGoliath is known for playing with full-Reserves, nothing on the board. But as he explained that he had been studying me, as I have him, I figured he was going to be throwing wild cards. I overestimated him from the very beginning. I originally wanted him to have first turn so I could set up in counter to him. But I did that based on the notion that he was going to be Infiltrating his Genestealers, not Outflanking. I knew he would Outflank with at least two of the units, but I did not want him Infiltrating into my Deployment Zone. I also expected him to deploy one of the Hive Tyrants out of LOS.
No, Iím not lying. If I had known or expected him to play like he always did, I would have deployed all of my forces in a central position, and moved up into the open ground.
But HiveFleetGoliath demonstrated the first and foremost principle of Sun Tzuís teachings: the best way to win a fight is to not fight at all. He informed me after the game that he knew that I was going to try and out-wit him. He knew I was doing my absolute best to out-smart him. But he didnít play my game and didnít give me a fight. I was Hannibal lurking around Rome without anything to fight. Iím not exactly sure if this was all done on purpose, or if by mere chance, he happened to be following one of the greatest military minds in history. Either way, it shows that I had a lack of judgment and study on my part. The warning signs were all there.
(This is the guy who believed a Rhino-rush of Chaos Marines was the perfect army to use against the Yíhe Oríes Cadre).
That didnít kill my game entirely. I deployed in this manner that he would only have a specific number of ideal locations to Deep Strike. I also convinced myself that I would be forcing him to fight an uphill battle. I was also convinced that he was going to try and purely out-do each my cadre by conducting unit-vs-unit battles.
My biggest concern was the Doom of Malanítai and Tyranid wave assaults. So, I deployed in such a manner that he would have to hit one unit at a time as he tried to battle his way inwards to the center. But I didnít consider any weaknesses. For one, I went completely against my own hardcore teachings of remaining mobile and flexible. Iím going to move, thatís what I do. I knew it was possible that all of his Genestealers could come out on the left side, but then do what? Attack one after the other?
While I overestimated my opponent, I underestimated some of his choice units. The Doom of Malanítai. I figured it was so cheap because not only was it vulnerable to instant death (and mechanized armies), but because its Spirit Leech allowed cover saves. I also believed that, since the Imperial Guard donít stack their Reserve rolls, neither did the Tyranids. That right only belonged to the Eldar Autarchs, which it was specifically stated that they stack.
I had failed to know my enemy, and HiveFleetGoliath had succeeded in defeating me by not even putting up a fight.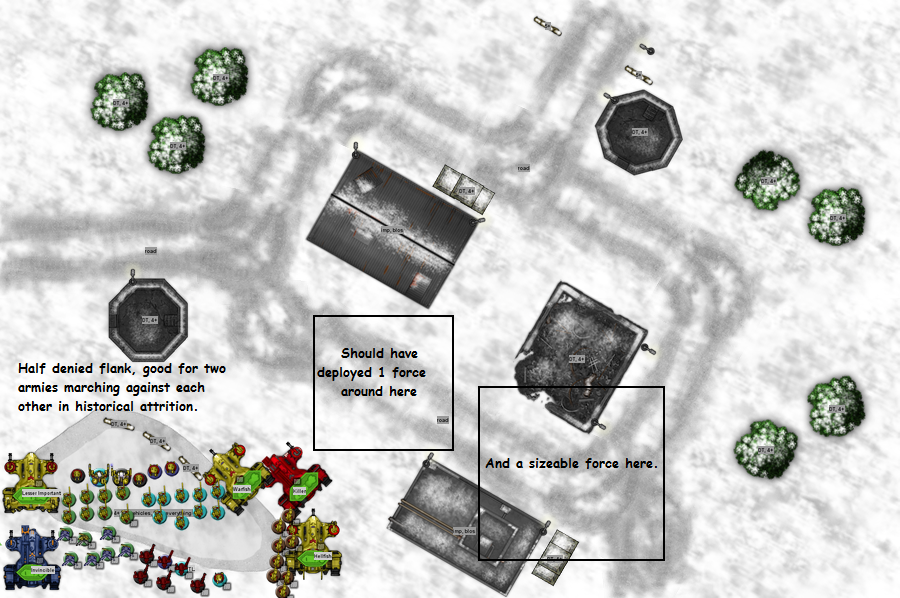 TYRANIDS TURN 2:
This turn came out ok. The Doom of Malanítai didnít show up, and the deep striking Hive Tyrant scattered off course, getting delayed. The other Hive Tyrant scattered a bit ways off to the right. He deployed and did everything exactly the way I expected him to.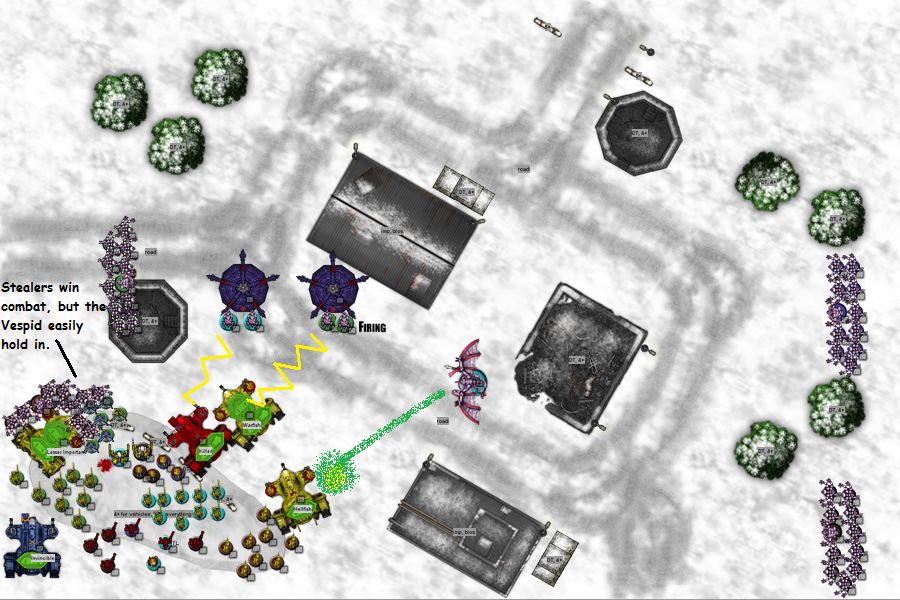 TAU TURN 3:
This, right here, is why I lost the game. I shouldíve given up after this turn. I wanted the initiative to attack him first before he does any severe damage. The other big mistake I did was using Lesser Important, moving 6Ē, as a screen. This helped cost me the game. I also intended on keeping the Vespid in Reserve, but I figured, ďSince Iím going to be losing units anyway, might as well screen with them.Ē If it werenít for these two decisions, the Hive Tyrant wouldnít have survived another turn.
I broke up my formation and conducted the Montíka strike. Mathematically speaking, I calculated this turnís shooting before I conducted it. The Hive Tyrant shouldíve died from the Seeker Missile barrage and Hellfishís shooting, maybe a little help from Killerís Burst Cannons. One unit of Zoanthropes was supposed to die to my Honor Guard. So, I figured they were safe, and with such a wide opening (and my Honor Guard without any threats) the Doom of Malanítai would Deep Strike over there and try to Leech-suck them, then shoot them.
The other two Zoanthropes on the left were supposed to die from overloaded 3+ saves. I calculated that too. This would free both of my Railguns to target the Genestealers. If that didnít work, DramíKa and his Bodyguard were to weaken them more. If it did work, the HQ suits could target the Mycetic Spore.
This is one of the few times that I actually watched my perfect calculations go to waste. I jumbled my mind with multitasking on an upset stomach and trying to resist throwing up. I believed so hard in my math that I split up my attacks into the Hive Tyrant, both units of Zoanthropes, and the Genestealers. I didnít even conceive the possibility that any of these attacks would fail.
I told myself, just before I started shooting, ďThis is exactly what youíre not supposed to do. Unit vs unit combats. Focus the whole cadre on one threat at a time, until it is destroyed. If you sprinkle your attacks around, youíll get sprinkled results.Ē
So, I put faith in luck all around, played the bets, went all in, and everyone laid down their cards. Even if one attack failed, namely the Hive Tyrant, the others shouldnít be that bad. Well, after showing the hands to the deck, my math had lost to reason.
I never, ever dare leave my Honor Guard to such a position without knowing full good and well that they are going to safely survive or hold off an attack long enough for me to reorganize. But this time, I used them as a screen, believing that the Hive Tyrant wouldnít be able to kill them all.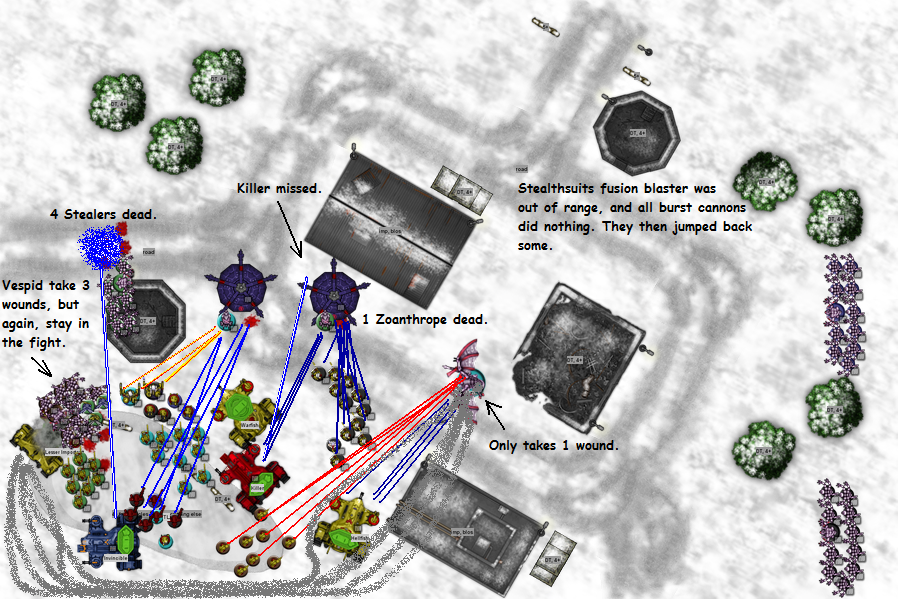 TYRANIDS TURN 3:
But I wasnít paying attention to a few things; notably, that the gun pit was something you could move through; thatís typically marked as a building whenever I play. So I didnít believe his final Mycetic Spore would be forced to deploy far away from everything. I used my Ethereal and Honor Guard as a lure for the Doom. Didnít work.
The main thing that hurt me here, specifically, was believing that the Doom of Malanítaiís ďSpirit LeechĒ allowed cover saves. I had 1 Fire Warrior left and I knew he was probably going to be ignored the rest of the game, so this was something I accepted.
As you can see, I started a ranking system on least important to most important. And throughout the game, it changed, so the units I was trying to protect and utilize crisscrossed.
I was right about the Hive Tyrant not being able to kill them all, and I saw how stupid it was. Using the Vespid, Sky Ray, and the Honor Guard as screens. This is Tau for heavenís sake! I donít ever win because of screens! These three are of the highest of importance to me. I am showing fear of a dangerous animal, and Iím allowing myself to be hunted down by them.
I knew the Doom of Malanítai was coming. So another plan I had set out was charge the Honor Guard into the Zoanthropes. If I were going to pull them out, they were going to get assaulted anyway, and if not, (as I relied upon the Hive Tyrant dying) they would be safe from Doomyís destruction. But that thinking is unit vs unit again, and what I did and that idea is wrong.
But I shouldíve considered it more boldly. I donít charge with my Tau to destroy enemies. I do it to finish them off following a strong shooting attack, and to prevent my stuff from being shot at. The reason behind assaulting them was forgotten: so I could ignore the Zoanthropes and focus my firepower somewhere else.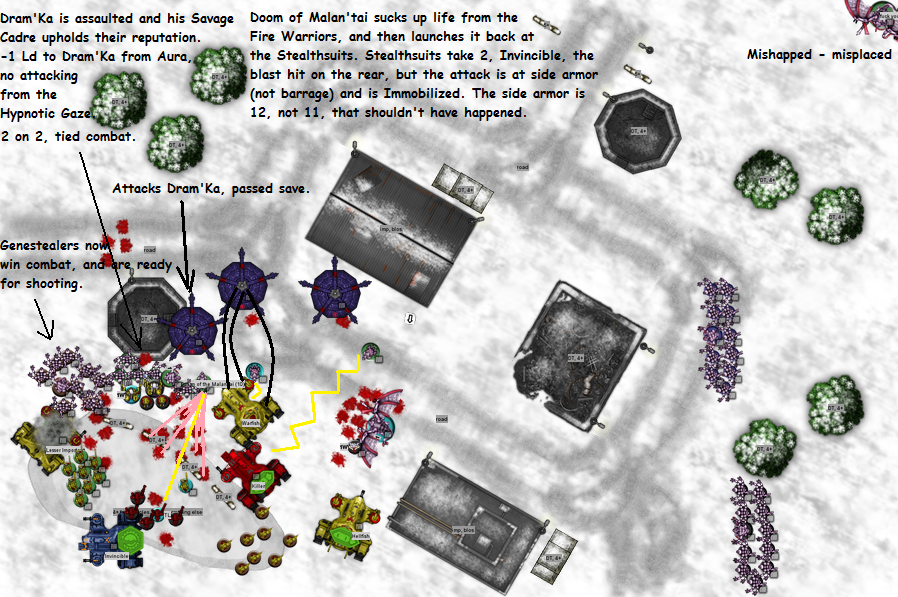 TAU TURN 4:
I am reaping the benefits of my sheer stupidity. Iím not paying attention the game turns either, and I also believe that mathematically speaking, the game should go on at least to turn 6 anyway. I had considered leaving the big units alone and just go straight for kill points. The Doom of Malanítai was the exception.
My original plan was to light up the Hive Tyrant with the Pathfinders and shoot him to death with all weapons available on that side of the board. And then take care of Doomy with an overload of pulsing. This meant using the Stealthsuits on him first, and the fusion blaster, before I waste away my Railguns.
But at this point, my importance shifted from my vehicles to my infantry. My changed focus instead led me to believe that the highest threat was Doomy (he always was and is), and the second highest was the Genestealers. If this were true, it meant that my Stealthsuits should shoot last. So I dropped pulsing the Hive Tyrant.
The first thing I did was waste a Railgun shot on Doomy. It was Invincible, but I was stupid enough to shoot his burst cannon at him also, which was the only wound inflicted. Killer shouldíve pulsed the Zoanthrope with 1 wound, but for whatever strange and odd reason, I shot the burst cannons at Doomy, again. It has 10 wounds, what the hell am I doing? The Railgun kills Doomy.
Hellfish took care of the Zoanthrope. I immediately took advantage of the situation by trying the same stunt again, but Warfish wasnít so lucky. Even simple math couldíve told me that.
And the Stealthsuits, who shouldíve shot first, shot last. Wasted a fusion blaster that couldíve been put on the Doom of Malanítai (target lock), and then direct all the Burst Cannons and other Fusion at the Zoanthrope in the first place like I originally planned.
I also tried screening the Hive Tyrant from my Pathfinders (because I knew he was going to crush the Ethereal this turn and be free) with my vehicles. It has wings. This is fail.
Fire Warriors did their job perfectly. If I werenít playing like such an idiot, and like my normal self, I wouldíve followed part of my original plan. Ignore the Stealers, and move away to reach the Broodlord (and maybe the Mycetic Spore) in combat with my HQ. Instead, I gave the Genestealers a cover save, which had to be reduced with Markerlights, which shouldíve been ignored because I have a Railgun sitting right there.
In fact, my original intention was to shoot the Genestealers with a large blast, and hope I could get some of the Genestealers in combat with my HQ. But I threw away my Fire Warriors as expendable.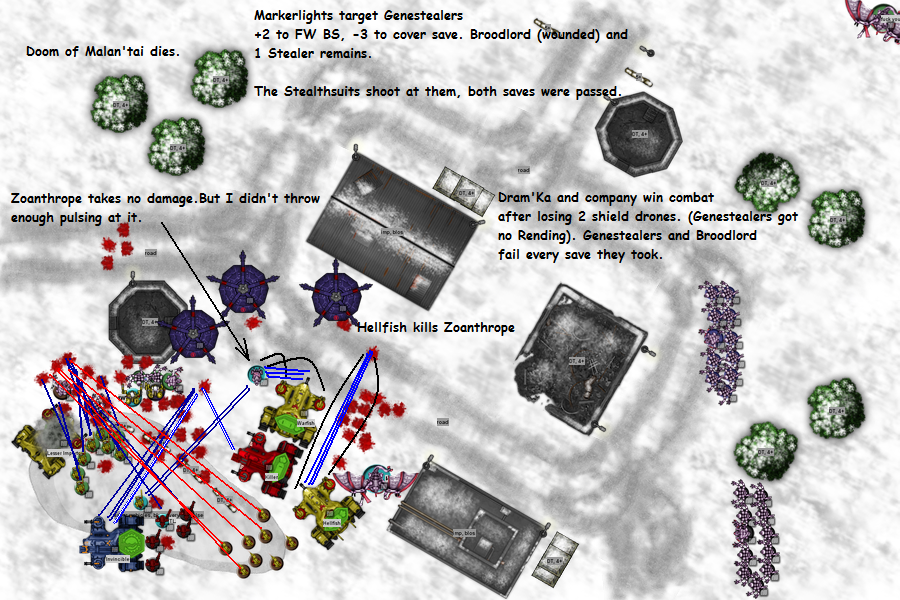 TYRANIDS TURN 4:
The harvest from stupidity is bountiful. HiveFleetGoliath picks me apart and attacks my center where I am soft and weak. I had opened up my shield of vehicles and let him in to the squishy insides. He picks me apart and believes that because he didnít get too lucky, that heís not doing all that great. He told me that his Zoanthropes did absolutely nothing this game. I didnít give them much of a chance to, but strategically, they won him the game.
The Zoanthropes influenced me so strongly that I forced myself to ignore the Hive Tyrant (bad) and go for the Zoanthropes. They saved his Hive Tyrant. They diverted my most important and precious firepower; believe it or not, it was the Devilfish. I know good and well that my infantry can take care of the Zoanthropes, and the rest of his creepy, crawling army.
HiveFleetGoliath probably didnít know this, but he was using his Zoanthropes as bait. They influenced my decisions exactly as I have described. From the time I saw them in his army list to the end of the game. If he had placed any other unit in those Mycetic Spores, it mightíve cost him the game.
[PICTURE WAS LOST, BUT I LOGGED THE EVENTS]
Zoanthrope shoots Warfish, Immobilizes
Hive Tyrant shoots Warfish, scatters on itself, saves. Gets a Wpn Destroyed
Hive Tyrant and Zoanthrope assault Warfish, wreck
Brown Genestealers assault Dram'Ka and company, all whiff
DramíKa and Bodyguard kill 1 Genestealer of 3 models (so itís average T:4 and WS:6), kills another from No Retreat, and inflict 1 wound on the other unit.
Tau Turn 5:
I didnít know this was Turn 5 until after I had already made my decisions. But the point is irrelevant. I lost the Pathfinders and large unit of Fire Warriors to the Price of Failure. In my mind, the Fire Warriors were going to act as a screen early on, and that my opponent would find them easy pickings. The Stealthsuits I knew would stay. It was the Pathfinders that were my biggest worry. But because my cadre is broken up, my Pathfinders are almost worthless this turn. If they had stayed, they wouldíve been best off trying to gun down the Mycetic Spores.
Because Iím getting desperate, I start doing things right, for the first timeÖ almost. I wanted to shoot at the Genestealers with Killer. With the Burst Cannon, that should kill all of them, the Broodlord would probably survive. I thought that I could just kill him next turn. But realizing the Broodlordís survivability for the first time, I opted not to.
Instead, after I moved, I changed my mind and decided to try and kill the Spores to rack up my KPs. I also tried spreading out for the first time, to avoid getting raped by the Hive Tyrant in any one location. I also misjudged the distance between Killer and the Genestealers, believing that he would have to go through all that difficult ground to reach him. I was more concerned with the Mycetic Spore attacking him. Why? I have no clue; Str:6 canít even touch Armor:13.
Hellfish does exactly as I ask of him and kills the Zoanthrope. At least he [almost] made up for points.
At the end of this turn, you will notice that I have followed my Tyranid Tacticaís main strategies. Look, the Tyranids are depleted. Theyíre gone. My overall plans worked exactly as I have shown. I predicted this would happen, but the amount of suffering and the sheer amount of sacrifice required to accomplish it wasnít worth it. Not for a Kill Point match. I put the weight of the entire game on killing the Hive Tyrant at the beginning, and that the Doom of Malanítai allowed cover saves. If I had gotten lucky from Doomyís power going off and had the Seeker Missiles and Hellfish killed the Hive Tyrant, I probably wouldíve won with similar results of the depletion of forces.
If that had happened, the entire reason and foundation for making this battle report in the first place, wouldíve been a complete waste of time. I would've won to luck.
TYRANIDS TURN 5: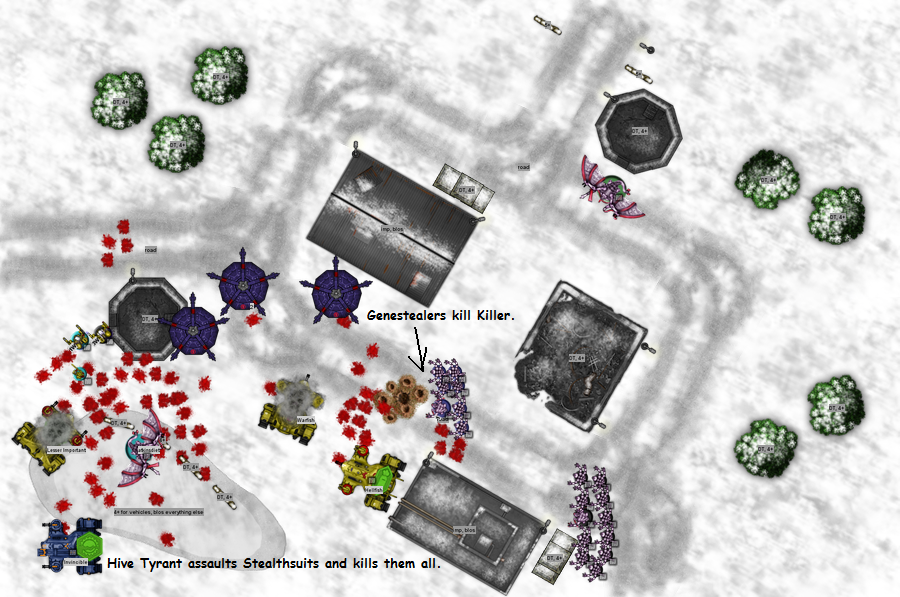 POST-GAME CARNAGE REPORT
This gameís loss is entirely my fault, due to my stupidity, stubbornness, pride, and blindness.
If HiveFleetGoliath planned on this, then despite getting just as poor luck as me, if not worse, he won the game fair and square.
My original deployment plan included dividing up my forces into two groups, one to hold the center and prevent easy access to the open grounds (and force him to deploy scattered), and the other to shoot down the Outflankers. I mightíve been able to hold more and better ground in this manner, but I did not want to be surrounded. How stupid of me, I can deploy with enough room to move around, and close enough to prevent him from Deep Striking in there. I shouldíve sucked in my gut rather than exhale at the beginning. Because sooner or later, you need to breath.
This deployment wouldíve been tight, flexible, and expansive. It wouldíve allowed me to join together when I needed, split up, or push into a single, certain direction to keep my distance while moving into the grounds of isolated units and destroying them. There is no doubt in my mind that had I set up like that, I wouldíve won. But I didnít like the idea of dividing up my forces. I was hell-bent on sticking to my strategy of out-lasting my opponent like the Space Marines do.
I shouldíve realized that when you concentrate your forces, and your enemy is able to rush down upon you like a tidal wave onto a cliff, you had better be able to hold. If not, youíll simply crumble.
Tyranids KP:
10
Killed the Vespid, Honor Guard, Ethereal,
Warfish
,
Lesser Important
,
Killer
, and the Stealthsuits. Also, 2 Shield Drones and 2 Gun Drones.
1024 points.
Pathfinders and Fire Warriors ran off the board:
176 points.
Tau KP:
4
2 units of Genestealers, 4 Zoanthropes, 1 Doom of Malan'tai.
730 points.
I lost by 450 points in an 1850-point game.
This has got to be the absolute worst game with my Tau that I had ever played, and I deserved the loss. I almost took a fully mechanized army list of nothing but four, 10-man units Fire Warriors each in a Warfish, a cheap Commander, 2 units of Pathfinders in Devilfishes, 1 Sky Ray, and 2 Hammerheads with Ion Cannons. I was going to wait until the Doom of Malan'tai showed up, and then unload and pulse everything to death. The 2 Devilfish that came with Gun Drones and all the Devilfish themselves would've been instrumental in the strategy I just used. But I figured that the Y'he Or'es Cadre was flexible enough to use just about any strategy, including that one.