Y'he Or'es Hunter Cadre
HQ – Shas'o Commander Dram'Ka
Missile Pod, Fusion Blaster; Shield Generator
2 Shield Drones, Multi-tracker, Stims, Iridium Armor, target lock
Bodyguard
Fusion Blaster, Plasma Rifle, Shield Generator
Multi-tracker, 2 Gun Drones, Failsafe
HQ – Ethereal and Honor Guard
11 Honor Guard
Warfish
SMS, Burst Cannon
Multi-tracker, Targeting Array, Disruption Pod
----------
TROOPS – 9 Fire Warriors
All w/Pulse Rifles
TROOPS – 8 Fire Warriors
All w/Pulse Rifles
----------
ELITES – 6 Stealthsuits
1 Team Leader w/Fusion Blaster, Marker Drone, Target Lock
1 Stealthsuit w/Fusion Blaster
----------
FAST ATTACK – 8 Pathfinders
Hellfish
SMS, Burst Cannon
Multi-tracker, Targeting Array, Disruption Pod
FAST ATTACK – 7 Vespid
----------
HEAVY SUPPORT – Invincible
2 Burst Cannons, Railgun
Multi-tracker, Disruption Pod, Target Lock, Blacksun Filter
HEAVY SUPPORT – Killer
2 Burst Cannons, Railgun
Multi-tracker, Disruption Pod, Target Lock, Blacksun Filter
HEAVY SUPPORT – Lesser Important
Sky Ray w/2 Burst Cannons
Multi-tracker, Disruption Pod, Target Array
=====================
TYRANIDS
HQ
The Parasite of Mortrex
Tyranid Prime
- Adrenal Glands
- Regeneration
- Scything Talons
Elite
Deathleaper
Troops
Ripper Swarm
- Spinefists
- Adrenal Glands
- Toxin Sacs
- Tunnel Swarm
Ripper Swarm
- Spinefists
- Adrenal Glands
- Toxin Sacs
- Tunnel Swarm
Ripper Swarm
- Spinefists
- Adrenal Glands
- Toxin Sacs
- Tunnel Swarm
Heavy Support
Mawloc
- Regeneration
Trygon Prime
- Adrenal Glands
- Regeneration
- Trygon Prime
Tyrannofex
- Rupture Cannon
- Adrenal Glands
-Regeneration
-Dessicator Larvae
MISSION:
Capture and Control
DEPLOYMENT:
Pitched Battle
DEPLOYMENT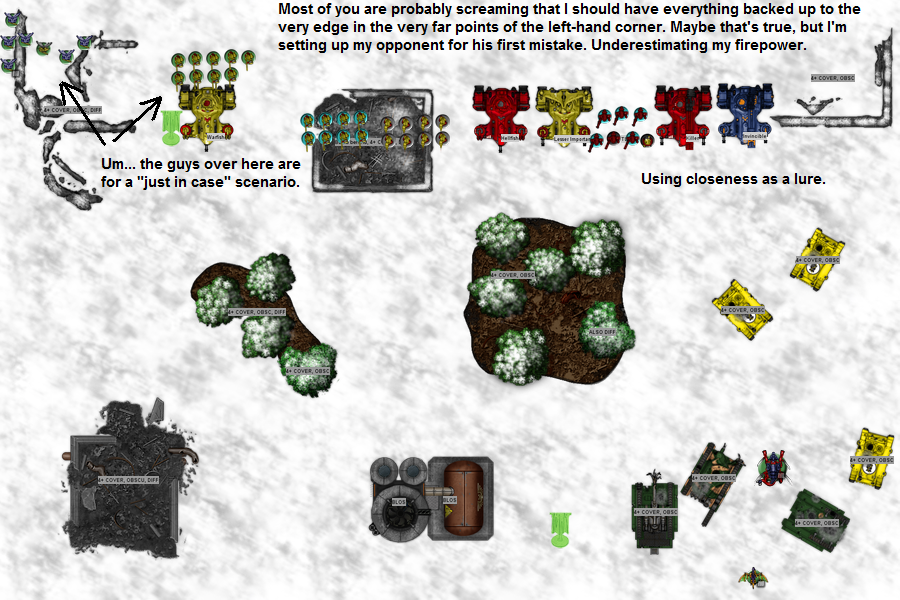 TURN ONE - TYRANIDS
TURN ONE - TAU
TURN TWO - TYRANIDS
Ok, forgot to point out the Deathleaper. Dang, he blended in so well! Let's play, "Where's Deathleaper?"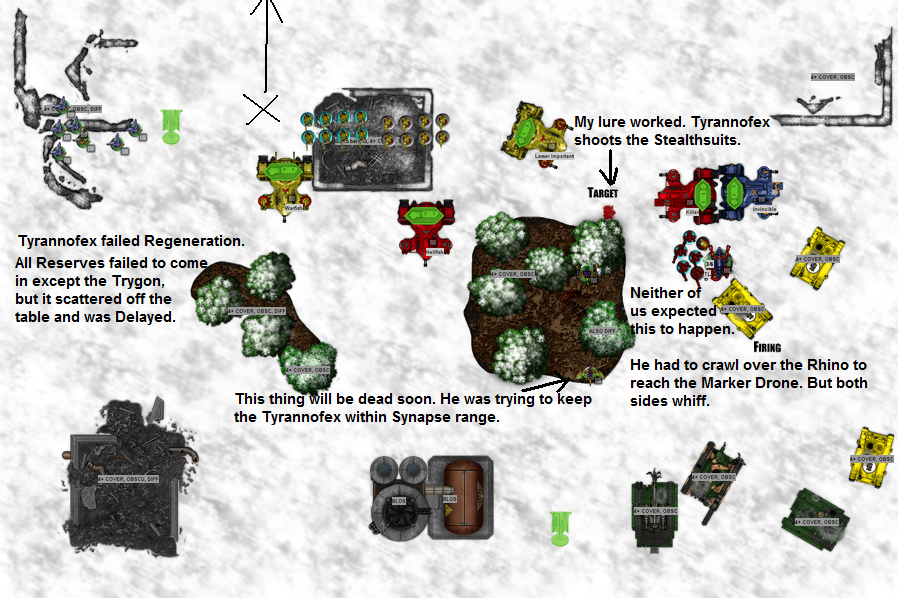 TURN TWO - TAU
I forgot about Deathleaper completely. So I didn't draw the turn correctly. Just pretend the Deathleaper and Parasite switched places.

AND MY OPPONENT CRIED CHEESE ON THE TAU!
TURN THREE - TYRANIDS
TURN THREE - TAU
TURN FOUR - TYRANIDS
TURN FOUR - TAU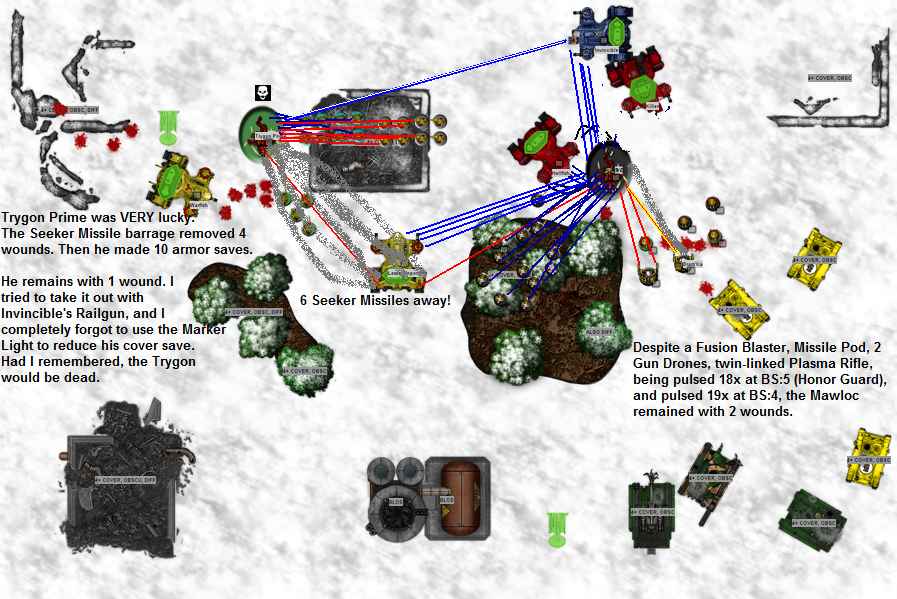 TURN FIVE - TYRANIDS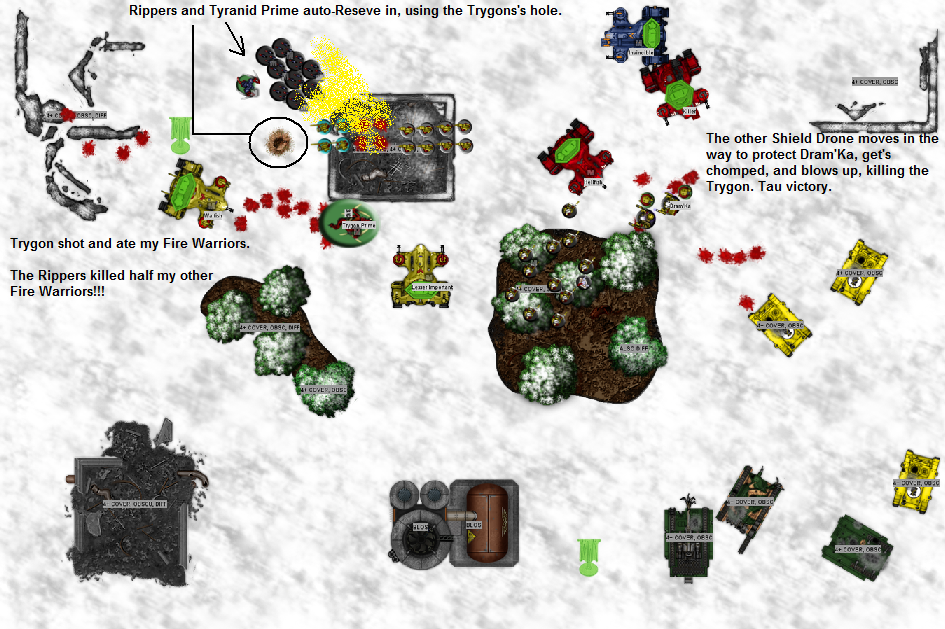 TURN FIVE - TAU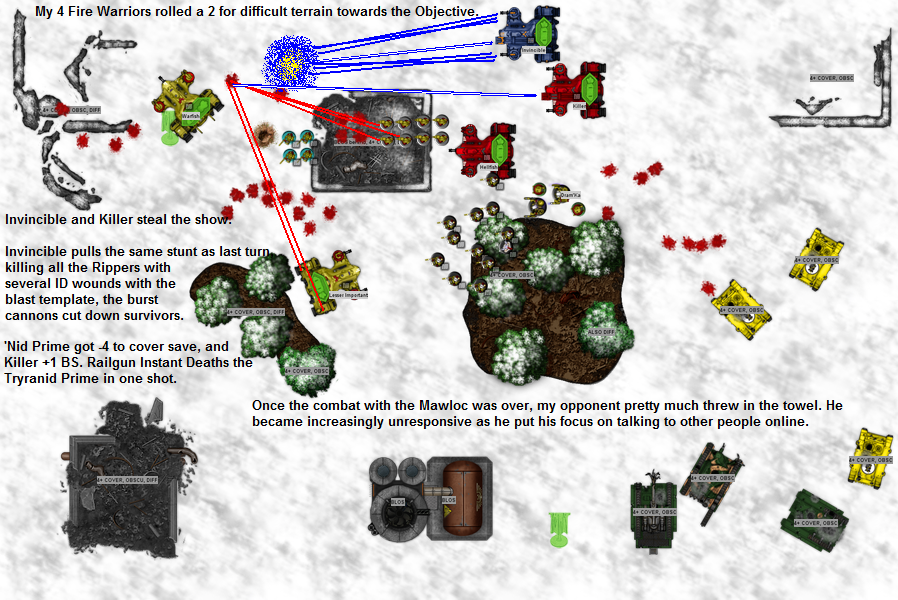 ===VICTOR===
Tau hold 0 of 0 Objectives. The point is irrelevant, Tau win by default of wipe out.
Post-Game Carnage Report
I lost 13 Fire Warriors, 7 Vespid, the Stealthsuits, and 2 Shield Drones.
Total: 467 points lost.
Tyranids lost everything.
Total:
(Didn't calculate, about 1850 of course).
1383 point difference.
Y'he Or'es Cadre
Victories:14 Ties:1 Losses:2
What was that one quote I remember seeing for the first time earlier today? Oh yeah...
Quote:
Originally Posted by Dexter Morgan
Well my vote didn't win, ... and I don't agree with Col.'s Tau lists at all for combat efficiency.