This was probably one of my favorite games of all time. It had everything a game would want:
1) Gentleman-style play
2) Jokes and imaginations of epic duels
3) Close match between two players trying to out-wit one another
4) Very close match with tactics to match
5) Laughs with exchange of learning rules for both sides
6) Close match (mention that before?)
7) Strokes of bad luck for the both of us
I met him on Vassal. Just as I was turning away, he mentioned that he had defeated the new Tyranids 4 games in a row. So I decided to put my Y'he Or'es Cadre aside and see about testing a few things in the new Tyranid Codex. Well, this game's end result was due to a clash of genius since luck, spam, and outright cheese wasn't working for either of us.
For those not familiar with the new rules, I have laid out some very brief, general rules for each unit so you can understand a little better what's going on.
TYRANIDS
HQ – Queen Tyrant
Wings, Hive Commander (+1 to Reserve rolls)
2 sets of Scything Talons (re-roll failed hits)
HQ – King Tyrant
Heavy Venom Cannon: Range: 36" S:9 AP:4 Assault1, Blast
-1 penalty to vehicle damage table
Stranglethorn Cannon: Range: 36" S:6 AP:5 Assault1, Large Blast, Pinning
Armored Shell: 2+ Armor Save
TROOPS – 9 Tyranid Warriors
[MOUNTED IN MYCETIC SPORE]
1 w/Venom Cannon
4 w/Rending Claws
Devourer: Range: 18" S:4 AP:- Assault3, -1 Ld
TROOPS – 20 Genestealers
ELITES – 3 Hive Guard
Lurk
Weapons require no LOS, has BS:4. Range: 24" Str:8, AP:4, Assault2
ELITES – 2 Hive Guard
ELITES – Doom of Malan'tai
[MOUNTED IN MYCETIC SPORE]
Can force any unit within range to take Ld test on 3D6. For every point failed, the unit loses that many wounds.
All wounds inflicted become new wounds for the creature (max 10). It's Strength is equal to its number of wounds.
Cataclysm: Range: 24" Str: Wounds AP:1 Assault1, Large Blast
ELITES - Lictor
Lurk
Pheromone Tail: Works kinda like Homing Beacon, but can't be used same turn it comes out
Also grants +1 to Reserves
NOTES:
(I accidentally took another Elite choice. But the Lictor was outright useless, so I don't think it mattered.)
When I realized how cheap the Doom of Malan'tai was, it was the first choice on my army list. I knew it wouldn't be that great against Space Marines, but I was hoping that if I could stick it in a good spot, that it would take out a horde of guys, soak up fire, and then spit it back out in the form of a terrifying blast.
The Tyranid Warriors were the second thing on my army list. I might have missed a spot that limited their numbers in a Mycetic Spore, but I figured if they each took up 2 spaces that they totaled 18, and the Spore can hold 20. If I missed something, please point it out.
The King and Queen Tyrant have been old friends of mine since 3rd Edition. But I was grossly disappointed. After I realized how easy it was to make a Hive Tyrant expensive, I became aware of how easy it would be to include other monstrosities. I mean, for a few dozen points more, I could've replaced either Tyrant with the Swarmlord.
But the King and Queen Tyrant (representing a King and Queen on a board of chess) have served me well before, so I decided to make them new Nid equivalents.
It was too late that I discovered the new Hive Tyrant has only a BS:3.
-----------
(I forgot to save his army list, but I'm sure this is the gist of the list.)
SPACE MARINES
HQ - Captain on Bike
TROOPS - 6 Bikes
Sergeant w/Power Fist
2 Bikes w/Meltaguns
Attack Bike w/Multi-melta
TROOPS - 10 Marines
[MOUNTED IN RHINO w/Extra Armor]
1 w/Plasma Gun
1 w/Lascannon
TROOPS - 10 Marines
1 w/Plasma Gun
1 w/Lascannon
TROOPS - 10 Marines
[MOUNTED IN LRC]
1 w/Plasma Gun
1 w/Lascannon
FAST ATTACK - Land Speeder
Heavy Bolter, Heavy Flamer
FAST ATTACK - Land Speeder
Heavy Bolter, Heavy Flamer
HEAVY SUPPORT - Land Raider Crusader
Extra Armor, Multi-melta
HEAVY SUPPORT - Thunderfire Cannon
-----------
TURN 1 - TYRANIDS
TURN 1 - MARINES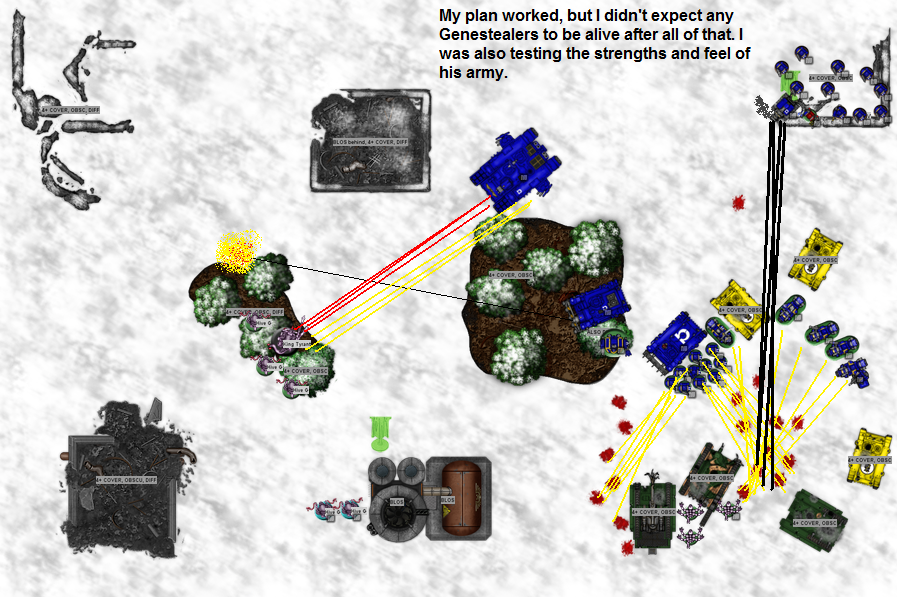 TURN 2 - TYRANIDS
TURN 2 - MARINES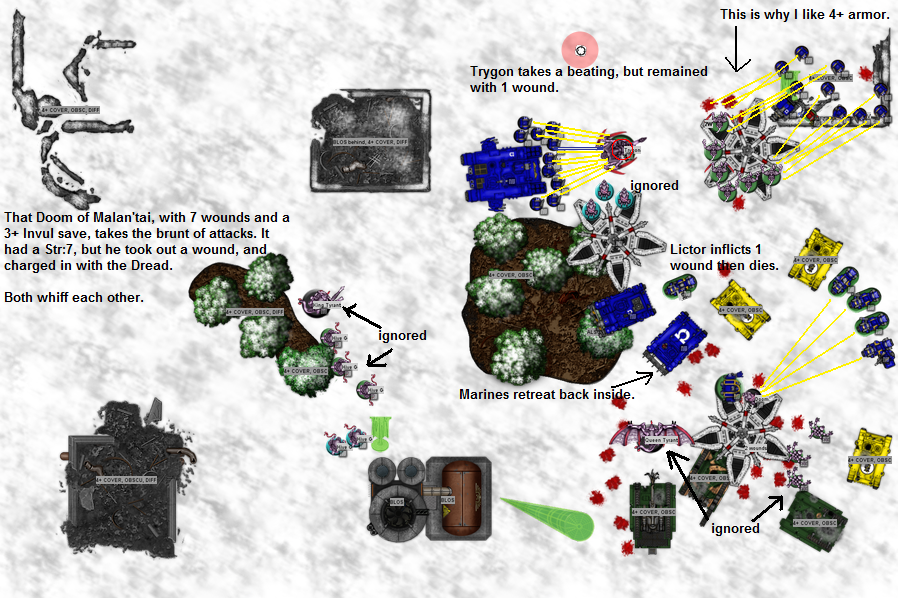 TURN 3 - TYRANIDS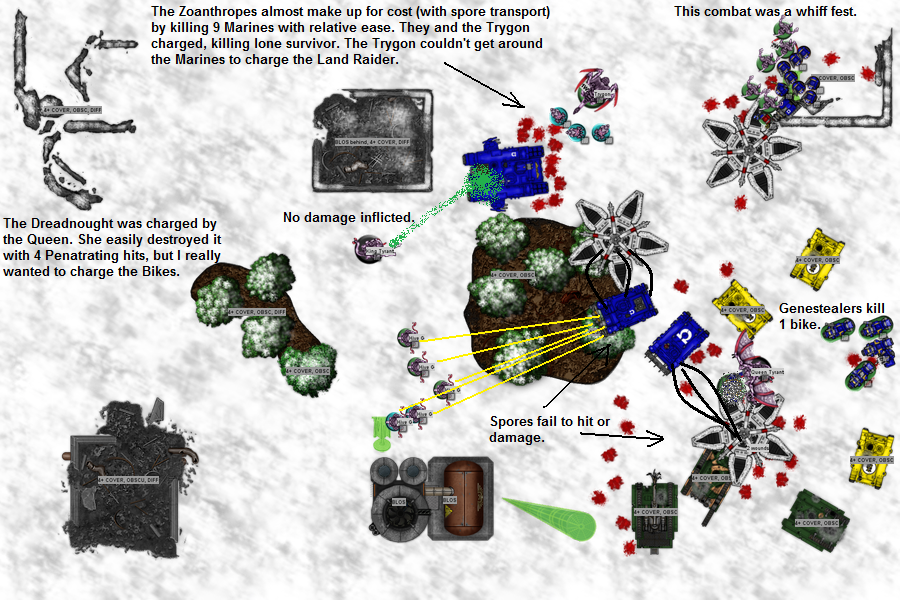 TURN 3 - MARINES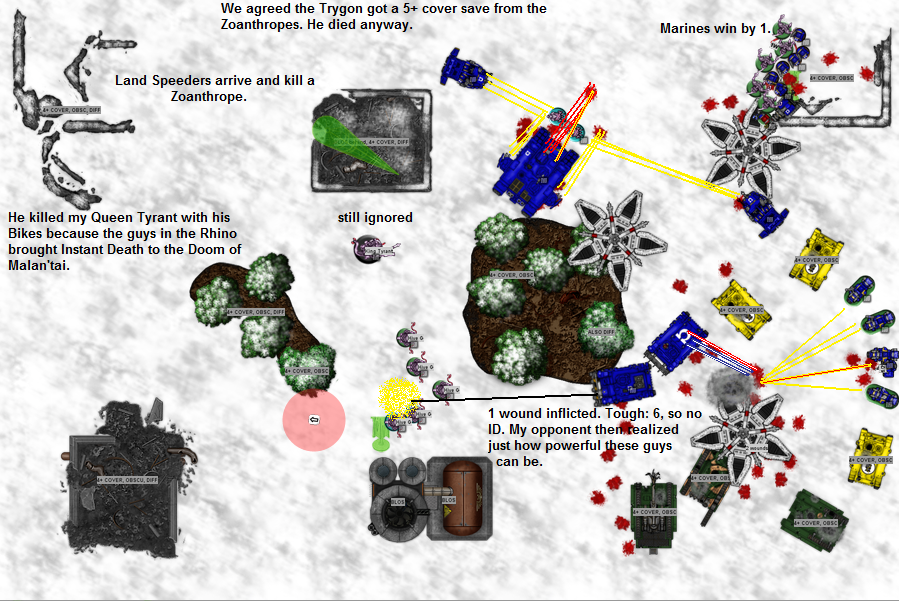 TURN 4 - TYRANIDS
TURN 4 - MARINES
TURN 5 - TYRANIDS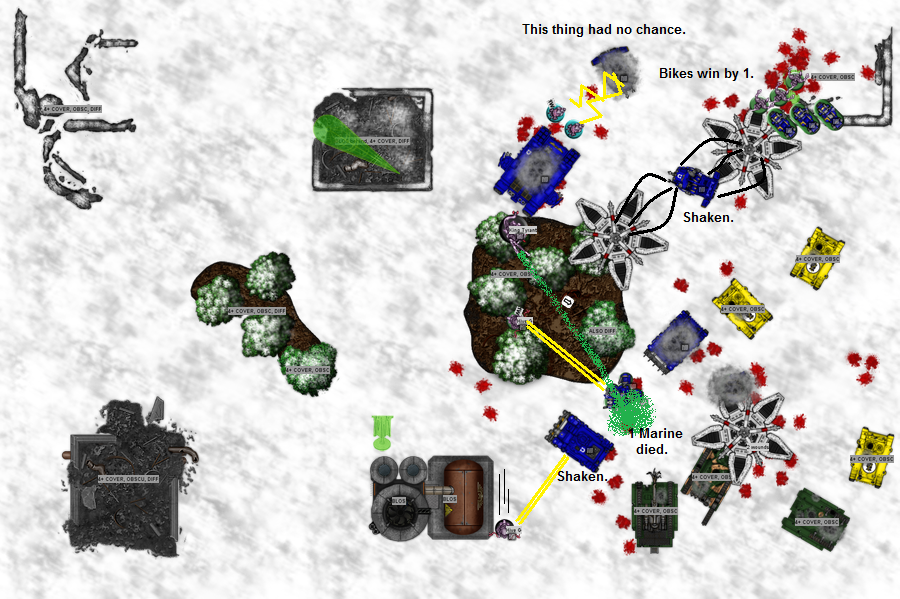 TURN 5 - MARINES
--------------
TIE!
POST GAME NOTES
Mycetic Spores
If you take Mycetic Spores and plan on doing a little damage, arm them. And not with the twin-linked Deathspitter. They can do some decent damage, but not with anything with shots. I have tested them with any other weapons, but here's what I'd suggest:
Barbed Strangler
. It's a large blast pinning weapon. It isn't very strong, but it's better than the Swooping Hawk Grenade Pack. Do this on the Spores that come with Gaunts or Genestealers so you can help them clear the way of anything that's going to be shooting at them.
Arrange them so they will get a cover save around whatever model you use for the Spores (I'm sure GW or Forge World is cooking up something nice). Those Spores won't make up for cost unless you're fighting a Horde army. But I will say that they are more useful than drop pods. Don't forget about them! Also, if you arrange your nids so that he can't get in combat with them without getting into base contact with the spore, do so. The Mycetic Spore comes with "Lash Whips", which reduces any model in base contact to Initiative 1. No, your opponent does not have to be attacking the Spore to get this.
Hive Tyrants
Shooty Hive Tyrants are no longer what they used to be. The number of shots with the smaller guns is significantly smaller, and you can't upgrade the BS. You're better off foot-slogging across the board and taking out targets with standard weapons.
Scything Talons have their uses, even though the Tyrant comes with a very high WS. Against vehicles; you re-roll all hits, not just those with WS. Also, if you find yourself giving a Hive Tyrant a lot of upgrades, re-examine the cost of the other HQ choices and especially the Swarmlord.
The Swarmlord is almost like Eldrad. If you equip the basic thing too much, you'll end up being equally or more expensive for less awesomeness.
The Doom of Malan'tai
This is only so cheap because it is subject to Instant Death. But if you can take out the anti-tanks in your opponents army, this thing can absorb a whole lot of kroot-
shtlk
. Not very good against heavily mechanized armies but hordes will definitely suffer a lot from this.
Personally, for the points, I think its worth the risk.
Zoanthropes
These guys were the only ones that made up for points. I played against them, played with them, and noticed them in the Codex and noted them in my Tau Tactica. They are
the
most dangerous beasts that Warhammer 40,000 has to offer. Ever.
Ever
. I say this simply because of their point cost. They will slaughter the numbers as much as they will tanks and heavy infantry.
They don't require to be up close and personal, they can take a fair amount of beatings, and will do a lot of hurt. I recommend at least 1 in every Tyranid army unless its specifically themed. Because, even if your opponent chooses to shoot or assault them, they're worth the points as damage soakers. The only time they will be weak is when your opponent takes a lot of anti-tank.
The other weakness is that they will take up a whole Elite slot where most of the goodies are.
Trygon
I think this guy would be good for the points. I should have removed the guns on the shooty Tyrant and taken out some of the Hive Guard to take a second. This would've been a whole lot more useful.
Hive Guard
Just as dangerous as I expected. Once the Spores start raining, these guys will find themselves largely ignored as the new threats are focused upon. If you have a Tyranid that counts as an IC, join them to these guys. They would work as great bodyguards because unlike the slightly less expensive Tyrant Guards, they can shoot.
Lictor
Worthless. Unless you're fighting Tau. If you want a Lictor, go with the Deathleaper.