This BatRep could equally well be titled: "Mistakes Rav makes when it's past his bedtime and doesn't know his list…"
Also, I would like to blame the dice for this. Just to get it out of the way. Zenny will vouch that my rolling was so bad it was laughable. In fact, we did have a bit of laugh when we called it after turn 3… more on that later.
Secure & Control, with Dawn of War deployment.
Zenny set up terrain, and got first. I failed to seize.
Army Lists
Tau
Crisis Commander
Rail Rifle
SMS
Shield Gen
Total 125
Ethereal
8 Royal Guard
2 Rail Rifles
Warfish
SMS
Decoys
D pod
Flechettes
TA
Vehicle Multi-tracker
Medbay
Total 369
Elites
2 XV 8 Crisis Suits
2 TL/ Missile Pods
2 TA's
Total 140
2 XV 9 Hazard Suits
4 Fusion Cascades
2 Ablative Armour
2 Shield Generators
Total 280
Troops
Mech Squad
8 Fire Warriors
Carbines
Shas'ui
Battlenet Uplink
Bonding Knife
Markerlight
Warfish
SMS
Decoys
D pod
Flechettes
TA
Vehicle Multi-tracker
Total 250
Mech Squad
8 Fire Warriors
Carbines
Shas'ui
Battlenet Uplink
Bonding Knife
Markerlight
Warfish
SMS
Decoys
D pod
Flechettes
TA
Vehicle Multi-tracker
Total 250
Fast Attack
4 Tetra Jetbikes 140
Heavy Support
Hammerhead
TL Fusion Cannons
SMS
Decoys
D pod
Flechettes
Vehicle Multi-tracker
Total 195
1749
Space Wolves
TBC
Space Wolf Turn 1
2 Drop Pods slammed down next to the Royal Guard. One contains a dread with a heavy flamer, the other, Grey Hunters.
Shooting sees several Tau turned to ash, despite using FNP from the MedBay.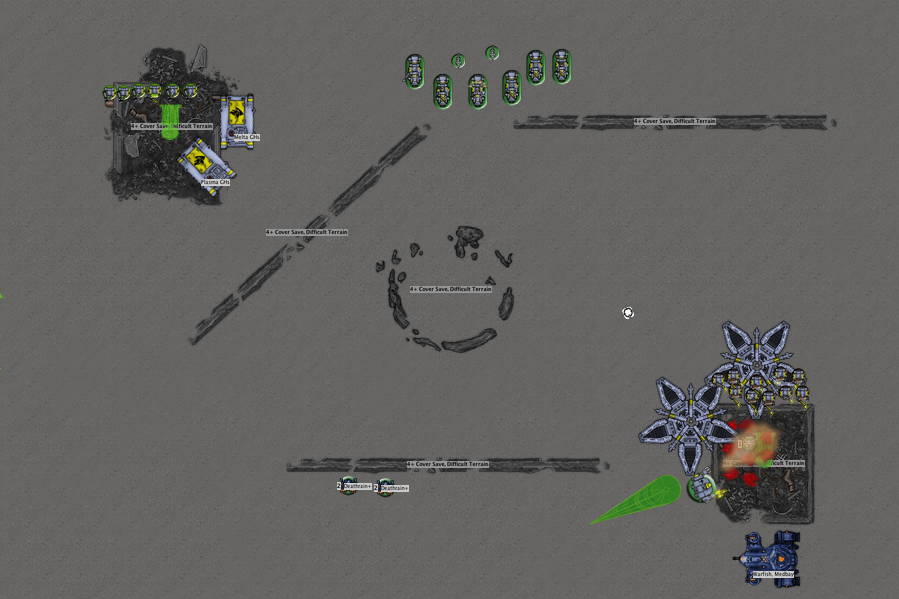 I thank god there is no assault phase here.
Tau Turn 1
Tau stuff moves on from reserves. Hazards somehow show up now, deep striking on turn 1. In retrospect, I am
very
surprised Zenny didn't call me on this fact. In fact, I should have known better, but I've been playing mainly planetstrike of late. Set myself up for a nice little bit of dakka hell here.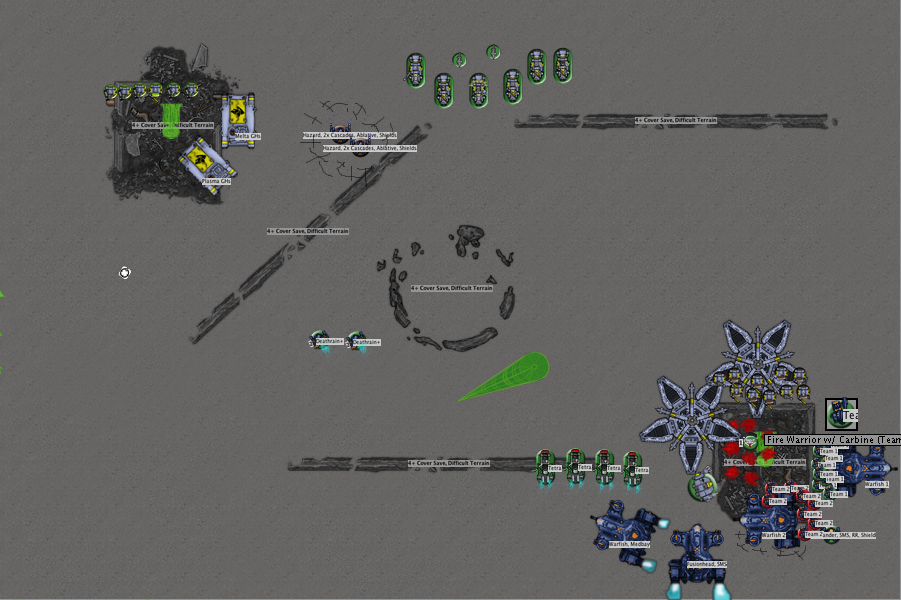 Said dakka fails to really do anything at all to the Grey Hunters. Fusionhead turns the Dread into molten slag. Hazards' cascades kill a single fenrisian wolf, despite getting 6 hits (using the Tetra's lights) against the Thunderwolves. This is probably justice for mistakenly bringing them on early. Deathrains pop a transport.
Space Wolf Turn 2
Another drop pod slams down in front of the Tetras. Grey Hunters pile out. Eastern Grey Hunters close in. Ethereal starts looking twitchy, as do the nearby fire warriors. Other Grey Hunters advance from the north-western objective towards the Hazards.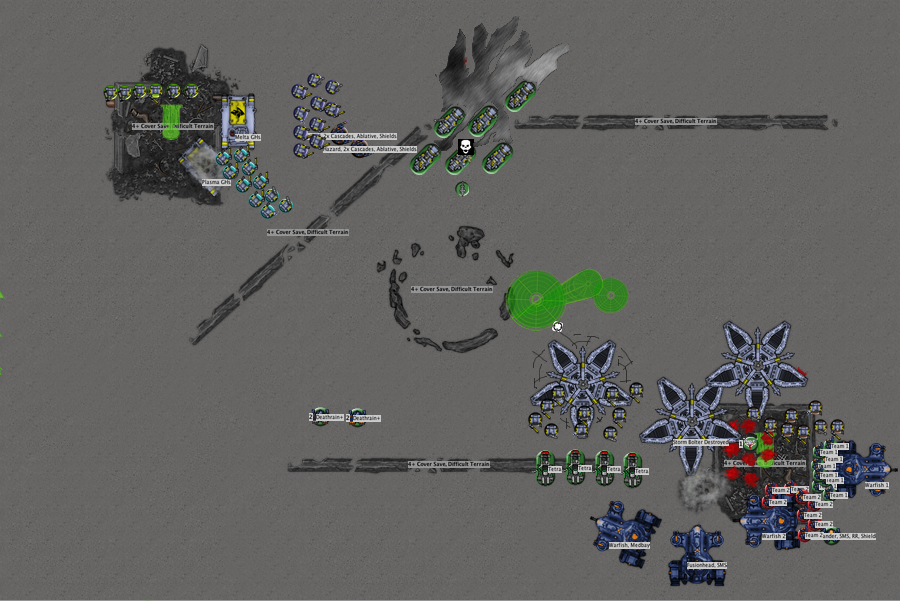 Bolt pistol fire kills some fire warriors, massacres Tetras. The north-western Grey Hunters slaughter the Hazards, despite 2+ armour and 4+ invulnerable saves. Once again, I blame the dice. :P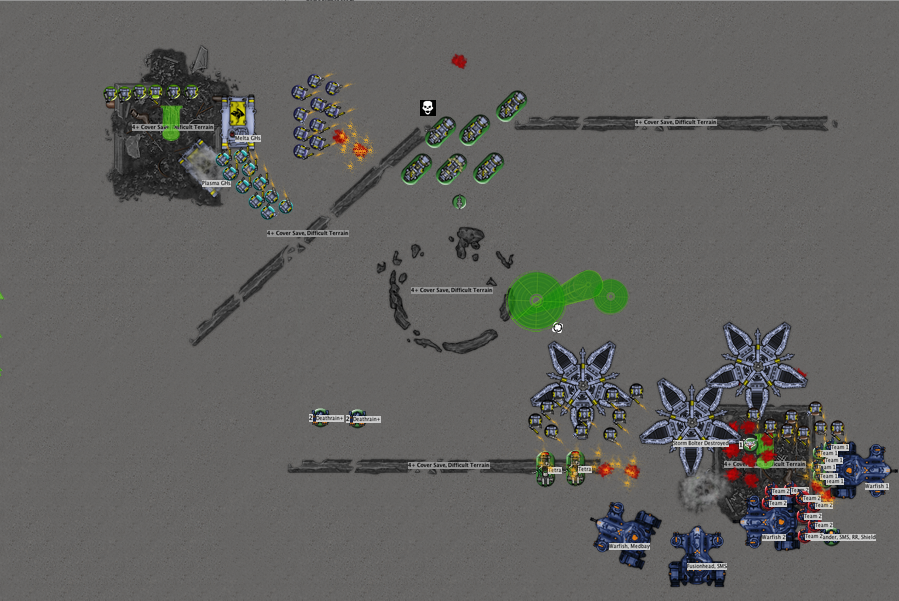 South-east grey hunters assault team 1. Kill half the remainder. They only stay due to Ethereal granting Stubborn USR.
Tau Turn 2
Tanks move around a bit, clearing lines of fire to the central grey hunters. Tetras flee off the board from the scary bolt pistols. Time for some re-training methinks. Everything tries to draw a bead on that central GH unit. Ethereal, meanwhile, joins team 2, and swears the Death Oath.
Tau shooting. Out of all the firepower (ie: lots) directed at them, the GH lose only 2 men. 1 from the commander's rail rifle, the other from the Fusion Cannon.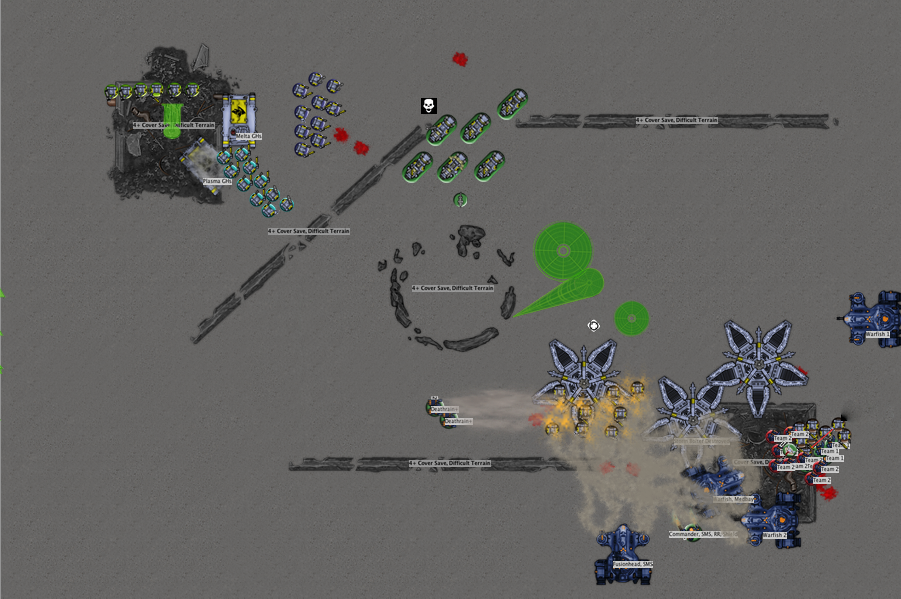 Assault phase, and the Ethereal, somewhat foolishly in retrospect, charges in with team 2, to help the beleaguered team 1. It seemed like a good idea at the time, not knowing how bad my rolls would be…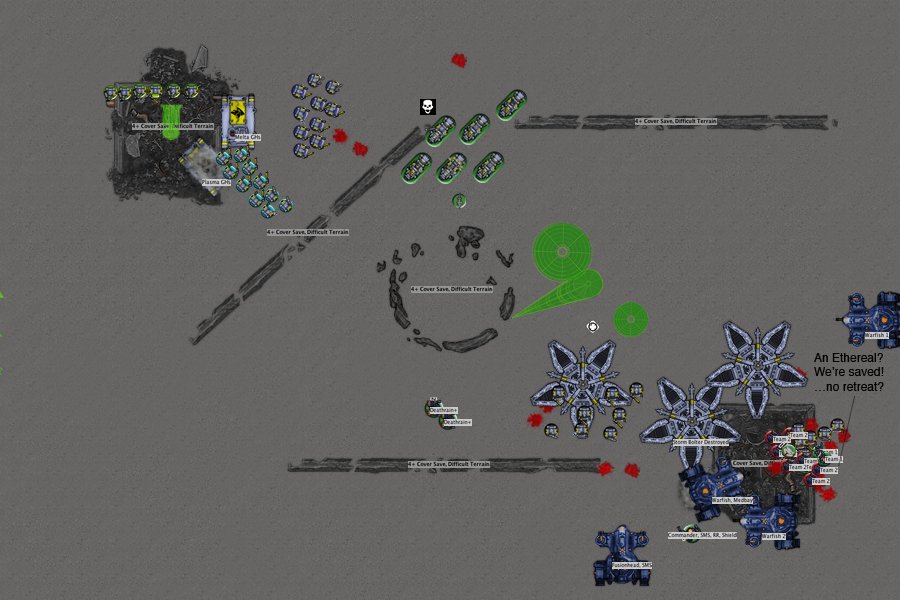 Space Wolf Turn 3
Thunderwolves move up. Central GH round on the commander. Little else.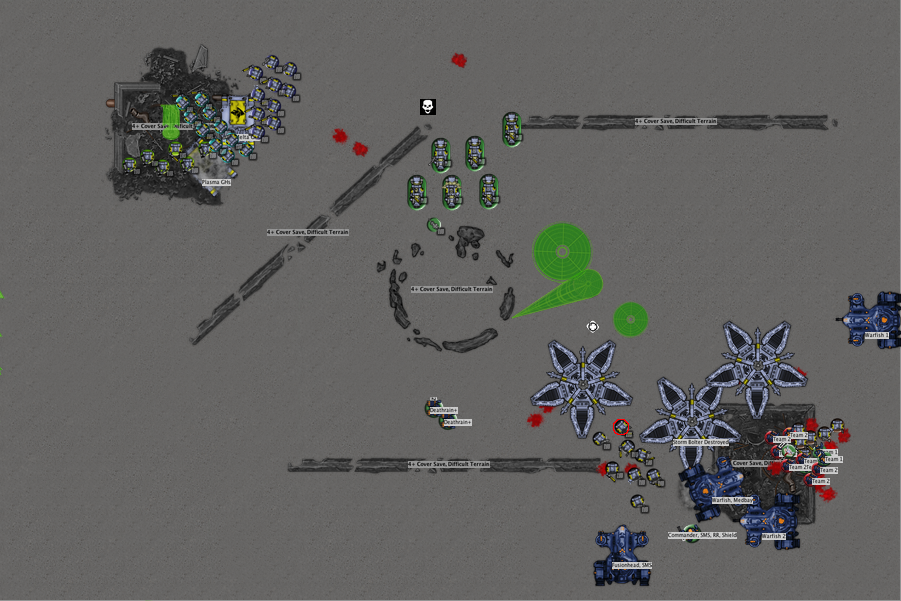 Shooting/Assaults manage to readily kill the commander before he gets a chance to use Dynamic Assault. Fight with Ethereal and two teams vs GH is
still
going. Bad rolls all round this turn.
Tau Turn 3
Vehicles reposition to get better shots at the central GH. Upper Warfish decides it wants to go independent.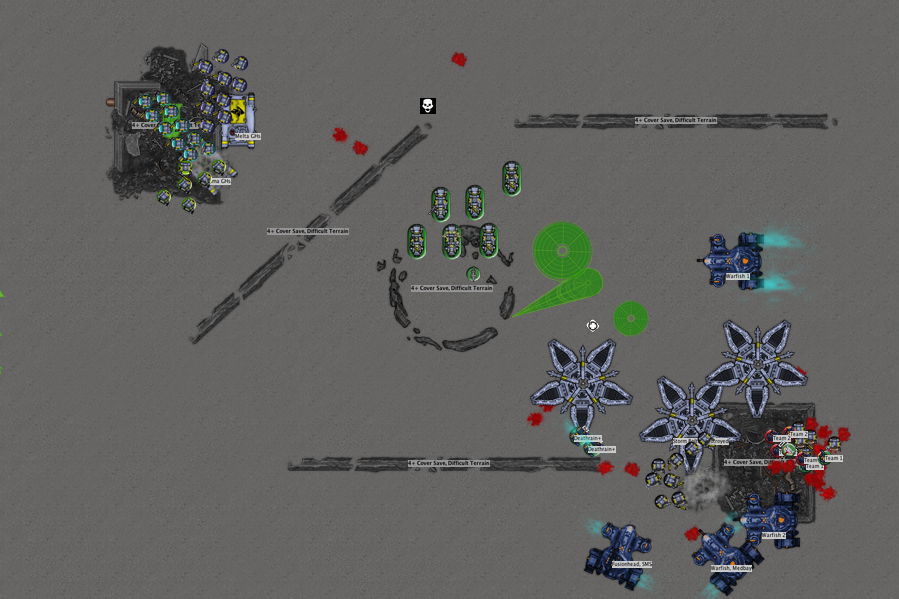 Shooting phase sees all but one of the central GH's reduced to smouldering piles of ash or cratered ruin. Said GH holds firm in the face of fifty bazillion rockets going off all around him. Indy fishy kills a fenrisian wolf. Yay…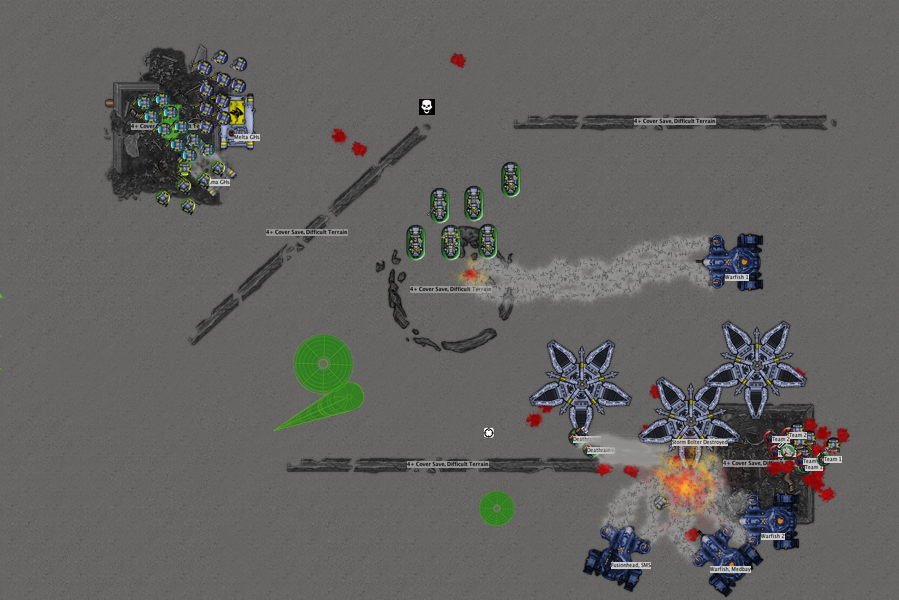 Assault phase sees the combat reduced to just the Ethereal, who somehow
passes
five saves for No Retreat, and remains fighting. It was at this point we decided to call it, as I had no scoring units left, had lost a fair chunk of my army, and could get a draw if I was
really
lucky with some of my rolls. I did not feel lucky enough at 2am to pull it off, so here we are now…
Notes on the TODex:
You really need more markerlights if you want to use the battlenet.
Vehicles are pretty balanced in terms of cost/firepower, and about as hard to take down as they used to be. (Myopic long fangs notwithstanding)
Ethereal is good, Fire influence (death oath) turns him into a real tar pit, just as planned.
Assault D3 Cascades are too unreliable.
And I should have a taken a bunch of ion weaponry to deal with power armour… (next time, next time I shall create a proper all-comers/anti-power armour list).
Now, up next, an incomplete battle with LGT. Expect a shiny BatRep when it's finished.