WAARGH Grumgutz vs NEW Tyranids! (1850, 1/21) in "Bigger Badder Bugs!"
Hi All,
Welcome to another Grumgutz tale, this one vs the New and Improved (maybe?) Tyranids!
Unfortunately, I'll come straight out and say that though it wasn't a full game due to some time restraints and thus doesn't end conclusively. Still, let me know what you think!
Hope you all enjoy it.
Best,
-BT
P.S. C&C, as always, is greatly appreciated!
WAARGH Grumgutz Alterate 64 "Grimskull's Gobsmashas" (1850pts) 72 Infantry, 3 Walkers, 3 Vehicles, 3 Artillary; 13KPs
Warboss Grimskull Gobsmasha (Warboss w/HA, PK, Cybork Body)
Big Mek Wingnut w/KFF
Nobzx7 w/Dokta Chop, PKsx3, BCsx3, Kombi-Skorchasx2, WAARGH Banner, Bosspole (BW Ded. Transport, Counts as Troop)
Lootasx10
'Ard Boyzx19 w/PK Nob, BP
Shootazx30 w/PK Nob, Rokkitsx3
MegaNobzx4 (Kombi-Skorchasx2)
Wartrukk (Trukk w/Ram, RPJ, Big Shoota, Boarding Plank; Dedicated Transport)
Da Beast (BW w/Deffrolla, RPJ, Armor Plates, Big Shoota; Dedicated Transport)
Da Big Red Cheez ((BW w/Deffrolla, RPJ, Armor Plates, Big Shoota)
BigToof (DeffDread with total 3 CCW, Skorcha; Counts as Troop)
BigToof's Steelgrots (Killa Kansx2 w/Grotzookas)
Kannonsx3 w/Runtherd
Tyranid Swarm Omega (1850pts) 56 Infantry
Swarmlord (!) w/ Hive Guardx2
Zoanthropex2
Deathleaper
Tervigon w/ Adrenal, Toxin
Termigauntsx20
Hormagauntsx20
Genestealersx6 w/Broodlord
Mawloc
Trygon Alpha
-----------------------------------------------------------------------------
Warlord Grumgutz Bitzgrabber looked out at a massive outstretch of heavy woods. Next to the massive Warlord was the slightly smaller form of Big Mek Wingnut who was also looking out at the woods, but with some confusion.
"Uh, Boss?" ventured the Big Mek. "Whatcha lookin' for again?"
Grumgutz snorted, "Bugs. Big 'Un. I done seen it a while ago, keep huntin' it, but it's out hidin' in there. Smart too. Knows it can't take us or the hummies in a straight up fight. Probably brewin' it's little gits in the woods."
Wingnut shrugged, "But Bugs is hard ta find. Why's this one so fancy?"
Grumgutz nodded, "'Cause it's the Boss Bug. I done seen it. We locked eyes, and I knews it was gonna be me and him. 'Course then he took off, didn't want none of Da Big Five."
"Nobody wants none of Da Nob Bikerz, Boss. Most blokes take off before ya can get close. Big Louie sez that them Bugs can feel ya. Probably's shakin' in it's buggy boots. Best we maybe go, cuz there's no way it's gonna come out and fight..."
Wingnut paused, as he looked at a crooked smile crossing the Warlord's face...
---------------------------------------------------------------------
"... Uh, how'd you end up doin' this again, Boss?"
Grumgutz looked at Wingnut, who was helping tote a large crate into his Battlewagon.
"Took some goin', but Brewburna had some o' his special stuff left over. Took a pint, but it weren't so hard."
Wingnut paused, "Uh, ain't that the stuff that they use fer the Skorchas?"
The Warboss nodded.
Wingnut looked at the crate a bit suspiciously. "You sure it ain't dead?"
Grumgutz snorted, "No way that's gonna happen so easy. Gork an' Mork ain't that nice. Now go get Grimskull and tells him I want that Big Gribbly outta them woods. Soon as it's out and about, I'm gonna run it down."
Wingnut nodded, then added, "Uh, but Boss, how is you sure it's gonna come out for this?"
Grumgutz smirked. "I knows Wingnut, 'cause everyone that gets an earful of what's in that box will wanta come give it a smack. Gork knows I thought about it."
Wingnut (along with all of the Boyz in hearing range) nodded, "Huh, dat's true Boss. Dat's right up true."
-----------------------------------------------------------------------
Ex-Farseer Lorilune winced. How had she convinced herself to carouse with Grumgutz? Granted, he had set up a meeting to discuss some changes that she wanted to her quarters, and alterations to the WAARGH (all both undoubtedly beneficial). The talk had gone well, but whatever the Warlord was drinking clearly should not have been imbibed by Eldar (even WAARGH-energy enhanced ones). She sat up, tried to bring her hand to her throbbing head, and then paused as she heard a metallic clink, and felt resistance on her arm.
Looking down, she saw a long, metallic chain attached from her arm to a plate pounded into the ground. She looked around and saw a dark, deep forest. What in the world was going... Was this some sort of Greenskin joke? No matter, thought Lorilune as she concentrated, summoning up energy, but then faltered as she felt a familiar, lurking sensation that sent a streak of terror running down her spine.
"Shadows in the Warp!" she yelled. Unfortunately, a bit too loud as the shout echoed through the forest. She paused, listening intently.
Something in the forest moved. Something BIG. Tugging at the chain, she found it was far too fixed. She tried to concentrate again, but the Shadows prevented her from doing anything except for think about a grisly death.
"You damn green bastards!" she yelled. "Stop joking around and get me out of here!"
There was a rumbling and the ground shook. The trees shook, and Lorilune's Eldar ears perked up at the all-too familiar sound of trees falling to the side as something pushed them to the ground like toothpicks. A massive head poked rose over the treetops for a moment and Lorilune felt a psychic surge roll over her.
"Swarmlord," she whispered. "It's a SWARMLORD!! You idiots! You've killed us all! Get me out of here!!!"
---------------------------------------------------------------------------
Warboss Grimskull Gobsmashs nodded. "PANZIE YELLIN' SOMEFIN'. ME GRIMSKULL #1 WARBOSS GONNA GET BIG..."
Grimskull paused and swiveled around again. There was something in the woods, the Warboss was sure of it. He wasn't sure what it was, but he wanted to krump it bad. Kaptin Lucky was quiet, so Grimskull decided he'd just wait too.
Big Mek Wingnut ignored the Warboss and nodded, "Yep, looks like da Bugs is here. Ok Boyz, lets go get 'em!"
The Orks all yelled in agreement and set into the deep woods...
--------------------------------------------------------------------------------
Pre-Game Thoughts: Good... god. This is my first game vs the New Codex, and I guess I'm going to be facing some of the big nasties. I have no idea what will happen, but luckily, neither does my opponent.
My how a new Codex changes lists... No Carnifexes? And only one unit of Genestealers? But a Swarmlord, Deathleaper, Trygon Alpha and a Mawloc? This is so going to hurt...
Mission: Seize Ground (3 Objectives)
Setup: Dawn of War
Terrain: Forests and hills
Deployment: I actually walked in pretty late to this one, as my Tyranid player thought that I wasn't there
Turned out we were on opposite sides of the room for a while. I noted we didn't have a lot of time, but would do what we could. (Mork approves!)
Terrain was pretty minimal, mostly hills and a few forests left over from a Warhammer Fantasy game. To save time, we agreed to keep them where they were, which was crowded near the center with a pile of rubble to the right. No impassible terrain, and no ruins... Well, shows me for failing my spot check...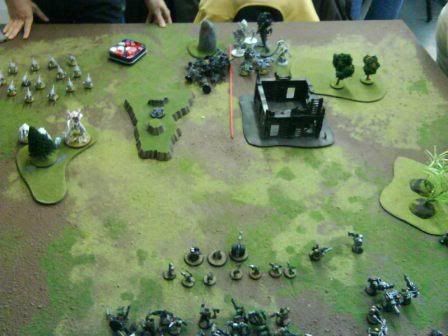 Picture Caption: Ignore the models on the terrain for the moment, this is just a wide out photo to show the lack of well... cover (at least on my side). That's not so good.
The Tyranids placed two objectives, one in the center of the board, one to the right near the center, and I placed one (I used Lorilune
) near the center back. Wow, this is going to be ugly.
The Orks won first turn and passed it to the Tyranids. I wonder if that was smart in retrospect...
The Tyranids place the Swarmlord and his guard front and center in some cover, with the Tervigon and a unit of Termigaunts to the left behind a small hill. Deathleaper and the Genestealers in reserve, Genestealers outflanking.
The Orks realize how big that Death Star is in the middle and deploy absolutely nothing. Everything plans to roll on turn 1 in true Ork fashion!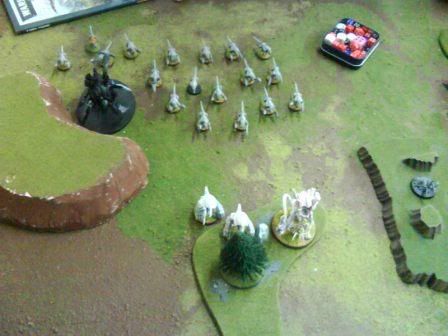 Picture Caption: Oh man, that's a lot of pain in a BIG package.
Turn 1: Tyranids
The mass of Hormagaunts pile in the center, running forward. The Termigaunts run up. The Tervigon pops out 9 more Gaunts, who also run forward. The Trygon (for some reason) decides to walk in the rear, as does the Mawloc. The Mawloc prompty burrows (aha!). The Swarmlord decides he likes his batch of trees and does little else. Oh, and the Tervigon put Catalyst on one of the Gaunt swarms.
Turn 1: Orks
Everyone comes on, with Grimskull and the 'Ard Boyz leading the way down the left side edge of the board, with Wingnut (and his Nobz) close behind. The Trukk follows after them. The Lootas come in, hugging the back of the board.
Ditto for the Shoota mob who comes into the Lootas' right.. The Kannons roll in on the Shootas' right.
BigToof and the Steelgrots also run in following to the right of the Trukk
Wow. There's no terrain out here. This is not good.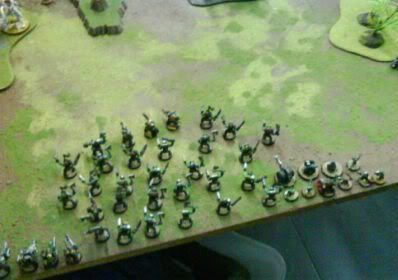 Picture caption: Spread out and ready for the hurt!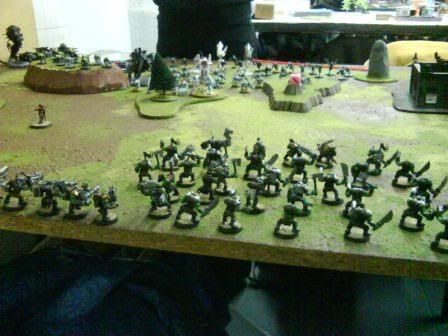 Picture Caption: Staring down DOOM!
Turn 2: Tyranids
The turn starts out with a BANG as the Mawloc pops in and immobilizes Da Big Red Cheez (with Grimskull inside it). The Tervigon makes 14 more Gaunts and then poops out. The Hormagaunts run forward with an amazing roll. The Swarmlord moves forward. The Trygon shuffles a bit. The Mawloc tries to run away, but doesn't get far enough...
Oh, and Deathleaper pops up on the other side of the board, "hunting" Grimskull and lowering his Leadership (uh... ok...). We promptly forgot about him as he didn't do much else...
The center pack of Termagaunts fire at the Shootas and take down a handful of them (I really miss cover, I really do). The Swarmlord then hits them with a nasty power that makes them BS1 and WS1 (!) yikes. Well, at least he didn't run forwards. The Tervigon also gives the Swarmlord Feel No Pain (right, I'm not shooting at him, I get the picture).
Turn 2: Orks
Da Beast revvs its engines and then Tank shocks through the Mawloc who lets it go, not trusting to be the first fatality of the game (oh little does it know...) Da Beast plows through two units of newly hatched Gaunts (downing about 6 altogether) and up past them and near the Tervigon and the Zoanthropes. The Shootas shuffle around a bit, to be ample targets for the Hormagaunts, trying to spare the Lootas and Kannons.
And the Wartrukk zoomed up the Mawloc, and the Fab Four got out. BigToof walked up next to them. They seemed really eager to try out the big gribbly...
I thought about taking Grimskull out of the Wagon, but until the Genestealers hit, I decided to keep him safe...
Shooting was alright, as the Lootas take off a wound from the Tervigon, and the Kans and Kannons take down about a half a dozen Gaunts from each big squad. Hilariously, the Shootas still manage to down a good number of Hormagaunts (after all, there's not a LOT of difference of BS1 vs BS2...)
Oh, and then the MANZ fire up their Skorchas and take down some of the small unit of Gaunts, aiming at the Mawloc, but still getting some of the surrounding Nids. Bigtoof does the same and gets a few.
Oh, and the Nobz WAARGH! Getting nicely close to the Zoanthropes and the Tervigon.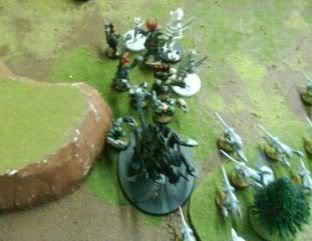 Picture Caption: There is no charge, but MULTI-CHARGE!
Assault is ugly (as they tend to be). The Nobz hit the Zoanthropes and the Tervigon, chuckling at the Tervigon's attempts to hit them. They then OBLITERATE the Tervigon in a frenzy of klaw and take down a Zoanthrope to boot.
That's when something bad happens to the Nids. The Tervigon was sitting in the middle of two piles of gaunts!
My opponent let me roll for the hits. I rolled 9 hits on one group and 15(!) on the other. One group of Termigants evaporated, and the other fell to just a small handful of guants. Another Zoanthrope went down to fearless wounds, and the last was stuck in assault with the Nobz. Not too bad at all...
The Mawloc had enough time to harm one MANZ with a flesh wound before BigToof went into action.
"WORMY NEED HUG!" yelled the Deffdread, as he slammed into the Mawloc doing 4 (!) wounds. The MANZ then hit the Mawloc and did enough wounds to kill him twice over. (GAH!)
The Deffdread consolidated back towards the center. The MANZ moved back to their Trukk.
...
Wow, I sort of feel bad for the Mawloc. That was harsh.
Picture Caption: Hey, Mawloc? You might want to void yourself while you still have the equipment.
Turn 3: Tyranids.
That was not a good turn.
However, the Genestealers come in and fleet into range of the MANZ.
The Hormagaunts run in and with a LUCKY fleet (this would be theme of the day), manage to get within assault range of the Shootas.
The few remaining Termagaunts focus their fire and hit the Shootas, taking down 5. (ouch. Ok, I'm running out of boyz... Did I mention I miss cover?)
The Swarmlord moves backwards and stumbles a bit in the forest. He needs a darn good assault roll to hit the Nobz. The fleeting Trygon though, does fine and easily gets within assault range.
Tyrand assault was bloody. On both sides.
The Genestealers hit the MANZ and I brace for impact... but am surprised when I get with only a half dozen wounds, only two of which are rending (?). One MANZ falls, but the others tear apart everyone but the Broodlord.
The Swarmlord gets an AMAZING assault roll and gets in on the combat (sigh). He hits twice and slays two Nobz who fail their invul when they have to re-roll successful saves (wha?). The Trygon guard though, not being monsterous creatures, fail to do any harm to the Nobz after their FNP rolls.
Then the Trygon hits and does... 7 wounds. Yes, he doesn't miss (or barely).
The Nobz get ready for hurt but... I make FIVE (yes FIVE) 5+ Invul rolls.
I didn't even realize it until the Tyranid player asked me who died. My response was... "Uh... Nobody" (Cue WTF, Orks are broken!)
The Nobz hit back and put four wounds on the Trygon.
The Nobz lost combat by two, and they pass their morale roll and STAY. (Double take, wha??) Can't believe it!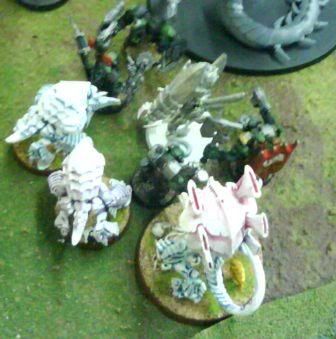 Picture caption: Keep hittin' us Bugs! You ain't found the Orky parts yet!
However, not everything is rosy for the Orks as the Hormaguants assault in. The Tyranid player realized that he forgot to give them a special abillity. I didn't ask which one (as fate had just somehow pulled out a big one for me... Thanks Mork!), and let it go through. He told me he just gave the Hormagaunts Preferred Enemy...
....
Oh. Uh. Yeah, I suppose I can't take that back now can I?
.....
The Hormaguants hit, and with Preferred Enemy to back them up, they down enough Orks to leave the Mob with 8 (doh!). The Orks down 5 more in return, but fail morale and are run down (sniff). The Hormaguants though, get a lousy consolidate roll and are left in the open.
...
Oh and about this time, someone says something to me, but I'm a bit engrossed in planning something crazy, and don't pay attention. Again, fail Spot Check for 'Toof!
Turn 3: Orks
Wingnut puts the pedal down and slams into the two very small units of gaunts, who have about 5 or so deff-rolled. He stops in perfect position, blocking the objectives from the big gribblies, and also forcing the center unit of Termagauts out of cover.
BigToof moves into position as well, Skorcha at the ready.
The Kans do likewise.
I finally get Grimskull out of his Tank and move him over towards the objective (Lorilune), getting ready to contest it next turn.
Shooting is just... outrageous, as the combination of BigToof, the Kans, the Lootas and the Kannons annihilate EVERY LAST GAUNT on the board.
My opponent pauses as he realizes that he's in a lot of trouble now.
And the big combat in the center ends up with the Swarmlord and the Trygon finally tearing the Nobz down without any retaliation. Still, their job was done, and the big MCs find themselves having to move around the Battlewagon.
But the MANZ manage to batter down the Broodlord without much difficulty. Wow, that was much less painful than I remembered...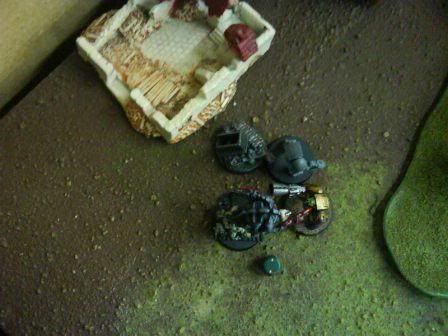 Picture caption: I thought you were nasty. What happened?
...
Remember the something that was said to me? That was that the store was closing and that we had to pack it up. The Tyranid player and I just nodded, as we had started late, but much mayhem had been done. He didn't want to throw in the towel, as he felt he could still try and suck Grimskull into a combat and contest the last objective. (Possible. Hard to say though...)
Result: Inconclusive!
Post-Game Thoughts: Gah, I can't put this one in the Win column, but things were pretty well locked down for the Orks. The MCs didn't really have anywhere to hide, and it would have taken some doing for them not to be eventually shot to their doom or the like. Still, we both had a great time, and that's what counts.
Destruction Tally:
Nids Lost:
43 Termagaunts
20 Hormagaunts
Tervigon
Mawloc
6 Genestealers w/Broodlord
2 Zoanthropes
Orks Lost:
7 Nobz
30 Shootaz
Nid MVP:
Hard to say, either the Swarmlord for his incredible kill-power and special abilities, or the Mawloc for it's Turn 1 immobilization of my Battlewagon. Both were impressive.
Ork MVP:
MVP posthumerously goes to the Nobz. Hard-core killas, yes, as they took down a Tervigon (and thereby a good chunk of their army), Zoanthropes and did the impossible by standing up the Swarmlord and a Trygon Alpha... for at least a turn.
The Funny-moment award goes to BigToof for his near solo-dispatch of the Mawloc. I was a bit too worried maybe? That was a LOT of overkill...
-----------------------------------------------------------------
Ex-Farseer Lorilune had found a sharp rock midway through the combat, and that, combined with middling Ork craftsmanship, allowed her to smash her way out of her restraints. Leaping forward, she ran over and into the Wartrukk of the Meganobz. The Meganobz were about to say something, but the Warphead gave them a withering look and said, "Drive us OUT of here! Unless you all want to be a greasy stain!"
The Nobz nodded, and piled in as well, the Trukk heading away as fast as possible.
On the other side of the combat, the Swarmlord watched the Eldar move away. Looking around, the Swarmlord noted that much biomass had been lost. The only interesting (and potentially useful) piece of the battle had left. Further combat would only cause a loss of more Biomass. It turned, smashing into the ground, and tearing up a huge mound of trees.
The Orks tried to run up and over the sudden barrier, but the mountain of foliage kept them from following.
Wingnut snorted, watching the big bugs run. At least they had gotten them out of the forest, but the bugs weren't down yet. But there was more fightin' to be done.
Now, he thought, breaking into a sweat that he didn't have when staring down the bugs, he would just have to deal with a really knackered off Big Louie...
Maybe the Swarmlord wasn't too bad after all...
Nice report, Bigtoof. +1 - Khanaris