Quote:
Originally Posted by Colonel Marksman
[spoiler]
TAU FORCES
HQ – Ethereal – 90
Royal Guard – 156
12 Royal Guard
HQ – Ethereal – 90
Royal Guard – 156
12 Royal Guard
TROOPS– 12 Fire Warriors – 120
TROOPS– 12 Fire Warriors – 120
TROOPS– 10 Kroot, 12 Hounds – 186
Sharpe +75 (grants Scouts)
Hyperactive Nymune Organ +15 (Fleet)
TROOPS – 10 Kroot – 134
Shaper
Hyperactive Nymune Organ +15 (Fleet)
TROOPS – 8 Pathfinders – 112
FAST ATTACK – 5 Vespid – 75
ELITES – 3 XV-9 Hazards – 255
1 Fusion Cascade each
HEAVY SUPPORT – Sky Ray – 130
Seeker Missile Rack
HEAVY SUPPORT – Hammerhead – 170
Manta Drop
Commander Steel +40
Twin-linked Pulse Carbines
TOTAL POINTS: 1824
NECRON FORCE
HQ - Necron Lord
Res Orb, Veil of Darkness, Staff of Light
TROOPS – Necron Warriors
20 Necrons
TROOPS – Necron Warriors
10 Necrons
ELITES – Flayed Ones
8 Flayed Ones
ELITES – Immortals
9 Immortals
FAST ATTACK – Scarab Swarms
10 Swarm Bases with Disruption Field
FAST ATTACK – Wraiths
3 Wraiths
FAST ATTACK – Destroyers
4 Destroyers
HEAVY SUPPORT – Monolith
TOTAL POINTS: 1844
GAME:
Capture and Control
DEPLOY:
Pitched Battle
Note: I completely forgot about the Vespid and the XV-9 Hazard Suits which were waiting in Reserves. That's a total of 330 points that did not participate. Plus, I forgot to add another 30 points somewhere, so the Tau are disadvantaged by 360 points (effectively making this a 1500 point army vs an 1850.)
DEPLOYMENT
TAU TURN ONE
NECRONS TURN ONE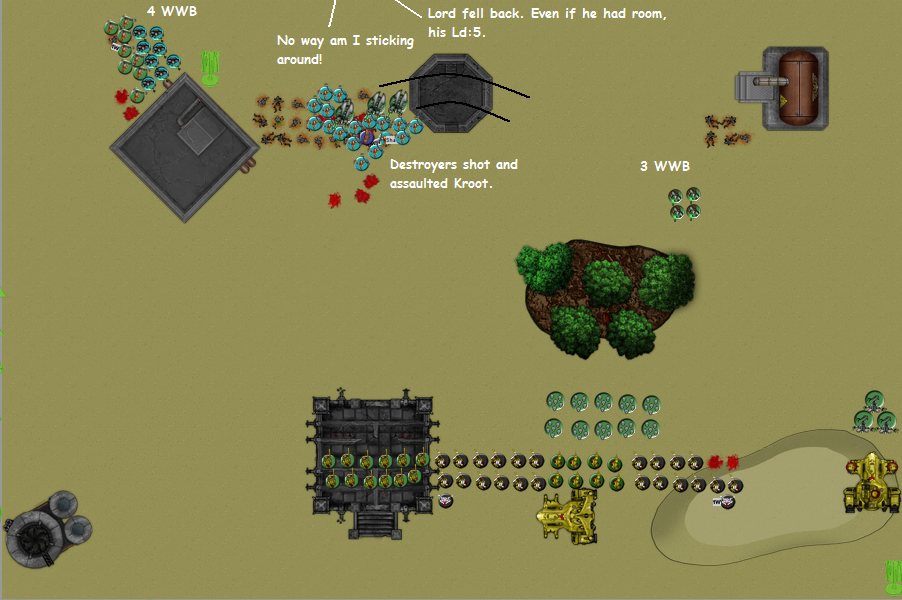 TAU TURN TWO
NECRONS TURN TWO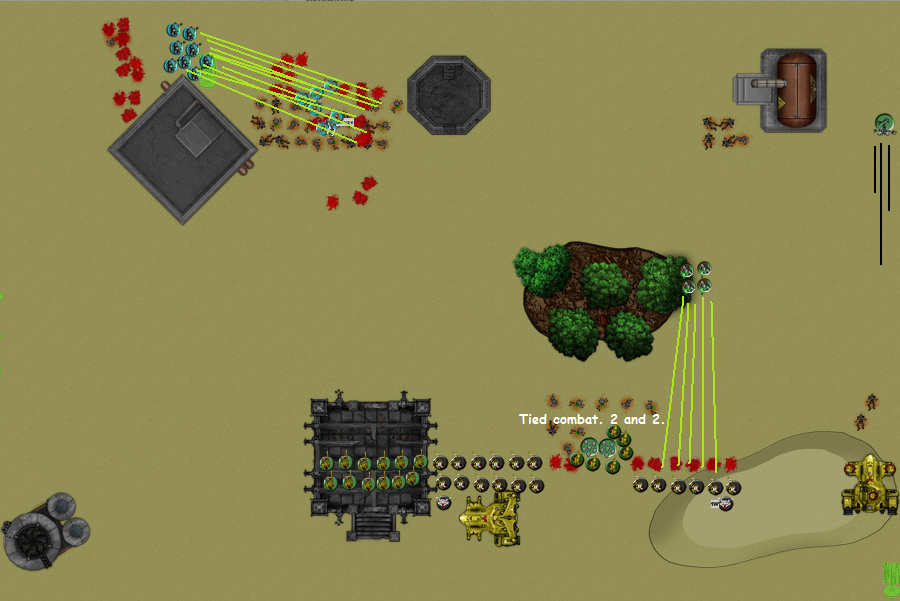 TAU TURN THREE, MOVE/SHOOT
TAU TURN THREE, ASSAULT
Forgot to mention the 8 Scarabs bases in the Necron deaths.
[/spoiler]
Guys working on this project... you have no idea what you're doing.
All, right I again have to wade through the muck to make our case known because
someone
insists on coming onto our topic, insulting the lot of us, and expects that he gets away with no questions asked.
List creation issues
Firstly, he never got to use his monolith or Flayed ones in the fight, so the points aren't close to what they should be for either of you as it seems. Sp your 360 points down is actually at a current advantage to his 379 points down. :
I'm also not one for list tailoring at all, but I'm rather rare in that too. This guy had some odd picks to say the least. :-\
Deployment
Is your opponent five?! Since you never mention seizing, it's obvious you went first which (in which case you set up first). He deployed like an absolute retard, but at least his spacing will help make my further points.
Deployment part 2
Your infiltrators on the top left could not have been outside of 18" of the main Necron w/ Lord group if your larger one was even further than them. I drew LOS to it from four different units just to make sure. More on those two later though.
Turn one shooting
Well done at those 15 dead Necs. Quite against the odds imo again. However, their deaths do have an interesting side effect for the unit in question. Your opponent pulled stupidly (extremely so, considering you're scouting towards him and moving) and allowed you to get the charge, but removing the right side of the guys would have saved him. Especially since each base Is about an inch across with the half inch I'm seeing between the guys on here. All said and done 24" to the last guy but then the lord and everyone in coherency are another half " plus
further
. Making them right outside of your combos 24" range. Oh but that lovable Marksman luck strikes again and the guy did pull the wrong models (ignoring the big ass unit bearing down on him for some reason) and then you pull a fleet six out of nowehere to barely tag the unit in cc (which also wouldn't have gotten your group into combat as you showed, being barely the tip in there for this fool to react too) and somehow get everyone up there.
The other combat is illegal. Since you infiltrated closer than you should have. If, for some miraculous reason you did this accidentally, you still had that 18" to do, which means another fleet roll of six. Those crazy dice of yours Marksman, I wonder how much you'd sell those blessed things for. In any case though, the combat was illegal in the end.
Necrons Turn One
What? Why do you think the Lord has a LD five when he's broken? Even still, I find it odd again that he would find himself failing a LD 10 check. There's your magic touch again I guess. :
Statistic tells us that he would have made his morale check and regrouped (since he no longer is part of the unit that was destroyed from under him he reverts to his IC rules and he is doesn't need a last man standing check).
Also not surprisingly, your magic luck for your opponents roll only three immortals out of eight getting up (believable, if not for all the other statistical breaking luck up to this point as well).
Your opponent also attacked a greatly outnumbering chunk of Kroot with three models. Yeeah, rocket scientists on the other end there. I would have joined them to the Lord that should be there, or headed out to support the scarabs by eliminating a statistically large percentage of the Pathfinders out in the open. :
At this point, the army pretty much has fallen apart due to an unfortunate series of dice rolls on this guys part + bad placement (unsupported Warriors, Scarabs, Destroyers, and Wraiths?! No one but a noob is that bad when the opponent deployed first!) + above average rolls on your part (again) make this another Colonel Marksman standard bat rep. With every thing that
should
have happened, it's too much of a though exercise to go from there. The turn two shooting comes from a position of supreme dominance due to some illegal moves and can't be saved at this point by the Necrons.
[hr]
I don't doubt that Tau would have won, because we fortunately deal fairly handily with the older codexes out there, Necrons included.
I'd like to see the same performance out of you when fighting a 5th edition Tyranid force, or an IG player that knows what he's doing.
[hr]
Since you obviously use VASSAL, why don't we put this to rest with you facing an opponent that is a bit better than your standard? Would you fight someone who has a codex with a power level we're aiming to match?
If no, I don't care one way or another. *Shrugs*
Khan has pretty much addressed the other issue at hand handily enough too.