Hi All,
This is my first time with VASSAL. Yes, I did... uh... something!
Let me know what you think and if it's a good medium and what looks wonky.
We actually played the game IRL and I did the best to match things up, but it's... not perfect.
So if it's not 100% clear, let me know.
Thanks,
-BT
Pre-Game Thoughts: Oh dear. I'm carrying around too much in the way of excess points for this game. Or so it feels. At least I have the numbers advantage.
But, not one but TWO Venerable Dreads and TWO Baal Preds? I would feel better if my opponent didn't know my army better than I did. Wow. I'm in trouble.
Yes, this is the same Blood Angel player that I've played before. Yes, we're still friends. Oh yes, he would love to give me a krumpin' like you wouldn't believe. And, yes, I'm in a heap of trouble...
Setup: We took a bit of a different approach, using ruined buildings and decent sized pieces of rubble. We tried to keep the small buildings and cover scattered around, but the cover was having none of that. Everything promptly scattered to the sides, leaving a large open ground in the center.
Since we're both masochists (I think anyway), we setup the objectives in a triangle fashion, all in the center of the open space. Wow, can you say cluster----?
The Wolves won first turn and took it, choosing the table half with the "ends" of the triangle. Having two objectives nearby sempt like a good idea to me!
Looking around at the fairly decent shots available from the high perch, I deployed Agatha with her retinue on the top floor (three stories up!) with a commanding view for the Plasma Cannon and Psycannon.
I also deployed the larger group of Grey Hunters near the entrance to the building, ready to drive through at a moment's notice! Oh, and I placed "Peckers" (just try to say that name without smirking, I dare you
) in the center of the "triangle," making sure that he had a good "bird's eye view" of the board.
The Blood Angels deployed a combat squad with a Lascannon in the second and third stories of a ruin to the right, and Corbulo held tight with another combat squad with a meltagun and PF Sgt in a Rhino to the left. The Rhino was safely out of LoS... or was it?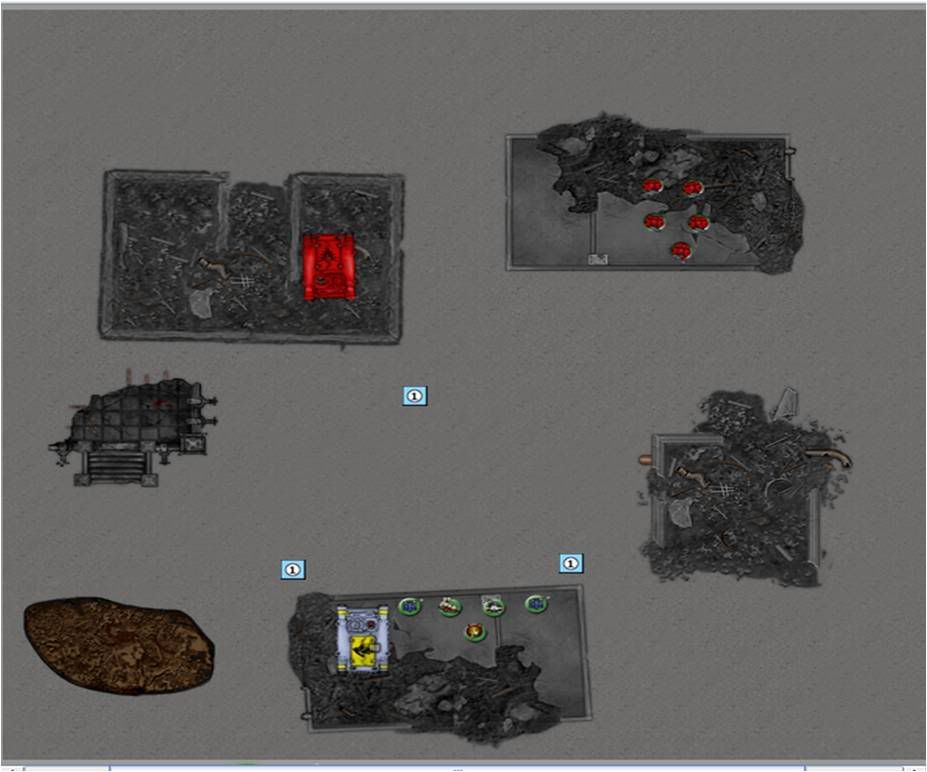 Picture Caption: Well... it's something on the board at least...
The Angels decline to seize the initiative.
-------------------------------------------------------------------------
The day was barely dawning as Lady Agatha Brimstone lead the Space Wolves towards the space port. They had chosen to go around most of the occupied areas, trying to stay to the abandoned buildings on the outskirts of the city. Luckily, nobody in the area seemed to be awake, or if they were, they paid the tanks no mind.
Agatha nodded to herself, checking the surroundings before turning back to her friends. And what a mish-mash we are, thought Agatha looking around.
Two small, pale children with wide eyes, wearing simple robes huddled together in the corner. Samuel and Samantha, Agatha nodded to herself. She wished she wouldn't have to wake the twins up from their peaceful dreamless existance, but their skills were needed. A unique pair of psykers discovered on a void-bound Space Hulk, the children were found and brought (or rather sold) to the Imperium. The two had the unique, if unfortunate gift of prescience, and Agatha noted to herself, horrific clarity of the possible outcomes thereof. No wonder they preferred to whimper in the corner. The 41st Millenium was not for the weak of heart.
She glanced at her other companion, for "weak of heart" was a bit of an irony. A patch-worked female Servitor sat quietly in the corner, one of it's arms replaced with a weapon array. Agatha nodded to herself grimly. Elsa was a fine example of what Imperial engineering could do. She was created to be a gift, but acted only as a reminder of what had been, and what had been lost...
Agatha shook her head. There was no time for old memories now. Corbulo would find out her deception soon enough, and he would not let her leave as easy as last time...
------------------------------------------------------------------------------------
Sigvald Ironfang moved up to Rolf Blacktooth at the head of the column.
"Rolf? I'm getting readings ahead. It looks like a Rhino. No doubt it's the Blood Angels. Any chance we're going to just let him have her?"
Rolf stared in surprise at the Iron Priest. "Sigvald? What? No, she's... Why would you...?"
Sigvald only snorted. "Fine, just wanted to remind you that there was another option."
"Oi!"
The two Space Wolves looked over and saw the hirsuite, odiferous form of Harald "Mad Harry" Rune Smith drive over, his head jutting out from the Rhino's hatch.
"You lads seen me Peckers?"
The two Space Wolves paused and looked at him.
"Come on now! I need ta find me Peckers! You seen it or not?"
Sigvald sighed.
Rolf paused and said, "Uh, Harry, you uh... I think it should be... in your... uh... armor, right?"
The Rune Priest gave him an odd look with a screwed-up eye.
"Lad, you got no sense! What would me Peckers be doin' in me Armor? No room in there that's what! Peckers' far too big for that. You seen it right?"
Rolf paused, "Uh, I guess, I umm... maybe by that latrine that one time a while..."
Sigvald interrupted, "Rolf, he's talking about that DAMN bird of his!"
The Wolf Guard Battle Leader paused. "Oh, you mean THAT... oh, right, uh... no."
Then, all of the marines looked up as a scruffy, balding bird that may had once been a Raven fluttered down to Harry. It hissed and rattled. The Rune Priest nodded.
Rolf paused, "Uh, what is he saying?"
Harry gave Rolf another odd look.
"I dunno! He's a bird! What's he gonna say? I's just checkin' to see what he done brought back! Aha! A patch of red. <sniff> With a smell like... those red whatzits we ran inta."
Rolf nodded, "Blood Angels definitely then."
Sigvald sighed, "I'm glad that you were so uncertain of my findings that you had to wait for a BIRD'S confirmation."
Rolf continued, "In any case, we can't let them have Agatha. I'd rather die first before I let that arrogant so-and-so get his hands on her."
Harry clucked his tongue. "Lad, I wouldna say things like that. The gods... they have a strange sense of humour...
---------------------------------------------------------------------------
Turn 1: Space Wolves
It appears that the Callidus was already doing her magic, as she used her Word in Your Ear ability to get Corbulo's Rhino out of cover. Having a mostly infantry heavy force, getting rid of those Turbo-charged tanks was top priority!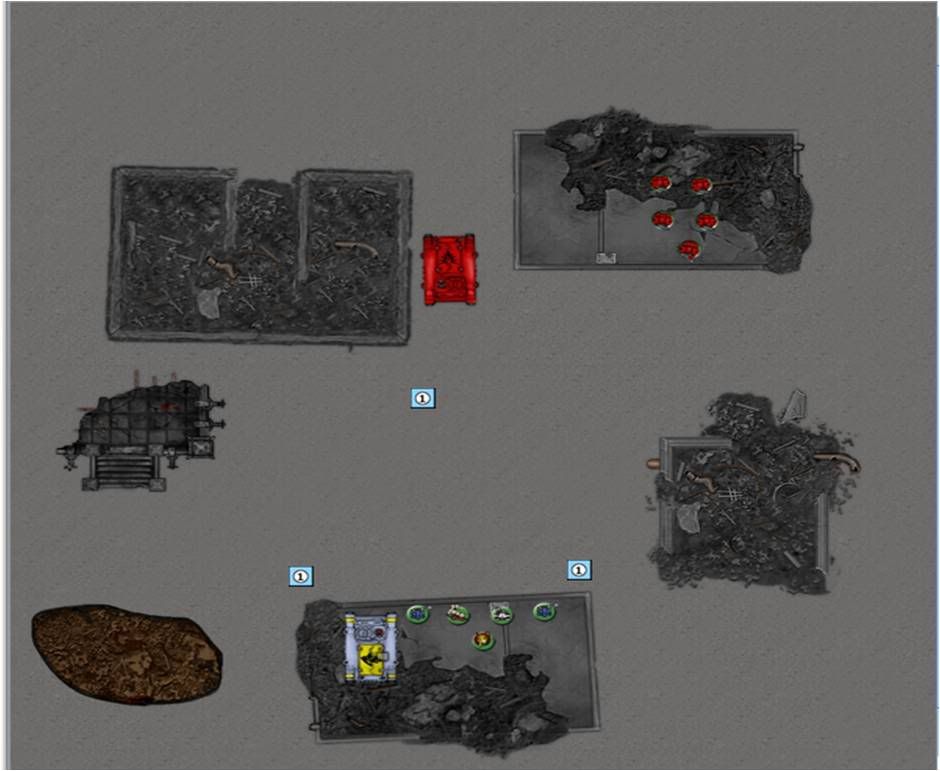 Picture Caption: What? No, sir you told us to park it over here...
The rest of the Wolves (besides the Callidus) came on the board. The Long Fangs scurried up into the second story of the building with a good run roll. "Mad Harry" rolled in with the other group of Grey Hunters and their Rhino. The other Rhino, perhaps realizing that you only get opportunities like this once, zip on out, and drop off the Grey Hunters in front of Corbulo. Rolf and his TWC run in on the left side of the board, and Sigvald does the same to the right.
Shooting is rather straightforward as the Space Wolves melta the Rhino without any difficulty, exploding it nicely. However, for some reason, I chose to spotlight the Rhino, and not the squad (whoops! I thought it carried over), and thus Corbulo and his crew are saved from Plasma Doom. (aww...)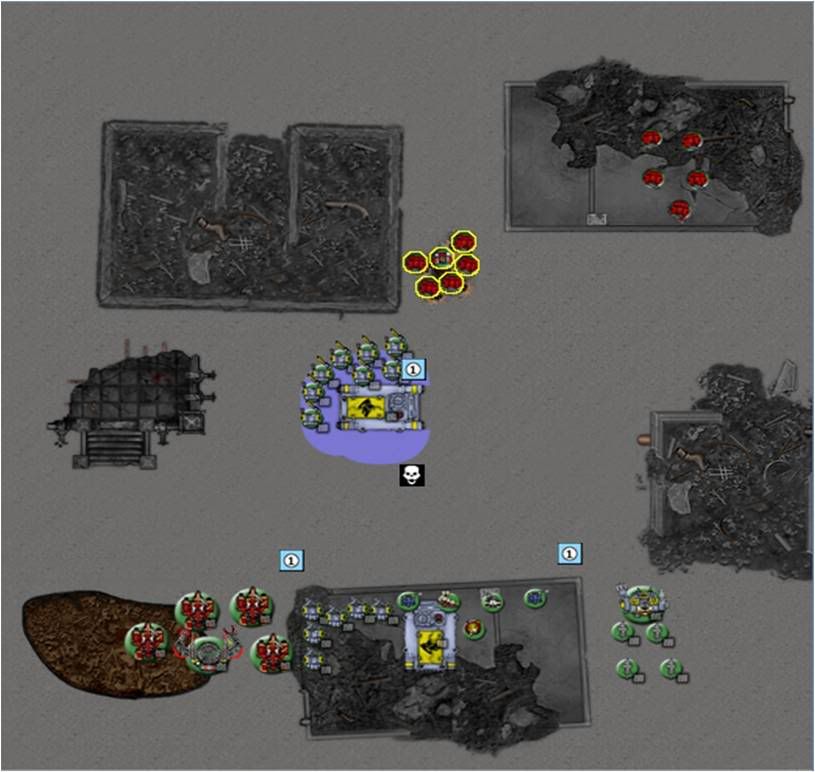 Picture Caption: Alright! One down and... ok, the rest of the army to go...
Turn 1: Blood Angels
And now here comes the pain!
The Attack Bikes and a Predator come in on the left, and the other Predator comes in down the center. The other Rhino comes in on the right. And the Death Company hop in towards the center of the board, hiding from LoS. Corbulo and his crew run backwards.
And then the shooty begins! The Attack Bikes blow up the spotlighting Rhino with no Problem (doh!) and one of the Predators shreds a few marines from the disembarked Grey Hunters, but that's about it.
The Grey Hunters, though, fail their morale and run!
Turn 2: Space Wolves
Well, at least they auto-rally. The Grey Hunters moved forward, this time, running into cover, hugging a wall.
Rolf and his calvary kept running forward, as did Sigvald.
Shooting was fairly eventful, although LoS was blocked by the buildings and rubble. The Long Fangs took the turrent off the center Predator, but that was about it.
Picture Caption: Well, it's something at least...
Turn 2: Blood Angels
And now starts the rain... of DREADS!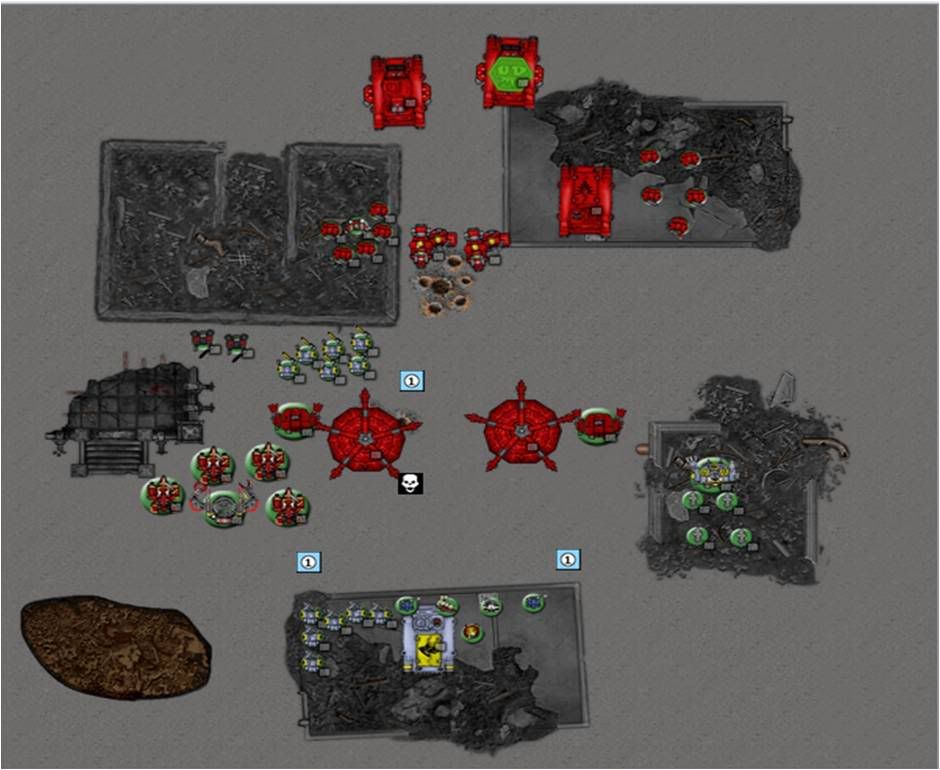 Picture Caption: Oh mama, two at once? There's no justice to it!
Both Dreads become available, and drop down into the middle of the "triangle." The Dreads both pop out, ready to do some hurting! Unfortunately, they're a bit out of range of most of the things they wanted to hurt. However, their pods are giving cover to most of the rest of the Blood Angel army! (Canny, yes?)
At least the Mystics gave the Long Fangs some free shots on the Dreads, but it was all for naught as the Wolves just couldn't seem to roll a 4! (sad yes, but true...)
The Tanks and marines all moved fowards, the Death Company getting ready to assault the belaboured Grey Hunters. Shooting was all fairly uneventful, as the Rhino made his cover saves, as did Agatha and her crew. Sigvald lost a Cyberwolf though.
Assault from the Death Company was pretty awful, as the Grey Hunters lost a bunch of marines to some nasty rends, but the Grey Hunters took down one of the Blood Angels and stayed stuck in.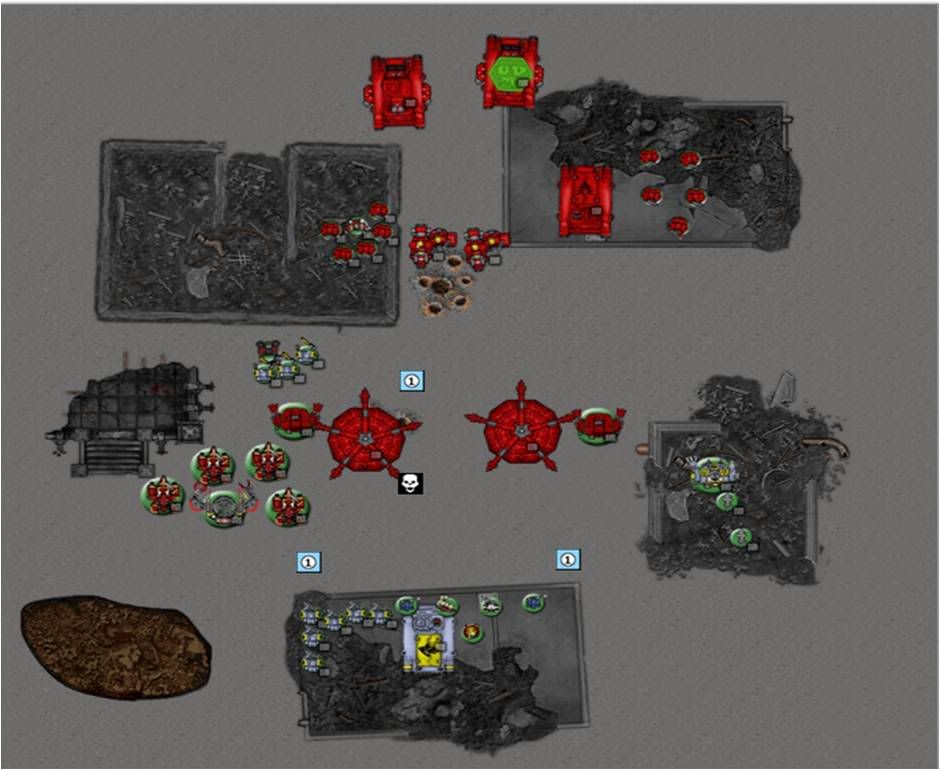 Picture Caption: Ok, that was... sort of bad, eh?
Turn 3: Space Wolves
Now it was time to CHARGE! (sort of)
The Callidus also became available (yay!).
She chose for her victims to be the Lascannon squad that was slowly pecking away at my Rhino, and sat in perfect Neural Disruptor range (i.e. right next to them).
Rolf and his Calvary ran in towards the Death Company/Grey Hunter fight.
Sigvald finally cleared a patch of cover and ran in towards the big Tac Squad (wise? Umm... maybe...)
Shooting worked out umm... sort of alright, as the Long Fangs blew up the Rhino that was poking it's nose out of cover, and with an abolute amount of fail, Mad Harry's squad melta'd the other Dread twice. They rolled a 1 and a 6... which was promptly re-rolled to a... 1. Yes. Wonderful. Oh, and the Gun Servitor had a bit of glitch and shot one of the Cyberwolves, roasting it. (oops). Alright, that was sort of dreadful...
Picture Caption: Uh... friendly fire! Really!
The Callidus did was she does best and neural-shredded the noggins of two of the Marines.
Assault was pretty straightforward, as Rolf and the Grey Hunters managed to clean up the Death Company, and the Callidus annihilated the rest of the Tac Squad while taking no wounds! (wow!)
And Sigvald ran in, and promptly perished from the Power Fist while taking down a couple of Marines. (Note to self: get him a Wolftooth necklace pronto! Or just... don't have him assault big squads...)
Picture Caption: Assault of the Light... uh... Wolf things...
Turn 3: Blood Angels
Now the pain would continue!
The fully operational Dread moved in and assaulted the TWC. The Assault Bikes came out of cover with the Predators, all eyeing the very few Grey Hunters. Corbulo also lined up his shots on them as well. The remains of the big Tac Squad decided that they want NOTHING to do with the Assassin and run for cover (oh, and the objectives!)
Shooting was pretty straightforward, as the really damaged Predator fired it's Heavy Bolters, forcing the Assassin to go to ground. The Attack Bikes, Predator and Corbulo's squad all fired into the Grey Hunters, knocking them down to two marines, who decide to hold their ground.
The Venerable Dread, unfortunately did not do that well, as it wiffed all 7 of it's attacks!
The TWC (without Rolf, who was still trying to get around to the back) swung and the PF was able to knock off an arm.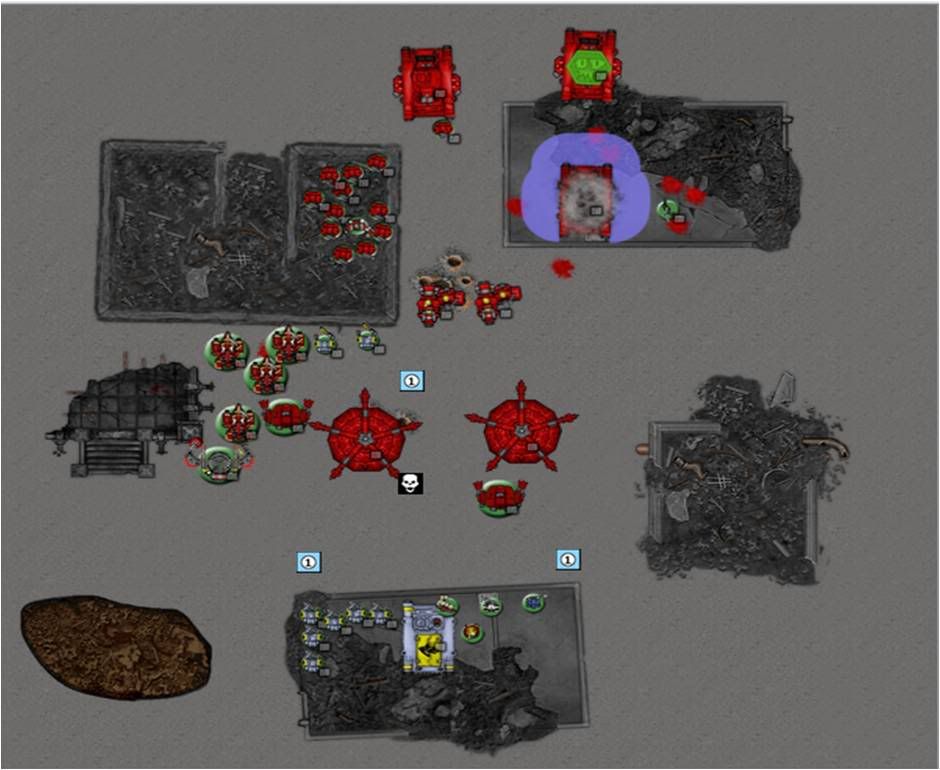 Picture Caption: Wow that...wasn't too bad...
Turn 4: Space Wolves
It's turn 4 already?! Oh dear.
"Mad Harry" and his crew try to melta the Stunned Dread, but miss...
The TWC manage to take off the other arm and immobilize the Dread, but not before losing two of the Wolves!
The Long Fangs fail to do much to the Predator it can see.
Agatha fires at Corbulo's squad and knocks them down to just Corbulo and a few marines!
The Grey Hunters decide to take a shot at glory and assault in and destroy the Assault Bikes! However, they can't quite consolidate into cover... (oh dear).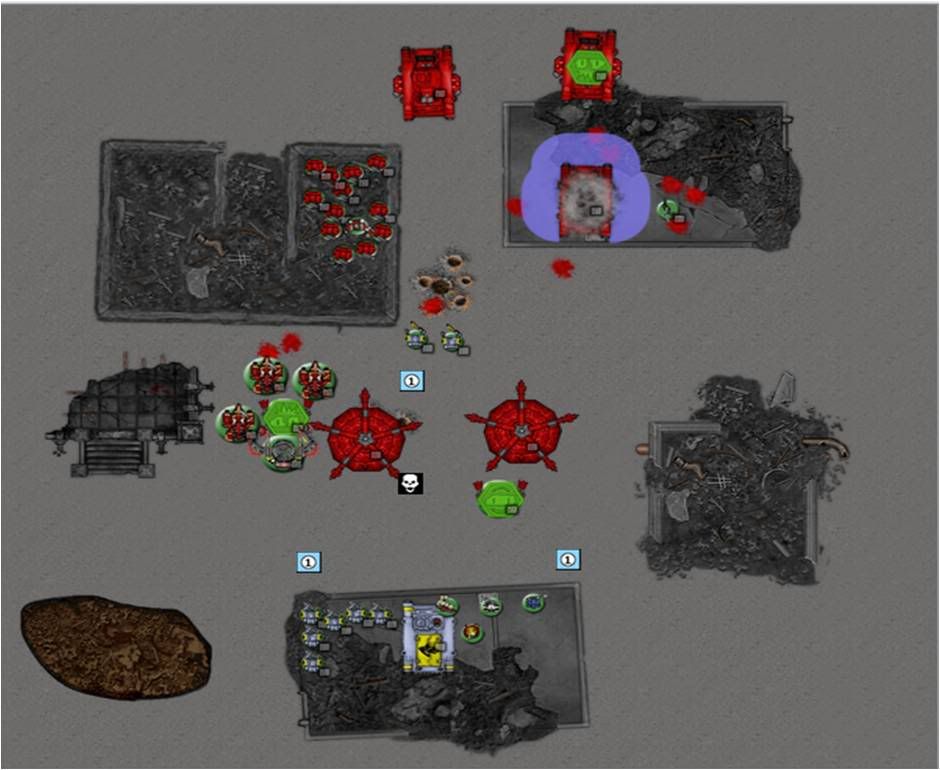 Picture Caption: Ok, now things are starting to get hairy...
Turn 4: Blood Angels
The Dread becomes operational and attacks Harry's Rhino. The Rhino explodes, but the Marines walk out, none the worse for wear.
The Predator zips out from behind cover and takes apart the last few Grey Hunters.
Corbulo and his few remaining marines run in front and make a screen in front of the TWC!
Picture Caption: Oh crap, was not expecting a human screen! Where's my Deff-Rolla?
Turn 5: Space Wolves
Now it's down to the wire...
Agatha and the Long Fangs combine their fire and barely manage to take down Corbulo's squad to just the High Priest and the Sgt. (The Blood Angel player was making saves like I've never seen him do before!)
Still, it's enough for the TWC to edge on by and assault the last Tac Squad hiding behind a wall.
Oh, and Harry's squad does an old Ork trick and spreads out to be within 3" of TWO objectives. And they fire... and miss the Dread! (Again? Oh no...)
The Tac/TWC fight is fairly one-sided, but the Blood Angels stay in despite grevious wounds.
Picture Caption: Oh crap. This is how melta-fail feels...
Turn 5: Blood Angels
Corbulo and his crew run forward in case a turn 6 is a possibility, but manage to only stagger into the crater in front of them.
Rolf and his Calvary finish off the last of the Tac Squad with awful smashy-bitz.
But, it doesnt matter for much of anything, as the Dread assaults in and pulls Harry and his Grey Hunters off of their objectives... The Dread downs a few, but the Wolf Guard can't take down the Dread (re-rolls are PAINFUL).
The TWC and the Ven Dread pretty much contest all of the objectives at this point, and none of the troops are near enough (or y'know functioning) to control any of the objectives.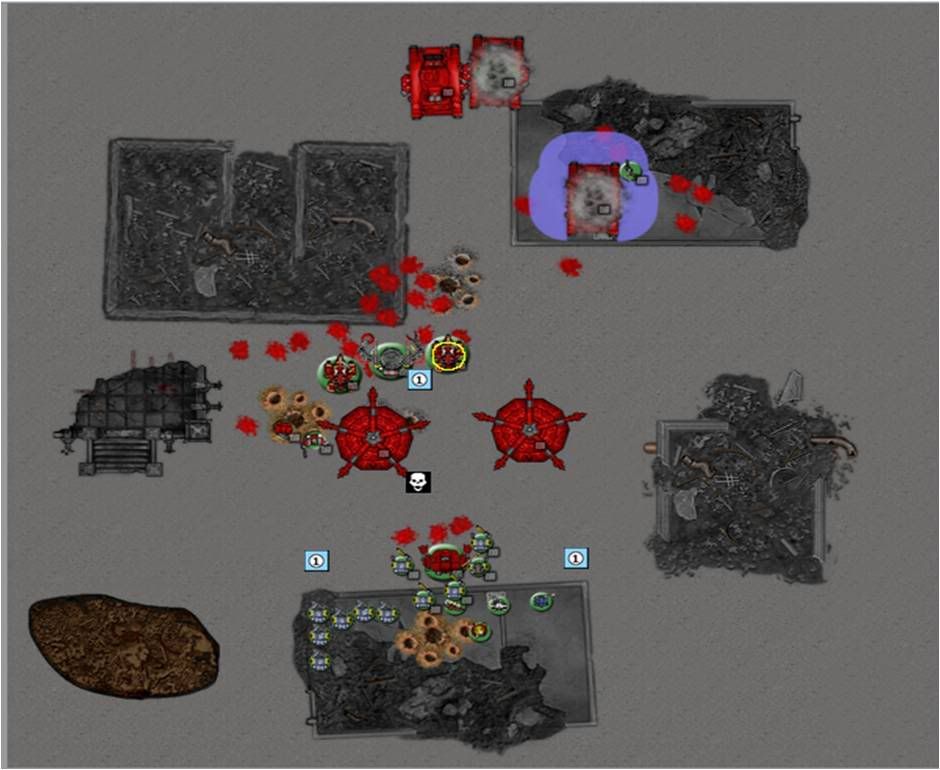 Picture Caption: Yeah, that's how it rolls sometimes... Note that the Grey Hunters are MILLIMETERS short of those objectives...
And the game ends!
Result: No objectives held by anyone! Draw!
Post-Game Thoughts: Draw... Now that's something I haven't had in a while, but it was a lot of good learning points. Have to be more aggressive with the Wolves, definitely. Had some bad rolls, but might need one more squad. Melta is good, but it can fail on you... badly. And Venerable Dreads are BAD, BAD, BAD!
So it's a tie this time
Perhaps I won't leave in the expensive Inquisitor squad... but time will tell.
Oh, I'm open to suggestions too! -Thx!
---------------------------------------------------------------------
Rolf Blacktooth turned in his saddle, ready to charge High Priest Corbulo, who sat there, chainsword in hand. The two waited, guaging each other and watching for an opening, but before either of them could act, a blast of energy fired and struck the ground between the two of them. The two marines glanced back and saw Agatha running over.
Agatha ran between the two marines, who were both a bit dumbfounded. She seemed... upset?
"Rolf Blacktooth? What are you doing?"
Rolf stammered, "Well, I'm... we're..."
Agatha continued, "Making trouble? Fighting your own brothers? Shame on you!"
Even the Thunderwolf backed up at her verbal assault, and Rolf felt his heart crumble.
Corbulo smiled and added, "Well, I'm glad that you've come back to your senses Agatha and..."
Agatha turned on her heel, "And don't think I haven't forgotten you, Mr. High Priest Corbulo. What are you doing?"
Corbulo sputtered, "I... Well, I'm saving you from..."
Agatha continued, "Saving me from my job? My life? What kind of arrogant tyrant are you? Let us not forget how we came to meet? What I've done for you? And this is your thanks? I expect mistakes from Rolf, as he is young, but you... you should know better."
Corbulo paused, completely taken aback.
"I've had it up to here with the two of you, I'm going to my landing craft and that is it. I want nothing more to do with either of you!"
Agatha stormed off, leaving the two dumbfounded marines.
Rolf and Corbulo looked at each other.
Corbulo coughed, "Umm... I take it a truce seems like a pointed decision at this point?"
Rolf nodded. "Uh... nice fight by the way. Sorry about what I said earlier."
Corbulo nodded. "It was my fault as well. I'd forgotten that we are after all Brothers in Arms. And that bond is closer than... other matters."
Rolf nodded. "You mean to say, 'Bros before H...'"
Corbulo interrupted, "And you should not finish that statement. Nice... wolf by the way."
Rolf smiled. "Thanks. It's one of my better ideas. Hey... A question... Why don't you guys have wings? I mean... I thought I heard stories that Sanguinus had them..."
Corbulo smirked, "Marines with wings? Don't be preposterous. Next thing you'd say that there were wings on a Drop Pod...
---------------------------------------------------------------
Agatha waited for the others to be out of sight before she met up with the "other Agatha." Her friend was, if anything, of great impeccable timing and was quite good at mimicking her behaviours. Agatha nodded thanks to the Agent who disappeared back into the shadows. It was good to have one of the secret Agents of the Imperium at your side. After all, it does save the voice on that whole yelling business...