"Hey Sarge check it out…a shooting star. Make a wish." Cracked Corporal Dawson sarcastically as he puffed through his tenth rank weed cig in the last twenty minutes, trying to fill the void of boredom. The pair was resting atop their Chimera, I mean guarding the frigid dig site located in sector eight of the frozen tundra of Pescon VI. The 296th Cadians had been attached to the one of the local IG regiments nicknamed the Trenchers to protect the planet. Once rich deposits of ore had been found it had been colonized, and with so many of the homeworld regiments off fighting the enemies of the Imperium it was up to the 296th to supplement the indigenous military. Protecting was the last thing the IG regiments had done, now having served planet side for two years getting complacent. Maybe their luck would change.

"I wish they'd get us off this damn rock. There's no action here, and guarding tech priest surveyors was not what I thought I'd be doing in the IG. We didn't make it off Cadia to sit on our butts. "Call in the HQ and give them our hourly sitrep; situation unchanged---all secure."

Dawson hopped into the back of the opened transport, fiddled with the commsec dials for a minute with a confused expression on his face, then came out to report. "Sarge I'm getting nothing but static. I can't reach anyone. Weird huh?"

************************************************** ****************************

"Relax big boy, I'z tellin ya its dat planet wez suppose attack for Ghazghkull," stated Sparkles in his higher than normal voice as he placed his non-bionic hand on Finkaboy's back.

The other mek quickly swatted away his grubby paws, and yelled, "just cause dat ones all pretty don't mean its da one wez supposed to attack, sides that's a moon not a planet. I read, yes I can read, da reports from Meksnikk and dis is da planet wez supposed invade here! Member my name is Finkaboy for a reason, and youz Sparkles cause you're all glowy and stuff, not cause you smart. Did you fink up da umie talky jammah? No I did, so shut up!" Finkaboy picked up the cockpit talky talk and informed Goffsnikk the target planet was in sight. Sparkles huffed, spun around on his tracks, snapped his fingers in a z pattern, and left for the hangar bay to prepare for the assault.

His gruff voice came back, "You sure? Dere are a lot a Orks in dis system following Ghazghkull. I know Grumgutz is fightin dem red beakies, and Grubbynutz has dem ova beakies. I want a planet just for da Wamp Gataz."

"Dats da one boss, me calkulations iz right." Red lights filled the inner workings of the Krooza Big Big Trukk, signaling to the Wamp Gataz that the planetary invasion force could deploy. Finkaboy could hear Twitch clapping his hands in the background yelling, 'allright boyz boyz, lets go crump some umies.'
This was the first game of a 1k tourney I entered a while ago. Having a baby has distracted me quite a bit from 40k and battrep writing, but I wanted to get this out at least. I only ended up taking notes for the first game, so that's the only one I'll give a detailed battrep for, but I'll include pictures from the other two games and brief summaries as well. Hope you enjoy, since I probably won't be playing for a while, and C & C is always welcome.
Wamp Gataz:
Warphead Twitch
Hole Punchas—lootas X 10
Bloo Clovah big shoota, PK, BP, shootas X 10 in trukk w /rokkit/ram (Sparkles' ride)
Snipah Snipah BS, PK, BP, shootas X 11 in trukk w/rokkit/ram
Grimmskimmah PK, BP, sluggaz X 11 in trukk w rokkit/ram
Grots X 11 + runtherder
Koptas: Mavork (TLBS, buzzsaw) and Iceork (TLRL)
Zookakan: Daemon Sittah
Zookakan: Pie Makah
Telli's lobbas X 2, ammo runts X 2
296th Cadians
Command squad with missile launcher
Infantry squads X 2 with missile launchers and plasma guns
Lascannon squad with 3 lascannons
Chimera with multilaser
Sentinel with plasma cannon
Veterans with plasma guns
Demolisher with plasma side guns
Demolisher with plasma side guns
Game 1: Vs IG
Deployment:
Spearhead
Mission:
Seize Ground 4 objectives the missile near the woods in the lower right, the barrel between the snowy hills on the left, the metal box to the left of the woods at the top of the board, and a Commisar Yarrick statue near the command squad.
Terrain:
Arctic tundra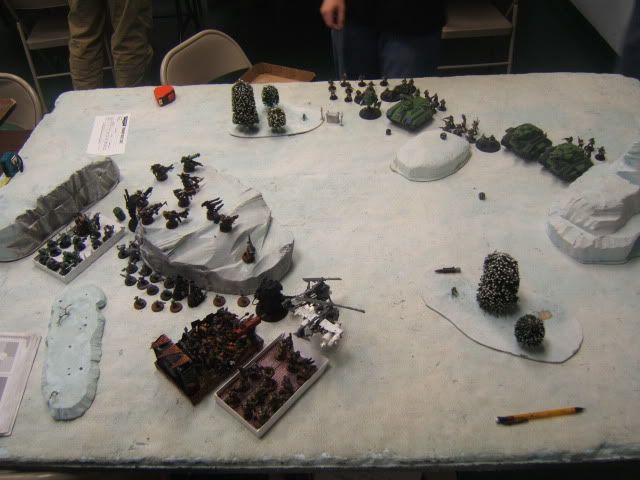 The frozen tundra seperated the two armies with a large dead man's zone in the middle
Pregame thoughts: Ouch that's a lot of firepower and plasma death. Luckily I have first turn, so I'm hoping my koptas can damage those demolishers before they start frying Orks. They turboscout right in front of the pair of tanks.
Turn 1:
Go get'm koptas…..or not
O:
Twitch and Deamon Sittah headed to the left while everyone else went right. Iceork lost his cool and wiffed with his rokkits while Mavork did the same with his buzzsaw. Now they are staring down the whole army. Telli's grots do a better job and kill 6 of 8 in the command squad with a well placed pair of lobba rounds.
IG:
The lascannons took aim at the koptas, and knocked Iceork's out of the sky, which forced Mavork to rethink his postion and he fled. A missile flew into the face of Pie Makah and blew the top half clean off wrecking the kan. Daemon Sittah fared a little better and was only stunned. The two tanks managed to do nothing.
Turn 2:
O:
Mavork regroups and heads behind the snow covered hill on the right flank. The Hole Punchas decided the lascannons were too big a threat to the trukks and wipe them out with their deffgunz. Grimmskimmah hoped out of his trukk and tore the demolisher cannon off the rear tank and stunned the crew, while his boyz stung their hands on the other tanks hard armor.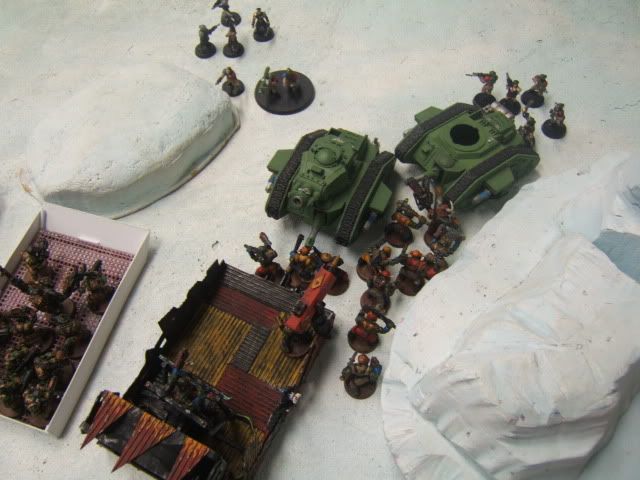 Bye bye big gun
IG:
The other demolisher backed up and fried a few boys with plasma, and despite Grimmskimmah eadbutting one of them, they take off South. A couple lootas are fragged to death with missiles, but not enough to force a morale check.
Turn 3:
Never underestimate Ork shooting
O:
Twitch along with the new guy, get in position to charge the furthest back infantry squad near the sentinel. Grimmskimmah regrouped his coward squad and realized there were too few to do any good, so they start looting the nearby objective. Snipah Snipah's shootas kill the command squad, his trukk blew up the sentinel, the Hole Punchas take out the Chimera, and Telli's lobbas kill a few hiding behind the wrecked Chimera and pin them. Twitch, the new guy, and his shootas slaughter the IG infantry squad then consolidate on the metal box objective.
IG:
Snipah Snipah's trukk took a demolisher cannon round which vaporized it and four boyz. The veterans managed to blow off the rokkit on Grimmskimmah's trukk.
Turn 4:
Time to move
O:
The Runtherd ordered his grots to start siphoning the gas from the barrel objective. Mavork decapitated one veteran with his big shoota then did the same to two more with his buzzsaw, while they jumped like white kids trying to hit his kopta. Snipah Snipah's boyz gun down, charge, and kill the last infantry squad then consolidate onto the last objective. Daemon Sittah got some revenge and pulled the crew out of the demolisher and crushed them all, then finished off their tank. The previously damaged one got glanced to death by deffgunz.
Result:
Ork massacre. Time was called, and the Wamp Gataz had all the objectives and wiped the board of IG. I forgot how squishy IG were once you got close. Those tanks were a pain since my boyz couldn't hurt them at all.
"Heeey, Grimmskimmah can you bend ova and git my wrench soz I can fix Iceork's Kopta?" questioned Sparkles….quietly he whisperd, "dats right you git it." The nob grabbed the wrench and tossed it to the big mek, then quickly walked back to his trukk.

"Somefins wrong wit dat one," stated Grimmskimmah as he looked over his shoulder at the strange mek.

"I know know what you mean Grimmskimmah. I nevah nevah liked da way he looked at me. Fink someday someday I'll have to zzap iz ead off." Said the warphead, his eyes glowing green.