I went to gamesworkshop earlier. Played three games. I used a slightly different list each game.
The core of my lists was..
Nyarlathotep (Deceiver).
Lord w/Destroyer Body, Phase Field, Warscythe.
Two ten man warrior squads.
Two three man destroyer squads.
One unit of 8 scarabs with D-Fields.
Two tomb spiders.
one unit of two heavy destroyers.
= no more than 1500pts.
My first opponent wanted to add in a couple more points, so I added a unit of seven flayed ones.
His list was as such.
Deceiver
Lord w/Viel and Res-Orb
One unit of Immortals
Two 15 man units of warriors with D-Fields
one 5 man destroyer unit
one three man wraith unit
Necrons Vs Necrons.
We rolled a spearhead deployment and Secure and Control with three objectives. One on Mount Grey Skull, one to the bottom left of it, and on near a hill at the top right of the table.
He wont the roll to go first, and kept his warriors in the back some in some ruins and others behind cover. His destroyers were kept back as well. Immortals, Deceiver and wraiths all deployed forward at the edge of the mountain.
I mirrored his move. Destroyers held back. Warriors sanwitched between the tomb spiders and Nyarlathotep put forward. My lord and scarabs were kept up front too. Flayed ones outflanked.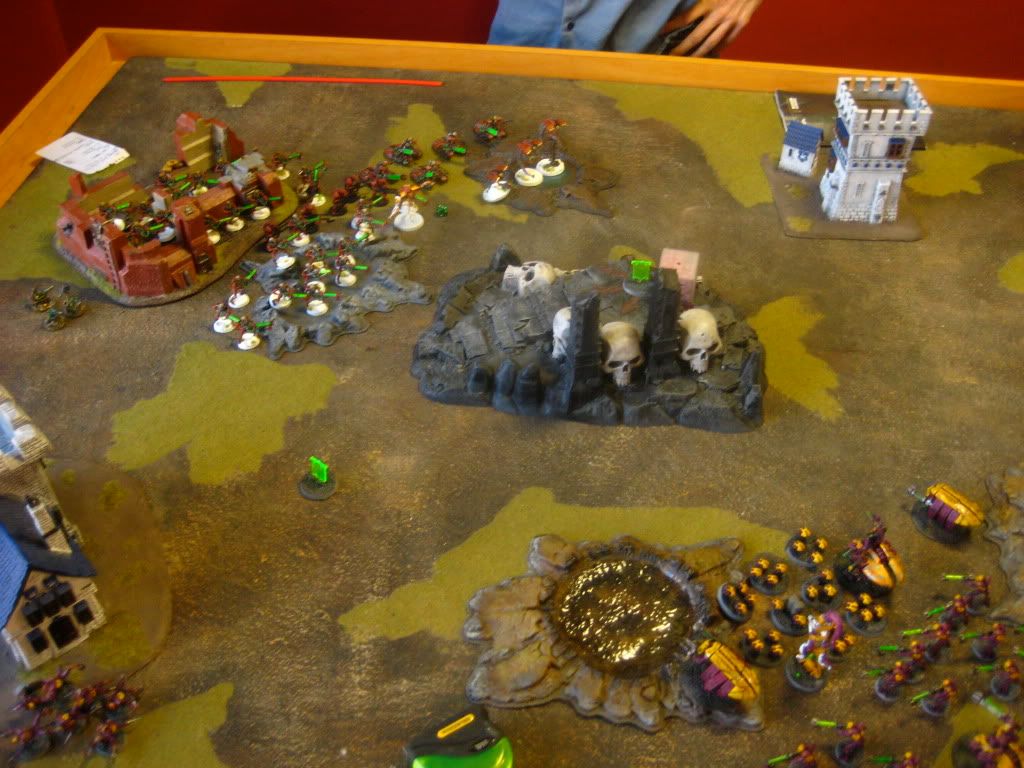 Turn 1.
Destroyers flew north, Wraiths lept to the top of the skull mountain, with immortals and Deceiver close behind.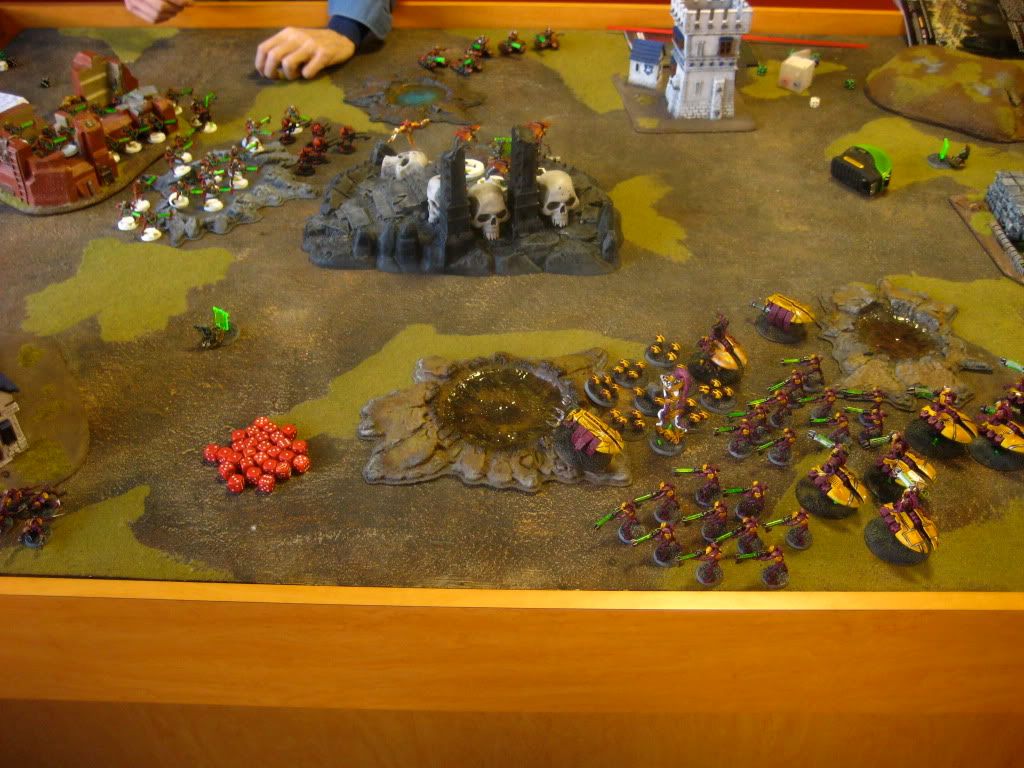 His destroyers shoot at my one tomb spider, and after careful petting and some TLC my spider passes all his many armour saves. His Deceiver attempts some deceiving shenanigans, but fails.
I send my Deceiver up, my spiders kinda just randomly shuffle, warriors begin snaking left, with my scarabs and lord turbo-boosting next to a house on the left. My destroyer armada shifts to the east and north a bit.
My warriors shooting, kills off all the Wraiths, while the destroyers take two wounds off his Deceiver.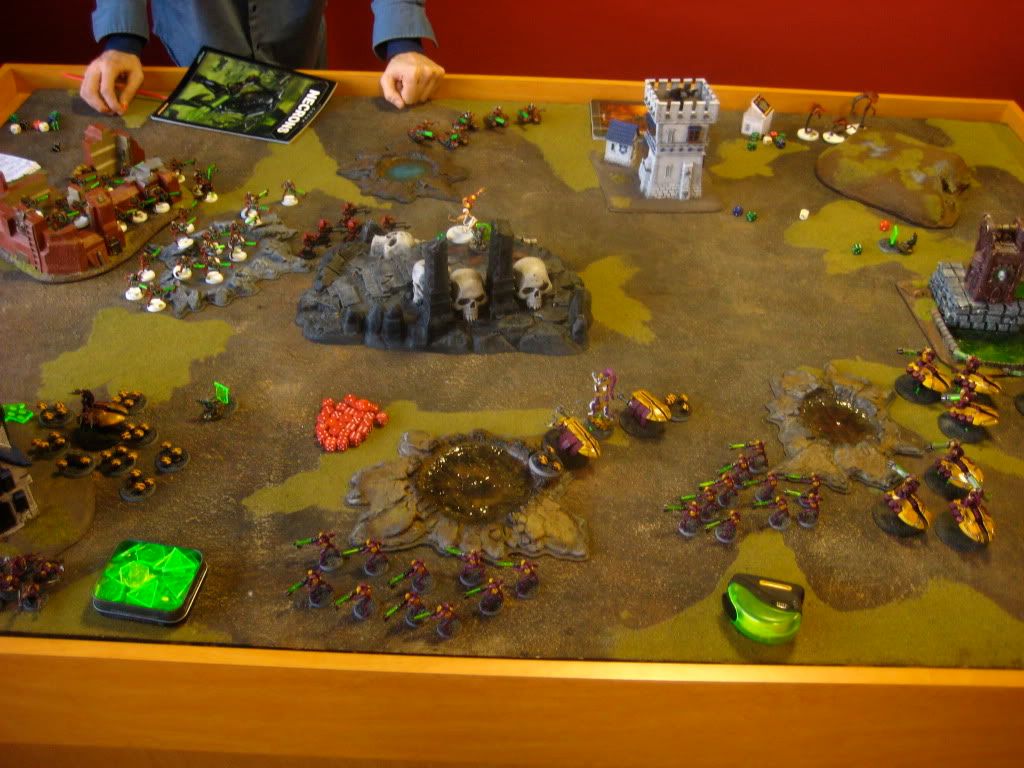 Turn 2.
His Lord VoD's next to the objective on the right, but scatters far out of range of rapid-deathing my destroyers. His deceiver walks over to my deceiver a bit, while my opponent realizes that his destroyers should shoot at my deceiver too, and moves accordingly.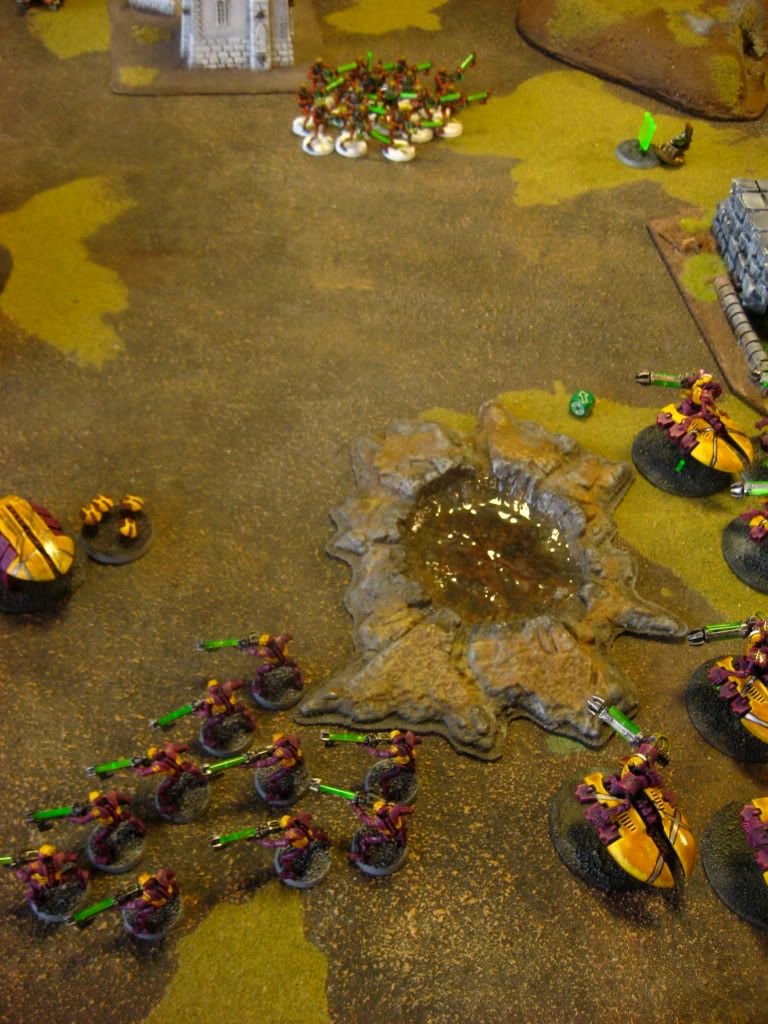 The deceiver deceives one of my warrior squads, which then run off the table...But his shooting is complexity without any results.
Right. Loosing the warriors was pretty shitty, but as long as I still had the other squad, I was still able to win, as long as I could keep him off other objectives. I sent my Tomb Spiders to go play with his VoD squad, while Nyarlathotep crept closer to the mountain. Lord and Scarabs jump right next to the one warrior squad.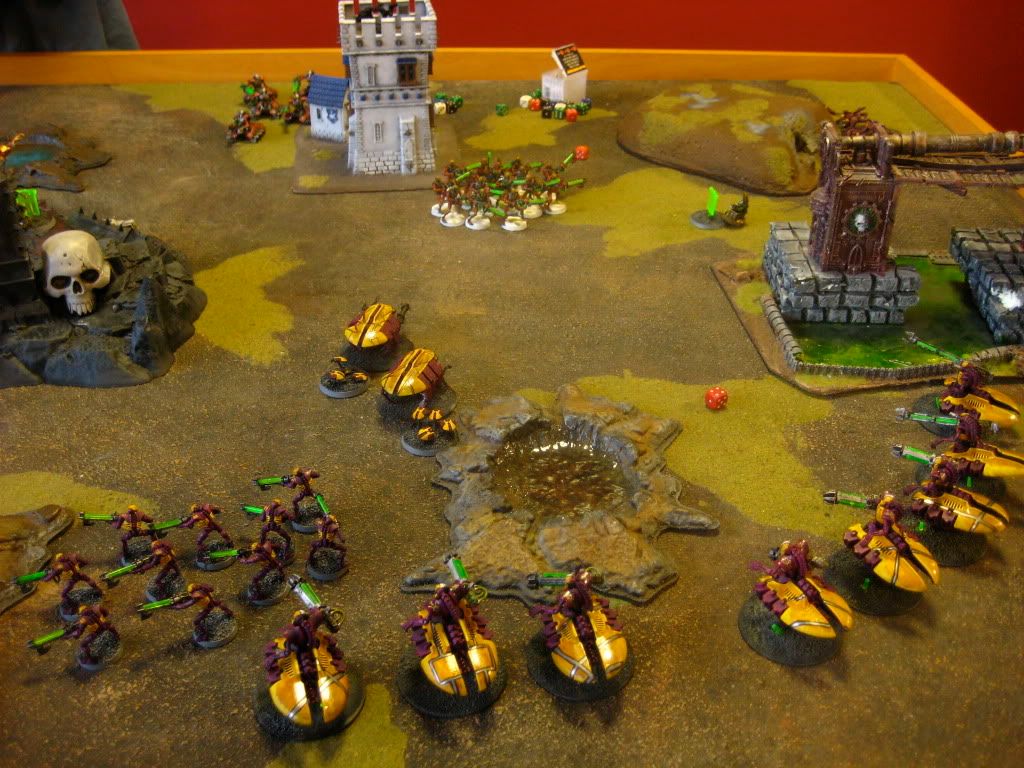 Shooting allows me to drop another couple wounds off the Deceiver with my Destroyers, while my spiders just run. The lord and Scarabs charge into combat, but the lord totally junks all his attacks and I end up loosing six wounds worth of scarabs and combat by three by the end of it..But I hold in.
Turn 3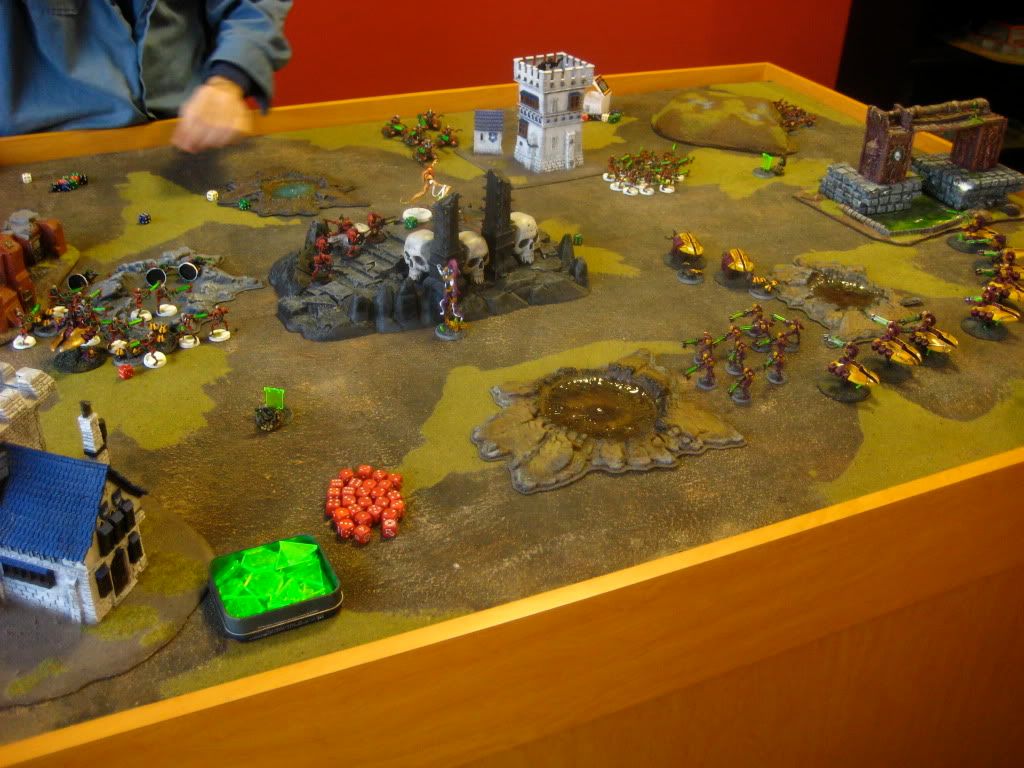 His Deceiver wants to go beat up mine. The VoD Lord, notices the incoming monstrous creatures and zaaps the warriors away, but they get a mishap and vanish into the warp..for now... Deceiver Deceives my other warrior squad, which also fails their leadership test and run off the table... :'(
His Deceiver attempts a charge on mine, but I misdirect next to his immortals.
In my lords combat, he manages to actually kill one warrior, but still looses combat. Thankfully nothing terrible happens.
Now it was payback time. Spiders shuffle around, now that their target is gone. Flayed ones jump onto the one objective. My destroyers succeed in dropping my opponents C'tan, while Mine then charges his immortals and chomps them all to death. The other combat is the same as always. Lord keeps sucking. Nyarlathotep consolodates closer to the VoD Warrior squad.
Turn 4.
My opponent figures, that with rapid-fire and multiple squads shooting, he could kill off my C'tan. Lord and warriors come back into 12" range of my Deceiver, and destroyers get Los. All fire, and all fail to cause a wound.
My destroyers, now free to engage new targets, kill off all my opponents Destroyers. Deceiver charges the Warriors squad and misses all his attacks..I don't like talking about my lord anymore.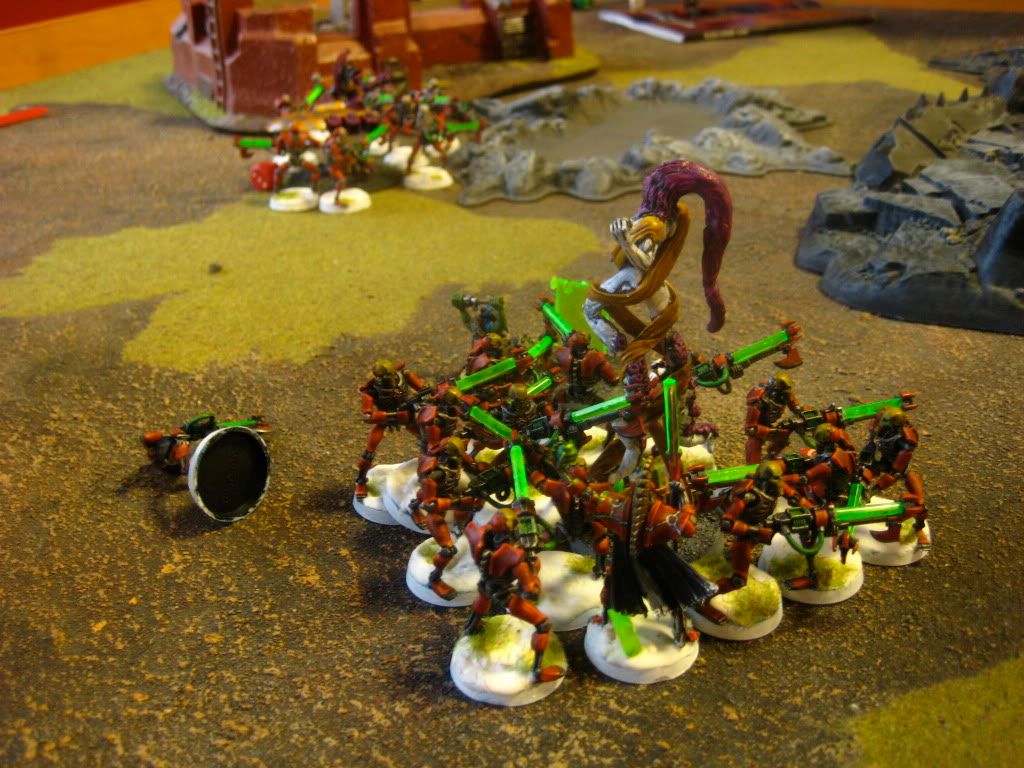 Turn 5.
Warriors VoD back, next to the hill, to try and shoot Deceiver again. Pretty much since I have units on all the other objectives. Nothing happens.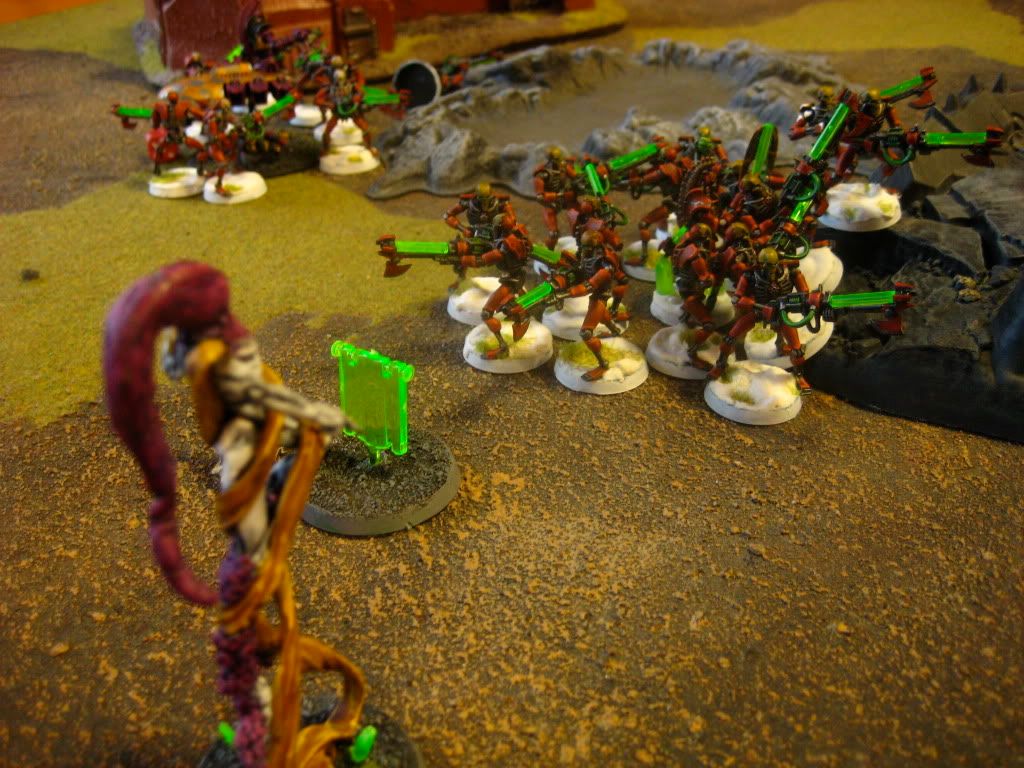 Deceiver and a spider creep closer to the Warriors. Spider shoots some. Destroyers join in too a bit, and drop a few more. Deceiver charges, but fails to break the unit.
Turn 6
He veils onto the hill at the top right of the table. Shoots my Flayed ones, three keel over.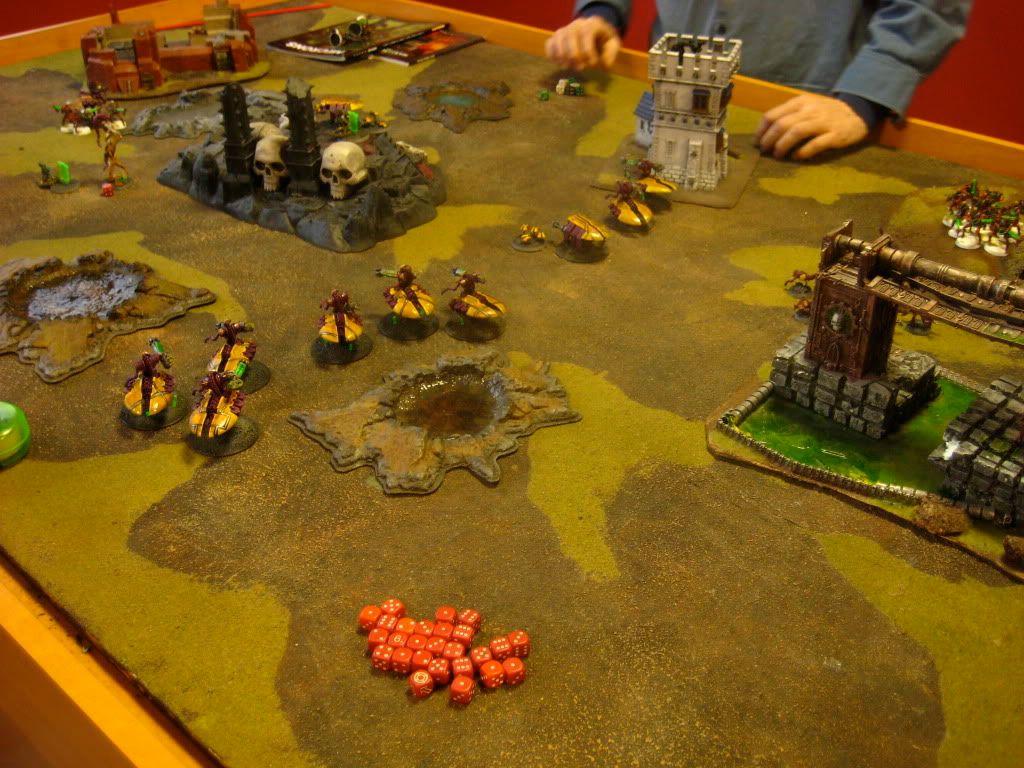 My three flayed ones get back up. Deciver charges and kills the last of the warriors on the left flank, while the destroyers, flayed ones and the one tomb spider prevent my opponent for any chance of capturing the objective. I shoot a bit, and flayed ones charge, but I cannot cause his squad to break Though, there was like two left.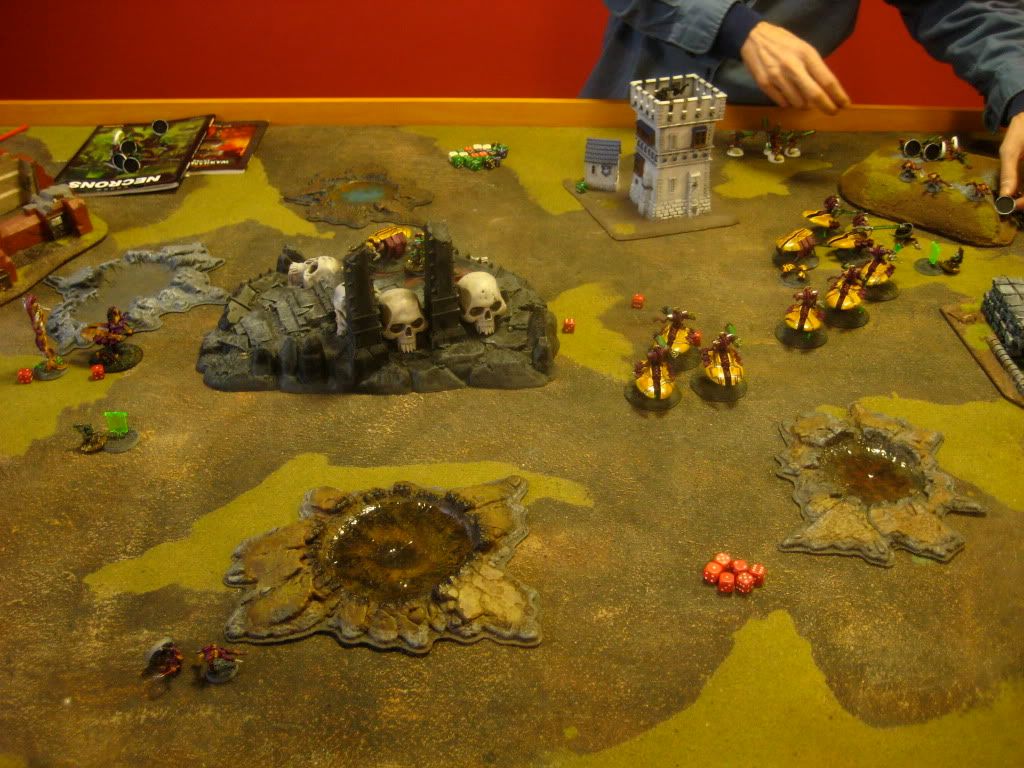 Game ends. Funny enough, if it was one more turn my opponent would have phased out. Damn you fate!!
But alas, a Draw. Fun game. Awesome opponent and his 'crons looked sweet. He had a really wicked-cool Deceiver before, but sold it so is using his scratch build 'till he gets a better one.
Saw one of these too.