Thank you all for the votes and the posts!
Please read the following and enjoy!
It's a bit long, so you might want to get a hot toddie or the equivalent!
-BT
Setup: Now this is an interesting one! We chose, competely by chance, a winter looking map with giant ice crystals shooting out of a bunch of pieces. (Take a look at some of the pics, they're pretty neat)
There were also two big pieces of ruins, one went to near the center on the right, the other to the back.
The Orks win the roll to go first.
As the setup was Dawn of War, it was pretty fast. Grumgutz and his Nob Bikers were placed near the center on the left side behind some cover, and the Lucky Seven and their Battlewagon were placed behind some cover near the center. Oh, and as Zogwog and his grots will only be a liability in this game, he was put into reserves (hopefully to show up REALLY later).
Pic Caption: It's a chilly time of year! Brrr!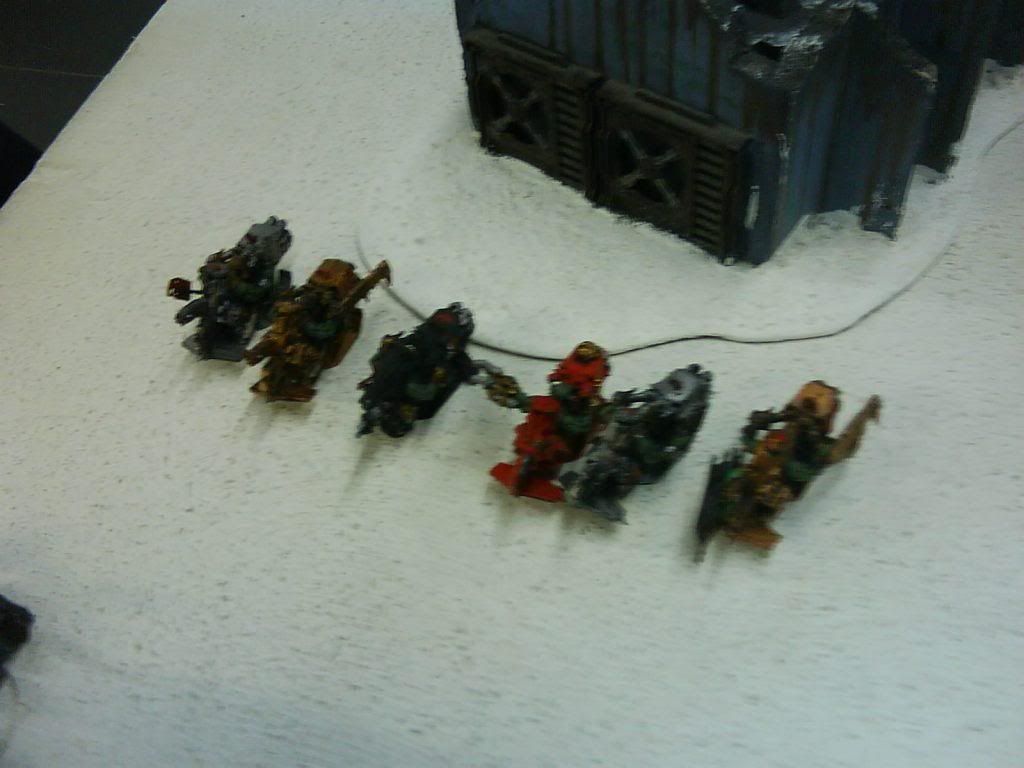 Pic Caption: And in this corner, the Champeen!
Pic Caption: The "impartial" observers.
Seeing as the Nob Bikers were just too close for comfort, the Blood Angels choose to reserve the Drop Pod and have everyone else come on first turn.
The Blood Angels fail to steal the initative...
---------------------------------------------------------------------
Warlord Grumgutz Bitzgrabber zoomed forward with his Nob Bikers, only slowing when he saw a group of flying Orks zooming forward with their Rokkit Packs.
Kicking in his turbo-boosters, the Warlord muscled his way through the Stormboyz until he found their leader.
Brother-Captain-Sargeant-Major Skarbutz was surprised when Grumgutz zoomed in behind him.
Grumgutz snorted, "Alright you Rokkit Gitz! You better not disappoint this time, as I got me whole WAARGH ridin' on this one. Screw it up and I'll be feedin' ya yer own fancy packs! Ya got that?!"
Skarbutz and the Stormboyz nodded, as the Warboss kicked in his throttle again and the Nob Bikers blurred ahead of the Stormboyz.
Skarbutz swallowed, "You heard the Warlord, ladz! No muckin' it up this time, no matter how bad it gets!"
The Stormboyz answered back, "Yessah!" though not as comfortably confident as the Nob would have liked...
-----------------------------------------------------------------------
Turn 1: Orks
Grumgutz zoomed forward, jinking past some amazing pieces of free-standing ice that had somehow managed to form into clusters of beautiful crystals stretching up to the sky.
The process no doubt took centuries, but the Warlord cared little. Ice would come and go, but he was looking for a fight!
Spotting a rather familiar looking Battlewagon, Grumgutz zoomed over to it. Da Lucky Seven, from inside, waved to him, also looking around.
Grumgutz smirked. The Nobz looked eager, perhaps too eager to watch the festivities. Perhaps a few words were needed.
"Alright you lot, you ready for some real action?"
The Nobs all yelled affirmatives, some jumping up and down.
"Well... that's too bad, as it's just yer job to watch."
The Nobs snorted and looked crestfallen.
"Yup, Ol' Zogwog said ya's gotta stay right there and do nothin'. We're gonna get all the killin' done without ya. Yup, that Zogwog, he's probably gonna get some kills with those grots of his.
Hmm, wonder if that's why he has you lot sittin' out here twiddlin' yer thumbs."
The Nobs began thinking, and getting more and more upset.
Grumgutz smiled. The timing was just right.
"Heh, well, ya can't go against Zogwog, but hey... he's not here is he? So if'n you were ta say chop up Beakies before he gets here, no-one can say ya weren't set on first, right?"
And with that Grumgtuz turned and zoomed back to his Nobz.
The Warlord chuckled. If Da Lucky Seven got involved, that would be more kills that that slowpoke Grimskull wouldn't be able to scoop up! Smart thinkin' that is...
-------------------------------------------------------------------------------
Grumgutz looks around, not seeing any beakies, but knows that they'll all be coming from one direction.
He hits his Turbo-Boosters again, and the Nob Bikers string out front and center.
Skarbutz and his Stormboyz thundered onto the board next, setting up behind Grumgutz.
Da Lucky Seven moved forward a bit, poking their Wagon out from behind cover, trying to line up the backboard as best as they could.
And then, with an even bigger clattering and swearing, Grimskull and his 'Ard Boyz smashed onto the board with their Battlewagon. They went behind some large crystals to the right.
The Fab Four zoomed forward behind some cover to the right, getting ready for a possible assuault next turn.
With noone to hurt yet, the Stormboyz ran forward a bit, but that was it for the rest of the turn.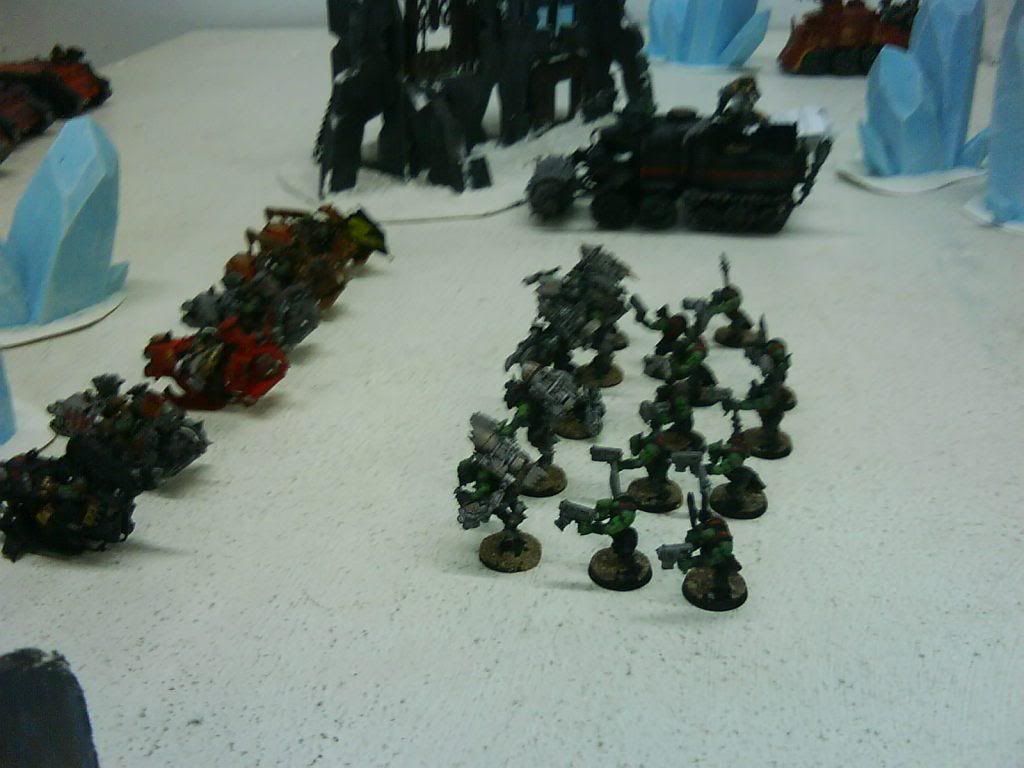 Pic Caption: And here the lines are drawn...
Turn 1: Blood Angels
Corbulo could barely see through the dense blizzard of whisping snow, but he didn't need to. The stench and roar of the Ork vehicles was obvious enough. Ordering his tanks and Bikers forward, the High Priest was ready. The Orks would fall behind their massive firepower!
The Blood Angels come on fairly aggressively, with most of them in the center.
Zooming in front of the army, the Attack Bikers zipped in front of the Nob Bikers, creating a protective screen (of sorts).
The Rhinos both moved up behind cover, one to the center and the other to the right, and the Predators edged onto the board.
The Land Raider also moved forward 12" right in front of the Nobs' Battlewagon.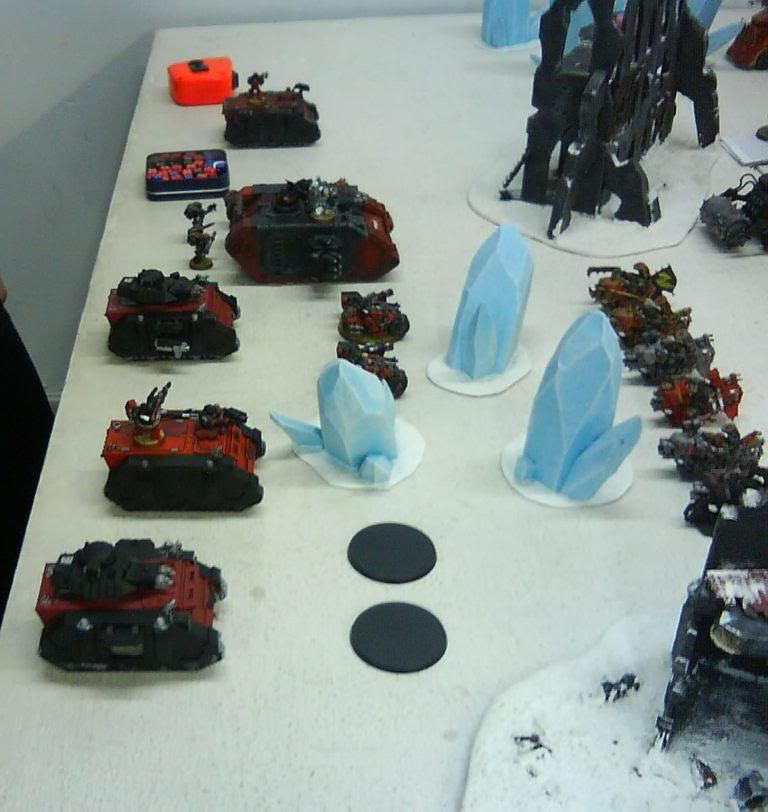 Pic Caption: "Huh, I wonder where those Orks... HOLY EMPEROR'S BALLS!"
Shooting was rather pekid, even though everyone was close up and personal!
One of the Attack Bikers shot at Grumgutz and his Bikers, but couldn't hit the speedy Orks.
The Predators both combined their fire and only managed a flesh wound on one of the Nobz.
A bit dismayed, the Angels switched targets and fired their last group of Attack Bikes at Da Beast, but one missed and the other failed to penetrate through the Battlewagon's armor...
Turn 2: Orks
Grumgutz smirked as he watched the Beakies' shots land around his Bikers. They must've forgotten how hard he and his ladz were. Just goes to show that they needed a reminder!
The Nob Bikers zoom out to the left, mashing through some terrain, but none taking any wounds. They get close to the Predator on the left side, and a group of Attack Bikes.
Da Beast rolls forward and is again just within 13" (bless the RPJ!), Deffrolling the Land Raider! The Raider is immobilized and loses it's multi-melta!
Seeing that the Raider is down, the Nobz rush out to finish the job. They land to the right, peering down at the Death Company who were hiding out over there.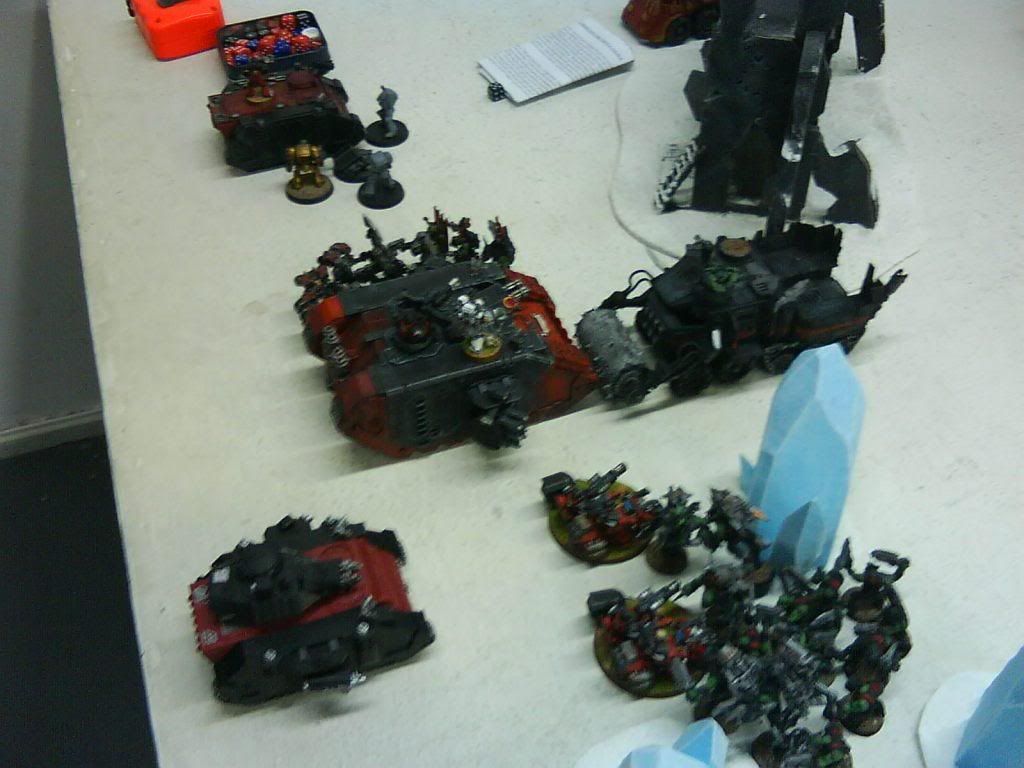 Pic Caption: Impartial my tuckus! Can't expect a bunch of hardcore killas to just sit around do ya? (Zogwog's note: Dem Nobz are out of all judgin' matches from now on. Even the squig-eatin' ones.)
The Fab Four thunder forward in their Wartrukk and leap out, inches from the right-most Rhino.
Grimskull moves his Battlewagon up behind the Wartrukk.
There's no shooting (but some movement as Grumgutz declares his WAARGH!) and the resulting assault is just gruesome!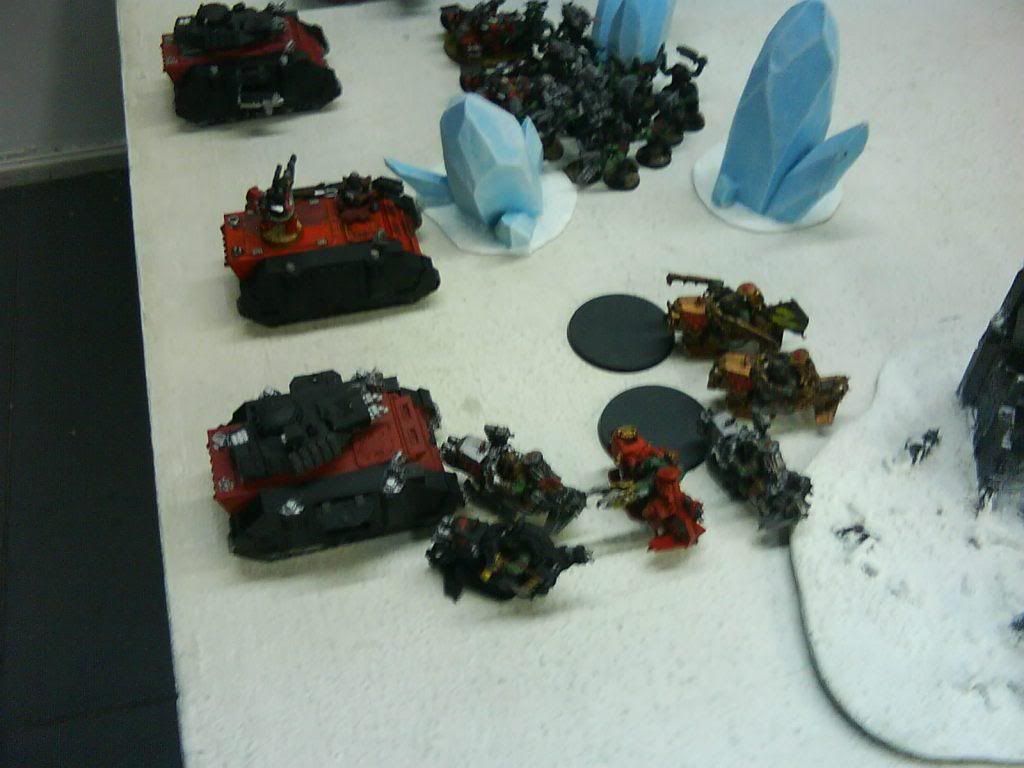 Picture Caption: Sweet Christmas this is gonna hurt!
Grumgutz and his Nobz easily clean up the Attack Bikes and also shake and tear off the main weapon of the Predator!
Skarbutz also tears apart his Attack Bikes.
Picture Caption: If there was any doubt as to the conclusion...
The Fab Four, as expected, slam into the Rhino and explode it. The shrapnel downs two marines (the rest hold) and also gives one of the big MANZ a flesh wound (owie).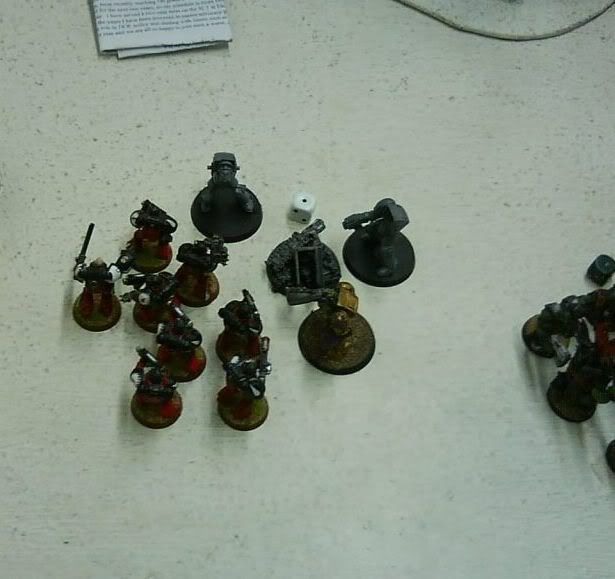 Picture Caption: Ha Ha! No Rhino for you! Oh, but you's ok... Dat wasn't in da plan...
And last, but not least, the Lucky Seven down one Death Company marine, but take a wound (darn Corbs' cup), they do however, tear all but one weapon off the Land Raider and shake it like a Grot in a Wartrukk's trunk!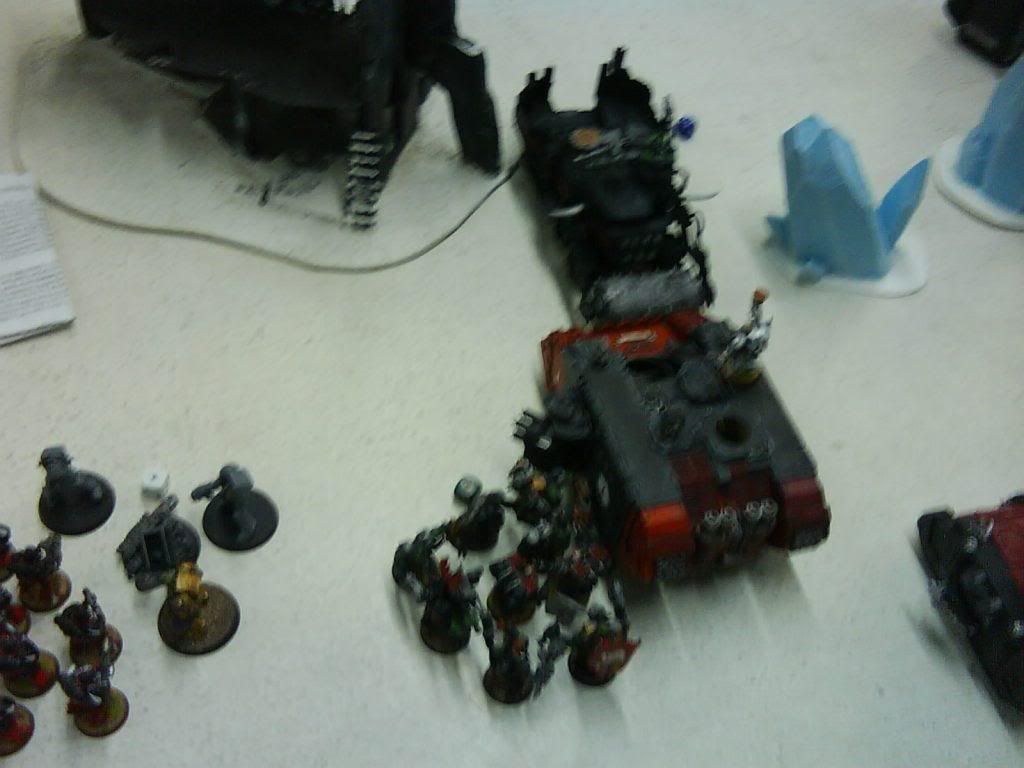 Picture Caption: Uh, just checkin' dere tires, Zogwog, don't you worry! Oh look Beakies!
The Nob Bikers consolidate further to the center, and the Stormboyz try to hug some terrain.
Oh, and in case anyone was wondering, no Zogwog and his Grots don't come in... yet.
KPs:
Grumgutz: 2
Grimskull: 1
Orks: 3
Blood Angels: 0
Turn 2: Blood Angels
The Blood Angels are taken aback by the carnage, but they NEED a counter attack.
Luckily, the Furioso Dread was ready to go.
The Drop Pod came down near the center of the table, and the big walker sauntered out, looking at Skarbutz and the Stormboyz.
The Terminators get out, eager to do some harm, and they line up in a way... a bit familiar-looking...
The Tactical squad moves away from the Mega Nobz, headed towards the Wartrukk... (uh oh)
Then, the Rhino kicks in it's turbo-charged engines, as does the wounded Predator, but the intact Predator stalls!
The Rhino tank shocks it's way to freedom, heading FAR away to the right, as does the wounded Predator who heads towards the Orks' side of the table.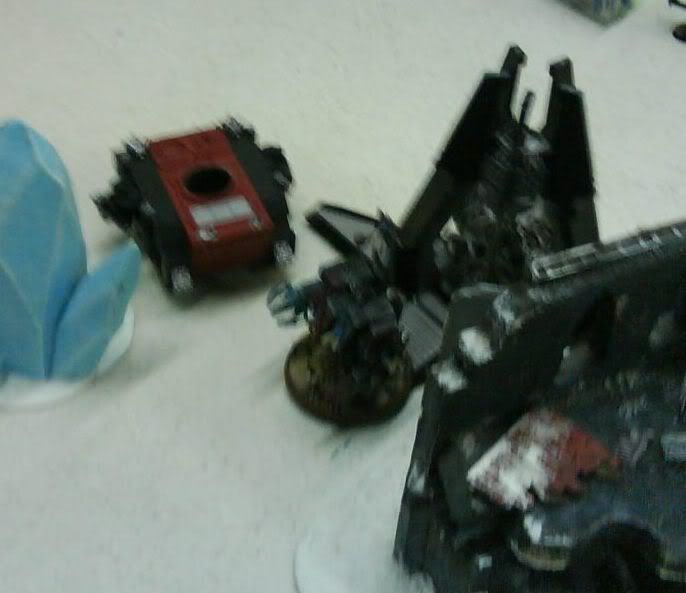 Picture Caption: Predator Driver: Please, please please let this be the really nasty Dread!
Also (by the by) they managed to pile together the Stormboyz (yeah, I can see where this is going)...
7 Stormboyz die by fire as the Dread flames up the flying Orks. His melta, though, thankfully misses.
The last Predator also fires aiming at Da Beast, but fails to get any lucky 6's...
Also, the Tac Squad moved up close and personal to the Wartrukk, firing... but only managing to immobilize the vehicle! (ooh, so close! Total wiff on the melta though...)
Assault was also a bit painful as the Terminators double charge! (Wow! I knew he had it in 'em!) The Terminators and Death Company manage to get five unsaved wounds, downing two MANZ and wounded a few of the Lucky Seven. However, the Nobz and MANZ hit back, downing all the Termiators but the TH Marine! With that performance, the Nobz and MANZ pass their morale and stay!
And hope beyond hope, the Stormboyz also stay!!
KPs:
Grumgutz: 2
Grimskull: 1
Orks: 3
Blood Angels: 0
Turn 3: Orks
Wow, things are looking sort of bleak for the marines.
Da Beast wants to continue it's rampage and slams forward into the Baal Predator, immobilizing it and taking off all of it's weapons!
Skarbutz leaps over to get away from the dread and also within assault range of the immobilized Rhino.
Grumgutz laughs at the Dread and kicks in his Turbo-Boosters, headed to the right side of the fightin'.
And, eager to pick up some head kickin', Grimskull orders Da Cheez forward, and then he and his Tuffboyz leap out behind the Tac Squad.
Assault is fairly straightforward, as the Stormboyz manage to shake the Predator to a wreck with their Choppas! (Not too hard with auto-hits on an immobilized vehicle with all weapons destroyed. In fact too easy, as this is an "assisted kill" and won't score any points!)
The TH Termie manages to wiff and the DC can't seem to get a decent hit as both of the Nobz groups tear apart the remainder marines.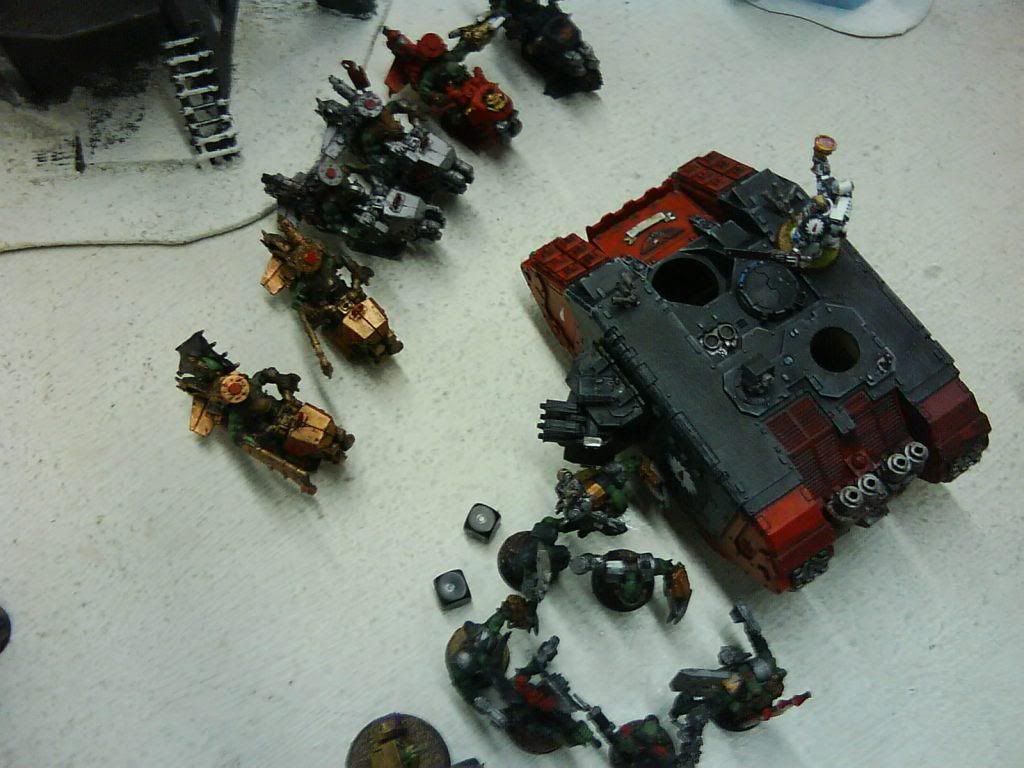 Picture Caption: It ain't our fault! Dey hit us first!
Grimskull and his crew, finally able to hurt something, clean up all of the Tac Squad and consolidate towards the Land Raider.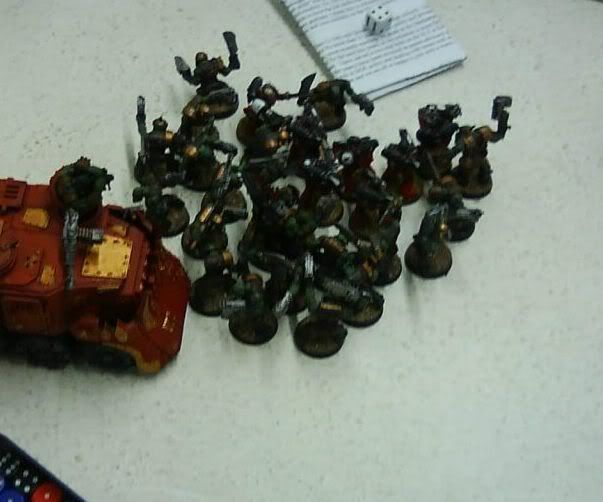 Picture Caption: GRIMSKULL NO LIKE BEAKIES! YOU GO SMASH NOW!
Oh, and Zogwog and his grots trot in the back behind some cover.
KPs:
Grumgutz: 2
Grimskull: 2
Orks: 7
Blood Angels: 0
And with that, the Blood Angel player throws in the towel. It was just too much harm in too short a period of time. With half the army down and the other half pretty well hobbled, he couldn't see pulling out of it.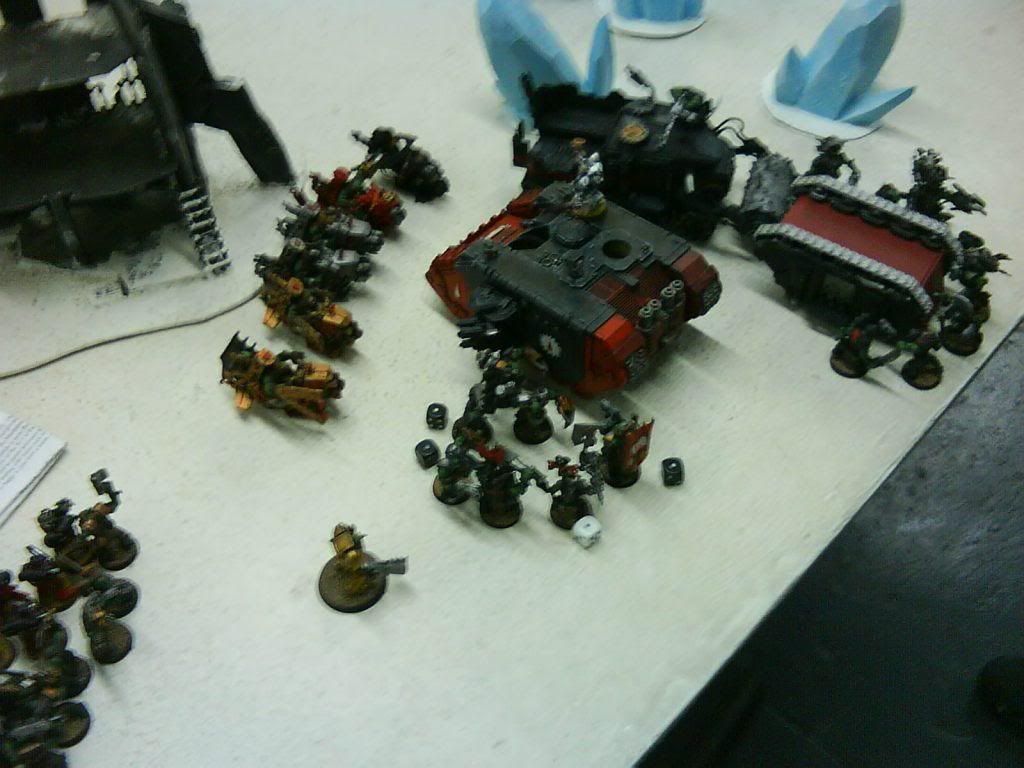 Picture Caption: End of Carnage, start of a new day?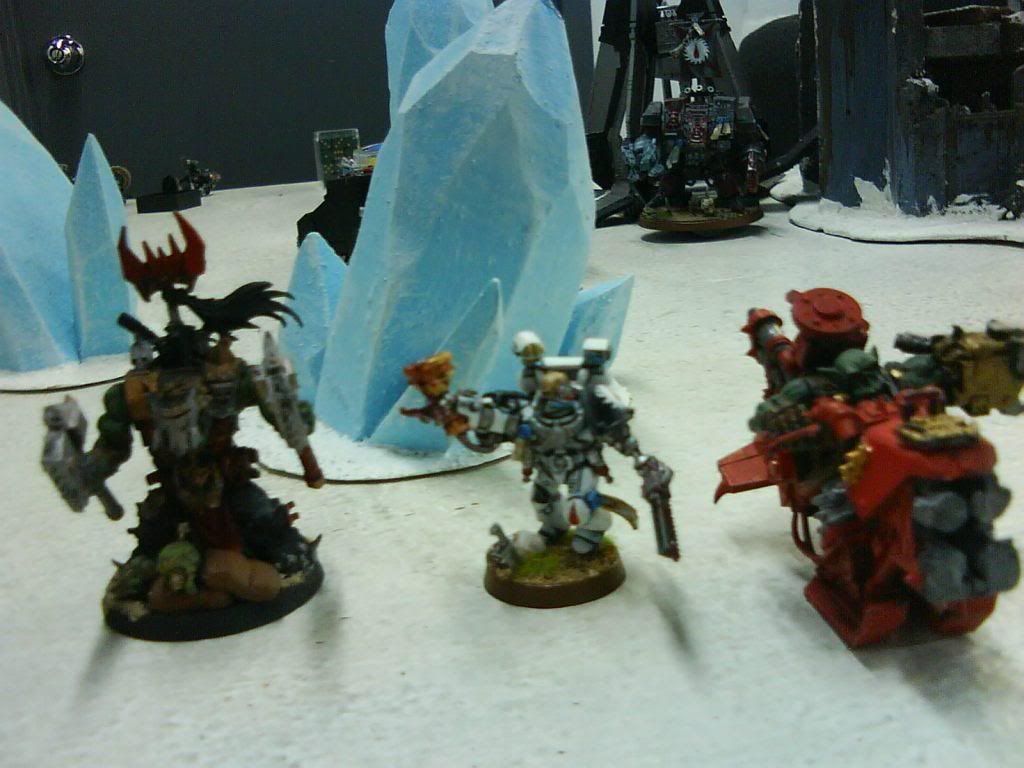 Picture Caption: "Oi! On three we dogpile on da little guy!"
Result: Ork Victory! But... Tie Game for the Bosses??
Post-Game Thoughts: Wow, I guess that was uglier than I thought it was going to be. I had truly forgotten how tough those Nob Bikers were, and even though they did basically down 2 units, they did their job of forcing the Marines to concentrate their firepower. And holy nuggets this list is fast! Plays fast, moves fast and kills fast. I guess it's good even without a KFF...
Although the setup didn't hurt either. Being able to basically put the Nobz where I wanted them really helped out and limited his options for firepower... Glad to see the "skillz" with them aren't too rusty yet...
And in the end it was a TIE? I hadn't seen that one coming at all! Maybe if we just had another round or two.. But as they say, if wishes were fishes, we'd all have pretty bad smelling houses.
----------------------------------------------------------------
Warlord Grumgutz Bitzgrabber skidded to a stop in front of the crippled Land Raider, smirking a bit as he watched Grimskull run over.
"MINE! MINE! MINE!" yelled the Warboss. "YOU NO KRUMP DAT BIG ONE! DAT ONE IS FOR GRIMSKULL!"
Grumgutz smiled, readying his Power Klaw, when he noticed a subtle, but familiar glow to the Land Raider.
Inside the Land Raider, High Priest Corbulo was in the midst of a freverent evacuation. The Orks had come on far too fast out of the darkness. There wasn't enough time to deal with them. Luckily they were affixed on the Land Raider, and had given him time to order the safe withdrawl of the rest of the troops.
"They want the Land Raider, do they?" smirked the Marine, flipping a number of swiches, disengaging safety valves. "Then they can have it."
Grumgutz heard a howling, as he looked over and saw the head Beakie leap out of the Land Raider and run like mad. Da Big Five howled for blood, but Grumgutz recognized the tell-tale glow.
Barking to his ladz, the Warlord turned. "Alright Grimskull, ya convinced me, it's all yours!"
The Warlord and his bodyguard passed by Grimskull, who all but ignored them. Leaping onto the now glowing marine vehicle, Grimskull howled, "NOW GRIMSKULL SMASH YOU GOOD! EVERYBODY LOOK! GRIMSKULL NOW GOING TO..."
--------------------------------------------------------------------
The subsequent explosion was seen for miles around as the fuel canisters and ammunition drums all ruptured in a firey conflagration.
Once the smoke cleared, Grumgutz and his crew headed back. The Tuffboyz had been bounced around a bit, but not hurt too badly, but of Grimskull, there was no sign.
Grumgutz frowned, looking around, and then heard a voice... Grimskull's voice!
"NO! NO! GRIMSKULL.... GRIMSKULL NEED HELP! HELP!"
Grumgutz zipped over and was surprised to see the Warboss splashing around helplessly, trying to reach the shore of a frozen-over patch of ice.
"GRUMGUTZ! HELP GRIMSKULL! GRIMSKULL GONNA DIE!"
The Warlorod smiled and said, "Now why's I gonna do a fing like dat, eh? Seems ta me, da smart fing would be ta let you die like a git. But, you'z a good killa. Take my hand and we'll call it even."
Grumgutz extended his hand, and then was surprised when Grimskull stood up in what was only a hip-deep patch of water.
"HA! HA! NOW WHO IS SMARTER-TALKY GUY!" Grimskull pulled Grumgutz into the water and then smashed the Warlord's bike into a heap of broken bitz.
"STAY COOL! NOW GRIMSKULL GO BACK AND BE #1!"
Grimskull ran off, leaving Grumgutz in the chilly water. Grumgutz couldn't help but smile, floating in the shallow water. Stupid, but cunnin'. Just enough in the right amounts. A smile broke across the Warlord's face as an idea hit him.
-------------------------------------------------------------------------
"..TIE? WHAT IS TIE?" yelled Warboss Grimskull.
Runtherd Zogwog stood in front of the massive Warboss. He'd seen worse before and wasn't backing down in the least.
"I'z call 'em like I see 'em. You and Grumgutz went off and killed da same. Dere ain't nothin' but nothin' besides that."
Grimskull howled and smashed his Power Klaw into a massive icicle, sending it spiraling to the ground.
"DEN GRIMSKULL GO TAKE GRUMGUTZ HEAD! NO MORE FANCY GAMES!"
The Warboss was about to head out, when he heard footsteps and out walked the (slightly frosting looking) Grumgutz.
Grimskull howled in bloodlust, but then stopped when he saw that Grumgutz had something behind his back.
"WHAT STUPID GRUMGUTZ HAVE?"
The Warlord smirked, "I dunno Grimskull, 'course if you go and smash me know, you might never get it in one piece."
"GIVE TO GRIMSKULL NOW! OR GRIMSKULL SMASH!"
Grumgutz nodded, walked over and held out something on a chain. It was a huge, round, metallic sign with the symbol "#1" on it.
Grimskull peered at it, squinting, obviously trying to figure out what it meant.
Grumgutz nodded, "I gotta hand it to ya Grimskull, you iz pretty smart."
Grimskull turned his head to one side. Smart was not a word used to describe him very often.
"I mean, ya'z got a great plan to get my attention and you got it. You'z even passed da test!"
"TEST? WHAT GRUMGUTZ TALK ABOUT?"
"Only the very special, one-of-a-kind, extra-good #1 Warboss test!" Grumgutz continued. "The kind that gets you dis here extra-special medal. Didn't think anyone knew about that test, but you obviously did. Otherwise, why go to all the trouble?"
Grimskull paused, his few brain cells rubbing together violently enough to cause sparks.
"OF COURSE GRIMSKULL KNOW DAT! GRIMSKULL #1 WARBOSS! NOW GIVE HERE! GIVE HERE NOW!"
Grumgtuz walked over, and with a great spectacle (as much as he could anyway), he put it around Grimskull's head.
Grimskull looked down with a massive grin on his face.
Grumgutz smiled too. It was good to be the Boss. Sometimes cunnin' solved things too. Just had to remember that from time to time.