I attended a 2000 point rogue trader tournament last Saturday at Game Castle in Londonderry NH (it's becoming a monthly thing for me). There were 24 players participating with a fairly wide spread of armies. Chaos and Imperial Marines seemed to be the norm, but there were 3-4 IG players as well as a smattering of Xenos (primarily orks and eldar but with at least two Tau players and even a necron player – oh my!) and a couple daemons. The new space wolves seemed to be well represented, with at least two in attendance.
After a long and uneventful ride down from Northern VT, we were ready to begin. My list looked as follows:

Warboss Grubbynutz
(power klaw, cybork body, attack squig, bosspole)
Big Mek Klickinklak
(kustom force field, bosspole)
5 Meganobz
(3 kombi-skorchaz, 2 kombi-shootaz)
riding in
Battlewagon
(red paint job, armor plates, big shoota, reinforced ram)
8 Nobz
(Count as troops, power klaw, 3 big choppaz, waaagh banner, painboy)
riding in
Battlewagon
(red paint job, armor plates, big shoota, reinforced ram)
7 Lootaz
30 Sluggaz
(nob with powerklaw and bosspole)
30 Sluggaz
(nob with powerklaw and bosspole)
30 Sluggaz
(nob with powerklaw and bosspole)
3 Killa Kanz
(Rokkitz)
3 Killa Kanz
(Rokkitz)
Pretty much my 1750 list minus the black baron (my buzzsaw/rokkit launcha deffkopta) and plus 5 meganobz, their wagon, and a bosspole for Klicky, who will be leading them. Dropping the Baron was a tough choice, as he has served me well and is especially strong against armies that like to castle. When I saw the Tau and IG were there in considerable numbers, I began to worry even more.
Regardless, first round saw me face off against Mike's Orks. Mike is one of the local champions and a very good player. Through pre-game talk, I learned that he was mainly a chaos player who is just starting Orks. He felt that his chaos was too mean and wanted to try something else. His list looked something like this:
Warboss
(power klaw and heavy armor, perhaps some other stuff)
Big Mek
(kustom force field, perhaps some other stuff)
10 Nobz
(Waagh banner, painboy, power klaw
Mounted in
trukk
(red paint, wreckin' ball, boarding planks)
5 Lootaz
(1 is a mek with kustom-megablasta)
15 Kommandos
(burna, Snikrot)
12 Ard Slugga Boyz
(nob with powerklaw, squad has big shoota)
Mounted in
trukk
(red paint, wreckin' ball, boarding planks)
30 Slugga Boyz
(nob with powerklaw, squad has 3 big shootaz)
3 Deffkopta
(rokkitz)
3 Deffkoptaz
(rokkitz)
3 Deffkoptaz
(rokkitz)
Battlewagon
(Kill Kannon, 4 big shootaz, armor plates, reinforced ram, 'ard case)
Looking at his list, my first reaction was that he had taken too many points in vehicle upgrades. This is a common ork newb mistake. Other than that, it looked to be a fast and sneaky list. Very much like blood axes or evil sunz...
"Yoo waz supposed to have dis planet belongin' to da orks by now, Gitfang" Grubbynutz growled, interrupting the stream of ludicrous stories that the Blood Axe warboss was telling about his battles on this planet. To the human inhabitants, it was called Antragynos V. Not the either ork warboss cared very much. To them it was just another place to conquer.

Gitfang sneered at the Grubbynutz's interruption. "You doesn't tell me wot to do!" he snarled back, baring row upon row of sharpened teeth, "I said my ladz would fight for Ghaz... not you!"

"Dat's just da point, Gitfang. Ghaz iz Aulma'd dat you ain't got dis planet krumped yet. Yoo haz been 'ere for...." Grubbynutz paused as he struggled to put the passage of time into words, "three of doze moon tingies."

"Months, boss!" volunteered Klickinklak from nearby. Grubbynutz nodded sagely.

"Yes, we haz" allowed Gitfang, "however, we'ze runnin' into more problems den we thought. Dere's beakies here!"

"Awww... little Blood Axe boy can't handle da big beakies." mocked Grubbynutz, a grin growing on his ugly face "Tell you wot, set us up with some trukks and we'll krump 'em FOR you!". He had fought Space Marines himself, as well as the littler humans (he often wondered if space marines were the 'umie version of nobz) and krumped them all.

Gitfang nodded. "Yur, dat sounds good. Give us a few to get dem ready for you." Grubbynutz nodded back and stomped away, back to where his warband was waiting for him. Gitfang stayed looking after him for a moment and then tapped the stolen imperial commbead he wore and began speaking a serious of commands.

"Ey boss," ventured Klickinklak as he hastened to keep up with the warboss, "did you see da wagon dat gitfang's ladz have."

"Sure did," agreed Grubbynutz as he hauled himself into his own wagon, "it was ugly as zog and had dat great stupid kannon on it."

"Dat'z just it boss. Doze blood axes sure have a lot of imperial stuff. I mean, if dey were 'aving as much problem as dey say with da 'umies, dey wouldn't have got a chance to loot dat much, right?"

Grubbynutz's eyes glittered dangerously under his horned helmet.

"Klicky, I tink you oughta turn on your shield. NOW!"

"Wot? But boss..."

The last part of his reply was lost, as at that moment, the entire Blood Axe warband began shooting.

Mission: Capture and Control
Deployment: Spearhead
Bonus points: Kill your opponent's highest-point HQ, kill your opponent's highest point unit, and have a scoring unit in your opponent's deployment zone at the end of the game
I won the roll for first turn and elected to give him first turn. I figured whatever damage he might be able to do in the first turn would be mitigated by going last in an objective-based mission.
Deployment:
He elected to leave his deffkoptaz and (obviously) snikrot and friends in reserve. The toher two deffkopta squadrons started on the board. Giving him first turn also had the unpleasant side effect of giving him a large and imposing ruin in his deployment zone. Oh well. He deployed his single foot mob inside, along with his objective. The lootaz and big mek deployed inside the shooty wagon. My deployment was pretty standard, except that I was pretty bunched up due to a lava-river that flowed through my corner. (note that the brown patches on the map are representing said lava – vassal unfortunately never made a lava graphic). Him having a kill kannon definitely encouraged me to spread out more, which made things even tighter. I was forced to put some of one mob across the lava river, snaking them across the bridge and onto the island in my far corner. Oh well.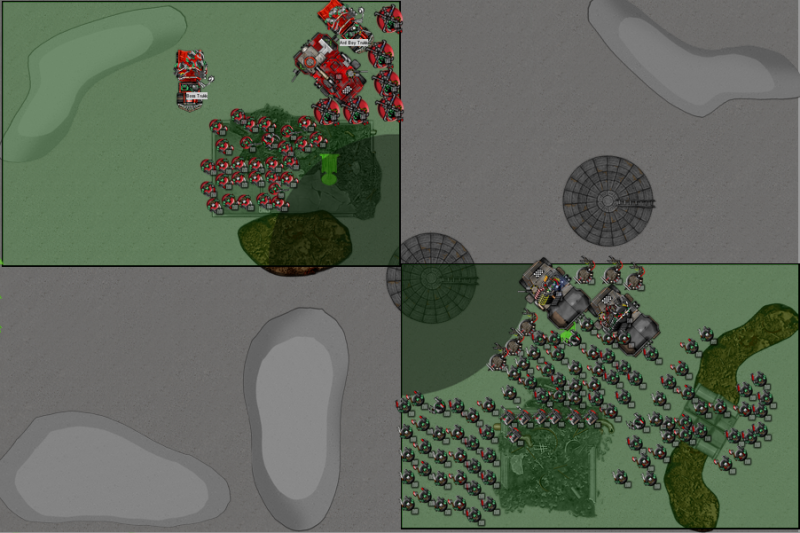 (Pic of deployment)
He scout-move-turboboosts one of his deffkopta squadrons to the right with his scout moves, trying to get side armor on my wagons. Uh oh. Still, sticking to the plan, I decline to try and seize the initiative.


Blood Axes 1:
He moves his right-hand deffkoptaz farther to the left. While moving the central squadron up as a screen for the battlewagon and 'Ard boy trukk, who move up behind them. The sluggaz reposition in the ruins and, with the big shootaz taking position on the walls. The boss and nob trukk, on the far left move flat out into no-mans land.
Shooting is very successful for him, seeing him explode Grubbynutz wagon using his sneaky deffkoptaz (guess Klicky didn't hear Grubz's warning) and kill several of the surrounding orks. The other squadron fires uselessly at the kanz. The big shootz from the 'Ard trukk and the squad in the ruins open up on the lootaz, killing two. This is sadly too much for the lootaz and they break and run, stopping just short of the board edge. The kill kannon tries to make life even worse for my nobz, but the blast scatters back into the rear mob and kills a few there.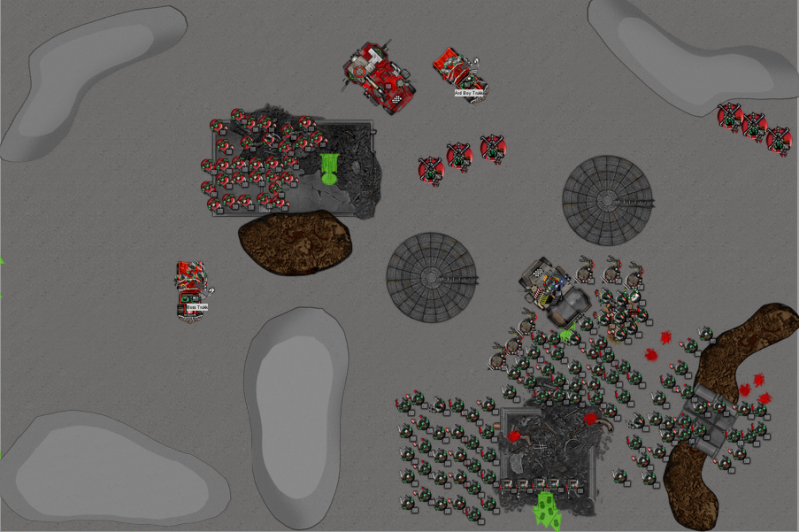 End of Blood Axe 1

Goff 1:
The horde roars forward! The left kanz waddle over to deal with those pesky deffkoptaz that just killed the boss wagon, while the forward kanz and the meganob wagon surge up the middle to challenge to Blood Axes on their objective. The lootaz manage to rally.
My shooting, such as it is, sees a kan squadron target a deffkopta squadron each. Each one loses two koptaz to rokkitz and both squadrons flee, never to rally again (below 50%). A bit of running also occurs, but nothing much to speak of.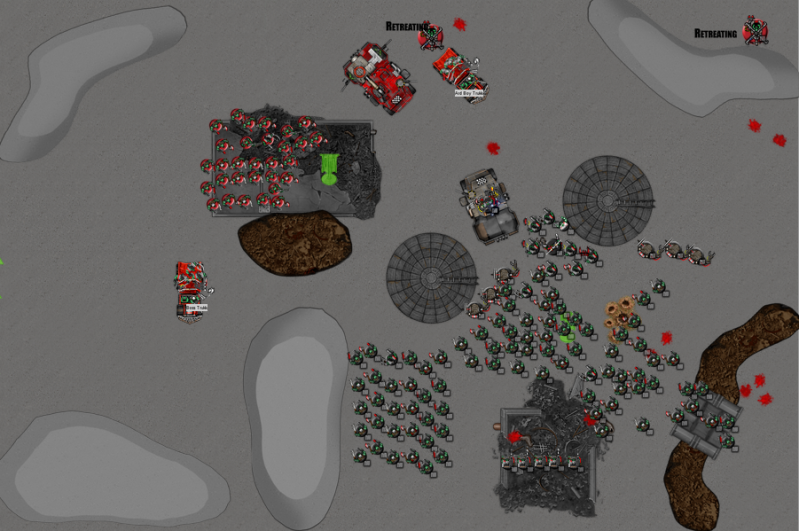 End of Goff 1

Blood Axe 2:
The final deffkopta squadron arrives even as the remnants of the first two flee off the board. They come on behind my slugga squad in the corner of my deployment zone. Snikrot doesn't come in. The nob truk roars over the hill and deposits its nobz within easy assault range of my sluggaz there. Uh oh. The ard trukk roars up and sits right in front of my battlewagon. He doesn't disembark. I think this is odd until I see that dangerous-looking wrecking ball mounted on the front and the boarding plank on the side.
His shooting is somewhat uneventful, with him taking some potshots at the lootaz with various things but failing to drop any. The Kill kannon aims at my middle boy mob and blows a few away. His lootaz, inside their transport target some kanz but fail to hurt them. The deffkoptaz target my rearmost squad and kills a couple.
Close combat is much more exciting, with the wrecking ball failing to hurt the Meganob wagon, but the boarding plank allowing the Blood Axe nob in the trukk to get out and try to roll some sixes. He rolls a single six, which turns into a penetrating hit, wrecking the wagon. Damn, I was set up for some sweet flameage on the slugga mob if my wagon had lived. Still, the meganobz pass their pinning and there ARE other targets around. Speaking of targets, the Blood Axe nobz predictably roll in and butcher a bunch of Goffik slugga boyz. The rest run away. I think my nob manages to insta-gib one of his. He consolidates poorly, but moves onto the hill.
The deffkoptaz that just arrived charge my rearmost squad, assumedly, to pull me back away from my objective. 2 of them die hideously and the other one is run down. I negate his maneuver a bit by consolidating well and moving my guys back towards the objective.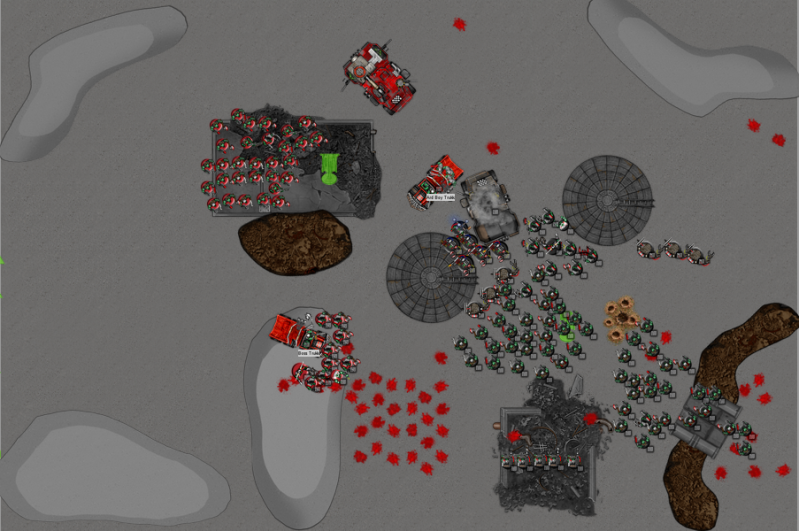 End of Blood Axe 2
Goff 2:
The meaganobz and the middle sluggaz both head for the blood axe nobz. I call the Waaagh this turn and they both make it to assault range. My nobz try and skirt the far side of my wrecked wagon to get at his 'ard trukk. Even with the waagh they fail. Lootaz finally reclaim their good firing positions they had at the beginning of the game. The middle mob moves up to claim my objective and surround it (also they try and get as far from board edge as possible – snikrot is nasty!).
Rokkitz from the kanz fail to do anything to the 'ard boyz trukk. Damn. My kingdom for some active loota fire.
In combat, the meganobz and sluggaz steam in against his nob squad and carnage ensues. 6 of his nobz bite the big one and some others take wounds. He ends up winning combat by one, but mostly by killing a whole bunch of sluggaz. The meganobz, all 5 of whom remain, manage to pass leadership and live. The sluggaz are still fearless.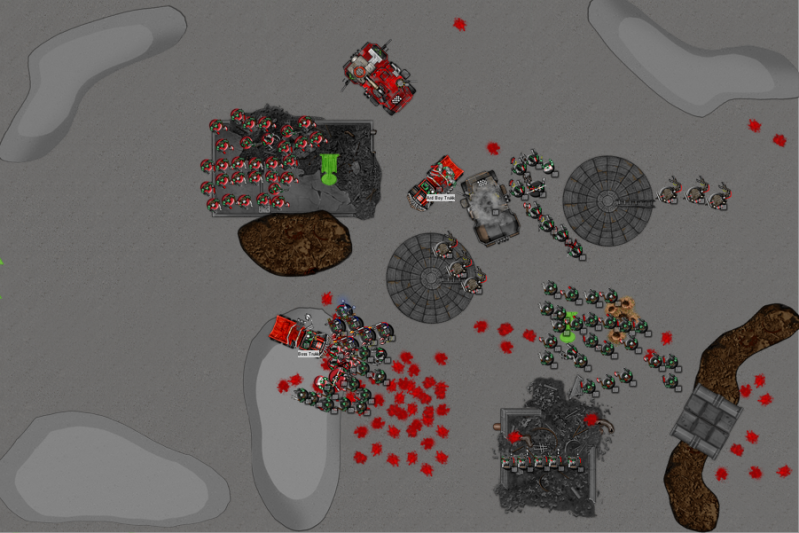 End of Goff 2

Blood Axe 3:
At this point our combats are taking so long that we are informed we have a half hour left to complete the game. This may be our last turn. Damn! It really crept up on us. Usually I'm really good about playing fast, but I guess two orks players play twice as slow.
Snikrot arrives. Coming on from my board edge behind the lootaz and the mob on my objective. My sluggaz are a good 16 inches or so from my board edge, so he'll need a good waaagh to get snikrot and pals into combat. The 'ard trukk moves up next to the kanz, who will now pay the price for not blowing up the wagon when they had the chance. The nob trukk moves over to try and block my kanz from moving towards his objective.
Shooting sees him tear up a few of my nobz with mass shooting. Nothing major, but a few fall. He also waagh snikrots squad six inches. D'oh! They're now easily in range to charge both my sluggaz and the poor lootaz.
Combat sees my lootaz shredded and my sluggaz reduced but still holding on. Snikrot loses around 5 of his pals to the attacks of the sluggaz.
The 'ard wagon continues its rampage, with the wrecking ball missing, but the nob waddling out onto the boarding plank and beating two kanz to death.
In the west, his nobz are finished off, for the cost of two megaz and assorted sluggaz. I lose by two this time and the megaz decide that they've had quite enough and flee. The sluggaz however, are made of sterner stuff and pass their leadership, staying in combat against the now-alone Blood Axe Warboss. Hurray!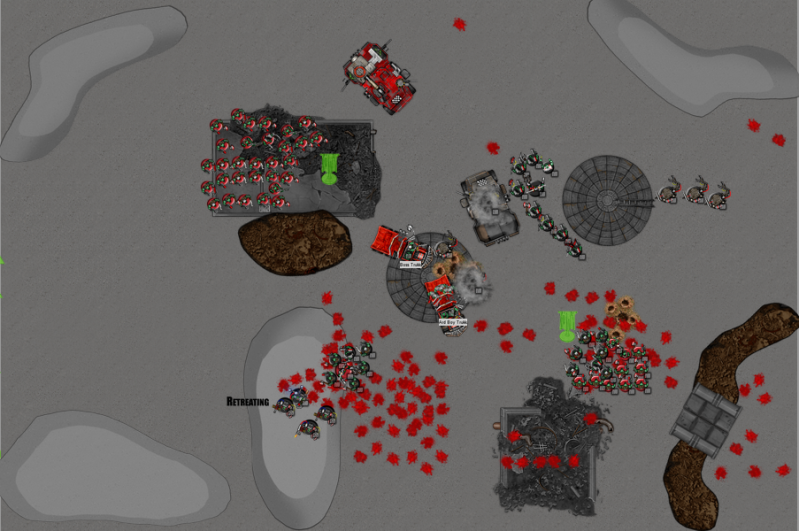 End of Blood Axe 3


Goff 3:
As his turn ends, we are told that we have 10 minutes left.
In any case, my meganobz and mek, being within 6" of the enemy warboss, continue to flee towards the table edge. The kanz reposition to get better shots while the nobz race back down to deal with snikrot.
Shooting sees me take a small measure of revenge with my kan rokkitz, exploding the 'Ard Trukk (take DAT you gitz!) with the far mob of kanz and wrecking the other trukk with the lone survivor from the other squadron. In hindsight, it was stupid of me to try and target the ard trukk, as a lucky kareen result for him could have resulted in the trukk depositing the 'ard boyz on my objective. Thankfully, it doesn't happen and the thing just blows up, taking a single 'ard boy with it.
In combat, the Blood Axe warboss is sliced to ribbons by a team effort from the Goffik sluggaz and their nob (mostly the nob). 3 sluggaz and the nob survive and consolidate down the hill. The nobz and the remaining sluggaz in the middle make mincemeat of snikrot and clear my objective. With only about 5 minutes left to play, we don't start another turn.
As we both hold our own objectives, the game is a draw.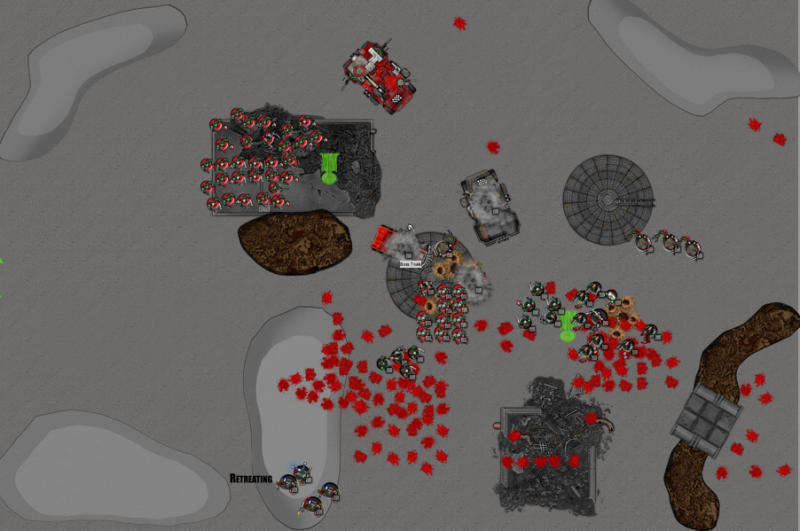 End of Goff 3
Scattered shoota fire still rang out from the building occupied by the Blood Axes as Grubbynutz and his ladz hunkered down behind the wreck of their burning wagon. Gitfang was dead. Grubbynutz was pretty sure that he had seen Snake Flicksquig and his mob beating the Blood Axe warboss to death before his attention had turned to the kommandoz (the head of one of whom was still in his powerklaw). No doubt Snake had perished for his bravery. It was rare for either participant to live through a powerklaw boxing match.

As the shooting lulled for a second, a shadowy figure burst out of the shadows and crouched down next to Grubbynutz. The Goffik warboss almost fell over himself trying to bring his powerklaw up to strike this interloper.

"Relax boss! It's just me." came a familiar guttural voice.

"Snake..." Grubbynutz said, trying to seem calm, "I though yoo waz dead!"

"Yeah, yoo and everyone else!" growled Snake back, "We krumped Gitfang, but we got chewed up real bad. Most of our boyz are dead. We gotta pull back boss. I don't tink da Blood Axes are gonna pursue – most of dem are dead too!"

Grubbynutz smashed his klaw into the burning battlewagon. But he nodded. They may not have gotten the promised trukks, but they had uncovered that these blood axes were working with the humans and then killed their warboss. Without leadership, the blood axes would probably splinter or flee the planet. That was good enough for one day. Plus there were always the 'umies to krump.

"All right ladz, time to pack it in! Back to da camp!"

Postmortem:
Good game. Mike being new to the army did cause him to make some mistakes in army construction, but they also gave him a fresh, unjaded look at some of the vehicle upgrades I had dismissed. Boarding planks in particular seem awesome and accounted for both a wagon and two of my kanz. I'll definitely have to look into trying them out in my own army at some point. Guess I was wrong about them being newb items!
As for the game itself, it was very tightly contested all throughout. The amount of damage that we caused on on each other over just three turns is staggering. It's hard to say what would have happened if the game had been allowed to play out to its natural conclusion. I probably had stronger units left in my kanz and nobz, but he had numbers and firepower on his side. It's quite possible that even if the game had gone the full length it still would have been a draw.
Regardless, it wasn't all bad, as I managed to claim two of the bonus points for killing his warboss (highest point HQ) and nobz (his highest point unit). He got one for having the 'ard boyz in my deployment zone at the end of the game.
So my battle point total at the end of round one was 14 (12 for a draw + 2 for bonus points).