I would first like to say,
that this battle didn't turn out in the slightest the way I thought it would. Not in the slightest. Talking to another player, we got onto the discussion about Ork Nob Bikers. "I have nothing to fear," I said. "I have an army list that will rip them apart."
"Really? Well, let's see about that."
I whipped out my
Order of the Merciless Sun
Witch Hunters force. With the amount of Faith and Str:8 AP:1 shots I was hammering into those Orks, I thought, surely any Ork force with Nob Bikers couldn't stand up to this. I have Heavy Bolters and numerous attacks + Faith for the hordes, and plenty of Str:8 AP:1 attacks for the Nobz.
Surprise, I came across this:
HQ – Warboss Biker
Power Klaw, Slugga, Warbike, Cybork Body
HQ – Warboss Biker
Power Klaw, Slugga, Warbike, Cybork Body
TROOPS – Nob Bikers
10 Nobz w/Warbikes and Cybork Bodies
4 w/Power Klaws
4 w/Big Choppas
1 w/Waaagh! Banner, Power Klaw
1 Painboy
TROOPS – Nob Bikers
10 Nobz w/Warbikes and Cybork Bodies
4 w/Power Klaws
4 w/Big Choppas
1 w/Waaagh! Banner, Power Klaw
1 Painboy
FAST ATTACK – Stormboyz
18 Stormboyz
Boss Zagstruk
You could imagine, I laughed--really, really hard when I saw this army list. I figured I was going to wipe him off the board by turn 3 or 4. We got an Annihilation game with a Dawn of War setting. My Sisters fought bloody, bloody hard, but it was a losing fight from Turn 1. I shot and charged with my Seraphim, my Dominions and Priest (with 6 melta weapons), and two squads of Storm Troopers. For the next two turns, it was a swirling combat because of that Faith keeping me with a 3+ Invul save, but I didn't have a single model left after that! This is an Anti-Terminator army list. I make my attacks power weapon hits on 6s to wound, add +2 to Strength, and make their saves Invulnerable. This I did with my Seraphim and my Canoness together. I couldn't believe my eyes.
I watched my army disappear to nothing by his turn 4, and I had first turn. He didn't lose a single kill point, and I lost my entire army. (Got close, got each Warboss down to 1 wound, and one unit to 1 Painboy and a wounded Nob.) I forced them to fall back twice, but they fell back far away enough to easily regroup.
You're not going to believe this, but one of the most destructive forces in this Ork army list was all that dakka! When those Orks shot for the first time, I mean 33 shots, hits on 5+, twin-linked, wounds on 2+, it was amazing!
And Zagstruk, oh my gosh! He came out of Deep Strike, and assaulted one of my Exorcists with that counts-as power klaws in the first turn of assault, coupled with being able to assault after Deep Striking?!? It was absolutely ridiculous. It was a rather embarrassing loss to say the least.
I copied the army list, and used it against my cousin's Eldar. He has a bit more wit than I do, but I was able to wipe out
his
entire army in 7 turns. He had a decent army list, with two Autarchs, almost his entire army in Reserve (came out in Turn 2 as he planned), and shot everything in my face, including 4 flamers and 2 Destructors. That FnP with 4+ armor/4+ cover shocked him to the core as it mowed down his force.
Zagstruk was also a surprise. After Deep Striking a bit far, and with three units tied in combat with the Bikers, the few Boyz that were left were just enough as Zagstruk hammered his way into a unit of Striking Scorpions and his Boyz attacked the Autarch accompanying Warp Spiders.
Most of my cousin's units lost every assault phase, turned around, and ran off the board. It was embarrassing, too, to see him lose this way. I don't wipe him out very often, rather, it is an extremely rare occurrence. Last time this happened was when I used that Calgar + Shrike army list combination that after 4 games he learned to defeat with ease.
Without further ado, I re-challenged my opponent, with shaking knees, with the Y'he Or'es Cadre. I did not expect to win this game. I have finally learned to respect Ork Nob Bikers...
[hr]
[hr]
"We'z da fastest, smashiest, killas on dis whole world! And we'z are gonna smash us some blu-skinz!"

In the race towards the battlefield, one of the Warboss's bikes got a jam in it, causing his wave of Nobz to stay behind while he tinkered with it. The others revved their engines and kicked up a snowstorm on their way to the Tau battle lines.

-----------

Dram'Ka led the cadre together, nobody staying back. It was a rare thing, but holding back any forces against such a foe was not an option. Looking out in the distance, an oily cloud of snow rose up.

"It is time," Dram'Ka said. "When they get close, get closer."

---------


Calgar curiously observed this battle. Everything there was to know about this foe, he would learn it. He had watched this group of Orks, spearheading a whole Waaagh! destroy one of the most powerful armies of faith he had ever witness. Surely this Ork horde could smash its way into the Y'he Or'es Cadre, and stop it in its tracks before the rest of the Green Tide arrived.
[hr]
Y'HE OR'ES CADRE
HQ – Shas'o Commander Dram'Ka
Missile Pod, Fusion Blaster; Shield Generator
2 Shield Drones, Multi-tracker, Stims, Iridium Armor, target lock
Bodyguard
Twin-linked Plasma Rifle, Shield Generator, multi-tracker, 2 Gun Drones, Failsafe
HQ – Ethereal and Honor Guard
11 Honor Guard
Hellfish
SMS, Burst Cannon
Multi-tracker, Targeting Array, Disruption Pod
TROOPS – 8 Fire Warriors
All w/Pulse Rifles
TROOPS – 8 Fire Warriors
All w/Pulse Rifles
ELITES – 6 Stealthsuits
1 Team Leader w/ fusion blaster, marker drone, target lock
1 Stealthsuit w/fusion blaster
FAST ATTACK – Vespid
6 Vespid, 1 Strainleader
FAST ATTACK – Pathfinders
8 w/pulse carbines and markerlights
Warfish
SMS, Burst Cannon
Multi-tracker, Targeting Array, Disruption Pod
HEAVY SUPPORT – Invincible
2 Burst Cannons, Railgun
Multi-tracker, Disruption Pod, Target Lock
HEAVY SUPPORT – Killer
2 Burst Cannons, Railgun
Multi-tracker, Disruption Pod, Target Lock
H
EAVY SUPPORT – Lesser Important
Sky Ray w/2 Burst Cannons
Multi-tracker, Disruption Pod, Target Array, Blacksun Filter
[hr]
The basic strategy with this Ork army list is that you have one wave of Ork Nobz and the Warboss come in, and hit hard, and tie up 3+ units in combat. Winning those combats is irrelevant. Getting close and making it a pain to kill them all off.
The Stormboyz are designed to split enemy fire or to take care of that annoying unit the Nobz just can't handle. They serve mainly as tank hunters though.
The second wave of Ork Nob Bikers finish the job as the enemy is weakened by the time they strike. Seems like it works so far; you just can't kill all of those Ork Nobz in one turn, not even with your whole army at your disposal.
DEPLOYMENT
We got a Spearhead Capture and Control. I got first turn and, though I hated every corner, picked the bottom right-hand as it seemed to give me the most options. The Bikes set up accordingly. I'm a bit shaky on what I'm doing, and I kept telling myself, every turn, "I hope I know what I'm doing." And I did know what I was doing.
I was trying to force the Orks to come around that terrain, with the illusion that they could get close, but just not quite close enough. I was trying to get them to turbo-boost if my opponent judged the distance as well as I had.
===============
TURN ONE/TWO - TAU
But it didn't seem to matter. After I loaded up the Fire Warriors in Warfish, I lit up the Orks with fewer than average Markerlights, with only a total of 6. I shot the blast weapons first, and barely pulsed them with some SMS and some burst cannons. Dram'Ka got a lucky kill with his missile pod, (picking up the slack of his twin-plasma bodyguard as usual). I used 4 Seeker Missiles, and reduced their cover save -2, and forgot they had cybork bodies.
I killed a total of 3, but he failed his Leadership and fell back off the table. After that, I moved my forces around a bit to get ready for the second wave.
===============
TURN THREE
Zagstruk blew off course a bit, used the shooting phase to spread out some, and well... we killed them all.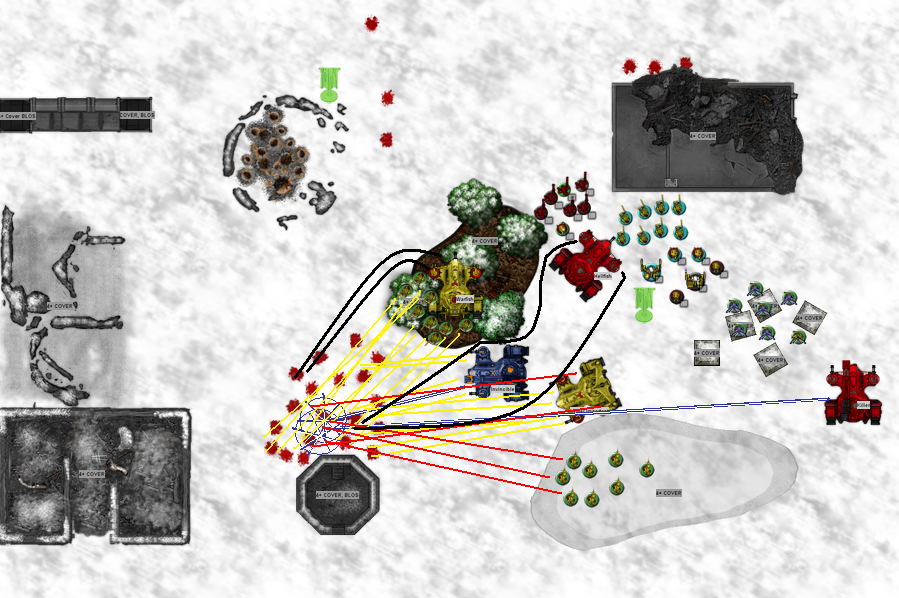 ===============
TURN FOUR - TAU
The Nobz and the 'Boss arrive, turbo-boosting into my face. My opponent laughs as he believes he sees what's coming next. He explains that I have no where to run or hide, that I have pushed my forces up too much when I should've spent my time pulling back.
"You are about to witness my Tau strategy," I inform him.
Everyone shot at them. Everyone with rapid fire was in rapid fire range, exactly the way I arranged it. I used the Markerlights I was blessed with to +1 BS to the Honor Guard, +2 BS for the left FWs, -2 cover for my HQ (and for the first time ever, Dram'Ka's bodyguard makes a kill!), -2 to cover, +1 BS for the Vespid. The other FWs, the Stealthsuits, and my two Devilfishes shoot without aid.
Not too much to my surprise, the Painboy is still alive with 1 wound, as are 4 Nobz and the Warboss with 2 wounds. That Waaagh! banner might be useless against Tau, but it sure does leave room for extra wound allocation.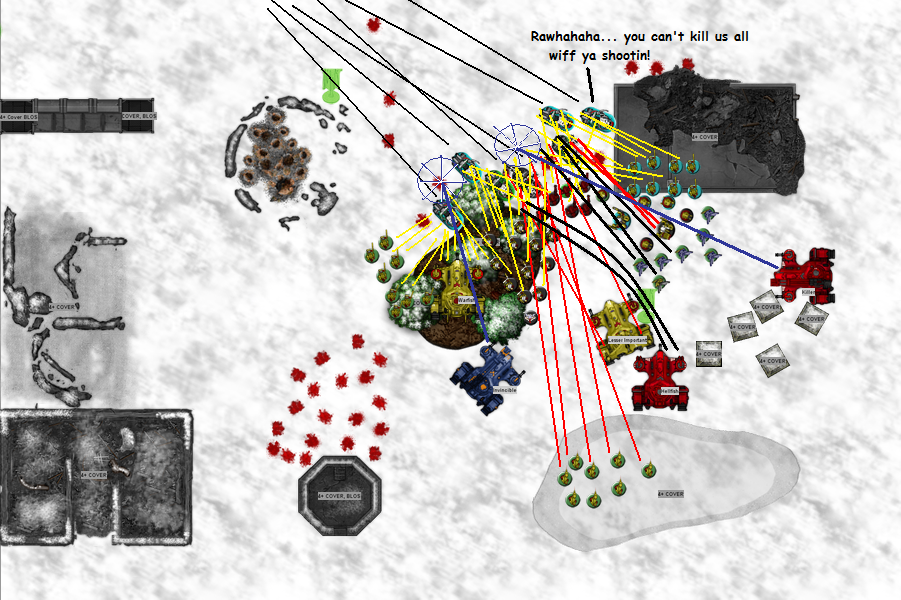 So my opponent believes its all over for me now. His Orks can assault 5 units, and that's what he planned on doing: spreading out, and assaulting both FW units, Warfish, and my Stealthsuits in the middle. He expects to at least kill off or get on the run every unit, and damage the Devilfish. He didn't even expect to win all of the combats, but to stay engaged through my next turn. "It's all over," he stated. "Your Tau are very brave for getting this close, but I'm sorry to say that your strategy hasn't worked."
.
.
.


Then...

I did...

the unthinkable...
This is the Savage Cadre jack@$$. We charged Orks. My Savage Cadre
charged
Ork Nobz... and a Warboss,
on Bikes
.
And we almost tied combat.
Dram'Ka and his Bodyguard wounded 2 Nobz, and the drones wounded the Painboy. Then I killed the Ork Warboss with the Stealthsuits, for a total of 5 inflicted wounds. He killed off 4 Stealthsuits, the Marker Drone, and a Shield Drone for a total of 6 inflicted wounds. The Stealthsuits failed their Leadership, but I got a re-roll thanks to the Ethereal.
===============
TURN FOUR - ORKS
Straight into the Assault Phase. This time we lost the combat (not as many fists to go in there). I didn't wound a single Ork, and he killed off Dram'Ka's other Shield Drone, both Gun Drones, and both Stealthsuits. Dram'Ka and his bodyguard
passed
their Leadership, but I re-rolled for the Ethereal, fell back, and
Ka-boom!
No more Bodyguard. In the name of the Greater Good, he takes an Ork Nob with him with Instant Death as Dram'Ka gets away.
===============
TURN FIVE - TAU
Neither of my Devilfishes got a chance to shoot. The FWs on the left didn't either (pic got it wrong); withholding 30 Str:5 shots from my total shooting. The two Railguns killed a Nob, wounded another, the Markerlights launched the last 2 Seeker Missiles (which failed to kill anyone), Dram'Ka got his shots in, and killed 1, the FWs in the ruins killed the Painboy, the Pathfinders failed miserably on their hitting, but it allowed a +1 BS to the Honor Guard (who killed 1, wounded another), +1 BS for the Vespid (killed another), and I didn't use the last one.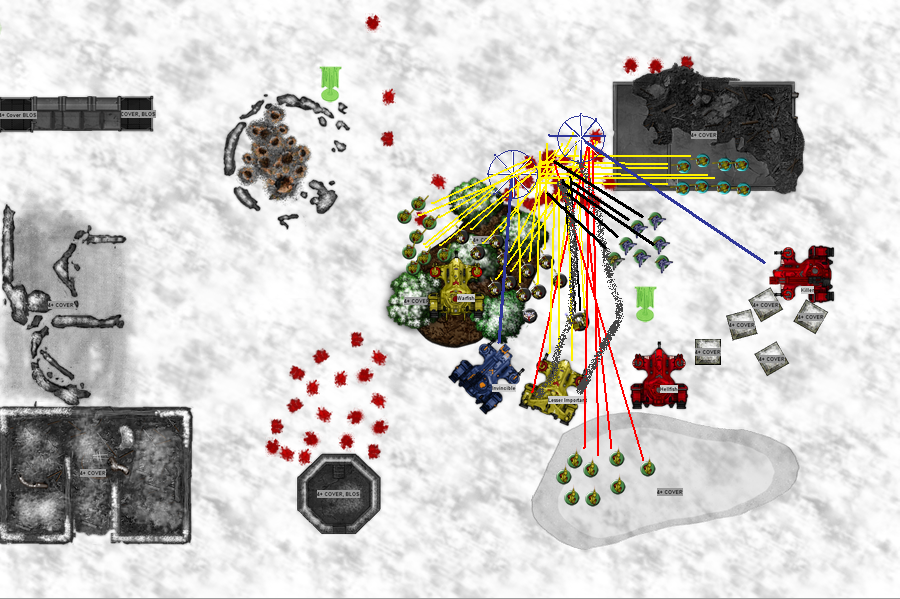 ===============
TURN FIVE - ORKS
The Tau consolidated, made sure the Orks on the ground were dead, and took the Objectives.
[hr]
[hr]
POST-GAME CARNAGE REPORT
I hold 0 out of 2 Objectives. Point is mute, I win by default of elimination.
I killed a total of
1851
points.
My opponent killed
347 points
(Stealthsuits, 2 Gun Drones, 2 Shield Drones, and the Bodyguard).
That leaves me with
1504
more points on the board than my opponent. This means I probably could've gotten similar results of victory if I were using a 1500 point army (I'd remove every unit that he killed). ... Again.
So there you have it folks. I haven't really hate Nob Bikers, and I still don't. I applied every single tactic and suggestion I made in my Complete Tau Tactica.
Not the all-time glorious victory you were looking for, and I'm sure to get ragged on by Enderwiggin or someone about something, like my opponent was childish, incompetent, or just an out-right idiot, and that my tactics don't really work and that I really don't know what I'm doing, that I just got really, really lucky, and that no statement about getting this solid of a victory means anything if the rolling was in his favor over me, that having even 2 units of foot-slogging Ork Boyz would've meant I probably would've lost horribly, etc., etc.