What is your opinion on Tau in 5th Edition?
I've received my share of insults from members telling me that my opponents must have been noobs or that I've been extremely lucky. I have seen my Tacticas designed and brought up after two or more hours worth of gathering my thoughts only to be cast down as useless or interesting in theory. I have actually seen players state to the public that the Tau are not competitive in 5th Edition, and that they seriously need updating.
I look at this as a challenge. I have seen my Y'he Or'es Cadre and dozens of suggestions forsaken simply because such things were unheard of.
The next few games I play will be a Dygos Campaign against various players and their army lists. All will be tournament-worthy lists, or filled with oober-cheese or spam. All army lists will be played by veterans of at least 4 years of experience or more and only against those players with experience against or with the Tau. This is game #1.
-----------
Logan Grimnar shouted with all the glory and honor of a Space Wolf. "We shall see to it that Dygos is taken in the name of the Emperor!"

Marneus Calgar looked on with a barren face. "I do not advise this sudden attack. The Tau will know."

"The Tau. Calgar! You speak as if you fear these Tau. Have courage. I will take care of the whole base myself, and spearhead the attack."

"You do not know these Tau," Calgar replied. "I heavily advise against it."

But that conversation took place over two hours ago. It seemed that the glory-seeking Space Wolves could trek through the snow without flinching at the strongest attack. They made their way now through the month-long warming season from various volcanic eruptions in this enclosed area.

It was to be the first wave of attacks by a myriad of foes against the Tau Empire and their thriving colony world of Dygos.

----------

Dram'Ka looked down from the Manta as the battle in the skies raged on. The coming of three Space Marine chapters has given him permission by the Ethereals to reorganize his Savage Cadre in the Y'he Or'es Cadre once again.

"Kill them," Dram'Ka said into his mic. "Kill them all. Ignore the important locations that these Or'es'gue'la want. Don't worry for your own lives. Only think upon how to destroy them all. There will be no mercy."

"No mercy," his Fire Caste warriors repeated in unison.
----------
SPACE WOLVES
HQ – Logan Grimnar
TROOPS – Wolf Guard (8 total)
7 Wolf Guard w/Terminator Armor
1 w/Combi-melta, Thunder Hammer
3 w/Wolf Claws
3 w/Thunder Hammer, Storm Shield
1 upg/Arjac Rockfist
Land Raider Crusader w/Multi-melta
TROOPS – Blood Claws
10 Blood Claws, 2 w/Plasma Guns
1 upg/Lukas the Trickster
Drop Pod
TROOPS – Wolf Guard
8 Wolf Guard
4 w/Combi-Meltaguns
Drop Pod
HEAVY SUPPORT
5 Long Fangs w/Lascannons
TOTAL POINTS: 1850
===============
Y'he Or'es Hunter Cadre
HQ – Shas'o Commander Dram'Ka
Missile Pod, Fusion Blaster; Shield Generator
2 Shield Drones, Multi-tracker, Stims, Iridium Armor, target lock
Bodyguard
Fusion Blaster, Plasma Rifle, Shield Generator
Multi-tracker, 2 Gun Drones, Failsafe
HQ – Ethereal and Honor Guard
11 Honor Guard
Warfish
SMS, Burst Cannon
Multi-tracker, Targeting Array, Disruption Pod
TROOPS – 8 Fire Warriors
All w/Pulse Rifles
TROOPS – 8 Fire Warriors
All w/Pulse Rifles
ELITES – 6 Stealthsuits
1 Team Leader w/ fusion blaster, marker drone, target lock
1 Stealthsuit w/fusion blaster
FAST ATTACK – Pathfinders
8 w/pulse carbines and markerlights
Hellfish
SMS, Burst Cannon
Multi-tracker, Targeting Array, Disruption Pod
FAST ATTACK – Vespid
6 Vespid, 1 Strainleader
HEAVY SUPPORT – Invincible
2 Burst Cannons, Railgun
Multi-tracker, Disruption Pod, Target Lock, Blacksun Filter
HEAVY SUPPORT – Killer
2 Burst Cannons, Railgun
Multi-tracker, Disruption Pod, Target Lock, Blacksun Filter
HEAVY SUPPORT – Lesser Important
Sky Ray w/2 Burst Cannons
Multi-tracker, Disruption Pod, Target Array
DEPLOYMENT
We did a Spearhead with 3 Objectives. Logan and his Wolf Guard Terminators are in the Land Raider. Deployed near the ruins are the Long Fangs.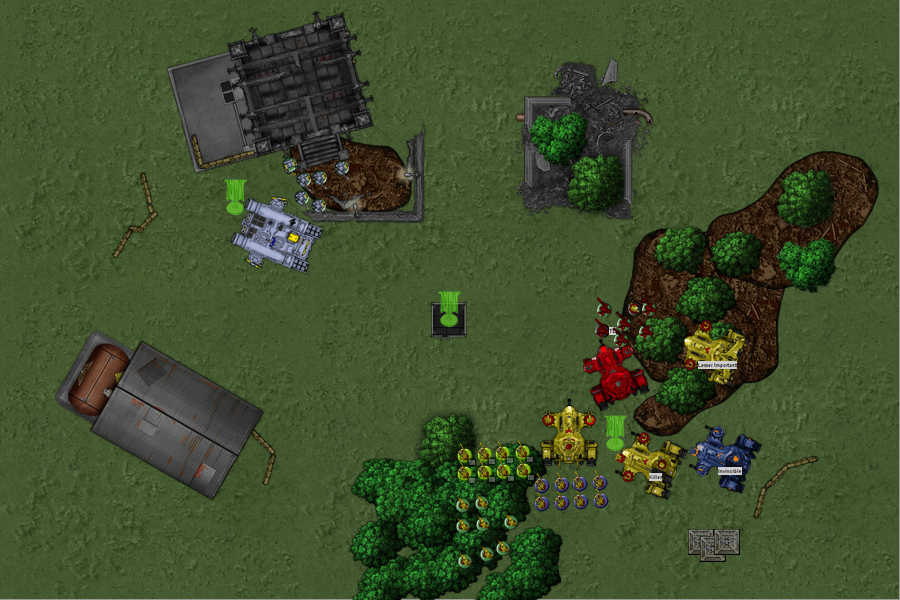 ===============
TURN ONE - TAU
Tau steal Initiative (sometimes I wish I hadn't) and get first turn. Picture is self-explanatory. While moving, the Fire Warriors got into the spare Devilfish from the Pathfinders. In shooting, the Pathfinders scored 5 Markerlight hits, using up 2 for the Devilfishes to get +1 BS. I wanted to save the Seeker Missiles, but I managed to score two hits. There's a total of 1 Long Fang left.
Invincible
missed the Land Raider.
Killer
only got a Glancing Hit, but scored a Stunned result. (Thanks AP:1!)
===============
TURN ONE - SPACE WOLVES
My opponent says he believes he knows what I'm up to, and sends the Blood Claws to Deep Strike behind
Lesser Important
. He shot him in the rear, but as you can see, does not destroy him. However, he did remove both Markerlights and a Burst Cannon.
The Lascannon from the Long Fang shakes
Killer
.
===============
TURN TWO - TAU
Invincible
does something! He's usually a poor shot, whiffing at least 2 times a game, but he just barely wrecked the Land Raider with a Glancing Hit. As expected though, he wounds 0 Blood Claws, not even Lucius.
Dram'Ka and his Bodyguard came out of Deep Strike next to the Land Raider in case
Invincible
didn't destroy it. The Pathfinders light up Logan and the Wolf Guard Terminators 6 times. The Stealthsuits fired first, their Markerlight hitting and upgrading their BS +1. After that, the Fire Warriors, Honor Guard, and both Devilfishes all hit on 2s thanks to the Pathfinders. The last Markerlight was used by Dram'Ka's bodyguard and his drones.
It might surprise you that the twin-plasma, hitting on 3s and the Fusion Blaster/Missile Pod hitting on 2s did absolutely nothing. Pulsing 52 times and hitting on 2s, and the Stealthsuits together killed 4 Terminators and wounded Arjac Rockfist. Logan was unharmed.
===============
TURN TWO - SPACE WOLVES
The other Wolf Guard with 4 combi-meltas try to Deep Strike in the center of it all, but scatter off course beside my HQ. He deploys them in the trees, trying to gun down my Fire Warriors, but only kills 2. The Long Fang misses
Invincible
.
Logan, confident he can kill my HQ by himself, breaks off from the main pack and lets his Wolf Guard Terminators deal with my Ethereal and the Honor Guard. The picture was taken at a point where a few things got wrong, but the Ethereal and his Honor Guard kill Arjac and a Terminator. At first, my opponent assumed he won. I took a test, pass the Leadership, re-rolled to fail with the Ethereal, then remembered I was Fearless, then it was funny as we remembered it all didn't matter because we tied.
The Blood Claws on the right side are forced to assault
Lesser Important
, and blow him up, losing two of their own in the process.
The Drones manage to wound Logan before he made his attacks. The two Shield Drones passed their Invulnerable Saves, and both Gun Drones died. They failed Leadership, and I thought about Falling Back and using the Failsafe Detonator, but thought better of it since Logan is in Terminator armor, and re-rolled with the Ethereal's influence and passed.
===============
TURN THREE - TAU
I didn't picture it right, but the Stealthsuits and
Warfish
(the tan Warfish) pulse the Blood Claws that just killed
Lesser Important
, wounding Lucius and killing 2 others.
Killer
,
Invincible
, and the 6 Fire Warriors shoot at the Wolf Guard near my HQ, and kill 4 thanks to the help of my Pathfinders (scoring only 2 hits).
I had two options to do with my Ethereal and his Honor Guard. Hope that I have enough bodies after awhile to hold up the 2 Terminators in combat and eventually kill them off, or I could hope I lose combat when the Ethereal dies by allocating wounds, forcing everyone to take Leadership and then shoot the Terminator(s) left while Falling back. These were both part of the decision to leave the units there by themselves.
Or
, I did this: moved my Fire Warriors away from the Objective, swept around the two Terminators, and assaulted them. The plan worked. My opponent had to take 3 armor saves on each Terminator, and failed one on each. My Tau win combat without losing a single life (Thunderhammers are I:1 after all), and are free to move about. Even if that is a bit lucky (and I expected to kill just one), there's no way those 2 Terminators could've killed off all of those Fire Warriors and the Ethereal, and the Honor Guard, before they went down, and without being shot at as the unit(s) are Falling Back. Even if they stay in there for 2 turns, It just wasn't very mathematically plausible for them to make up for their points in that assault.
Even if they did win combat in 2 turns, and killed the Ethereal, all the Honor Guard and got the FWs on the run at the end of one of my turns, what is he going to do? Hold the Objective against 4 Tau vehicles all by himself?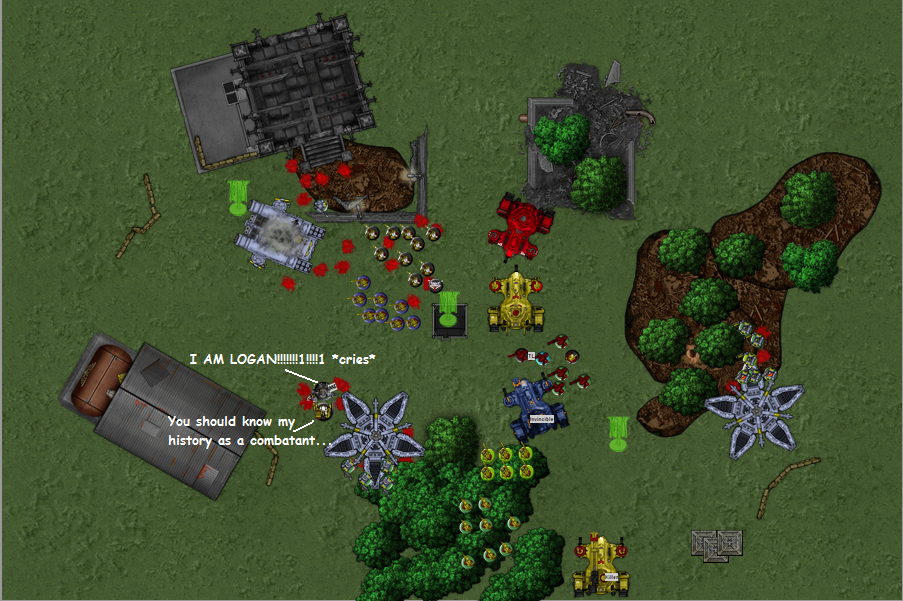 ===============
TURN THREE - SPACE WOLVES
The Long Fang takes another shot at
Invincible
. He hit and got a Glancing Hit, but
Invincible
got his 4+ cover from the DP. The player forgot to move the Blood Claws, but while I let him take it back to move them, he accepted that they were there and tried shooting at the Stealthsuits. Rolled snake eyes for the Night Fight test.
Logan finally kills Dram'Ka with 4 wounds inflicted. Dram'Ka averagely only passed 2 and succumbs to Instant Death. Logan consolidates 6" closer to my forces.
My Tau are now
aulma'd
and prepare to destroy the one who killed him.
===============
TURN FOUR - COMBINED
In short, Logan has been reduced to less than a pair of shoes. It was the humble 6 Fire Warriors who finally removed his last 2 wounds. The Pathfinders and
Killer
shoot at the 4 remaining Wolf Guard in the forest, killing them off.
The Stealthsuits and
Warfish
, confident that Logan was taken care of, move away and shoot upon the Blood Claws, leaving a wounded Lucius the Trickster, and a single Blood Claw.
In their turn, the Blood Claws moved up and shot
Killer
in the rear, immobilizing him. The Drop Pods have not shot yet, and I allowed my opponent to give them each 4 shots to somewhat make up for it. The one on the left kills a single FW.
The Long Fang assaulted Hellfish and tore off the SMS. My opponent wasn't actually allowed to do that, because he was within 1" of my Honor Guard, but he was desperately trying to contest the Objective.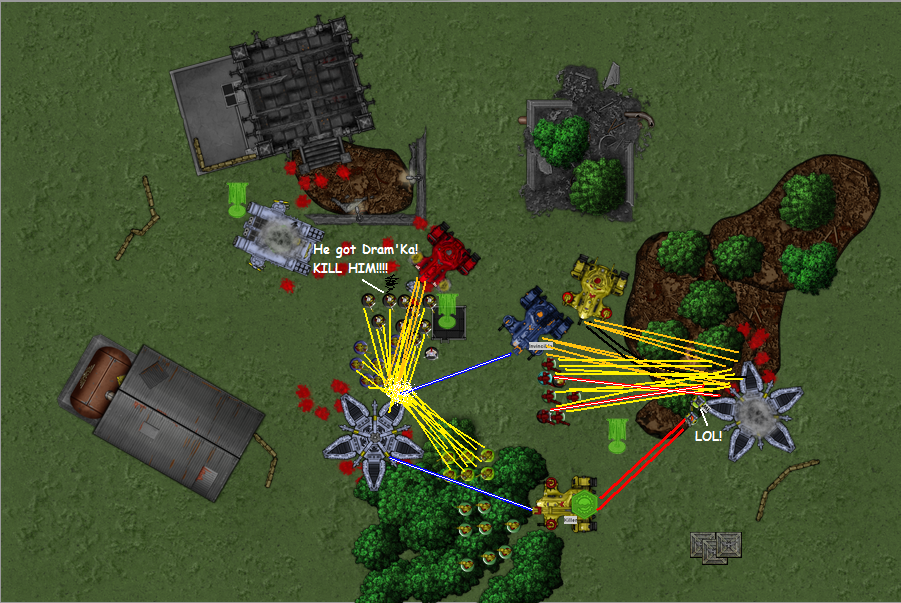 ===============
TURN FIVE - TAU
The Vespid are
finally
forced to arrive. I let them finish off Lucius and the other Blood Claw, which they do with relative ease. The Stealthsuits shot the Drop Pod with their 2 Fusion Blasters, Immobilizing and Destroying it's only weapon, effectively turning it to a wreck.
Invincible misses the other Drop Pod, despite hitting on 2s (the Pathfinders got 2 hits). I reduced teh Drop Pod's cover save by -1 to Killer's shot who hits and wrecks it. The 6 Fire Warriors for good measure move to the right to hold that Objective as the other 8 move in to hold the one in the center.
The Ethereal and his Honor Guard assault the Long Fang, who kills a single Honor Guard before being mobbed and trampled to death by their hooves. (There was no reason for me to assault him other than the pure enjoyment.)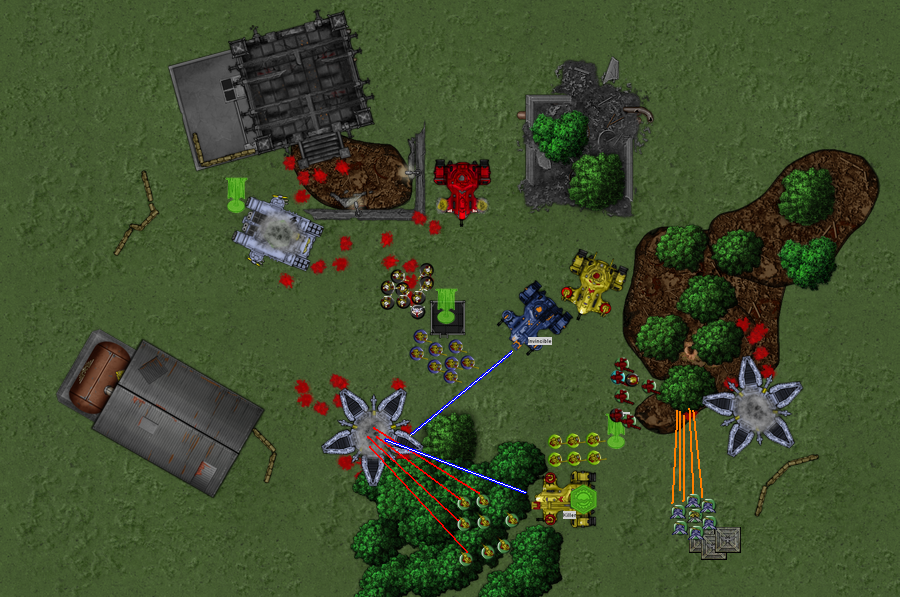 POST GAME CARNAGE REPORT
I win, 2 Objectives to 0. The point is irrelevant, I won by default of elimination.
The Y'he Or'es Cadre lost 3 Honor Guard, 2 Fire Warriors,
Lesser Important
, Dram'Ka, his Bodyguard, and their Drones.
This is a total of 370 points out of 1850.
That is 1/5th of my army list.
The Space Wolves have lost 1850 out of 1850 points.
I have killed 1480 points more than my opponent in 5 turns in an 1850 point game, and my Vespid didn't even do anything till the very last turn. I wish they had come in much, much earlier, but they got a Deep Strike mishap and were Delayed on Turn 2. That would've helped had they come in then, because they would've been attacking those Blood Claws; could've saved
Lesser Important
.
I would've succeeded if I were playing with the 1500 point army list variation.
===============
Marneus Calgar turned his head away. The Space Wolves and other Imperial Forces have all fought very bravely against this savage Tau Commander Dram'Ka. He took heavy steps through the observation deck of the warship the in the sky.

The Tau were capable of hatred, and they were capable of merciless tactics and fighting. The Space Wolves fought with all of their heart and courage, taking not a single step back. But it was like watching a young girl desperately kick, claw, and bite at a gang of rapists.