WAARGH Grumgutz vs Guantsalot (1850pts, 11/22) in "Getting Lucky-Biggest Scrum EVER!"
Hi All,
I bring another Grumgutz. This one was a nasty big Scrum, in fact, the biggest I've ever attempted.
Can Warboss Grimskull continue his reign of fanny-kicking against a large group of Nidzilla w/ a hefty heaping of Gaunts?
Read on!
Best,
-BT
P.S. As always, C&C is greatly appreciated.
WAARGH Grumgutz Alterate 64 "Grimskull's Gobsmashas" (1850pts) 72 Infantry, 3 Walkers, 3 Vehicles, 3 Artillary; 13KPs
Warboss Grimskull Gobsmasha (Warboss w/HA, PK, Cybork Body)
Big Mek Wingnut w/KFF
Da Lucky Seven: Nobzx7 w/Dokta Chop, PKsx3, BCsx3, Kombi-Skorchasx2, WAARGH Banner, Bosspole (BW Ded. Transport, Counts as Troop)
Lootasx10
'Ard Boyzx19 w/PK Nob, BP
Shootazx30 w/PK Nob, Rokkitsx3
Da Fab Four: MegaNobzx4 (Kombi-Skorchasx2)
Wartrukk (Trukk w/Ram, RPJ, Big Shoota, Boarding Plank; Dedicated Transport)
Da Beast (BW w/Deffrolla, RPJ, Armor Plates, Big Shoota; Dedicated Transport)
Da Big Red Cheez ((BW w/Deffrolla, RPJ, Armor Plates, Big Shoota)
BigToof (DeffDread with total 3 CCW, Skorcha; Counts as Troop)
BigToof's Steelgrots (Killa Kansx2 w/Grotzookas)
Kannonsx3 w/Runtherd
Big Bugs Return! (1850 pts) 63 Infantry, 12KPs
Flying Tyrant (Flyrant) w/Assault upgrades
Shooty Tyrant w/ Implant, TL Devourers w/ Hive Guardx2
Lictor
Warriorsx5 w/Assault-based upgrades
Hormagauntsx20 w/leaping, many upgrades
Hormagauntsx20 w/leaping, many upgrades
Spinegauntsx8, WON
SuperDakkaFex w/Barbed Strangler, Venom Cannon, other Nid Bitz
SuperDakkaFex w/Barbed Strangler, Venom Cannon, other Nid Bitz
Zoanthropesx3 with Warp Blast, Psychic Scream, Catalyst
Big Mek Wingnut peered around the vast expanse of wasteland. Like the days before it, there was nothing to be seen. That is, nothing to fight. He suspected, in fact, they were lost.
He glanced over at Warboss Grimskull Gobsmasha who seemed anxious as well.
Wingnut coughed a bit and spoke, "Oi! Boss. I fink we'z lost."
Grimskull paused, thought a bit and motioned for everyone to stop.
The Orks slowly, hapazardly, and reluctantly came to halt, and the big Iron-clad Boss jumped out and stormed over to the ostentatcious Trukk of the Mega-Armored Nobz.
The MANZ quickly stood up, looking worried at the Boss.
Grimskull paced a bit, mumbling to himself.
Wingnut peered over and jumped down as well.
"Oi! Uh, Boss? Ya fink dat..."
He heard a clanking sound and saw the MANZ all waving at him to shut it, and the Big Mek raised a worried eyebrow. It wasn't that often that you saw coordinated effort by a pack of death-defying head-crushers like Da Fab Four.
Grimskull nodded, "Yeah, yeah, we'z gonna hafta do it. Boyz, we gotta wake up da Kaptin."
The four Meganobz looked at each other, then nodded, and dove under the seats of the Wartrukk, pulling out a gaudy, gilt-covered chest (that Wingnut noted had no airholes) with the words "Kaptin's Chest, Open n' DIE" scrawled on it in Orkish script.
Then, Grimskull carefully moved over, knocked on the chest and said, "Uh, Kaptin? Kaptin? Sorry, we'z need yer help again."
Wingnut looked at the other Orks around him who all looked surprised. What was in this chest that could put such fear and respect in an Ork of Grimskull's size?
Grimskull listened carefully against the chest, then nodded, and opened it with a creak.
"Ah, good, he's not in a mood then."
The large Ork reached in a hand and pulled out... a rather odd sight.
It was a squig, with a huge triangle shaped pointed hat encrusted with gold and bitz with a cloak similarly embroidered with gilt and gemstones. It was also slightly moldy. And pretty obviously dead.
Wingnut raised an eyebrow, "Uh, Boss, I fink dat Squig's dead and..."
Grimskull jerked his head up and stormed over with a fury. The surrounding Orks all leapt away (even the MANZ, though it took some effort).
"WHAT DID YOUZ SAY?"
Spittle, bile and bit of squig-mold flew through the air and landed on Wingnut's face.
"Uh, what I meant was Boss, uh, was that uh, it looks a bit... different-like than most squigs I seen before."
Grimskull nodded, "Yeah, dat's true, 'cuz Kaptin Lucky here is da smartest Squig I ever done met. He ain't steered us wrong yet, right ladz?"
The MANZ all nodded at this (surprsingly to Wingnut, not in the scared out of your pants-type of nod, but the confident nod of respect?).
Wingnut looked a bit skeptically, "Uh, how does uh, da Kaptin do dat?"
"We'z asks him a question. Real nice like, ya know, and then he tells us where da fight is."
Wingnut snorted, "Squigs don't ta..."
He paused in mid-sentence as he noticed Grimskull get that homicidal look again.
"Uh, what I mean Boss, is that I never met a talkin' Squig before."
Grimskull nodded, "Dat's good, cuz da Kaptin here is one of a kind. Uh, right. Kapin, we'z need a fight. Show these new boyz how ya does it, ok?"
The huge Ork picked up the (admittantly very dead looking) squig and began to wave it around.
Wingnut was about to say something, when suddenly, the Squig spoke!
All of the Orks backed back as suddenly, very clearly, a voice emenated from the Squig.
It was a bit broken, but the important words were clear enough:
"... fight of our lives on... BIG TEETH... in our faces... now now now!"
Grimskull nodded to the surrounding Orks who just looked dumb-founded.
"Youz herd da Kaptin! It's a big fight and dere's teef in it for everyone! Go dat way, now now now!"
All of the Orks roared, and headed towards a set of ruins in the distance as fast as their feet and wagons could take them.
Captain Chance Newman of the 244th Cadian Infantry screamed again into his comm.
"Repeat! We're overrun by Tyranids! We're in the fight of our lives!"
The few men around the Captain screamed, "BIG TEETH IN MY... AARRGH!" "It's in our faces, Captain we can't... AARGH!" (And other dying quotes).
Chance glanced over at the huge pile of leaping Gaunts, chitin and talons gleaming in the moonlight. "By the Emperor, we need help now now now!!"
Pre-Game Thoughts: Wow, Grimskull is certainly upping the ante on this one. A Nidzilla type list with a lot of hitty and a two big packs of tooled-out Hormagaunts. Still, it is a rather pricey list of guys, and the Orks actually outnumber them! (At least until the Spinegaunts come back a few times...)
Mission: Annihilation
Setup: Dawn of War
Terrain: Ruins
Setup:
The Ruins were fairly well scattered, with most of the big pieces to the sides of the board.
Orks win the roll to go first, and take it!
BigToof took to the fore on the right side (only mid-range cover within 24"!)
The Flyrant deploys, going as close as possible to BT, getting behind some cover... (Uh, oh!)
Being a heady bunch of assault freaks, we both agree to have our armies come in on turn one (Reserves? Bah, who needs 'em?)
The Orks heard some of their favorite sounds as they approached the ruins: the screams of the dying, a few loud retorts of weaponry, and the thundering stomps of something really big.
Unfortunately, by the time they reached their destination, it had gone all quiet again.
Peering around in the dark, Wingnut couldn't see any fightin' at all. He looked over at Grimskull who seemed just as eager, but confused just the same.
"Oi! Boss!"
A loud clumping and shaking of the earth heralded the arrival of DeffDread BigToof. The massive Walker was clearly excited.
"I'z done seen somefin' out dere in da dark! Is it OK if'n I go see what'z out dere?"
Grimskull just nodded, still looking for signs of the big fight.
The large Deffdread clapped his hands together and stormed off. Maybe it was more Puppies! Or Moo-Cows! Who knows what? Maybe, he thought, it might even be something better! But what would be the chances of that?
Turn 1: Orks
Everyone rolls forward to the right, Da Big Red Cheez and Da Beast in the center, the big mob of Shootas to the left with Killa Kans.
Lootas run to the left into cover, Kannons to the right into a ruin.
Picture Caption: Running into damnation because we don't know any better...
Turn 1: Nids
Huh, ok, yes, I took the bait. (Gah!)
The entire Tyranid army comes out to the left.
Everyone rolls forward, and the Flyrant leaps next to BigToof's building, still hiding from LOS...
The Shooty-Fexes try to see out in the darkness, but it's far too dark at this range.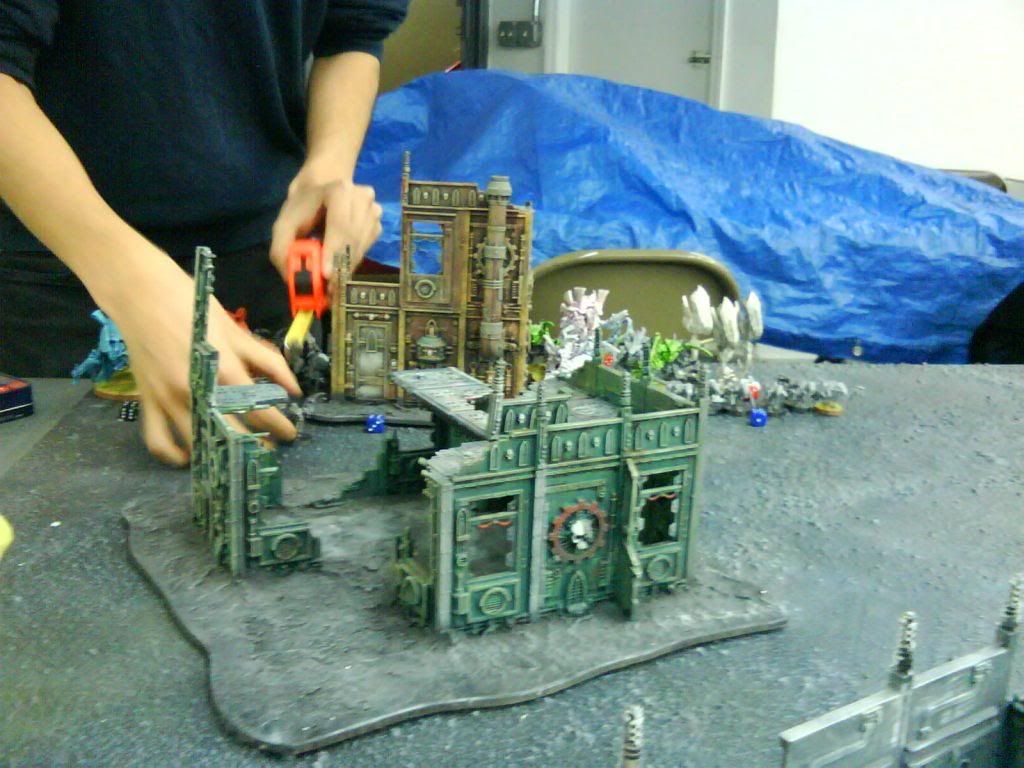 Picture Caption: So MANY BUGS!
KPs:
Orks: 0
Tyranids: 0
Turn 2: Orks
BigToof falls back a bit, staying in cover, getting ready for some assault uh... fun (Yeah, yeah sure).
The Orks all roll forward, the Battlewagons plowing through cover. The Lootas do a bit of shooting at a Zoanthrope, but no damage is done.
Turn 2: Nids
The Lictor decides to sit this one out for a bit (smart, quite smart).
The Nids all scootch forward, most notably with the HUGE horde of guants throwing themselves into a fairly small building. (It's just packed at this point)
The Nids fire all their big guns at the Battlewagons, but is either deflected by the KFF or fails to get through the tough AR14... (Huzzah!)
A few lootas die to a random Barbed Strangler, but not enough to make them test.
The Flyrant engages BT, and takes a wound for flying into the building (bumps his head I guess). He immobilizes the Deffdread, but 'Toof hits back, doing two wounds! (Pet da Birdie!)
Orks: 0
Tyranids: 0
Turn 3: Orks
Mass assault time.
The Orks all roll forward, both Battlewagons grinding over the Spineguants, utterly annihilating them.
Everyone leaps out and engages well... EVERYONE.
The Nobs throw out their Kombi-Skorchas and toast about a dozen and a half Nids! (that's what I call close!)
They then assault both of the Guants and a Klaw heads into one of the Tyrant guard!
Grimskull calls the WAARGH, and the Meganobz fleet in and assault the Warriors (uh oh) and the Zoanthropes.
Grimskull's forces spread out and assault the Zoanthropes and the Hive Tyrant's unit.
...
Yes, if you're keeping score, that means EVERYONE except the Carnifexes are in a massive, massive skrum...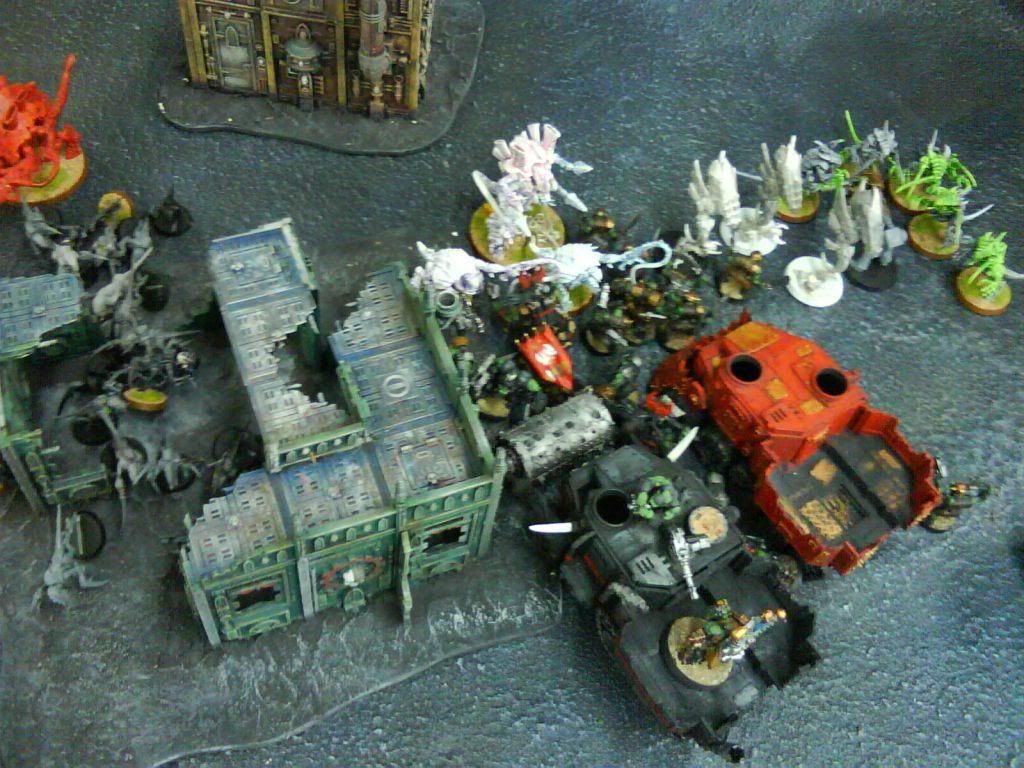 Picture Caption: By Gork, that's a big scrum. Big Big. Squiggoth pooper-scooper big.
...
Luckily the Orks come out on top!
The Nobs take a few wounds, but end up cleaning up the smaller squad of Guants. The Tyrant Guard take down a few 'Ard Boyz, but the Tyrant wiffs, and a MASSIVE number of Klaw hits bring down the Tyrant and his crew.
The Zoanthropes feel some MANZ love to the face and go down. The Warriors do manage to take down two MANZ, but it's really not enough.
The Nids lose the massive combat by... about a dozen or so. The Warriors are pared down to just a few, and the Guants also take a beating, down to just a handful as well.
And on the other side of the board, the Flyrant attacks, glances and penetrates BigToof, but... only gets a weapon destroyed (!) BigToof loses his headsaw, but in return, the big Dread TAKES THE FLYRANT DOWN (!).
Wow. Just wow. (Birdie fall down go boom!)
At this point, the Tyranid player calls the game, as it's getting late, and it doesn't look like the two Carnifexes (and the Lictor still in reserves) are going to be able to make back the deficet...
Wow, that was ugly.
KPs:
Orks: 7
Tyranids: 0
Post-Game Thoughts:
Grimskull and Co. really pulled things out today. I was a bit hesitant about the big Scrum, as honestly, charging THAT many Tyranids is just asking for trouble. Luckily, the dice gods were giving, and the Tyranids went down...
Oh, and kudos for BigToof for taking down the Flyrant! (woot!)
Grimskull snarled as he watched the Carnifexes pull back and smash through the ruins. Some of the 'Ard Boyz tried to follow the beheamoth, but the building shook and fell in a pile of rubble before any boyz could feel adventurous enough to set foot inside. Grimskull just nodded, and patted his Squig on it's rancid-looking skull. The Bugs could run as much as they wanted, but the Kaptin would find them again. If he felt it was worth the Orks' time.
"I'S GOT A BIG BIRDIE! LOOK! LOOK!"
Grimskull glanced over at BigToof (with Big Mek Wingnut trailing the Dread, trying to finish up repairs on the walker's legs), running around with glee spinning the carcass of the Flyrant around by the tail. Orks were wisely running away from the overly-enthusiastic Deffdread.
BigToof looked over at Grimskull and plodded over.
"'Ey Other Boss! You got one too! Dey's good killin' huh! Didja take yours down yerself too?"
Before Grimskull could answer, the Dread continued.
"'Oh, err... And thanks Kaptin Lucky. Youz was right, it was da bestest fight we'z had since da last one! Teef for everyone!"
The Dread stormed off, dragging the Flyrant corpse behind him and whistling entirely off key.
Wingnut looked over and nodded to the moldy Squig. He wasn't sure how Kaptin Lucky had figured out where the fightin' was, but one thing was clear, he was a good Squig to have around.