Had a game with my Necrons vs Orks yesterday. I am writing up another report too, which I'll post later. Hope ya'll enjoy.
My list, The brotherhood of the Spiralling Worm.
Nyarlathotep (Deceiver)
Necron Lord w/Viel and Chronomatron.
Two 10 man warrior Squads
Two 3 man Destroyer squads
Two 2 man Heavy Destroyer Squads
Two Tomb Spyders with Particle Projection Cannons.
Now, my opponent had cleared with the organizer that he could use the FW mega dread as a troops choice, like a Deff dread, as he took meks as his HQ choices. Which was Awesome.
Orks list
Mek with Burna and Custom Force Field
Mek With Shock Attack Gun
Two 10 man grot squads with slaver
One Nob Biker unit, with painboy (and orderly), boss poll and two power claws.
Three 3 kan Killa Kan units, all with claw and Grotblasta
One Deff Dread with Burna, shoota and claws
Three 2 man Warbuggie units with missiles.
One Megadread with Claw, Kill Kannon and two big shootas.
Mission was Capture and Control (two objectives...The green flags on bases). Deployment was Dawn of War.
My opponent won the first turn roll, but wanted me to go first.
I placed my objective near the centre of the table, while the Orks had theirs places on skull mountain in the back corner of the table.
This would belonged to the Elder Gods, their messenger Nyarlathotep, would ensure that the Ork's foul taint would stop polluting it's essence.
I deployed both warriors squads, near my objective. Nyarlathotep, Deployed way forward to push back my opponents, and I like to be very aggressive with him. The orks, deployed a bigmek with SAG and some grots on skull mountain, and his Megadread (troops for out purposes) behind a flat roofed building.
Here is deployment, keep in mind that my destroyers are not at all on the table yet.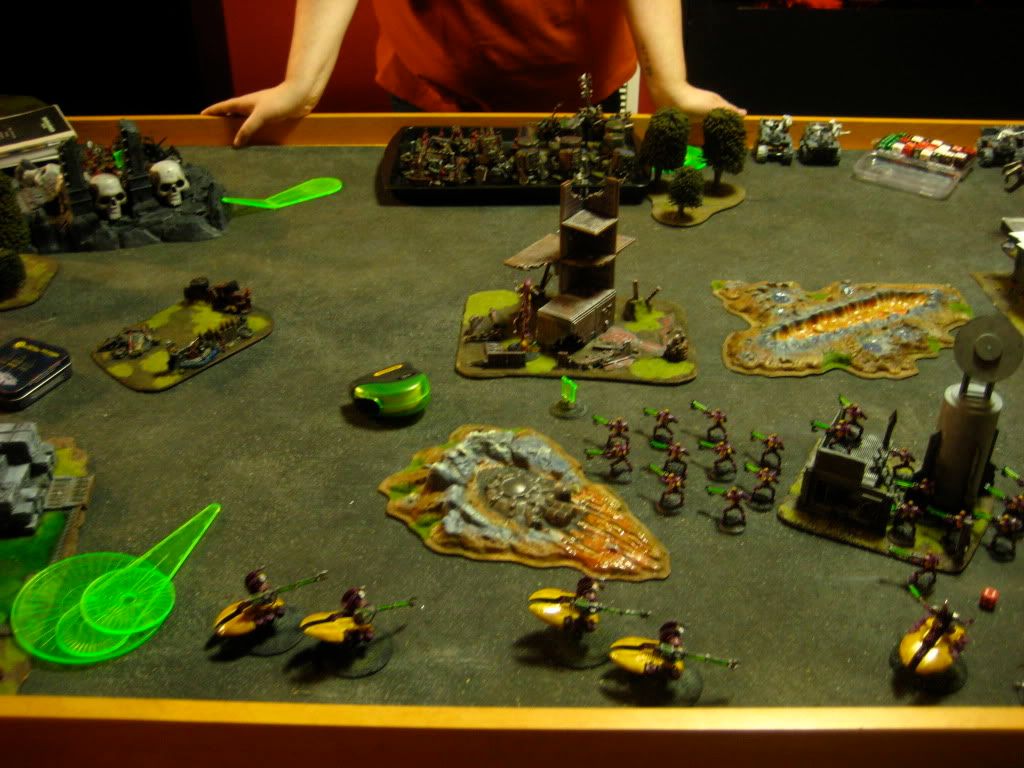 Turn 1
I bring on my lord and one destroyer squad way on the left flank, with the heavy destroyers and second destroyer squad coming on more centrally to get into firing site of his objective and the MegaDread. Spiders both ponderously advance towards my warrior squads. My shooting is void, as I fail all my night fight tests. Wish I had Solar Pulse lol.
The orks, are convonced that their mechanical army is better then Nyarlathotep's. Nobs and warbuggies come on around skull mountain, while all the kans, deff dread, KFF Mek and second unit of grotz arrive on the right flank. Megadread barges out from behind the building, it's killkannon searching for things to kill. Alrtough, he passes all his night fight tests, all his shots miss or go wild, except for one rokkit wounding Nyarlathotep. The Megadreads kill kannon wildly misses warroir squad I, while the Dreads and Kans all run instead of shooting.
Turn 2
Left Flank destroyers, decide that being charged by the Nobs is a bad idea, and turbo-boost to join the bulk of my force, meanwhile the Lord flies ontop of skull mountain to clear it of scoring units. Nyarlathotep, Moves towards the buggies to exact revenge!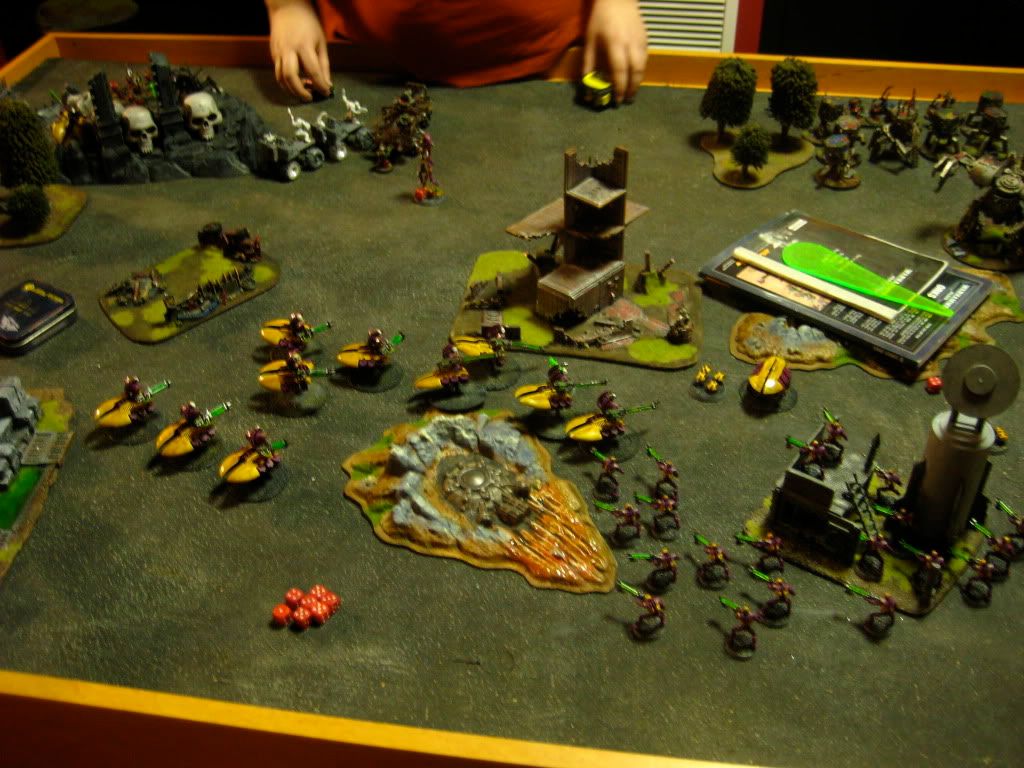 In shooting, Heavy destroyers manage to immobilise and blast the kill kannon off the Mega Dread, while destroyers kill off some Warbuggies. Nyarlathotep, Persuades the Nob Bikers to run away, and they obliged him. Falling back towards his table edge. Spiders run to join the warriors, both have a scarb swarm at this stage. One runs into the centre ruins.. Lord charges the SAG Mek and his grot bodyguard, while the god charges buggies. Nayrly, has trouble hitting the fast little things, but crushes one, while the lord manages to rout and kill off the Grot squad with Mek, consolodating right next to the Nobs (so they run off the table).
Predictably, the Nobs run off the table, The walkers all advance towards me further, while the Mega Dreads grot riggers manage to get it moving again. Due to his Kans running, his shooting is minimal. Rokkits from buggies shoot at my C'tan and lord, to no real effect. However, one unit of Kans manages to kill off one of my heavy destroyer shots...Freaking 6 blasts from grotzookas are deadly...
Turn 3.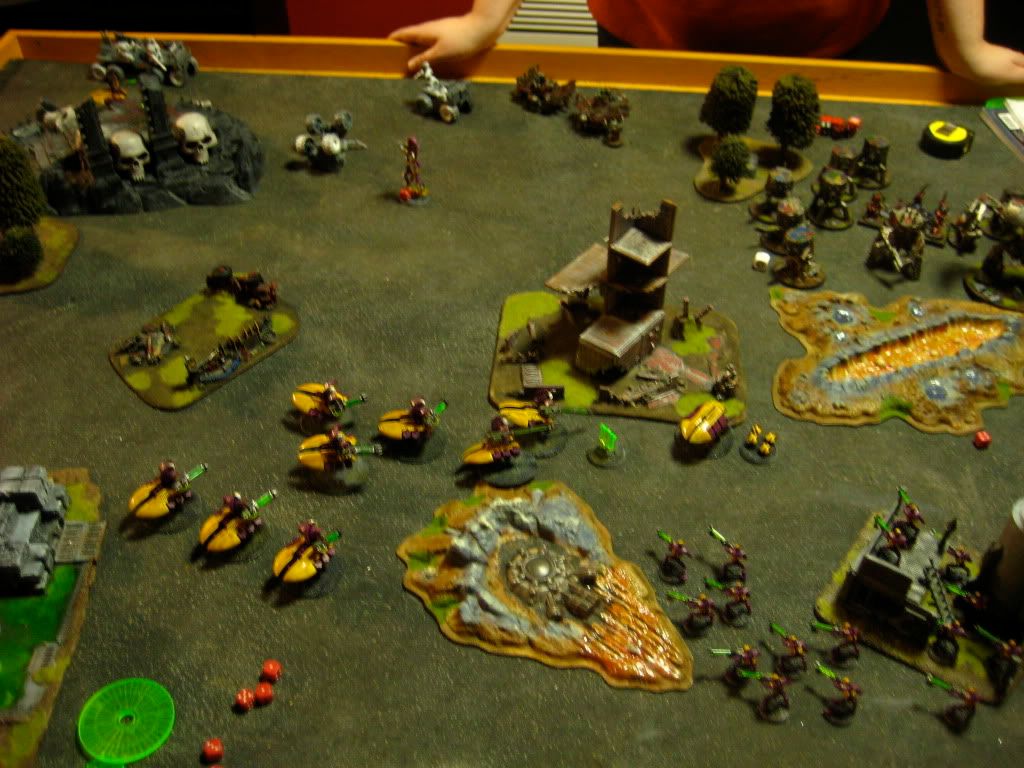 Turn 3
Well, the H.Destroyers didn't get back up
. Nyarly and my lord both start slugging to the right flank, while the destroyers float into better shooting positions at his approaching force. My warriors also fall back a bit too, as his walkers are getting a bit too close for comfort. Shooting, is not terribly effective. Shots against his Dreads and kans are deflected, while the destroyers kill two warbuggies. Destroyer lord, charges a unit of buggies, and does totally jack-all.
This turn, the Megadread invokes it's Nox and (potentially) barrels towards me quicker. The rest of the walker horde follows behind. Buggies bug my destroyers and lord. Kans shoot at my tomb spider in the ruins, wounding his pet, but not much else.Other kans drop four warriors from one of my warrior units. Meanwhile, the Megadread marches forwards, now that it can walk.
In the assault phase, it turns out that the Megadread is 3" out of charge range of my warrors (phew). However, a unit of Kans charges my Tombspider in the ruins. My spider, for the first time in his entire life strikes first, tearing the claw off one of the Kans, which manage to squash his poor pet scarabs to death.
Turn 4.
Three of the warriors get back up, while I lost a destroyer somewhere along the lines. Ummm, The Lord turbo boosts behind his lines, far enough away from kans to not be charged. Nyarly decides it's a good enough time to help my poor spider which is in combat. The other spider is set up between the same kans and his deff dread, so I can choose his target later, depending on circumstance. As it turns out, my one unit of destroyers decided to turn it up to the eleven, causing two weapon destroyed and an immobilized result to the deff dread, with glancing hits. Leaving the thing stuck with no claws. Other destroyer squad, immobilizes the one buggy near them. Heavy destroyers try to kill the Deff Dread, but accomplish jack-all, besides shake it. The one tomb spider, charges his Deff Dread, and blows it up, while Nyarly and the other spider tag-team kick the
klkn
out of the one kans squad.
Now, one of the remaing two kan units, gets into a spot to charge the spider that kill the Dread, while the other one follows his Megadread. The Megadread activates it's turbo boosters, which allows it to fleet of foot. Rolling a big 1 for distance and totally blotching it's move.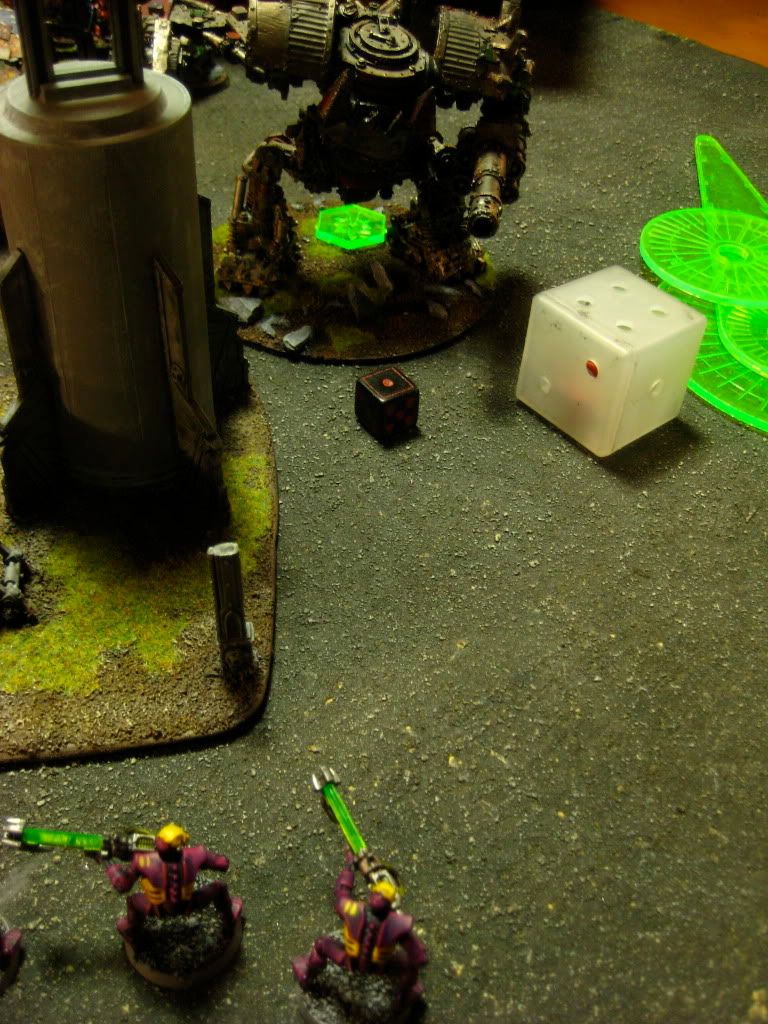 This prevents it' from charging, however, the Kans succeed in charging my poor spider and cut it down with snapping claws and blades.
Turn 5.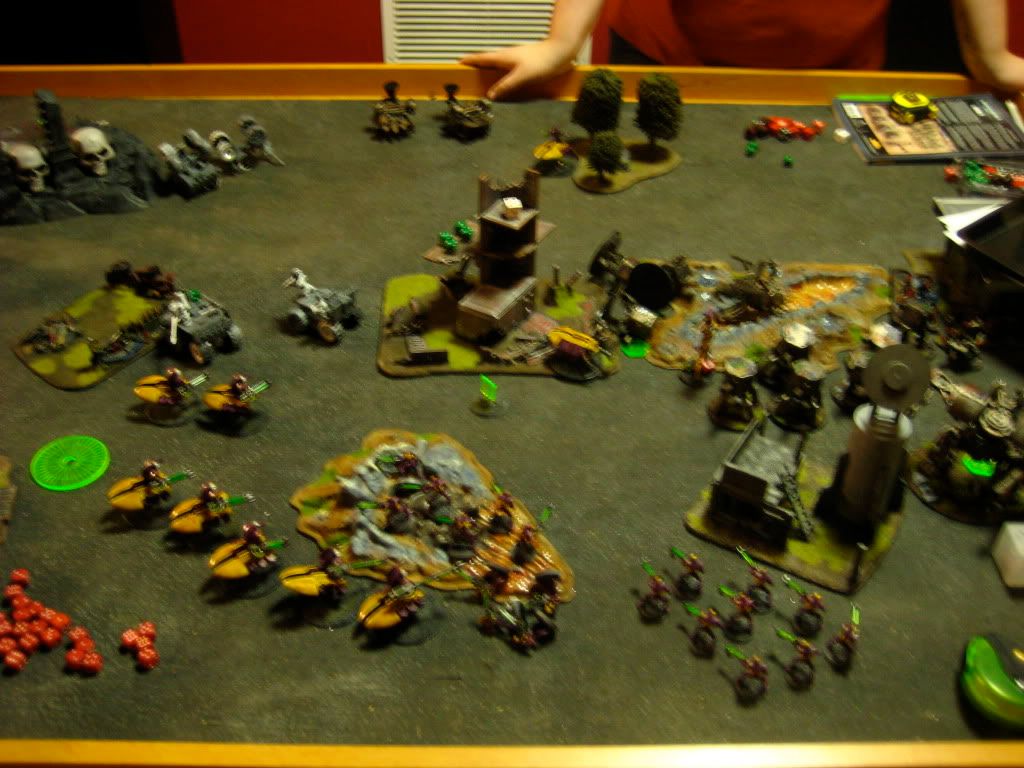 Now, this is where I make a big mistake. I move one warrior squad towards one of my objectives. But, I am certain that the buggies are a threat for me as they may contest it..other warrior squad, runs the hell away from the Megadread. Lord flies towards the remaining BigMek, for some reason, he must kill 'em all and the grotz. destroyers and warriors kill off the last of the buggies, while the Heavy destroyers shots shake the Mega Dread. Nyarly and the spider charge one of the kans units, while the lord charges the Grotz. The kans are all wipped out, while the Lord fails to cause the Grotz unit from routing.
Kans click-clank towards nyarly, while megadread is slowed by difficult ground (running though ruins). In assault, the Megadread fails to reach my warriors, while my lord and his grotz keep fighting.
At this point, the game ends as a Draw. Mostly, for me being stupid for not moving my warriors onto the freaking objective.