WAARGH Grumgutz Alternate 60: Mini-Bikers of Doom! (1000 pts): 67 Infantry; 5 KPs
Warlord Grumgutz Bitzgrabber (Warboss w/ Bike, PK, Cybork Body)
Da Big Five (Nob Bikers w/ PKx2, BCx2, WAARGH! Banner, Bosspole, Painboy "Dokta Chop")
Big Mek Wingnut (Big Mek w/KFF, Cybork Body)
Sluggasx30 w/ PK Nob
Sluggasx30 w/ PK Nob
Tyranid Mini-Force (1000pts): 31 Infantry; 5 KPs
CC Tyrant w/ Wings, Implant Attack, Warp Field
Shooty Tyrant w/ TL Deathspitters, Tyrant Guardx2
Hormagaunts w/ many upgrades (increased WS, Init, leaping, probably something else too)x20
Gaunts w/ Spine Fists, WONx8
Mission: Annihilation
Setup: Pitched Battle
Terrain: Ruins and Jungle
Pre-Game Thoughts: Now this was an ugly, fast scrum that a friend and I put together as we had 15 or so minutes before things were closing up for the night. (Please forgive the camera shots, a bit rushed as we were hurling models at each other)
Setup: The terrain consisted of two big ruins, some jungle, but it didn't really matter. We were going to hit each other in the gobs and see who was left standing!
Oh, Orks win the roll to go first.
We just piled our mates into the open (see pics) and ran them at each other. There was absolutely no sneakiness about this one.
Grumgutz motioned for his Bikers to slow as they passed a large Hummie ruin. He saw that something, no somethings, were waiting for him. A huge horde of bugs, two big ones, were piling out of a hole in the ground.
The Warlord nodded to himself. They might be sneaky, those Bugs, but they weren't gettin' away from Warlord Grumgutz Bitzgrabber!
A bunch of tramping and a set of panting heralded the arrival of two big slugga mobz and Big Mek Wingnut.
The Big Mek panted, "Boss... we's... (pant) we's... here. Uh, we couldn't just... wait for... da Wagons to gas up?"
Grumgutz snorted, "Bugs're right there Wingnut, now let's get 'em!"
With all the subtelty of a sock full of nails, the Ork Horde sped towards the Tyranids...
Turn 1: Orks
Grumgutz and the Nob Bikers turbo forward and to the left, stopping a bit forward of mid-field. Wingnut joins up with the right mob and both mobs run forward hollering (as usual).
Turn 1: Tyranids
The Bugs move forwards, the Shooty Tyrant putting a wound on the Nob Bikers (yes, just one), and the Spineguants zip in front of the Bikers to act as a screen. Meanwhile, the CC Tyrant and the leaping guants assault Wingnut and his mob!
Assault is ugly as 15 Orks die in a flurry of slashy doom, and then the sluggas kill 10 Guants back! The Sluggas lose 5 more orks, but it really doesn't matter that much...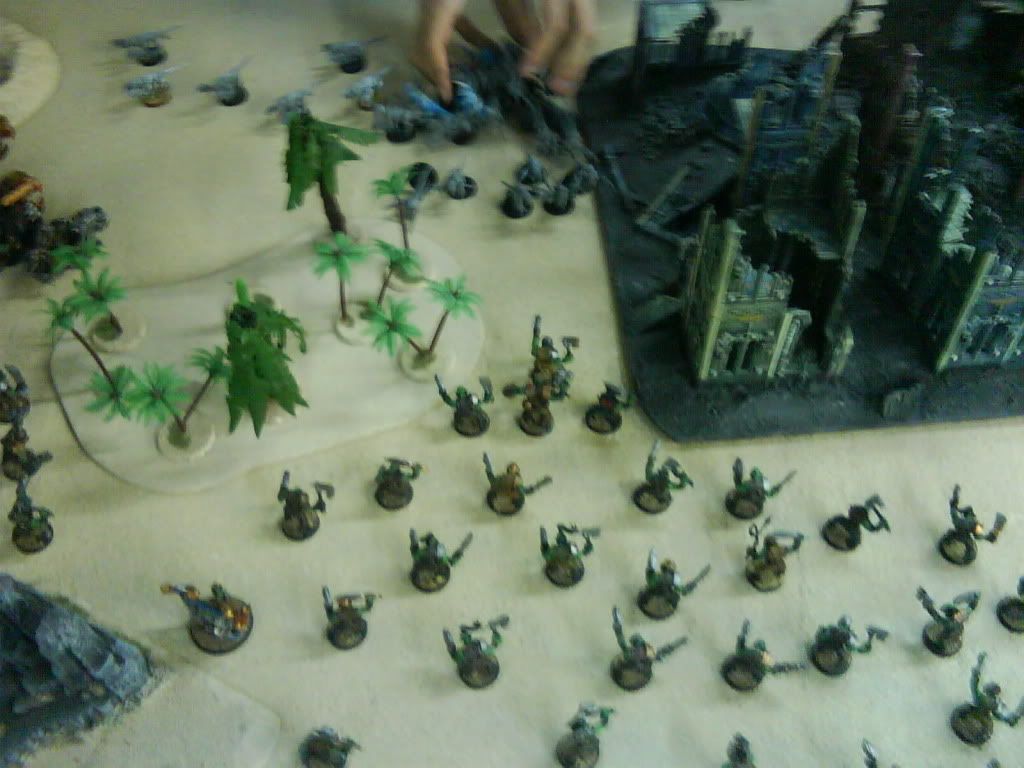 Picture Caption: Hang on to your hats boyz, here they come!
Turn 2 :Orks
Da Big Five and Grumgutz turn away from the Guants and plow into the back of the CC Tyrant and his Hormaguants. The slugga squad from the left get a great WAARGH roll and attack the screening squad of guants. Assault sees the Warlord and PK Nobz teaming up to take down the Tyrant, who managed to take down only one Nob Biker (note to self: Cybork Body is worth EVERY toof spent) and some more Orks die to hormagaunt slashiness. The remaining guants are almost all torn to shreds, and the last few are cleaned up thanks to No Retreat wounds.
Oh, and the Sluggas hitting the 8 guants explode them into a cloud of grey goo, losing only one of their number.
Turn 2: Tyranids
Wow, it's been 7 minutes. The Shooty Tyrant moves forwards and shoots at the Bikers, doing NO wounds, and then (perhaps seeing the inevitable), charges in, wounding a few Orks, but is then hit with A LOT of PK (almost ALL of the PK hit, I guess Grumgutz knew it was time to go home), and the Tyrant and his Guard are cut down.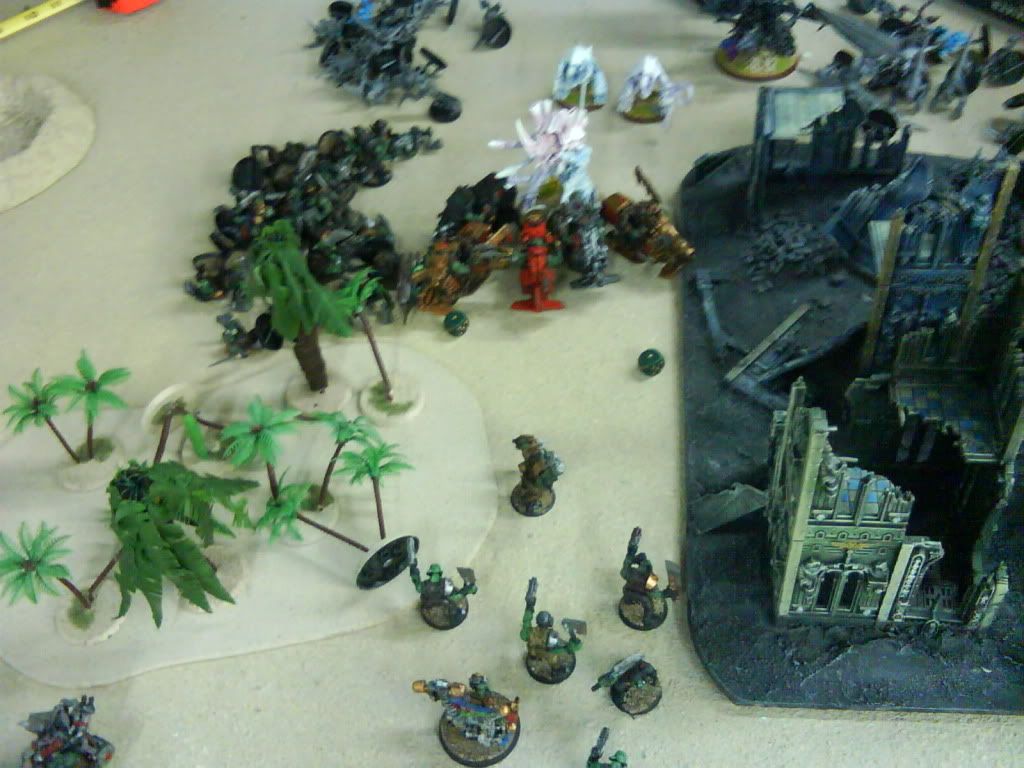 Picture Caption: That big pile to the left of the Nob Bikers? That's the mess of Orks that were all over the Spineguants. Really. Slightly messy? Yes.
Game Ends= Ork Victory!
Post-Game Thoughts: And... we had 3 minutes to spare, including cleanup. Thanks for reading "Speedhammer"!
Grumgutz nodded, it was good krumpin'.
He heard some panting and looked over to see Big Mek Wingnut walking over.
"Boss, uh, dey ain't got no bitz worth takin'. Course Bugs are always good for trophies, but nothin for makin..."
Grumgutz nodded, "Yeah, I figured as much, now don't forget who's in charge Wingnut, or you's gonna find yerself without a Wagon... or a neck."
The Big Mek shrunk a bit and ran off. Why, oh why did this always happen to him?